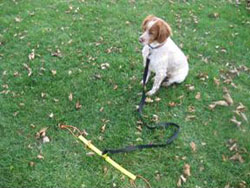 WalkNStake
Sponsored by
MotorHome magazine
For many, a dog is a part of the family – and if you own an RV, you have the luxury of
being able to bring your pooch with you when you travel. Involving your pet in your
activities is part of the fun, but it can be a pain to have to hold on to your dog's leash
while at a barbecue, or look around for secure places to tie him or her up while you
socialize with other campers. The WalkNStake makes it possible for you to make sure that
your dog is happy and safely secured while you go about your activities.
Continued from newsletter…
Unlike other large, clumsy dog stakes, the WalkNStake is about the size of a large candy
bar when collapsed and can be used as part of your dog's leash. Simply loop the leash
through the 360-degree center swivel and back through the leash's handle, and the highly
reflective stake becomes the handle for the leash, making it great for walking at night.
When you're ready to stop to have a picnic, unfold the unit and push the stakes straight
into the ground at 90-degree angles to the top of the unit. The stakes go into the ground
with surprising ease, and if you need a little help you can step on the stakes from
directly above to make sure they are secured. While we tested the WalkNStake with a
15-pound Cairn Terrier, we also gave the leash a few strong tugs from different angles and
observed that the unit did not budge.
To take the WalkNStake out of the ground, simply pull on the two rope loops on both sides.
Rinse the dirt of the metal stakes with a little water, let it dry, and you're ready for
another fun, worry-free day with your canine best friend. msrp is $29.99, but the
WalkNStake has a limited-time introductory price of $24.99, and the product is backed by a
lifetime warranty.
WalkNStake, 866-261-6011, www.walknstake.com.