Monitoring tire pressure and temperature is easy using one of these aftermarket systems
Though tires may seem to be little more than round rubber shapes surrounding the wheels on our motorhomes and dinghy vehicles, careful measurements and quite a bit of science go into their manufacture. Tires must meet vehicle-specific sizes, shape, structure and materials in order to help provide the road grip necessary for safe handling, operation and stopping distances, in addition to achieving the optimum fuel economy. But all the planning from all the engineers in white lab coats in the world can be for naught if those tires are improperly inflated.
An underinflated tire, especially, can cause a variety of problems, as it can quickly heat up and fail, causing loss of control, potentially leading to expensive repairs or dangerous situations for the driver and the others on the road.
Checking the tire pressure as part of your predeparture checklist is of paramount importance, as the very nature of the rubber compounds used in their construction means the pressure will fluctuate. This, in addition to weather conditions, potholes, road debris, curb collisions and the occasional workshop nail in the driveway, means tires can be susceptible to damage; the problem is, we usually notice only after it's too late (especially in the case of inner-mounted duals).
But apart from a visual inspection in camp, tire pressure should also be monitored while on the road. The best way to do that, naturally, is using a tire-pressure monitoring system (TPMS). Chances are your later-model motorhome has some sort of sensor system in place (and, as of September 2007, all new light motor vehicles are required to have one). But for those motorhomes or dinghies that aren't so equipped, monitoring the tires on your vehicle is easy to achieve from the cab using one of the aftermarket systems detailed in the pages that follow.
Advantage PressurePro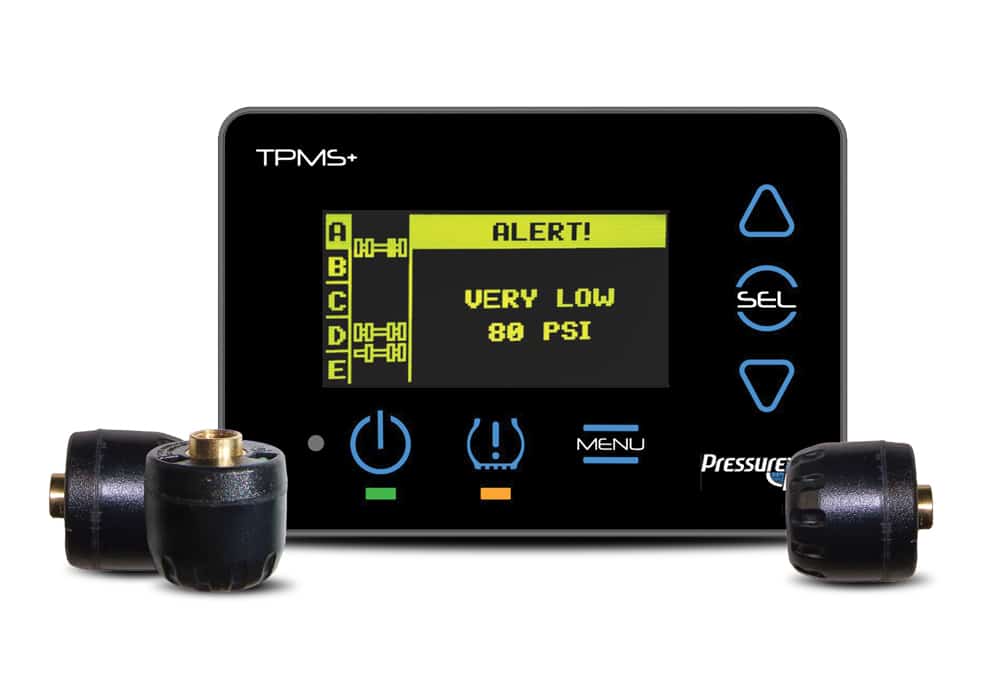 Advantage PressurePro has provided TPMS solutions for more than 26 years. PressurePro's stand-alone units utilize valve-stem-mounted sensors on each tire and an easy-to-read display that's powered in-cab via a 12-volt DC source. The PULSE TPMS provides audible and visual alerts for low pressure, high pressure, high temperature and a cross-axle alert. The PULSE also arms users with fully customizable alert options, allowing customers to adjust alert levels and triggers to fit their specific needs. The PULSE can monitor up to 80 tires on up to five stored vehicles, and offers data logging via an SD card storage. It also allows tethering to other communication devices and integration to original equipment screen options. MSRP: $550 (four-sensor system). Additional sensors are $50 each.
Advantage PressurePro | 800-959-3505 | www.pressurepro.us
Dill Air Controls
Dill's TPMS provides real-time monitoring of temperature and air pressure readings from inside the tire using a valve and sensor design to transmit to a simple dashboard display. A flashing and audible alarm on the display alerts the driver in the event of an air pressure loss or an increase in temperature. The system also allows users to set their own pressure baseline for custom user interface, enabling the driver to take preventive action should he/she see their tire pressure declining. Dill's sensors can be utilized in all vehicles that are not equipped with TPMS as original equipment, up to as many as 10 wheels. The Dill TPMS is installed inside the tires, which the company says eliminates the worry of the cap being stolen or damaged by road hazards. MSRP: $340 (four-wheel system); $440 (six-sensor system).
Dill Air Control Products | 919-692-2300 | www.dillaircontrols.com
Doran
Doran's 360RV Tire Pressure Monitoring System provides at-a-glance tire status updates with a Green Means Good indicator light. As long as the light is green, users are assured the system is working properly and all the tires are at the specified pressures. The valve-stem-mounted system monitors up to 36 tires, and the driver is also alerted through multiple alarms (audible, location, pressure, fast leak and warning symbol) so that low-tire-pressure problems can be addressed. Doran says installation can be accomplished without any special tools in about an hour, leaving no external antennas or exposed wires. An easy-to-use LCD screen display comes prewired with a 12-volt DC plug and is equipped with four-way navigational buttons. The 360RV system also features a sleep mode during which tire pressure is monitored, but potential warnings are withheld until the ignition is turned on, leading to an increase in battery life. MSRP: $199.99-$799.99 (two- to 14-sensor system).
Doran Manufacturing | 866-816-7233 | www.doranmfg.com
EEZ RV Products
The EezTire TPMS 515 System features a large 3½-inch monitor for improved at-a-glance use. The monitor is capable of handling up to 22 tires and up to a robust 189 PSI for each position, and is powered by rechargeable lithium-ion batteries capable of holding a charge for up to 60 hours of continued use. The flow-through sensors are screwed into the valve stems and are powered by CR1632 replaceable batteries. The sensors are constructed with a theft-resistant outer housing. Alerts can be set for low pressure, high pressure, rapid air loss and high temperature. In the event a tire pressure strays too far from the customizable preset baselines, an audible alarm, flashing red light and corresponding flashing icon on the monitor alert the driver of an unsafe situation. An optional booster is available to increase the transmitting range to up to 53 feet. MSRP ranges from $249 (four-sensor system) to $499 (12-sensor system).
EEZ RV Products | 928-317-8888 | www.eezrvproducts.com
HawksHead Systems Inc.
HawksHead's Talon TPMS lineup offers valve-stem-mounted (cap or flow-through) monitoring for a variety of wheel configurations. The new Talon 6 Bi-Mode system is designed to monitor up to a maximum of six wheels on one screen in real time. The Talon 6 Bi-Mode does not scroll through each wheel; rather, it remains a static screen giving instant readings of both pressure and temperature visible to the operator. The system can be customized to preset tire readings, and alarms for high pressure, low pressure and high temperature alert drivers in the event of an incident. HawksHead also offers the Talon 22 for motorhome owners needing to monitor more than six tires (as with a tag-axle or dinghy-towing situation). All HawksHead systems offer Eco Sensors with replaceable batteries and do not require a special tool for installation. The monitors each have their own rechargeable battery packs for easy removal, or can be hardwired. MSRP for a base system (Talon6 Bi-Mode or Talon 22) with four sensors is $339.
Hawkshead Systems Inc. | 888-321-8767 | www.tpms.ca
Minder Research
TireMinder TPMS offer the choice of a smart-device-based tire monitor (TireMinder Smart TPMS) and a stand-alone system (TireMinder TM-77). The systems come with lightweight transmitters that check every six seconds for high pressure (20 percent above baseline), low pressure (15 percent below baseline), rapid pressure loss (3 PSI or more in two minutes or less), slow leak (loss of 6 PSI or more in 10 minutes or less) and high temperature (at or above 167 degrees Fahrenheit). TireMinder units also feature optional flow-through adapters and optional aluminum transmitters to prevent corrosion on aluminum valve stems. Included Rhino Signal Booster features clip-on connectors to be quickly attached to any 12-volt DC power source. Installation for a 10-tire system should take around 10 minutes, according to the company. TireMinder also offers an annual Battery Replacement Program for transmitter maintenance, through which customers can request batteries and O-rings directly from the company's website at no charge. And with local customer support and multiple service agents available, owners can rest assured that TireMinder will be there to help. MSRP: $259-$499.
Minder Research Inc. | 772-463-6522 | www.minderresearch.com
RVi

Danko Manufacturing's RVi Tire Patrol TPMS offers a giant 7-inch display for a quick view of tire pressures, as well as pre-assigned sensors for each tire to ease in pairing and setup. Along with monitoring real-time pressure in the tires, Tire Patrol will alert users of a flat tire, low pressure and high tire temperature. Tire Patrol can monitor up to two vehicles, with up to 10 tires on each. The sensors are constructed using composite brass threads for increased durability and corrosion resistance. To help prolong battery life, the sensors can be set to a sleep mode (unless pressure is detected and the wheels are rotating). Tire Patrol is part of RVi's unique "Works with Command Center" line, which allows users virtually unlimited product expansion and currently is compatible with an RVibrake 3 supplemental braking system for a dinghy vehicle (sold separately) and RV Level app, plus the Command Center features a built-in travel checklist and Wi-Fi connectivity. MSRP: $305-845.
RVi, a division of Danko Manufacturing | 800-815-2159 | www.tirepatrol.com
Tire-SafeGuard
The Tire-SafeGuard TPMS continuously monitors vehicle tires and displays the pressure readings on the cab-mounted monitor. The system uses both visual and audio alarms to alert the drivers of low tire pressure, slow leaks, high tire pressure and high temperatures. Tire-SafeGuard can also monitor a dinghy vehicle's tires, a function that is accessible on a separate screen to help eliminate confusion. The flow-through valve-stem cap sensors are said to be waterproof and feature a replaceable battery. The large LCD monitor screen offers backlighting for easier viewing, and the company says no signal booster is required. Tire-SafeGuard offers technical support seven days a week. MSRP: $279 (six-sensor system).
Tire-SafeGuard | 562-926-7123 | www.tiresafeguard.com
TireTraker
The TireTraker TT-500 TPMS is equipped with a large, easy-to-read display that alerts the driver with both an audible and a visual alert of three different stages of low tire pressure, high pressure, high temperature and rapid leak situations in up to 22 wheel positions and pressures up to 232 PSI. No special tools are required for installation; setup is as simple as programming the monitor and screwing on the sensors to the valve stems, according to the company. The sensors are powered by replaceable batteries. Systems come complete with sensors, monitor, power cord, mounting bracket and locks. The TT-500 features a lifetime warranty and seven-day-per-week sales and technical support. MSRP: $289 (four-sensor system); additional sensors can be purchased for $35 each.
TireTraker | 866-200-9773 | www.tiretraker.com
Truck System Technologies
The 507 TPMS from Truck System Technologies (TST) monitors real-time pressure (from 10 PSI up to 175 PSI) and temperature, and notifies drivers of high or low pressure, a fast leak, high tire temperature and a low battery. The TST system utilizes a valve-stem-mounted sensor with internal technology similar to that of TPMS found on passenger cars and trucks. The system comes complete with two installation wrenches, four theft-proof sensors, a short antenna, a dashboard mounting bracket, a suction cup bracket, a 12-volt DC charger, a hardwire kit, detailed users manual and the on-board monitor display. TST offers a three-year warranty on all its monitoring systems. MSRP: $259 (four-sensor system); extra sensors are available for $100/pair.
Truck System Technologies | 770-889-9102 | https://tsttruck.com
Valor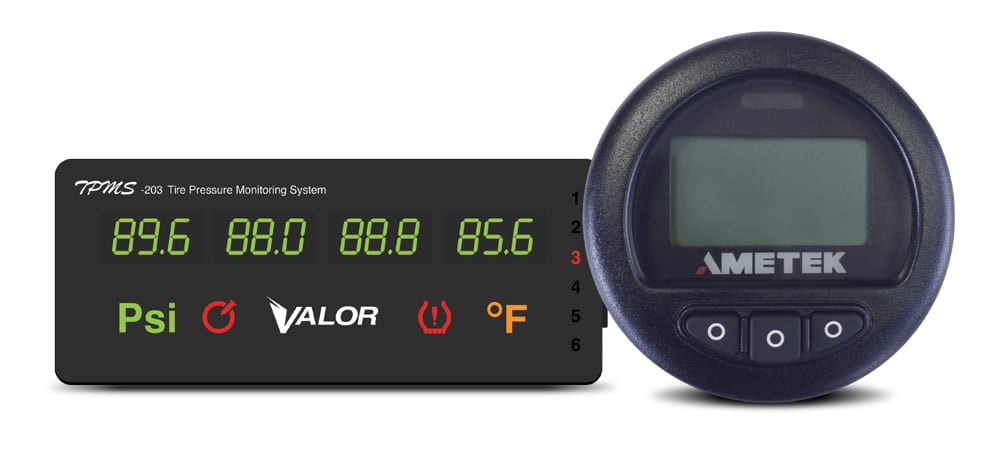 Valor's TPMS displays individual tire and axle position for ease of use, and the internally mounted sensors measure temperature and pressure every four seconds and update the display every 10. The sensors are powered by a long-lasting battery and are installed on the wheel rims, keeping them safe from damage and theft. The Valor System has several warning alarms; temperature and pressure thresholds are set based on the vehicle and tire manufacturer's standards, and programmed into the display. The Valor TPMS can work with various OEM displays, or the included display that comes with a mounting bracket. MSRP starts around $1,100 for a motorhome, plus installation.
Valor | 800-568-9188 | www.valortpms.com
---