Tire-pressure-monitoring systems (TPMS) are among those things we don't normally think about until after they're needed. Flat tires and blowouts are among the most common breakdown problems RVers have, and a pressure-monitoring system can often make the difference between simply pulling over to add some air or fix a slow leak — or having a catastrophic failure.
Blowouts often occur because tires are underinflated. Overloading the truck or trailer as well as not attending to a small puncture or other leak will cause a loss of tire pressure. If the tires run underinflated for some distance, they can become so hot they disintegrate. Even if a blowout doesn't result in a loss of control and/or crash, it can cause extensive damage, ruining the wheel, and often the flailing tire carcass does hundreds or even thousands of dollars damage in bodywork. There are even documented cases of RVers unknowingly towing a vehicle that lost its tire, with sparks from the wheel on pavement causing a major forest fire. Knowing all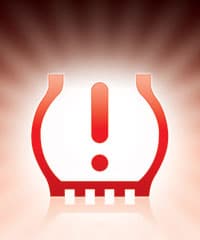 this, a tire pressure monitoring system (TPMS) starts to seem like a bargain.
The National Highway Traffic Safety Administration reports that as many as one in three vehicles have underinflated tires. Tires can lose 1 psi per month or more, and tires that are underinflated by as little as 6 psi can fail.
TPMSs employ sensors at each wheel that have tiny radio transmitters that send an encoded digital signal to a receiver in the cab. All systems monitor tire pressure, and some also monitor tire temperature. The majority of aftermarket sensors mount on the tire valve stem, while the rest mount inside of the wheel. All use small batteries to power them, which must be replaced at various intervals, depending on design. Sensors on valve stems are easy to install and service, but they are more susceptible to damage and theft. Internally mounted sensors require that the tire be dismounted for installation, but sensors mounted in the wheels can provide the most accurate temperature readings. Both types weigh around an ounce and, therefore, affect tire balance slightly, so tires should be balanced afterward (which is a good practice, anyway).
If a problem occurs, most models use both visual and audible warnings to alert the driver. Dashboard-mounted monitors vary significantly in size and features, so read product literature carefully. It's generally up to you to decide where and how you want to mount your unit, as most come with several mounting options. Each unit requires some setup sequence, so the monitor can recognize which sensor is associated with which tire. Some TPMSs are powered by the cigarette lighter or power outlet on the dash or console. This is easy, but results in some clutter, requires full-time use of a socket and can sometimes work intermittently when contacts get dirty or are disturbed. Others may require hard wiring to the electrical system, which isn't particularly difficult, as these systems draw little current. A few are also rechargeable.
TPMSs became mandatory equipment on all 2008 cars and light trucks and are found on some earlier models, but while many vehicles now come from the factory with a TPMS, these systems don't monitor trailer tires. Therefore, the next step is finding a system best suited for you. Determine how many tires you want to monitor, and if you'll be monitoring tires on a long trailer, check the unit's range specification. Let's take a look at some of the more popular systems available.
Dill

Dill offers real-time monitoring of up to ten tires and uses a transmitter/sensor installed inside each wheel to provide accurate pressure and temperature readings. Receivers display pressure and temperature for each tire, and when an abnormal condition is detected an alarm is immediately sounded and an alert icon displayed. A warning will trigger if pressure is 20 percent below or 30 percent above presets, and can be set from 30 psi to as high as 130 psi (maximum sensing pressure is 144 psi). When tire temperature exceeds 176° F or leakage exceeds 6 psi in 16 seconds, the driver also receives a warning. Users can set baseline pressures and high-temp warnings. Distance between display and farthest sensor should not exceed 65 feet. Sensors fit most wheels with 0.453-inch diameter valve stems; sensors are available for 0.625-inch or 9.7 mm valves. Kits include an LCD display with external antenna and and sensors. A kit with six sensors retails for $486.33.
Doran

Doran's RV360 model features easy installation with four valve-cap sensors and simple programming of desired baseline tire pressures. It has two levels of low-pressure visual and audible alarms, activated when pressure drops 12.5- and 25 percent below the programmed baseline pressures. A patent-pending FastLeak alarm is also triggered by a 2.8 psi drop in less than 12 seconds, to warn the driver when a sudden drop in pressure occurs. A high-temperature alarm also alerts when tire temperature reaches 248˚ F. Lithium-ion batteries, with a design life of five years, are built-in to each sensor; batteries are not replaceable to protect the integrity of the seal. Pressure range is 10 to 188 psi. Optional interior and exterior signal boosters are also available. A base kit with two sensors lists for $199.99.
HawksHead

The HawksHead HD model measures up to 140 psi and the HD+ model is rated up to 220 psi; both can monitor up to 22 wheels. Press a button and see real-time pressures and temperatures of each tire. The system also monitors for slow leaks and over-pressure conditions. Wheel sensors replace the valve caps, have a range up to 45 feet, use CR1632 batteries and weigh only 0.35 ounces.
HawksHead's new Talon RV model also monitors up to 22 wheels and up to 180 psi. It offers a quick method of dropping the trailer signals when unhitching, and then picking them back up again when reconnected. The monitor scrolls automatically, measuring each tire pressure and temperature. Visible and audible alarms warn drivers of deflations, over pressures and high temperatures. A basic HD kit with four sensors is $295; a base Talon RV kit with four sensors retails for $339.
Hopkins

Hopkins nVision monitors up to 24 tires simultaneously (including spares) and reads up to 150 psi, even when the vehicle is not moving. The monitor operates in the closed position to reduce driver distraction. When all tires are reporting normal tire pressures, the green light on the monitor face will be illuminated. Should any tire fall 12.5 percent below normal, the yellow light will flash and a beeping alarm will sound. If pressures fall to a dangerous level, a red light will flash and a constant tone will sound until mute is pressed. Open the monitor and the low tire(s) will flash on-screen and show exact tire pressure.
There's a multi-vehicle memory with four customizable settings which transfers easily between vehicles and trailers; save different combinations for recall at the push of a button. The permanently sealed sensors replace tire-valve caps and are designed to be replaced every four years. The base system with four sensors retails for $299.99.
PressurePlus
PressurePlus 8000 Series is designed for towing, and can be upgraded from a six-wheel system to accommodate up to 38 wheels with additional valve-stem sensors and signal relays. Installation requires no special tools and the system is programmable for pressure, temperature and vehicle configurations. It performs real-time monitoring of tire pressure and temperature. If a tire is over- or under- inflated or too hot, the display changes from green to red, an alarm sounds, and the monitor displays which tire and what the problem is. Kit includes a 4-inch LCD display monitor, a signal relay, and six locking valve-stem sensors. A base kit with six sensors sells for $475.

PressurePro

PressurePro offers several models for six, 16 and 34 wheels. The 16-wheel system is designed with RVers in mind and features a forward/back button to monitor both the tow vehicle and trailer, or each individually. They're designed for easy installation; plug the dash monitor in and screw sensors on the tire valves. Units can read real-time pressures from 10 to 199 psi, and display psi, BAR or kPa. Monitors have two low-pressure alerts, at 12.5- and 25-percent drops. They also have a user adjustable high-pressure alert that's factory set at 24-psi overinflation. Audible and visual alerts identify the tire's location and show real-time pressure. Press a button to check each tire's air pressure; displays in psi, BAR or kPa and displays temperature. Operating range is up to 199 feet. Kits include a monitor and 3.5-inch antenna; an extra antenna may be needed in certain applications. Tire sensors are sold separately; batteries last 4-5 years and there's an exchange program. Base kits with six sensors start at $499.99.
TireMinder
TireMinder offers several models that continuously monitor tire pressure and temperature. Model TMG400C for trailers has a pressure range of 0 to 145 psi and can handle up to 22 wheels. Sensor/transmitters screw onto the valve stems and send readings to the in-cab monitor. The system features user-programmable pressure warning levels, and provides visual and audible alerts for pressure loss, or if a tire temperature exceeds 167° F. The basic TMG400C kit comes with a monitor, four screw-on transmitters that use replaceable long-life CR 1362 lithium batteries, a DC charger and a free battery-exchange program; customers return their old batteries for safe, ecological disposal and receive new batteries (approximately one year battery life) for seven years. A basic kit with four sensors sells for $249.99.
Tire Sentry
Tire Sentry by Fleet Specialties uses a compact display that fits in a 2-inch diameter gauge hole. It does not require any special tools for installation, and the tire sensors fit on the end of the valve stems. Sensors are pre-programmed for your specific pressure requirements, may be owner reset, and use two 357B batteries that can last up to three years. The system will alert for a 10- to 15-percent loss of pressure, depending on the tire size. It does not display tire temperatures or pressures when a low pressure situation occurs. Each kit consists of a display gauge, set of tire sensors and a power cable. An external antenna may be necessary with a long trailer, and is included at no cost. The base model TMA-4+4 retails for $570, and will monitor four tires on the tow vehicle plus four on the trailer.
Truck System Technologies (TST)
TST offers two different RV/truck monitoring systems for the RV market; models 507 and 510. Both share most features, except the 510 sensors include five-year life, military-grade lithium-ion batteries, while the 507 automatically records sensors' IDs during installation and employs replaceable CR1632 batteries. Both systems alert drivers to a rapid leak, a loss of signal, a low battery, an overheating temperature, or a high or low pressure reading. They continually check pressure and tire temperature, even while stationary, and can monitor up to 22 tires. The systems can monitor up to 200 feet, include a long antenna to diminish interference, and come with a specially designed installation tool for security. Base prices for models 507 and 510 are $299 with six sensors.
Camping World, (888) 626-7576, www.campingworld.com.
Dill, (800) 815-3455, www.dillaircontrols.com.
Doran Manufacturing, (866) 816-7233; www.doranmfg.com.
HawksHead, (888) 321-8757, www.tpms.ca.
Hopkins, (800) 835-0129, www.hopkinsmfg.com.
PressurePlus, (800) 426-0584, www.pacificduallies.com.
PressurePro, (800) 959-3505, www.advantagepressurepro.com.
TireMinder, (772) 463-6522, www.minderresearch.com.
Tire Sentry (Fleet Specialties), (800) 350-3556, www.tiresentry.com.
Truck Systems Technology, (770) 889-9102, www.tsttruck.com.