I had been there once, many years before, on a sunset dinner cruise that lasted only about an hour. The food had been mediocre and the company unmemorable, but Lake Mead had teased me, the bright sun slanting across the giant expanse of water near the harbor, then creeping up the distant bluff. This recreational bonanza in Nevada and Arizona serves up nearly 158,000 acres of water at full capacity, practically begging outdoorsy types to explore its various arms and intricate shoreline. Yet on that visit I did little more than eat lukewarm pigs-in-a-blanket. As MacArthur did, I vowed to return.
Lake Mead delivers fantastic fishing for striped bass, according to a park ranger at Lake Mead National Recreation Area. The ranger and a buddy had, only days before my return visit, boated 47 stripers. Since I had never caught a single striped bass, let alone experienced anything like the ranger's best day (two anglers landing more than 90 fish in six hours), I listened when he suggested that I bypass Boulder Beach and continue looping around the road that shadows the Boulder Basin arm until I reached Callville Bay. I'd have the best chance to land stripers there, he assured me, though he eroded my confidence some by saying that the fish stopped schooling just a few days before I arrived. No matter. I wasn't there to set any records. A couple nice fish-fights would do me just fine.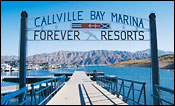 I SETTLED INTO A CAMPSITE, then set out on foot down the long hill to the complex in which I was told I could buy a fishing license. I thought the fee was too high, but I forked over the dough, then decided to rent a small fishing boat. The rental place, which rents everything from SeaDoos to houseboats, didn't have any small fishing boats available, so I asked if I could fish from the dock. No, I was informed, but I was allowed to fish outside the floating tires that marked the entrance to the marina. The tires looked to be about 700 yards away. I figured that I'd head back to camp, gather my fishing gear, then walk back to the fishing grounds, since dealing with the inflatable kayak I'd brought seemed like too much of a hassle, especially since I only had a few hours of light left.
Armed with a beautiful new Bass Pro Bionic Baitcast Combo, a satchel full of tackle, a small cooler stuffed with Diet Cokes and more hope than common sense, I began the walk along the pebbled shore. Within a few steps I realized I could be in for more of an adventure than I planned, since the surface rolled with each step I took, and very few of the steps were on level ground. No big deal, I thought; I'll simply appreciate the fishing that much more, since I will have earned it.
I quickly learned that the tires I was making my way toward were only visible occasionally, since one cove after another bowed me far from the straight-line route I'd hoped for. The giant, rounded "Ms" I seemed to be tracing on the shore didn't tire me out as much as the hills did. I finally decided to short-cut the "Ms." Between huffs, I downed a couple sodas. I was grateful it wasn't midsummer, since the heat then would have made this journey impossible. As it was, I soon learned it was impossible in any weather.
I rounded a corner, took a few steps, then started to laugh. "You can't get there from here," I actually said aloud, as it dawned on me that I stood on a peninsula, and the walls along the next loop were dead vertical, preventing further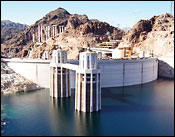 progress. The tires and the fishing grounds were achingly close, but unless I wanted to swim this expanse with all my gear in tow, I was done. I laughed at myself, then picked my way back to camp. I decided to call my excursion a hike.
The next morning, having inflated the canoe and strung another line, I wedged all the gear into the Xplorer van, then drove to the launch ramp. After transferring the canoe and gear,  I shoved off into the clear, calm water at 7 a.m., using a kayak paddle to propel myself across the surface. By 7:04, my arms were mocking me. Gyms exist for a reason, I reminded myself. By 7:09, my wheezing made me wonder if I'd taken up smoking without knowing it. Despite my pressing health concerns, I managed eventually to pass the tires, legally allowing me to fish. I drifted clear of the channel that other boats would use to come and go, then sent a plastic split-tail minnow toward shore.
The water was calm, the weather comfortable, the sky blue. I admired the salmon-colored shoreline, the small islands, the flat beaches that arced around tranquil coves, the perfect settings for a boating picnic. I thought of my friend Summer, and knew she would appreciate the quiet beauty of this section of Lake Mead. I also knew she would out-fish me.
I tried split-tail grubs and super fluke, avocado worms, threw smoke-red rattle tubes where Blackjack Series gray-red-silver Hawg Callers failed. When striper rigs got me nowhere, I replaced them with mondo-size swim baits or plugs. I zipped buzz baits across the surface after standard spinners and broad spoons saw no action. And a sinking wobbler attracted more nothing.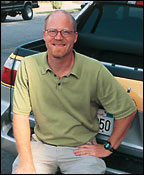 I grounded the boat and waded ashore, the red mud oozing between my toes. I pitched a plastic shad beneath every ledge, angled it across coves and dropped it into holes. I worked those waters for 4-1/2 hours, without a bite. I got back in the boat, then paddled back toward camp, my arms screaming, my ego bruised. For the record, I spent the day boating.
Lake Mead National Recreation Area, (702) 293-8907, www.nps.gov/lame.