Interstate 40 begins in California and again in North Carolina. It goes through six states as it crosses the country. More miles of it are in Tennessee than in any other state. The section of it that runs through Nashville and Memphis — incubators of American country music — is often called the "Music Highway."
On the other side of Tennessee, I-40 passes by Knoxville. With a population of 170,000, I would normally pass up Knoxville, too. But there are big doings in Knoxville this last weekend in April. And there are times when we who roam the back roads as solo travelers crave to throw ourselves into a place thick with people. And what draws crowds better than a big-city parade on a balmy, spring evening, or a street fair on a sunny Saturday? I'm ready for both.
It's Dogwood Arts Festival time here — time to celebrate spring when dogwoods, azaleas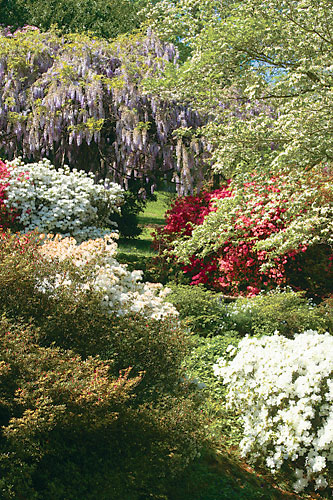 and other pretty flowers are in bloom. The city makes it simple for us tourists. It maps and marks 60 miles of roads through neighborhoods that are awash in spring colors. Busses, free to all comers, travel the routes during the festival.
Apparently the Macy's Thanksgiving Day parade — I watch it on TV — has influenced other parade producers to take the wheels off their floats. Here they had six floats that floated between the tall buildings as they were following the parade down Gay Street. One was a giant flower blossom, another was a cartoon car. These helium-filled balloons were guided by lines held by as many as 30 people walking beneath them.
The next day, garlands of red, white and green balloons arched over Gay Street — now the site of the street fair. For six blocks, both sides of the street were lined with covered booths selling everything from necklaces made from bent spoons to Philadelphia cheese steaks, with a side of deep-fried oysters.
Between the booths, we ambled — hundreds of us enjoying the day. Moving in opposite directions, when we bumped into each other, somebody always said, "Excuse me." I love the South.
Most everybody was eating something or drinking it. And not just corn dogs, but linguini, London broil, shish kabobs, funnel cakes and ice cream on sticks, in cups and cones. We, as a country, have more than our share of overeaters. I think they are now organized like a union. And they sent a contingent to this event, recognizing it as a wonderful opportunity to retain membership eligibility.
Much of what I saw was not new to me, but it was surprising to see it in such numbers — tattoos, for example. Those who had them wore a minimum of clothes, so their "art work" was out there for all to see. In one case, I didn't get the full impact of a girl's tattoo until she bent over to give her dog some popcorn.
Another thing — cell phones. Stopping to look around, people were always on their phones. Nothing wrong with keeping in touch, but at an attention-grabbing event like this, how many things do you want on your mind anyway?
This is also the weekend of the Rossini Festival, with two restored theaters on Gay Street as opera venues. A covered stage drew huge crowds all day to operatic performances — and this is the land of Elvis, Eddie Arnold, Minnie Pearl and Dolly Parton.
I went to the opera that night — Pagliacci. This was a weekend of firsts for me and the opera was a good fit.
Welcome to America's Outback.
Bill's e-mail address: [email protected]
Next month Bill will be in Door County, Wisconsin.