Molded-fiberglass trailers, featuring rounded corners and shiny sides, are aerodynamic, lightweight and built to last
A molded-fiberglass travel trailer is not just an RV. It represents a lifestyle. Shoppers who dive into researching these RVs will quickly discover that this niche is markedly different than the rest of travel trailer culture.
Many folks start looking at molded-fiberglass RVs simply as attractive lightweight options in the towable market. They soon find out their relatively light weight isn't the only quality that sets these "egg" trailers apart from the crowd. The purchase process, online community and rally culture are all distinguishing — and fascinating — features. What began as an ordinary RV shopping experience may morph into something more like an epic quest when potential buyers start searching for the perfect molded-fiberglass RV.
But first, the basics. What makes the bones of molded-fiberglass travel trailers distinct from traditional stick-and-tin RVs? They are made from pouring fiberglass into production molds that are expensive to produce. Typically, a molded top and bottom are sealed together by a band around the middle, but some are made with a right and left half. The primary benefit is an extremely strong yet lightweight exterior shell that is virtually impenetrable by water because it has far fewer seams than traditional types of construction. This manufacturing process yields a higher price tag, for sure. However, the life span of these trailers tends to be much longer, and the resale market is strong.
The high cost of fiberglass molds leads to some industry norms that you may notice while perusing the models featured in this roundup. Most manufacturers offer a very limited selection of sizes and floorplans. Most molded-fiberglass trailers will range in length from 13 feet to 17 feet, with some larger options up to 25 feet. A wet bath or no bathroom at all are typical, although it is possible to find full baths in the larger models.
While most of the RV industry is controlled by a few large manufacturing conglomerates, the molded-fiberglass market continues to operate a bit like the Wild West. It's made up of more than a dozen small manufacturing companies spread throughout North America. Most do not sell their trailers through a traditional dealer network, so buyers place custom orders and often travel to the factory to take ownership. Exceptions include the Airstream Nest and Little Guy MyPod, both featured in this roundup, and the Liberty Outdoors ParkLiner, with new models due out in the near future.
Potential owners may find their best sources of information are rallies and online forums for fiberglass enthusiasts. Given the dispersed nature of the manufacturing, internet resource hubs like www.fiberglassrv.com can help newbies sort through the far-flung options and hook up with manufacturer-specific groups. And since shoppers won't find a variety of molded-fiberglass models at a traditional RV show, many folks attend enthusiast rallies before they buy an egg trailer of their own.
Navigating the realm of molded-fiberglass travel trailers is not for the casual RV shopper. You will likely have to do a bit more legwork to track down your dream trailer. But, according to all those passionate fiberglass RV owners out there, the payoff will be worth it.
Howenwald, 

Tennessee

: Oliver Legacy Elite II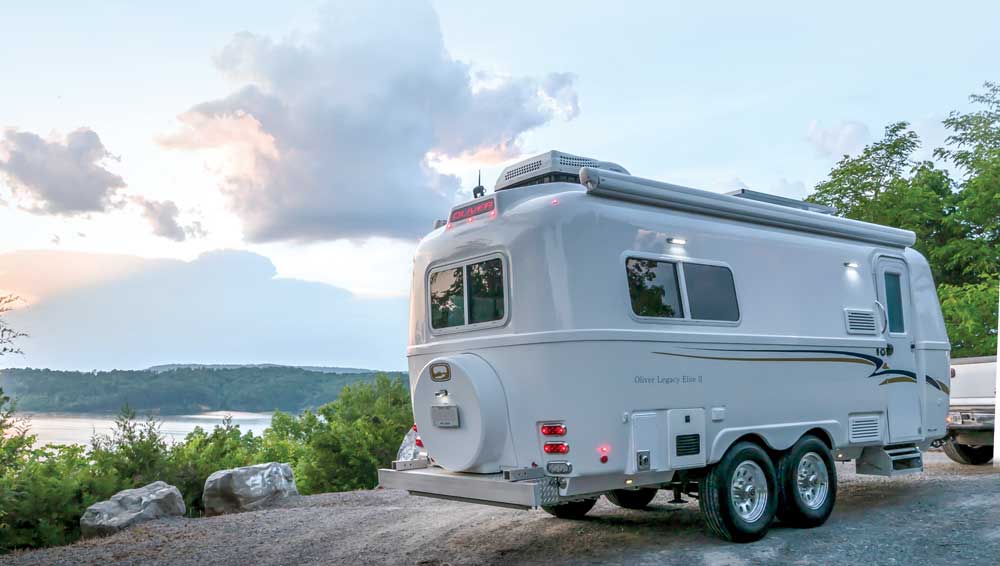 Exterior Length 23′ 6″
Exterior Width 7′
Interior Height 6′ 6″
Exterior Height 9′ 11″
Freshwater Cap. 30 gal.
Black-/Gray-Water Cap. 18.5 gal./30 gal.
LP-Gas Cap. 7 gal.
UVW, Base 4,600 lbs.
Hitch Weight 460 lbs.
GVWR 7,000 lbs.
MSRP, Base $53,900
Among fiberglass aficionados, the Oliver name is synonymous with "understated elegance." The 23½-foot Legacy Elite II is available in two floorplans: one with a convertible U-shaped dinette, and the other with twin beds, a nightstand and a storage drawer. Both offer additional seating with a two-person side dinette. The interior is bright, cheery and modern, with ample lighting and overhead cabinetry. The front bathroom may eliminate some natural light, but it brings more space and comfort than other floorplans in this category. A fully outfitted kitchen with a pantry will please RV chefs. For gadget geeks, upgrades and add-ons abound. Options include a solar-power system, Wi-Fi booster and composting toilet.
---
Uniontown, Ohio:

Little Guy MyPod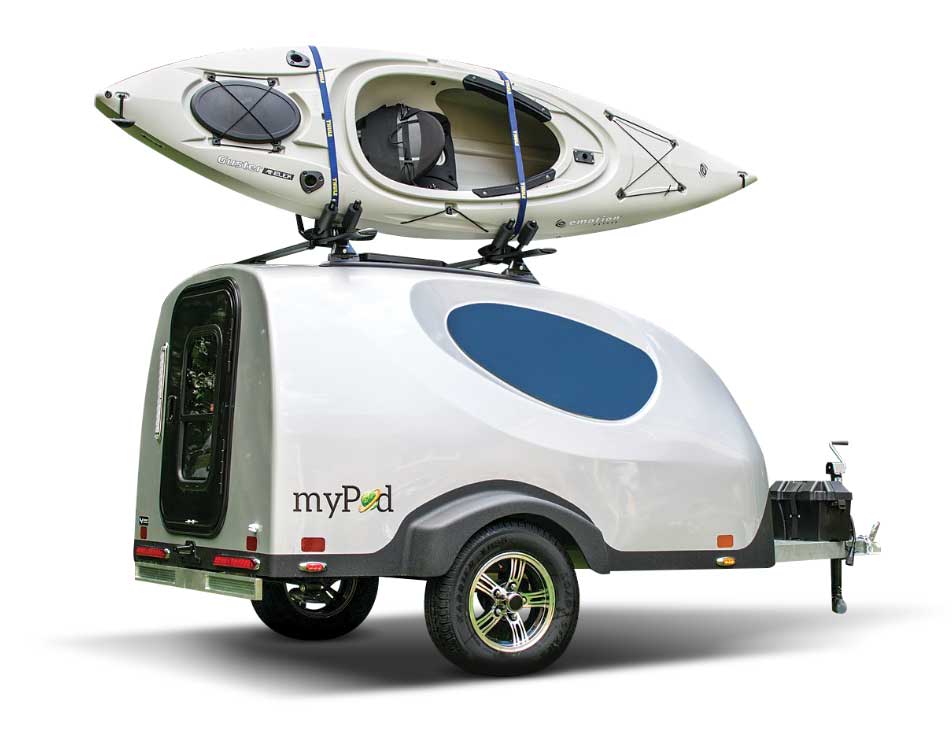 Exterior Length 11′ 7″
Exterior Width 6′
Interior Height 3′ 1″
Exterior Height 5′ 2″
Freshwater Cap. NA
Black-/Gray-Water Cap. NA
LP-Gas Cap. NA
UVW, Base 630 lbs.
Hitch Weight 110 lbs.
GVWR 2,200 lbs.
MSRP, Base $10,027
Looking for a tiny trailer for smaller tow vehicles? The 630-pound (dry weight) MyPod, with a 110-pound hitch weight, fits the bill. The interior contains a 52-by-76-inch mattress and an entertainment center with a stereo, speakers and flat-screen TV, along with a three-speed Fan-Tastic Vent fan and stylish window shades. The sleek exterior has a practical gravel guard and an optional roof rack for the outdoor adventurer. Liberty Outdoors' Tear Drop Shop sells a wide variety of accessories to outfit the rig, including an attachable screen room that allows for added living space. To mix or match with a variety of tow vehicles, the MyPod comes in five colors: white, silver, black, blue and red.
---
Jackson Center Ohio:

Airstream Nest 16FB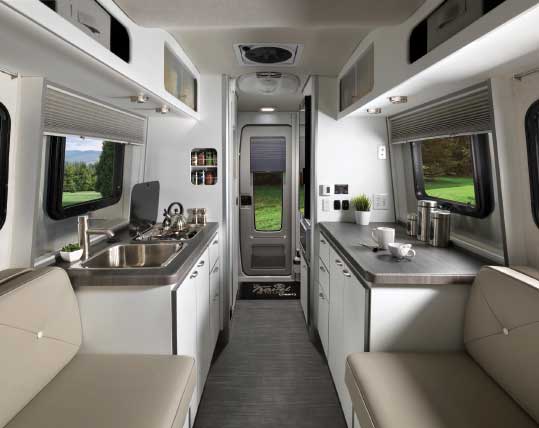 Exterior Length 16′ 7″
Exterior Width 7′ 1″
Interior Height 6′ 6″
Exterior Height 9′ 6″
Freshwater Cap. 24 gal.
Black-/Gray-Water Cap. (combo tank) 30 gal.
LP-Gas Cap. 5 gal.
UVW, Base 3,400 lbs.
Hitch Weight 375 lbs.
GVWR 4,000 lbs.
MSRP, Base $45,900
The Nest's streamlined fiberglass exterior won't be instantly recognizable as an Airstream, but step inside, and it all makes sense. Luxurious and, according to the company, "decidedly modern," the Nest manages to be refined and practical. Panoramic front windows in the 16FB allow for breathtaking views, while blackout shades provide privacy when needed. The handcrafted Italian cabinetry, seamless vinyl flooring and stainless-steel sink make the Nest feel like a hip urban apartment. Thoughtful interior touches abound including USB ports, a flatware organizer and integrated soap dispensers in the shower. The 58-by-80-inch queen bed provides comfortable sleeping for two, while a separate couch allows for seating anytime, making this a flexible floorplan for couples on different schedules. Continuous hot water and surprisingly generous storage space make this Nest feel like home.
---
Rice, Texas:

Casita Independence Deluxe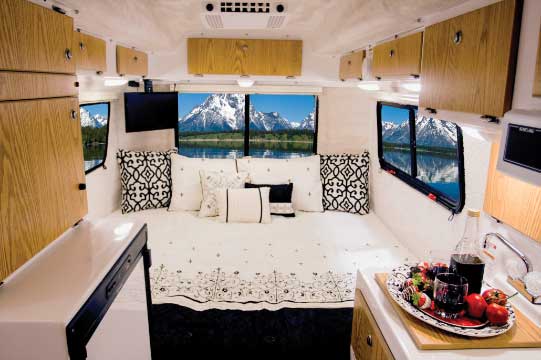 Exterior Length 17′
Exterior Width 6′ 8″
Interior Height 6′ 1½"
Exterior Height 8′ 11″
Freshwater Cap. 16 gal. (25 opt.)
Black-/Gray-Water Cap.
15 gal./32 gal.
LP-Gas Cap. 10 gal.
UVW, Base 2,480 lbs.
Hitch Weight 365 lbs.
GVWR 3,500 lbs.
MSRP, Base $18,785
Three wrap-around windows surround the rear twin beds of the Independence Deluxe, offering cross-ventilation and natural light. There's also ample lighting and overhead cabinet space. Buyers can add an optional flat-screen TV, making this the perfect nook for relaxing with a book or watching a movie on a rainy night. The compact kitchen with a three-burner cooktop makes smart use of space with a folding countertop that drops down above the sink. Range and sink covers allow for additional room to prepare food or make coffee in the morning. The front bathroom is relatively spacious for a 17-foot trailer, offering a compelling option for couples who want a lightweight towable that doesn't skimp on livability.
---
Henderson, Colorado:

Weiscraft Little Joe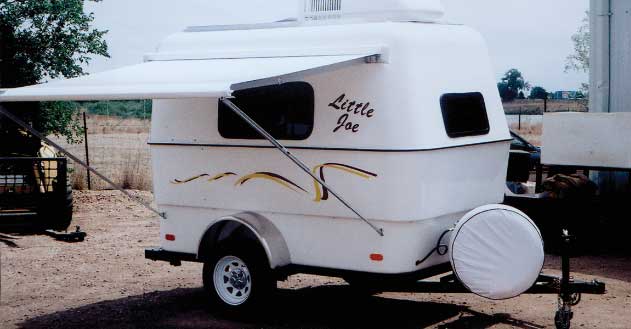 Exterior Length 12′ 6″
Exterior Width 5′ 8″
Interior Height 6′
Exterior Height 7′ 4″
Freshwater Cap. 5 gal.
Black-/Gray-Water Cap. 5 gal./NA
LP-Gas Cap. 5 gal.
UVW, Base 1,100 lbs.
Hitch Weight 180 lbs.
GVWR 2,999 lbs.
MSRP, Base $15,300
The 12½-foot Little Joe offers comfortable seating and sleeping areas in a small package. The two 78-inch sofas positioned along either side wall provide plenty of room to kick back and relax. The sofas convert into a 78-by-63-inch bed for sleeping space usually found in much larger trailers. This dedication to spacious seating and sleeping arrangements means the kitchen is small by necessity, with a two-burner cooktop on one side, a kitchen sink on the other and room for an optional refrigerator. Flip-up counters are available on both sides of the kitchen for more room to prepare meals or make coffee.
---
Chilliwack, British Columbia:

19-Foot Escape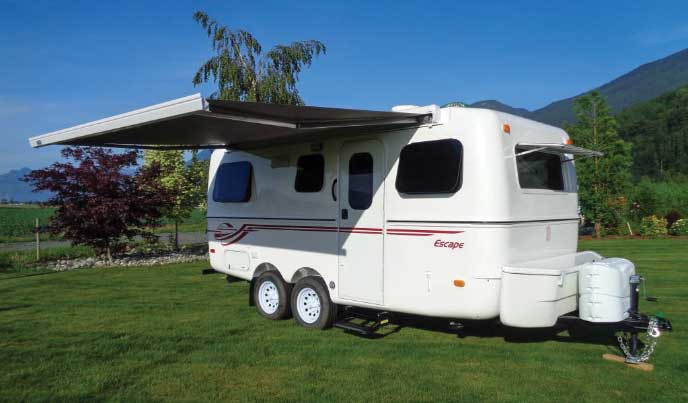 Exterior Length 19′ 6″
Exterior Width 7′
Interior Height 6′ 4″
Exterior Height 8′ 6″
Freshwater Cap. 28 gal.
Black-/Gray-Water Cap.
19 gal./28 gal.
LP-Gas Cap. 10 gal.
UVW, Base 2,950 lbs.
Hitch Weight 256 lbs.
GVWR 5,000 lbs.
MSRP, Base $24,380
With a dry weight just under 3,000 pounds and a gross vehicle weight rating (gvwr) of 5,000 pounds, Escape's 19-foot trailer is a good match for properly equipped SUVs. The trailer is small enough to take just about anywhere but still packed with amenities and generous storage and cabinet space. The 60-by-80-inch queen bed with a coil-spring mattress is ideal for taller travelers, while abundant overhead cabinets provide room for clothing and food storage. The dinette seats four comfortably and can be turned into an extra bed. The wet bath with a sink, shower and toilet comes standard, as do the cooktop, sink and fridge. Custom wood interior and oak cabinetry create a homey atmosphere. Generous tank sizes make the trailer ready for adventure.
---
Backus, Minnesota:

Scamp 13-Foot Standard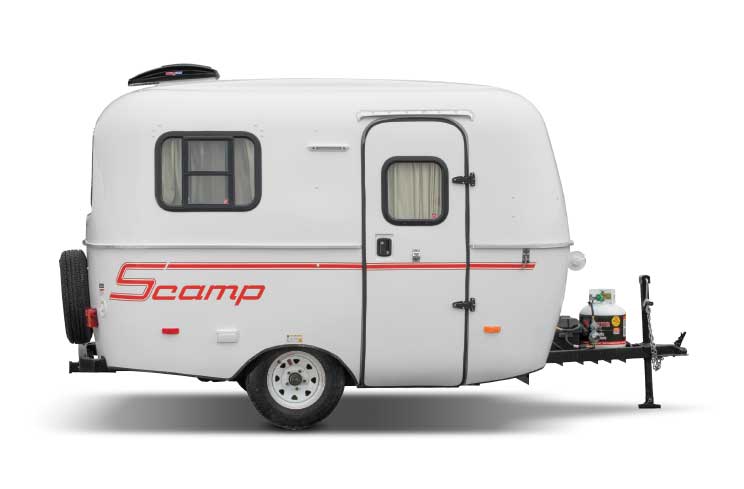 Exterior Length 13′
Exterior Width 6′ 7″
Interior Height 6′ 2″
Exterior Height 8′ 6″
Freshwater Cap. 12 gal.
Black-/Gray-Water Cap.
9 gal./21 gal.
LP-Gas Cap. 10 gal.
UVW, Base 1,500 lbs.
Hitch Weight 200 lbs.
GVWR 2,200 lbs.
MSRP, Base $10,500
Weighing 1,500 pounds unloaded, Scamp's 13-foot trailer can be towed by a variety of vehicles and will fit in even the smallest state park campsites. Despite its compact size, the trailer manages to pack in the basics. One of two floorplans, Layout 1 includes a rear dinette that converts into a bed with storage underneath. The kitchen contains a two-burner stove and a sink plus overhead cabinets. Layout 2 has a wet bath, but tank sizes are limited, so plan on combining use of bathhouses and the wet bath when sewer hookups are not available. With a starting price of $10,500, this model makes a great alternative to a teardrop or pop-up trailer and provides an affordable entry into the often pricey world of molded fiberglass.
---
Calgary, Alberta:

Trillium Outback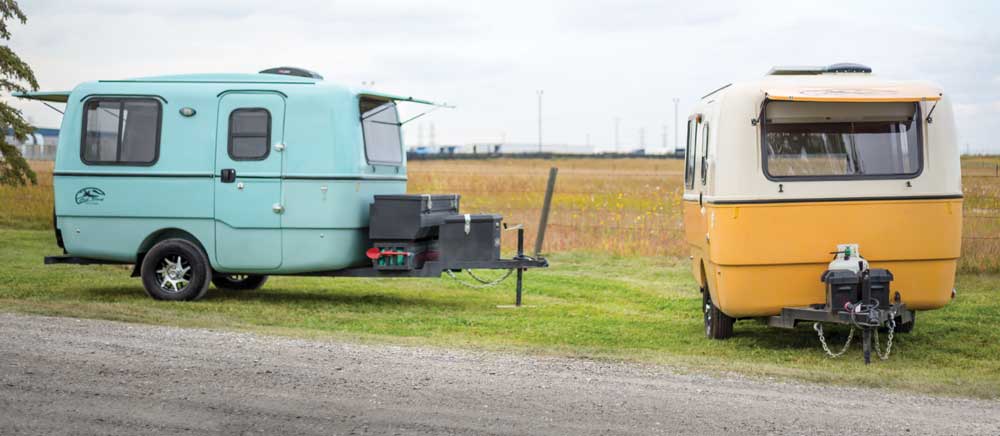 Exterior Length 14′ 2″
Exterior Width 6′ 2″
Interior Height 6′ 2″
Exterior Height 8′
Freshwater Cap. 11 gal.
Black-/Gray-Water Cap. NA
LP-Gas Cap. 5-10 gal.
UVW, Base 878 lbs.
Hitch Weight 270 lbs.
GVWR 2,004 lbs.
MSRP, Base $12,250
With almost 25 customizable options, the Outback can be built with your own camping style in mind. Made with molds used to create the original Trillium trailers in the 1970s, it comes in four floorplans with possibilities for bunk beds, a mini couch, a flush toilet and a front dinette. Options include a solar-power system, a custom appliance package, oak interior and many others that help make this small trailer feel like home at the campground or miles off the grid. The interior is stylish and modern, and shoppers can pick from more than 100 exterior colors, and even choose the sequencing of those colors to create a fiberglass trailer that is truly one of a kind.
---
Armstrong, British Columbia:

Bigfoot 25RQ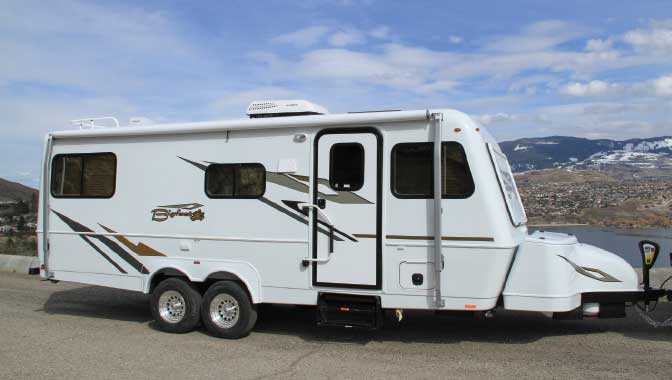 Exterior Length 25′ 6″
Exterior Width 8′ 4″
Interior Height 6′ 4″
Exterior Height 9′ 2″
Freshwater Cap. 45 gal.
Black-/Gray-Water Cap.
45 gal./45gal.
LP-Gas Cap. 10 gal.
UVW, Base 4,863 lbs.
Hitch Weight 610 lbs.
GVWR 7,500 lbs.
MSRP, Base $55,965
Looking for a fiberglass trailer without compromising on size, seating and creature comforts? You'll want to check out the 25½-foot 25RQ. The dinette extends into an L-shape, allowing for comfortable dining and a seat for stretching your legs. Counter space will fit a coffeemaker and toaster with room to spare for food preparation. The walk-around 60-by-74-inch bed will appeal to those who dislike climbing over their partner, and the wardrobe and drawers make it easy to pack for longer trips. Generously sized black, gray and freshwater tanks are perfect for boondocking, and ample cargo-carrying capacity allows for the possibility of adding solar. Heated and enclosed tanks, high-density insulation and thermal-pane windows make the 25RQ a year-round travel trailer.
---
More Fiberglass Trailers: Thinking Outside the Egg
The small world of fiberglass trailers has grown in some quirky and quixotic directions in recent years. Companies like Southern California's Happier Camper, Oregon's Dub Box, Washington's Relic Custom Trailers, and Armadillo Trailers in British Columbia are making small trailers that should find equal appeal among Millennials buying their first RVs and Baby Boomers with a sense of retro style.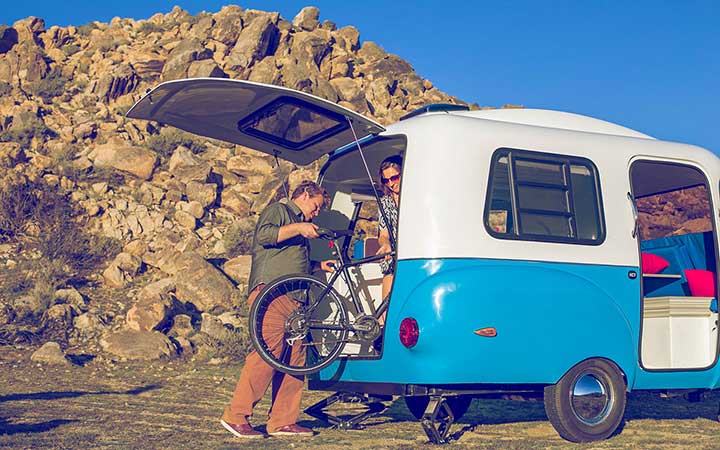 Based in Los Angeles, Happier Camper targets the outdoor enthusiast with its large rear hatch, wide entry door and panoramic windows. The retro-style exterior is charming and nostalgic, and its modular interior system is flexible and customizable. According to the company, "Configuring and reconfiguring is a snap" — and it also looks like a whole lot of fun.
Dub Box USA builds distinctive molded-fiberglass trailers in the small town of Aurora, Oregon. The Dub Box's body and moon-capped wheels look like a Volkswagen camper van straight out of the Summer of Love, but the gelcoat exterior colors, stylish and customizable interiors, and pop-up roof represent something new in the world of fiberglass RVs.
Made in Enderby, British Columbia, the 13½-foot Armadillo could easily pass for the granddaddy of "egg" trailers, the Boler, and for good reason. Its rounded fiberglass body is made from the original molds of its trailblazing Canadian ancestor. Updated technology, contemporary comforts, modern interiors and trendy decor bring its three floorplans up to date.
The story behind Relic Trailers of South Prairie, Washington, is every bit as interesting as its mid-20th-century design. It involves a high school welding teacher, a warehouse in Michigan and an ad on Craigslist. Relic offers a wide variety of options in three layouts: one with a full bed, one with two twins and one with a convertible U-lounge. The rest is up to you.
No matter what options you choose, these trailers are sure to make a splash at the campground. — Stephanie and Jeremy Puglisi
---
In addition to contributing to Trailer Life, Jeremy and Stephanie Puglisi are writers for RVFTA.com and hosts of the RV Family Travel Atlas podcast. They are also the authors of Idiot's Guides: RV Vacations. The couple spends as much time as possible exploring the country in a toy-hauler travel trailer with their three very energetic sons and Maggie the Camping Dog.
---
Fiberglass Trailer Care
Keeping a fiberglass RV clean and protected from the elements is key to longevity

Fiberglass is the leading choice among RV manufacturers because it's durable and cost-effective — and will look great for years if you take care of it.
The biggest enemy to fiberglass (molded or otherwise) and its gelcoat surface are the elements — sun, wind and dirt. With that in mind, it's crucial to keep the surface clean by washing your rig at least once a month if possible, more often if you live in a dirty, dusty climate. Waiting too long to wash it allows dirt to accumulate on the surface, increasing the likelihood that you will scratch the gelcoat surface while rubbing it with a sponge.
Use soap designed specifically for washing RVs, cars or boats, as household detergent products can strip any wax that has already been applied. There are a number of good car-wash soaps out there, both in the automotive, marine and RV segments, and if you can find one that also contains wax, this will help keep a protective layer in place between washes. Wax the RV twice a year, at the beginning and end of each season. Slightly oxidized surfaces can be restored using a fiberglass polish, followed by wax.
Keep the trailer out of the sun if possible; if not, consider a high-quality, UV-resistant cover; those made from Sunbrella material are the best and longest lasting. Go with a custom-made cover if you can afford it, or at least one that fits snugly and can be tightly secured with straps. A loose-fitting cover can actually do more harm than good, as flapping material combined with dirt can rapidly damage the surface. — Chris Hemer
---
A frequent contributor to Trailer Life, Chris Hemer is the former technical editor of Trailer Life and MotorHome, and has been an RV and automotive journalist for more than 20 years. An outdoor enthusiast who now makes his home in Portland, Oregon, he enjoys camping, motorcycle riding, mountain biking and hiking.
---