Southern Indiana, southbound on Highway 162: I just went by the Nancy Hanks Lincoln School, a reminder that this is the home turf of our 16th president. Nancy Hanks Lincoln was Abraham Lincoln's mother. She is buried a few miles east of here.
The highway makes a turn into Santa Claus and becomes Christmas Boulevard. Passing the Holiday World and Splashin' Safari, I turned onto Holiday Boulevard. Just beyond the Silent Night Café, packets of firewood are stacked next to the road, offered on the honor system. I stopped and checked in at the Lake Rudolph Campground and RV Resort.
With 200 sites, this campground is mostly woods. It's so big; they rent electric golf carts to make it easier for guests to get around. For those camped on Ornament Circle, they are right on Lake Rudolph, which is more scenic than functional. Every few minutes the Raven Rollercoaster, at neighboring Holiday World, swoops right down next to the surface of the lake at about 60 miles an hour.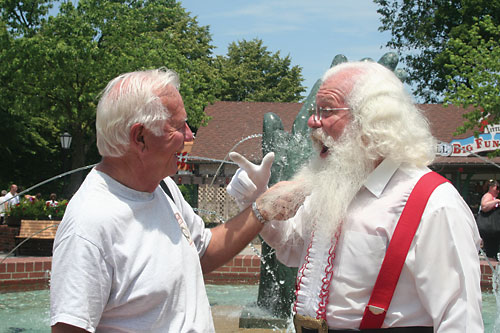 This 155-year-old town of Santa Claus has 2,200 residents. The Ohio River is just south of here. The closest big city is Louisville, Kentucky, about an hour away.
Its gas station, grocery store and post office are in the Kringle Place Shopping Center, which is as "downtown" as this place gets. Its centerpiece is a 50-foot cone of lights — they call it Santa's LED Christmas tree. It runs a choreographed light show, set to Christmas music, every night at 9. During the Christmas season, the 15-minute show runs hourly.
Santa Claus, in statue form, stands in front of the post office holding a Christmas package over his head touting ZIP code 47579. And well he should. This is his town. His name and picture are everywhere. The hotel is Santa's Lodge. Even the Catholic Church is named Saint Nicholas.
Robert Ripley, in his nationally syndicated "Believe It or Not" newspaper cartoon, brought world attention to the Santa Claus post office. He wrote that in this village of 50 people, "The Postmaster acts as Santa and mailed out 100,000 letters." That was in 1929.
"We handle about half a million pieces of Christmas mail," Geri Ferguson told me. "And most of it gets cancelled by hand." The cancellation stamp — they call it a picture postmark — is a bit smaller than a deck of cards.
"Every year it's redesigned. But it always says 'Santa Claus Station' and has Santa on it. They run a contest at the high school among the senior art students. The teacher brings in the pictorial art for the stamp, and we pick the winner. And that depiction goes all over the world."
We've got three people, and it gets really hectic around here. Kids come in with their parents, usually the same families every year. We let them hand-cancel all of their Christmas cards, up to 20 a day, anyway. Starting about Thanksgiving, people send us their Christmas cards to be postmarked and mailed. All we ask is that the cards have the proper postage."
And then there are the letters to Santa. They come in from all over by the thousands. (Santa's address is P.O. Box 1, Santa Claus, IN 47579.) Santa's elves, a group of volunteers, answer them — every one.
From the woody hills of Indiana, from Santa Claus, where every morning is Christmas morning — Merry Christmas.
……….
Bill's e-mail address: [email protected] Next month Bill will be in Caliente, California.