Get the most from your outdoor adventures with one of 16 easy-to-pack vessels that fold, inflate or snap together
Camping means different things to different people, but one thing's for sure: Being out on the water is a high priority for RVers who like to experience the outdoors. Nature just gets right up in your face when you are exploring on the water. You witness things that can't be seen from a campsite or trail.
The trick for the RV crowd is finding a way to transport that kayak, pontoon boat, stand-up paddleboard or what-have-you when you're already storing all of your camping supplies. Don't worry — there are plenty of great options for boating with inflatable, foldable and modular watercraft that make a remarkably small footprint when it's time to pack.
With so many ways to go these days, we can give you only a sampling from some of the best manufacturers in the business. Peruse these companies' websites and you'll discover additional options that may be just right for you.
Inflatable Watercraft
Aire Tributary Tomcat Tandem

Aire offers a host of inflatables that can be stowed in an RV or tow vehicle, from river rafts to catarafts to stand-up paddleboards (SUPs) and everything in between. Aire's Tributary Tomcat Tandem is ideal for those looking for a two-person inflatable kayak that's very stable and has extra room for gear. The Tomcat is surprisingly high-performance with its heavy-duty PVC outer shell, double-topstitched seams, 20-gauge vinyl bladders and superfast drain system. Easy for two to navigate, the kayak also works for a single paddler and a stash of gear. The kayak sells for about $750, weighs 54 pounds and can safely carry 450 pounds.
Aire | 800-247-3432 | www.aire.com
Aquaglide Columbia
The hard bottom of the inflatable Aquaglide Columbia Two HB gives it excellent performance, and it's just as comfortable as a recreational touring kayak. The 6- to 12-psi high-pressure floor is rigid and stable and combines with a removable fin and long waterline for outstanding tracking. Constructed of
commercial grade hull material blended with rugged 600-denier polyester, the 400-pound-capacity kayak accommodates up to two paddlers. Front and rear spray guards keep occupants dry, and bungee deck lacing means gear is close at hand. Priced around $1,000, the Columbia Two HB collapses to 28 x 12.5 x 29.5 inches and comes with a storage bag.
Aquaglide | 509-493-4958 | www.aquaglide.net
Classic Accessories Oswego
Looking for high weight capacity in an inflatable fishing pontoon? Classic Accessories' 10-foot-long Oswego can hold up to 450 pounds yet weighs only 76 pounds. Footrests and the padded seat adjust to a wide variety of leg lengths, and three oar positions accommodate all reaches. A two-position motor mount is supplied for trolling. The pontoon has an abrasion-resistant PVC bottom and a heavy-duty fabric top, and the frame uses powder-coated steel tubes. Available for less than $600, the Oswego comes with a three-position rod holder, six oversize zippered pockets and two-piece aluminum oars.
Camping World | 888-626-7576 | www.campingworld.com
Coleman Sevylor Fiji
With the Coleman Sevylor Fiji, RVers can have the feel of a full-size kayak with the convenience of an inflatable. This lightweight two-person kayak has a fixed rear seat and removable middle seat. The floor is a semirigid I-beam with three chambers designed to keep the boat's solid shape on the water while holding up to 400 pounds. The Double Lock Fast Valve speeds inflation and deflation. Constructed of PVC and guaranteed not to leak, the Fiji Travel Pack Kayak sells for $149.99 and comes with one aluminum touring paddle that breaks down into five pieces and a travel bag for compact storage.
Sevylor | 800-835-3278 | www.sevylor.com
Hobie Mirage i14T
The pedal-powered Mirage i14T inflatable kayak is just one example of the high-quality vessels Hobie makes for water sports. The double-scissor action of two MirageDrives uses the big leg muscles for pedal propulsion rather than just the smaller arm muscles — although you can use a paddle, too. The high-back seats have inflatable lumbar support and thick padding. There's a pump, an optional sail kit and even a drink holder. Retailing for $2,699, the Mirage i14T has handles for easy launching, and it all deflates into a wheeled storage bag.
Hobie Cat Company |800-462-4349 | www.hobiecat.com
Sea Eagle FastTrack
Fast and light, Sea Eagle FastTrack kayaks have a sleek, curved shape and a state-of-the-art NeedleKnife keel. The high-pressure drop-stitch floor provides rigidity to the whole structure (you can even use the kayak as a stand-up paddleboard), making it very responsive to paddle strokes. The 1,000-denier hull material is extremely tough (visit Sea Eagle's website to see them pound on it with a claw hammer). The rear skeg keeps the kayak headed on course but can be removed for whitewater. FastTrack kayak prices start at $1,099, and Sea Eagle offers a 180-day full-refund policy and a three-year warranty.
Sea Eagle | 800-748-8066 | www.seaeagle.com
Watercraft Test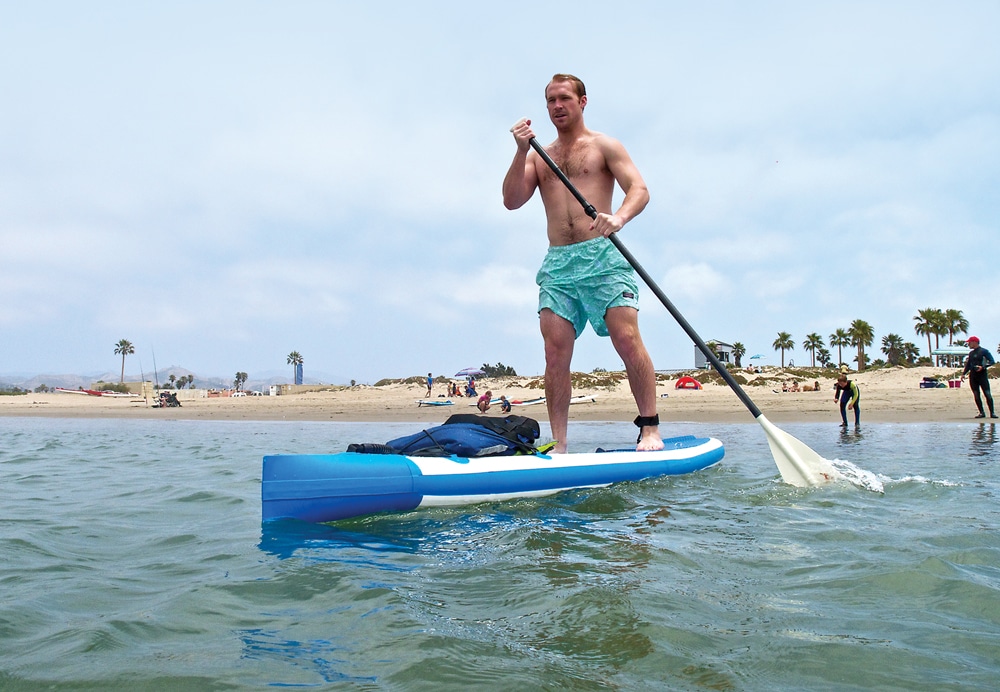 Sea Eagle NeedleNose Stand-Up Paddleboard
by Bob Dawson
The NeedleNose 126 inflatable SUP gets "likes" across the board from my family, including both sons. Collin, the 21-year-old (pictured above), took to the SUP like, well, a fish to water. He was up and paddling without hesitation and gave the board positive marks for its quickness and the physical workout it gave him. The real surfer in our family, 14-year-old Logan, likes that it's an easy-to-use water toy that's the polar opposite of "shreddin' the gnar" on a short board.
One of the first things I noticed about the NN126 is that it does indeed come in a pretty small package. It arrives in a duffel bag that's easily stowed in a decent-size RV storage compartment or the bed of a pickup, and weighs about 39 pounds, including the three-section paddle that snaps together and the optional DC-powered pump.
Unpacking the NN126 is simple and straightforward with only a few pieces, the main one being the board itself that unfolds and inflates quickly to about 3 or so psi. After that, the backpressure is a bit much for the power pump, so we switched to the hand pump to get it to the recommended 12 to 15 psi that makes it a truly rigid board. I broke a little sweat getting it there, but it was worth the effort.
Schlepping the inflated NN126 from California's Pacific Coast Highway to the beach at Leo Carillo, just west of Los Angeles, was less work than I imagined. The handle is placed balance-center of the board, and it and the paddle together weigh only 27 pounds.
Being long and broad, the NN126 is maybe more boat than board. When I first took it out, I tried surfing it and failed dismally. But then I took it to the harbor and found it to be an excellent flat-water craft. It's stable, fast and maneuvers well, which the Sea Eagle folks chalk up to their patent-pending NeedleNose design.
I was happiest on the NN126 in the kneeling and sitting positions when I borrowed my friend's kayak paddle. In fact, I was so happy that I will definitely order the optional seat. It was exhilarating to maneuver as fast and well on the NN126 as my friends on their kayaks.
When the day is done, getting the board back into that convenient duffel is nearly as easy as getting it out. The first time you put the NN126 away, though, you may want to consult the very comprehensive online manual for the best folding strategy. Pricing starts at $999.
Sea Eagle | 800-748-8066 | www.seaeagle.com
Folding Watercraft
Bergans of Norway Ally
Bergans' versatile folding canoe comfortably fits a family with two children or two paddlers and plenty of gear. The Ally (pictured in action on page 98) is wilderness-ready because of its strong and resilient skin and reinforced bottom. The closed-cell foam pad acts as a shock absorber with a slightly flexing hull and offers a high level of buoyancy along with effective thermal insulation. Different hull shapes are available for a variety of conditions — for example, a straight keel for high speeds on flat water and a slight rocker for stability and large payloads on river expeditions. Ally canoes sell for between $1,867 and $2,173.
Bergans of Norway | 303-834-9709 | www.bergans.com
Folbot Greenland II
Folbot's top-of-the-line two-person expedition model has a huge payload capacity (600 pounds) and is perfect for serious exploration or just for fun. Folbot says it is the world's longest continuously producing folding kayak manufacturer, and the Greenland II is a result of that heritage. At 17 feet long, 62 pounds and priced at $2,500, this skin-on-frame kayak is the biggest and most expensive model Folbot offers among a selection of nine. Built in America, the Greenland II assembles in less than 20 minutes and takes up 75 percent less storage space than a traditional kayak when folded.
Folbot | 533-5099 | www.folbot.com
Folding Boat
The Folding Boat Company's patented K-Pak design provides a compromise between a rigid hull and an inflatable. By combining the best attributes of both, the K-Pak offers a utilitarian boat that is very comfortable, stable, easy to assemble and weighs only 18 pounds. The boat's aluminum frame folds inside the outer skin to just 37 inches. It fits into its own backpack, and setup takes about five minutes. The $895 K-Pak is great for fishing, wildlife photography, sightseeing or just a leisurely paddle.
Folding Boat Company | 919-622-4542 | www.foldingboatco.com
Porta-Bote
The new high-performance line of Porta-Bote's unique folding watercraft incorporates engineering advances that allow these vessels to travel 20 percent faster than previous models using the same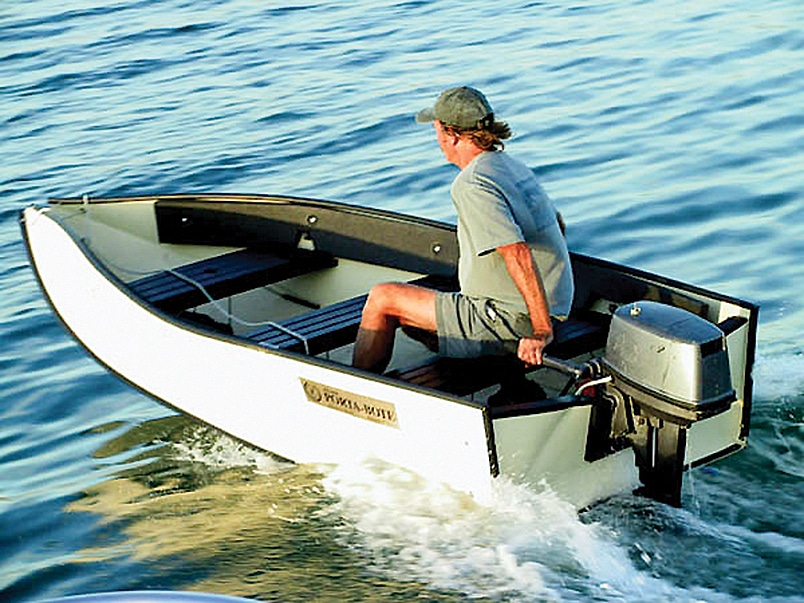 low-powered outboards. Available from 8 to 14 feet, Porta-Bote models are built with a patented folding transom and can be opened or closed in just a few minutes. Weighing half as much as a comparable aluminum craft, the compressed boat requires only 5 inches of depth and can be stored on the roof or side of an RV. Porta-Bote's copolymer resin hull material is warranted for 10 years. The smallest model sells for just less than $2,000.
Porta-Bote | 650-961-5334 | www.porta-boat.com
Sea Eagle FoldCat
The patented folding frame of the Sea Eagle FoldCat assembles in a quick five minutes. It provides a full floor for more usable space than in ordinary pontoon fishing boats and a "safety net" to catch dropped gear. For stability, two super-buoyant 16-inch pontoons are spaced widely apart. The motor mount can take up to a 3-horsepower engine. Two 360-degree swivel seats offer plenty of back support, and generous cushions make waiting for the fish more comfortable. Up to four rod holders can be mounted in predrilled holes on two benches. Available for $1,449, the FoldCat packs tightly and is stowed in two durable nylon bags.
Sea Eagle | 800-748-8066 | www.seaeagle.com
Watercraft Test
Advanced Elements AdvancedFrame Sport
by Allen M. Zatkin
My wife and I both love the intimacy with our aquatic environment that kayaking provides, not to mention the low-impact workout. But because our hard kayaks were so cumbersome, we rarely took them along on RV journeys and consequently missed many great places to dip our paddles. Then I stumbled upon some kayaks that solved the portability problem and worked nicely with our first love, RVing.
The Advanced Elements line of AdvancedFrame inflatable kayaks incorporates an internal aluminum frame for the bow and stern, which allows these boats to cut through the water like a rigid kayak. The Sport model folds down to a slim 30 x 17 x 8 inches and fits easily in an RV storage bay, car trunk or pickup bed. The sturdy bag (included) has room for the very comfortable standard seat or the optional and even more comfortable high-back seat, which has inflatable lumbar support.
Setup and takedown are quick and easy. Using a small rechargeable air-bed pump, we can quickly blow up our two kayaks 90 percent of the way. We then top them off with a hand pump equipped with a pressure gauge. We can have our kayaks out of their carrying bags and on the water in less than 10 minutes. They weigh only 23 pounds each, so getting to the water's edge is a breeze.
Most of the inflatable kayaks I've seen or paddled fit into two categories: heavy and bulky whitewater touring kayaks or flimsy plastic jobs that are more toys than serious watercraft. The molded-in fin and sharp bow and stern configuration of the AdvancedFrame Sport make it track like longer hard kayaks and give it the ability to handle crosswinds well.
While not intended for rapids and bouncing off rocks, the kayak's multilayered fabric construction is rugged and well adapted for mild to moderate touring and exploring. Advanced Elements encases the air bladders in tough fabric chambers that make the hull rigid yet still very lightweight. The proprietary valves are easy to use, and they make inflating and deflating surprisingly fast and easy. All in all, these kayaks are a nice package at a reasonable price of less than $440.
Advanced Elements | 866-262-9076 | www.advancedelements.com
Modular Watercraft
Expandacraft
How would you like a rowboat one day and a sailboat the next? Expandacraft is a modular boat system that allows you to quickly reconfigure from one type of watercraft to another and then break it down for easy storage. Purchase the $100 hull sections separately to build your own craft or buy a ready-made sit-on-top vessel for $750 and up. Kits are available for sailing, rowing, pedal power and more. Each section is 4 feet long and 10 inches at its widest point. The Solo 12 can handle a 240-pound load, while the Tandem 16 can float up to 450 pounds.
Expandacraft | 813-810-2554 | www.expandacraft.com
Point 65˚N Rum Runner
The success of Swedish company Point 65˚N's popular modular kayaks led to development of its stand-up paddleboards. The 11.5-foot Rum Runner is a take-apart SUP with three sections that snap together in seconds and transport easily in an RV or tow vehicle. The displacement hull makes it a fast and straight-tracking board for paddling on flat or choppy water. Rotomolded polyethylene construction provides both strength and impact resistance. The Rum Runner has two built-in cup holders and a carrying capacity of 265 pounds. Each section weighs less than 15 pounds, and the combined weight is less than 36 pounds. MSRP: $999.
Camping World | 888-626-7576 | www.campingworld.com
Snap Tandem
The take-apart Snap Tandem is a high-performance sit-on-top kayak that's exceptionally easy to store, carry and put together. Made of blow-molded durable polyethylene, the Snap is easy to handle, both in and out of the water. The kayak's modularity allows it to turn into a solo boat simply by removing the midsection. Add a second midsection, and it's a triple. The patent-pending Snap-Tap system is strong and comfortable, with grooves and hooks that hold it all together. The kayak has drink holders, contoured foot braces and great back support. MSRP: $799.99
Camping World | 888-626-7576 | www.campingworld.com
---