Q: We need your assistance or an article on how to remove black streaks on my 2000 Coachman travel trailer. I have used several products, but the best one is the Reliable Super Spray Cleaner. It takes a lot of work even with this, but I can get rid of them. The only thing is, after a week or so, they return. It appears that it is something with the metal siding and it bleeds through from under the paint. From all my years of RVing, this is the only trailer I have had the problem with. I own another trailer, a 1972 Scotty Highlander, and have had no black streak problem. Can something be used after cleaning to stop the streaking?
David Ream, Runnemede, N.J.
A: There's a lot of difference between the siding on your '72 Scotty – probably aluminum – and your 2000 Coachmen, due to the age of the siding, the quality of construction from the siding manufacturer, and so on. You didn't say what type of roof is on either RV, so that limits the scope of our answer. There are numerous products on the market designed specifically for black streak removal and the products offered by known mainstream manufacturers can do a good job. As for the streak recurrence after cleaning, normally the black streaks reappear when more residue is washed from the roof and runs down the RV side when it rains. We haven't heard about the streaks simply reappearing on their own, so that's a puzzler. In general, once you clean the black streaks from an RV, a coat of wax is your best protection against recurrence. 
– Jeff Johnston
---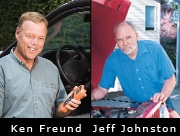 To send your questions to RV Clinic, write to 2575 Vista Del Mar, Ventura, Calif., 93001; or email [email protected]. Also, check out TrailerLife.TV for our expert RV how-to videos.