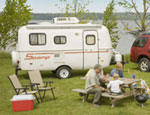 Little
Scamp
Brought to you by Trailer Life magazine
It's been almost 40 years since two brothers and a sister designed
and built a little 13-foot trailer in the north country of Minnesota.
Eveland's Inc. was created and gave birth to Scamp, a compact and versatile travel trailer
well-suited to first timers. Over the years, a few more models were added to
the inventory, and today the 16-foot Scamp is available in five floor plans,
including a bunk-bed version which can comfortably accommodate a small
family.

Continued from newsletter…

Weighing in at 1,750 pounds with an approximate hitch weight of 165 pounds, the
Scamp 16-footer offers a surprising interior height of 6'3″ and an overall
height of 7'10". Equipped with super insulation of R15, a 12-gallon freshwater
tank, 20-amp power converter and both 12- and 120-volt lighting, the trailer is
appropriate for a vacation in warm or cold weather. 

Furnished with the dinette and bunk beds, the 16-footer sleeps four. The
galley includes an ice box, sink and two-burner stove; the 16-foot Option
Package, however, expands on galley and other features and includes: 26-gallon
gray-water tank; 1.9-cubic-foot refrigerator; 12-110v-gas; cabinet over sink;
small window over stove top and much more. For more information, go to www.scamptrailers.com.