As I accelerated out of the hairpin turn on State Route 79 in rural Southern California, I could feel the

turbocharger boost increasing, so I rolled into the throttle even more. It was exhilarating, especially considering that I wasn't driving a sporty car. I was in a diesel-powered 2014 Jeep Grand Cherokee Limited 4×4 towing a 2016 Lance 1985 travel trailer.
This particular Jeep had been modified with Hellwig's stiffer rear anti-sway bar (model 7732, 1 inch in diameter). Hellwig invited us to put its products to the test, so we picked up the Jeep from the venerable suspension-product company and the trailer at Lance headquarters in the desert town of Lancaster, California. During my initial spirited drive of nearly 200 miles to the campground for the first night's rest, I drove past the Pechanga Indian Reservation, Vail Lake, the San Luis Rey river and Lookout Point, and finally dived down steep mountain switchbacks before arriving at a beautiful desert campground called the Springs at Borrego. This RV resort and golf course has won numerous awards and been rated highly by some pretty discerning organizations.
See Related Story:
My speedy ride from Lancaster to Borrego Springs wasn't just to satisfy my inner Mario Andretti, and rest assured that I broke no laws. I was purposely aggressive to test both the Hellwig anti-sway-bar-equipped Jeep and the lightweight Lance trailer. The trailer is 23 feet 4 inches long overall (it has a 19-foot floorplan) and weighs just 4,480 pounds as tested (water and propane full).  Ordinarily, tight corners and trailers aren't a good match, but this lightweight combo was just begging for a curvy mountain road, and the handling was truly eye-opening.
(Above from top) The Lance was hooked up using the No-Sway, No-Bounce weight-distributing hitch from Andersen Hitches. Rated at 14,000 pounds gvwr and 1,400 pounds hitch weight, this system is unique in that it employs chains under tension instead of spring bars, and red urethane "springs" that help dampen shock loads. The company bills its system as the simplest, quietest, most advanced weight-distributing hitch on the road today. When you combine the Andersen weight-distributing hitch with the trailer's torsion bar suspension and a tow vehicle that has electronic stability control and a bigger Hellwig sway bar, you have a very sporty package. Alloy wheels with radial tires create a sleek, modern look.
The 3.0-liter EcoDiesel V-6 engine combines with an eight-speed automatic transmission to keep the engine nearly always in the right range, no matter the load or road conditions. But we did say "nearly" because there's one nagging thing the Jeep does that we wish we could fix. When you are slowly rolling out of a turn or taking off from a stoplight, the engine has a bit of a lag around 1,200 rpm. Once you get up to 2,000 rpm, things get back to normal, and when you hit 3,000 rpm, you start thinking you're driving a sporty car. Even with a modern diesel, turbo lag is still something a driver needs to accommodate, although it's nowhere near as bad as it's been in the past.

The claimed maximum horsepower of 240 is achieved at 3,600 rpm, while the most torque you will see, according to Jeep, is 420 at 2,000 rpm. Jeep claims you can get up to 28 miles per gallon with the 4×4, but we surely didn't see anything near that. Our best unloaded mpg was 25, and while towing we managed 12.4 mpg.

The two-wheel-drive Jeep comes with a 7,400-pound towing capability, and that makes it the best in its class. But this 4×4 is rated a bit lower at 7,200 pounds. A Trailer Sway Control (TSC) feature reduces trailer sway and improves handling in adverse towing conditions caused by crosswinds, traffic and improper weight distribution on the trailer. When an excessively swaying trailer is recognized by the system, the TSC automatically kicks into action.

One thing we can't praise enough is the comfort of the Jeep. The interior is luxurious and well appointed. There's leather everywhere. The controls are ergonomically practical and modern in design. The digital gauges are easy to scroll through. This SUV has lots of luxuries, like phone sync. If you've considered a Jeep in the past but thought it was not quite refined enough, rest assured, this SUV is both capable and comfortable.

Once I had settled into my campsite, I was able to see that the Lance has a very open interior design. Step inside, and there's a 60 x 80-inch queen-size bed to the right. It's quite comfortable and features a walk-around design. An optional convertible sofa is available for additional seating capacity. The convenience of LED reading and mood lights within reach is appreciated, as are the USB ports for charging cell phones while you sleep. Narrow shelves on either side of the bed allow space for eyeglasses, a water glass and other bedtime necessities. It should be noted that the mattress can be lifted up with the assist of struts, and there's a lot of storage under the bed. That's a nice use of space.
A curtain curves around the foot of the bed for privacy, but it also helps block out some of the ambient light. When you sleep in a place as dark as Borrego Springs (where they specifically ask you to keep your exterior lighting to a minimum so that guests can observe the Milky Way), little things become amplified. Like the LED light on the USB charger. If I were living in this trailer, there'd be a piece of tape over that little light. And I'd figure out how to block off the blue lights from the entertainment center.

Speaking of which, the Bluetooth-equipped AM/FM/DVD stereo and a 24-inch HD TV are positioned to be viewed from the dining room or the "master bedroom." The trailer even has external speakers.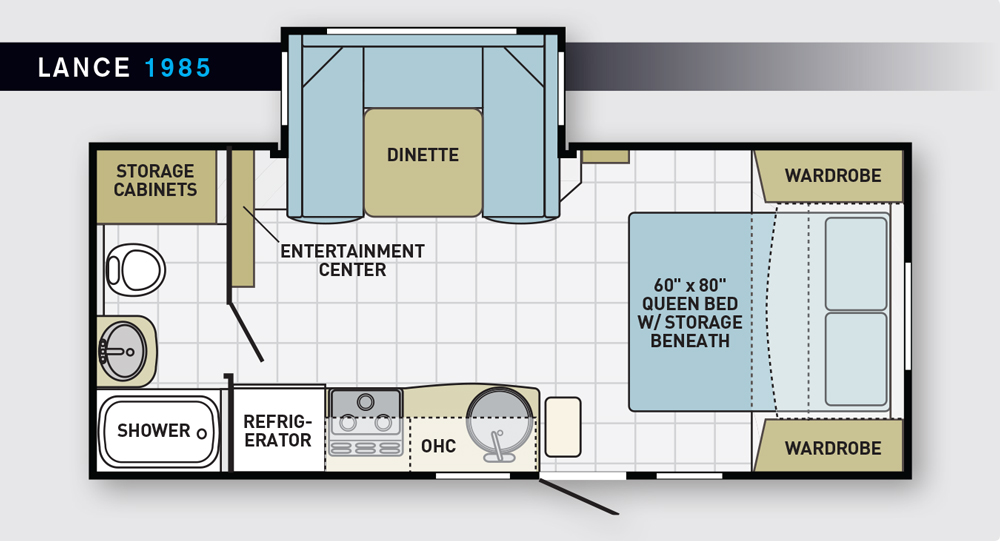 One thing you'll notice about a Lance trailer is the quality built in everywhere you look. There are dual batteries on the A-frame of the trailer, an electric A-frame jack makes things a whole lot easier, every corner of the trailer has a stabilizing jack, and there's a double fold-out step and a large grab handle that folds into the side of the trailer for travel.

Lance claims that the company's campers and trailers are four-season RVs because of the design and the materials used to build them. Lance has invested heavily in CNC manufacturing equipment, and the payback is that every part is built precisely and tolerances are tight. Take a close look at where the ceiling meets the walls in a Lance trailer, and you can see that there's no gap. That kind of zero-tolerance building is used throughout the Lance line. From cabinets to cushions, everything fits right.


The walls are a combination of fiberglass on the outside and Azdel lightweight composite panels in strategic locations, with foam insulation, all mated together through a bonding process. Azdel is used instead of wood because it is about 50 percent lighter, is unaffected by water, and the R-value (which measures the ability to keep cold out and the heat in) is about twice that of wood. Plus, the soundproofing is better, everything is formaldehyde-free, and the glues used are nontoxic.

Of course, materials like these are more expensive than wood, and the CNC manufacturing equipment is pricey, too, but that's how you get to where Lance is today, with sophisticated materials and design.

One of the changes for the 2016 model of the Lance 1985 is the curved front window. Although there's no longer a rock guard up front, the new picture window provides welcome views. Adding to the feeling of openness is the slideout dining area that Lance has been incorporating into nearly everything the company builds lately.  The seating at the dinette easily holds four, but as many as six could sit around the table comfortably for a card game or dinner and not feel too squeezed in.

Likewise, the full-width aft bathroom is spacious and allows you to be comfortable when dressing, getting ready for a night out or just doing your business without having to pull your knees into your chest to get the door closed. I speak from experience here, as the family I grew up in traveled all over the desert in a motorhome that combined the shower, toilet and medicine cabinet. It just made you not want to do anything in there. But Lance provides a nice separate shower and plenty of room for the toilet, and the sink is intelligently placed. There's also a good-size wardrobe in here.


A solid bathroom door adds to the privacy but creates one of the few complaints we had. When the dinette slideout is in, the bathroom door is limited on how far it can open, and people with larger builds may find it hard to squeeze by. It's not really a big deal since the slideout can be opened quickly, but the engineers might want to ponder this situation.

Added to the dinette slide for the 2016 model are two small windows. They are much appreciated and add a lot to the interior light and visibility.

The only other thing we wished for was an air-conditioning vent that points toward the dining area. It would be nice to have a steady stream of cool air headed in your direction on hot days, but that's a minor thing. Especially when you consider the other details that went into this trailer, such as the Fan-Tastic Vent in the ceiling and power awning with LED lighting and auto-retract feature during windy conditions. These go beyond what you expect to find in a compact travel trailer.

The Lance 1985 is the culmination of 50 years of building campers and trailers to an increasingly higher standard. The diesel-powered Jeep Grand Cherokee, while not inexpensive, is as capable as it is practical, with comfort to match its good looks. Together, they make a great match.
Jeep
www.jeep.com/grandcherokee
Lance Camper Manufacturing
661-949-3322
www.lancecamper.com
---