For many of us, March can be a cold, blustery month and there's no better way to warm up than a rich, thick chowder like the Lake Superior Chowder from the Landmark Restaurant at Old Rittenhouse Inn in Bayfield, Wisconsin. Add a salad and some crusty bread, and invite campground neighbors over for an end-of-winter get-together.
We met Mark and Wendy Phillips, owners of the Old Rittenhouse Inn, on our 1,300-mile motorhome journey around Lake Superior. The town of Bayfield is a gem that instantly captures the heart. Perched on the lake's shore, this picturesque burg features a marina and a walkable downtown filled with quaint shops, cafes and bookstores. The town's streets are dotted with historic homes and old mansions like the Old Rittenhouse Inn, a 20-room Queen Anne Victorian that features a restaurant and spectacular views of the lake from its wraparound porches.
Visitors to Bayfield can spend time exploring the area's Apostle Islands' colorful limestone-carved caves and rock formations. In the surrounding hills, the Fruit Loop is a wonderful way to while away the afternoon tasting wines at several area wineries and buying fruit and produce from local farms.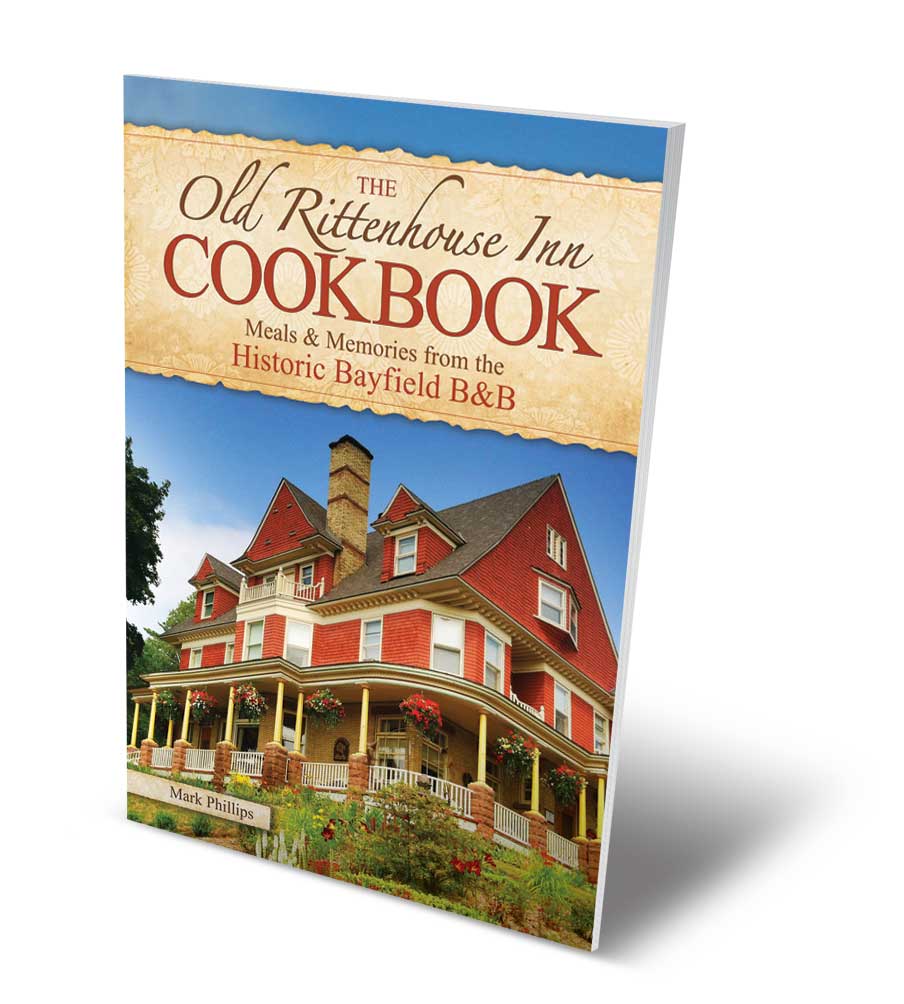 Lake Superior Chowder
This signature dish comes from the Landmark Restaurant at Old Rittenhouse Inn (www.rittenhouseinn.com). It's featured in the wonderful cookbook/memoir, The Old Rittenhouse Inn Cookbook: Meals & Memories from the Historic Bayfield B&B.
The chowder utilizes two area favorites – whitefish and trout from Lake Superior.
(Of course, you can use any fish available.) The clam stock gives it a lovely, briny flavor, and the cream and Yukon gold potatoes make this hearty enough for a meal-in-a-bowl.
Serves 6-8
1 small onion, diced
14 stalks celery, diced
11 carrot, diced
11 teaspoon salt and pepper
11 tablespoon fresh garlic, minced
13 tablespoons olive oil
11 cup white wine
14 cups vegetable stock
11 can clams in juice (16 ounces)
18 ounces fresh lake trout, boneless filets
18 ounces fresh whitefish, boneless filets
12 cups Yukon gold potatoes, diced to ½-inch cubes, skins on
13 sprigs basil
12 bay leaves
12 sprigs thyme
14 tablespoons melted butter
1/3 cup flour
11 cup heavy cream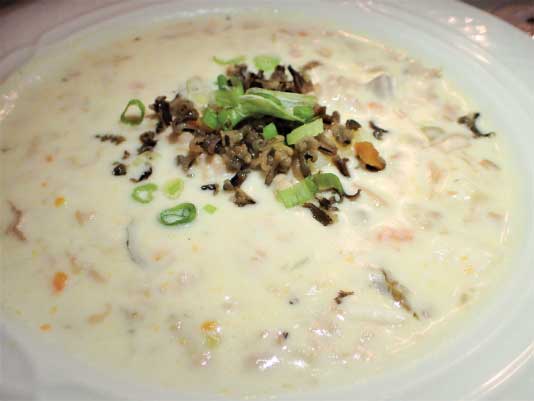 In a 4-quart, heavy-bottomed pan, saute onion, celery, carrot, salt and pepper, garlic and oil for about 5 minutes. Add wine and reduce by half. Add vegetable stock, clams and their juice. Bring to a boil, then add fish filets and potatoes. Simmer on medium-low for about 10 minutes. Add herbs and bay leaves and simmer for another 10 minutes. In a separate pan, mix butter and flour to make a roux, adding to chowder to thicken. Finish with heavy cream. Sliced green onions, soaked in cold water to curl them, make a nice garnish.
---