As the shuttle bus rumbles to a halt at the observation platform, David and I quickly scramble out to get our first look at the Rock of Ages Quarry. In the heart of the Green Mountain State's Central Vermont region is the appropriately named village of Graniteville, near Barre. At nearly 600 feet deep it is the world's largest deep-hole granite quarry.
On the far side of the yawning pit, steel derricks slowly hoist up gargantuan blocks of gray granite that will later be cut, sculpted, sandblasted and polished for grave markers, statues, countertops and myriad other items. The stone's fine-grained, impervious surface makes it highly prized by builders and sculptors, our guide tells us, noting that there's enough granite down there to mine for another 4,500 years.
The massive steps of the U.S. Capitol's east wing are Barre gray granite, we learn, as are the headstones of a number of prominent Americans including President Harry S. Truman, John D. Rockefeller Sr. and Kentucky Fried Chicken's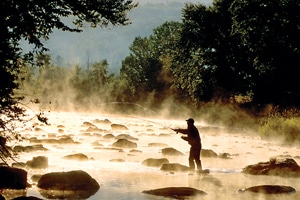 founder, Colonel Harland Sanders. Known as the Granite Capital of the World, about one-third of the country's memorial granite comes from this 50-acre site.
Back at the visitor's center, its entrance a mere 200 yards from the Lazy Lions Campground, we view exhibits and a video on the granite industry's history, which make it clear why Barre is the "Granite Capital of the World."
The self-guided factory tour lets us observe stonecutters at work, many of whom are descendants of the early Italian, northern European and French-Canadian immigrants who traveled here in the late 19th and early 20th centuries. Facing economic hardship in their own countries, they saw Barre's then-fledgling granite industry as a lifeline for a new start.
At the Cut-In-Stone Center, I try my hand at cutting stone. Grasping the sandblasting tool tightly, I slowly squeeze the trigger. My hands shake from the unexpected force of the vibrations as I make my first, tentative mark in the hard granite. Ten minutes later I have a souvenir of my visit to the world-famous quarry, a maple leaf etched onto a small tile.
Later that day, we find ourselves wandering, awestruck, through Hope Cemetery on Maple Avenue (State Route 14), a veritable showcase of memorial art on a hill high above the city of Barre. We soon discover that this is no ordinary cemetery. Every headstone and crypt is made of local granite with many sculpted in unusual shapes or intricately carved with elaborate designs — everything from floral patterns to bas-reliefs of people, angels and personal mementos.
Established in 1895, the 65-acre cemetery is the final resting place for many of the stoneworkers and their families. It became tradition for these men to create their own memorials before retiring. If they passed away early, as many did from silicosis or other lung diseases before ventilation systems were mandated in the 1930s in the cutting sheds, then a relative or coworker would do the honors.
The 10,500 grave markers include an actual-size armchair, a race car with the number 61, an imposing soccer ball and our favorite headstone, a loving older couple dressed in nightclothes reclining in bed for all eternity.
A life-size and life-like figure of Elia Corti, carved from a single block of granite, marks the grave of the Italian stonecutter
considered among the best in the country in the early 1900s. He died after being accidentally shot during an argument between the anarchists and socialists at Barre's Socialist Labor Hall in 1903.
Although you won't have a problem traveling on the main routes through town — U.S. Routes 2 and 302 and State Route 14 — some of the narrower side streets may be a challenge to negotiate while towing larger trailers. You should unhitch and leave your trailer in one of the public parking lots or at the Barre Civic Center on Auditorium Hill off North Seminary Street and walk through the downtown area. It's really the best way to explore the city and its architectural treasures,
including the Barre Opera House (1899), the old Labor Hall (circa 1900), Aldrich Public Library (1908), and the many magnificent sculptures and monuments — all testaments to the skill and artistry of the early stone carvers.
Among the city's most significant sculptures is "Youth Triumphant," which was designed by C. Paul Jennewein, the winner of a nationwide competition in 1921. It's also known as the Soldiers and Sailors Memorial and was created to replace an earlier "victory archway" commemorating those who served in World War I. On the lawn of the former Spaulding Academy, Scottish sculptors erected a monument to their native son, Robert Burns, a statue of the poet standing on a granite base with four detailed bas-reliefs depicting passages from his poems.
In Dente Park on North Main Street (State Route 14), a 23-foot-high statue of a sculptor holding a chisel and hammer was
erected in 1985 to pay homage to Carlo Abate. The Italian craftsman opened a school circa 1900 to teach design, sculpting and other skills to granite-industry workers. Today modern-day artists can take classes and exhibit their works at Studio Place Arts, located in a historic three-story building in the center of Barre.
Heading down U.S. Route 2, we soon reach Montpelier, the smallest state capital in the country, with a population of around 8,000. Its distinctive gold-domed State House, topped with a statue of Ceres, the Roman goddess of agriculture, dominates the downtown landscape.
Much of the building has been restored to its original 1859 appearance, including the House of Representatives' chamber, the governor's office and the Hall of Flags, where visitors can view many of the 68 different flags carried by Vermont regiments during the Civil War. Although visitors are welcome to sit in on the legislative sessions from January to April, free guided tours of the State House are offered only from mid-summer through fall-foliage season.
The Vermont Historical Society Museum, where we delve into the history of our home state, is in the Pavilion Building adjacent to the State House. Its main exhibit, Freedom and Unity, takes us from 1600 to the present, exploring everything from the arrival of the First Peoples (Abenakis), Vermont in wartime, agriculture, politics and tourism to the
realities of living in the state, including how the Depression, Flood of 1927 and 1918 influenza epidemic, among other events, had an impact on communities.
We also visit the U.S.S. Montpelier Museum on the second floor of City Hall to learn about the history of three naval vessels named Montpelier and explore the city's many art galleries, independently owned bookstores and shops including the Artisans Hand Gallery on Main Street, featuring the work of more than 100 local artisans.
On Saturdays from May through October, visitors mingle with the locals at the Capital City Farmers Market on State Street in downtown Montpelier to shop for fresh fruits and vegetables, herbs and perennial plants, cheeses, meats, maple products and baked goods. Locally grown foods also are featured prominently on the menu at the many Montpelier
restaurants, including those operated by the New England Culinary Institute, which is based here.
Our last stop in Montpelier is at Morse Farm Maple Sugarworks, a working farm where we view a movie on maple sugaring, sample syrup and tour the sugarhouse and the outdoor farm museum with its folksy figures carved out of wood by owner Burr Morse. Bragg Farm in East Montpelier also invites visitors to tour its family-operated maple-sugaring
operation and collection of vintage sugar-making equipment.
A short detour to Waterbury brings us to one of our favorite places in Vermont, Ben and Jerry's Homemade Ice Cream, on State Route 100. The company's fun factory tour treats visitors to the full story about how the premium ice cream is made and provides free samples straight off the production line.
We also stop at the nearby Cold Hollow Cider Mill, popular with travelers, especially in autumn when the apple cider press is operating. David and I stock up on maple syrup, jams and jellies and fresh cider doughnuts. We can't imagine a more delicious ending to our jaunt through central Vermont. And 2009 is great time to visit the state, as Vermont is celebrating every month throughout the year to commemorate the 400th anniversary of when French explorer Samuel de Champlain first discovered the area.
Central Vermont Chamber of Commerce, (877) 887-3678, www.central-vt.com.
Where To Stay
Lazy Lions Campground, (802)479-2823, www.lazylions.com.
Green Valley Campground, (802) 223-6217.
Limehurst Lake Campground, (802) 433-6662, www.limehurstlake.com.
Onion River Campground, (802) 426-3232.
Little River State Park, (no hookups), (802) 244-7103, www.vtstateparks.com/ htm/littleriver.cfm.