By Barry Zander
It's up there. You know it is. But should you try to make the daunting journey to the famous "Land of the Midnight Sun"?
For us, one of our goals as full-time RVers has been to visit all 48 contiguous states, plus the Canadian provinces and, at some point, renting a rig for a Hawaiian trip. Knowing that with age come health problems, we decided the formidable trek to Alaska needed to be at the top of our list. In early 2010 we decided it was time.
Why would anyone want to make that long, costly trip? The answer is not important. What you should be asking is, "Why do I want to make that trip?" If you don't have a good reason, you probably don't need to go.
Get past that hurdle and there's another one in your way. Many of the hundreds of thousands of people who have RVed through western Canada into Alaska return with stories of severe road hazards, high prices, long drives and bad weather. You shake your head and ask, "Is it worth it?"
More important than what you ask is who you ask. Out of those hundreds of thousands, very few would say, "Don't do it." It's not just seeing Denali, the Yukon, the Kenai or glaciers up close, or experiencing the untamed vastness framed in magenta fireweed, the rustic towns, or roadside fishing for salmon. It is a fresh look at the world as it was a century ago and a millennium ago.
Monique and I drove all that way to check Alaska off the list of states we've visited. Oh, sure, we had things we wanted to see, but there's plenty we have yet to see in the Lower 48, so why bother? It was probably about Day 35 of our 58-day trip that we heard ourselves saying things like, "When we come back …"
That's what the trip is all about. Alaska — and its approaches through British Columbia and the Yukon Territory — is compelling. Every mile, whether scenic or sparse, is part of an adventure that can't be duplicated. Of the hundreds of people we've spoken with about visiting Alaska, all of them had either been there more than once or were already thinking about their return.
Now let's consider all those bad things you have heard or will hear about the journey; and to be sure, there are very real negatives, some that you may not have considered.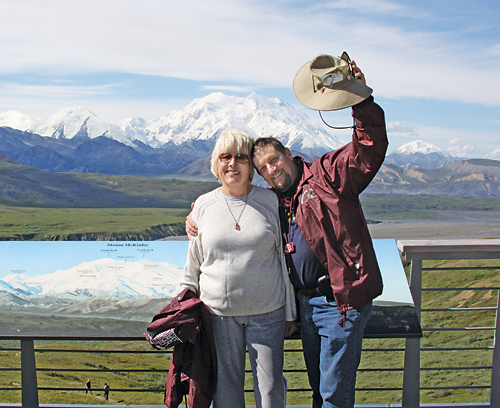 How many times have you heard, "Don't get your windshield repaired until you get back"? That's good advice; however, damage is not a chronic Alaskan malady. At this point, let me mention that the Zanders were No. 13 in a caravan, which I'll discuss later. Of the 19 rigs in our group, almost half suffered windshield dings while on the trip. Of those, few happened while we were in Canada or Alaska. Two got windshield bull's-eyes while in Washington state, another in Oregon. For us, in our GMC 2500 diesel pulling a 10,000-pound 28-foot Bigfoot trailer, no dings … lots of mud on highways being reconstructed but no damage. It's the luck of the draw.
The trip is an expensive endeavor. No way around that, but if you're frugal in traveling the Lower 48, it won't be much different up there. Four Canadian liters of fuel — slightly more than a gallon — cost us about $3.75. In dire need of diesel on a very remote stretch, we paid $2 a liter — more than $8 a gallon — but the fellow pumping the gas assured me that the station pays $1,000 a day for electricity. I thanked him for being there.
Bread can cost $8 a loaf. Crazy, yes, but maybe you should have thought of that when you were in a bigger town. At stores with names you're familiar with along the route prices are not a lot different than back home.
Can you get immediate veterinary care? Probably not. Costs may be high in cities, but care is available. If you're like most pet owners, you're willing to pay the price. There are also nonprofit veterinary care organizations that exist in rural communities where no other animal-care services are available.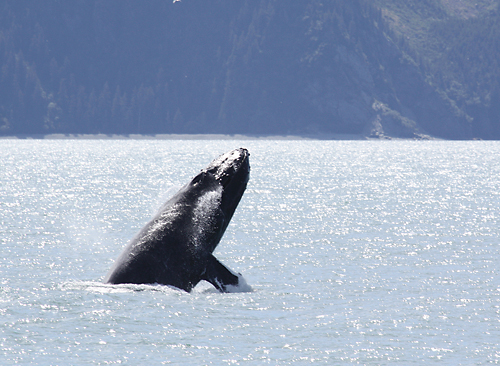 And that brings up the biggest negative of which we are aware: healthcare for you. It's a long drive through Yukon Territory, where some roads are dicey, and you may not see a cabin for 150 miles. If the need for medical attention arises, your choices are few. But the kicker is that you can't expect Medicare to pick up a share of the costs. With other insurances, you'd better check carefully, particularly if you have a condition that could flare up.
Let me reveal a few more negatives. We drove through Oliver, British Columbia, a few days before our road was rendered impassible by a rock slide. We trudged over the infamous Top of the World Highway a few weeks before part of the road was washed out, stranding a legion of RVers for a few days. And we had to be escorted on a narrow highway surrounded by thick smoke from forest fires. If that's not your cup of tea, you may want to take a cruise ship, but then you'll miss the real experiences of "the trip of a lifetime."
So, there must be another side to this story. Is the bliss in the mind or the landscape? Without a doubt, if you're up to it, you should go, and don't wait forever to set out (only until May or June).
You may have heard that the Canadians are unfriendly. Over our 50 days in Canada, we didn't meet any mean souls. We can't imagine where they were hiding, but they certainly didn't cross our paths, which were many. Alaskans are a different breed from the Lower 48 Americans. They are often a bit more rugged with a penchant for sled-dog racing and being outside in cruel weather. That doesn't make them bad, now does it? We never met a local Alaskan who we didn't like.
Now, let's cut to the chase. Nature and culture. That's what it's all about. And whether that's something you want to drive thousands of miles to experience or not, you will be blown away for having done it.
As for "nature," think in terms of the incredible vistas, far too grand to depict in words or even pictures — and we got some great photos with our very expensive lens. We can name 10 states that have unparalleled beauty, just not as much of it as in British Columbia, the Yukon and Alaska. It seems to never end. Think about fishing, the most ubiquitous pastime of the Great Northwest, and you begin to realize the attraction. But, then, there are the grizzlies and Mama Black Bear and her cubs, and the moose, and caribou, and wolves and eagles.
I often kidded Monique that I never wanted to see another eagle or glacier or bounding waterfall or bear in my life … and suddenly I'm pulling out that big lens so I don't miss a memory.
Native cultures like Athabascan, Tlingit, Aleut, Yup'ik and Inupiaq are all around, and you learn to appreciate them quickly. You also learn to respect the "sourdough" miners and others who braved the elements to seek their fortunes and often found lonely death. You begin to grasp how hard it was to build the 1,523-mile long Alaska Highway and the teamwork and ingenuity that went into building the 800-mile long Trans Alaska Pipeline System. Among the hostile elements of these environs, nothing came easily.
We took our trip to Alaska as part of a caravan, and we have a few words about that choice, which we think was right for us. A caravan is not a convoy. We were on our own throughout the journey, but we knew where we were going to stop. We traveled with a group of wonderful, like-minded people whom we believe will be friends for life — those things often happen when you share the rigors of these roads. Behind us the entire way was Tailgunner Spence, whose main duty was to make sure everyone got to the next stop safely.
We've never traveled with other rigs before and might not again, but we don't regret the comfort it gave us. Plus, at the outset we paid for cruises, shows, tours and campgrounds that we probably wouldn't have wanted to pay for individually, but we're happier that we did it.
As big as the Northwest is, we feel like we experienced it.
If the negatives are overwhelming your decision to go, maybe you should give serious thought to a caravan. If you're more comfortable just winging it for 5,700 miles over some of the world's more challenging roads, go for it.
And that's the point of all this. Go for it!
Check out "Alaska Definitions" to guide you through your Alaskan adventure, as there are many Alaskan terms you may not be familiar with — from Chickaloon to Muskeg to Ulu, just to name a few.