The name alone was reason enough. But from my two rural Indiana friends, the place came with a raving review: "You should see it," they said. And from them, that's almost frenzied.
In our travels together, a yard sale can be worth a rave. And we happily drive 50 miles to a church smorgasbord, if it promises fried chicken and bread pudding. So I was not sure what I would find at French Lick.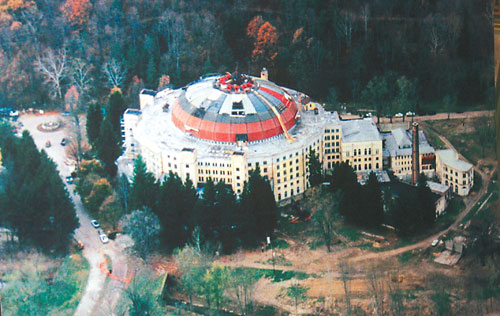 I researched the name: Free-flowing mineral springs here left rocks covered with a residue of salt. Deer, buffalo and others were attracted to the salt, making this one of the many "licks" in this part of Southern Indiana. Rounding out the name — the French had a trading post here in the early 1700s.
A local doctor hyped the spring's "miracle waters" as a cure for every ailment that had a name. And they came: They soaked in it, but they drank it mostly. The drinkers had instant results — of necessity, outhouses were placed along the hiking trails leading from the springs.
Recently it was discovered the water contains lithium, a mood-altering thing that may have been the unknown secret to the doctor's success: Nobody actually got cured, but after a while they didn't care.
Hotels and a resort sprung up here in the 1800s, as did a plant to bottle the water in 1913. Called Pluto Water, in one year 455 railcars left here filled with it. It became a national rage for those "feeling out of sorts." An ad for the French Lick Springs Resort was on every bottle. So things here got bigger and grander.
That much I knew as I turned south onto 56 from Highway 150. I had been passing farms, woods and rolling fields of mid-July corn. My GPS was set for the French Lick Resort.
The resort has been here for more than 100 years, catering often to the movie stars, gangsters and politicians of the '20s and '30s. Al Capone and other gangsters from Chicago came to gamble. This was Las Vegas, before there was a Las Vegas, but without the neon, as gambling was illegal.
A mile before the French Lick Springs Hotel, my curiosity was piqued by a huge, ornate structure back from the road that was almost hidden by trees. It offered a brick road, so I took it.
Passing under an arch, I was surrounded by acres of beautiful landscaping. Ahead was the sprawling West Baden Springs Hotel — a total surprise. In some metropolis, this elegant hotel would fit. But this is as outback as Indiana gets. The closest thing of note here is the Hoosier National Forest.
Now a National Historic Landmark, it has a domed atrium that spans 200 feet. It was the biggest in the world until the Astrodome was built in Houston in 1964. This one was put up in 1902.
I parked and went in, unprepared for the majestic solemnity of this atrium. It was like walking into the Coliseum in Rome; in fact, it's almost the same size. Six floors of hotel rooms, and the balcony rooms face into the vast atrium.
Off to one side, people were having lunch at tables of white linen; it appeared as a sidewalk café. Nearby was an enormous fireplace that takes 14-foot logs. People walked around, but there was little sound.
Cities of the world have magnificent hotels, marvels of architectures and art. This is one of those hotels. Amazingly, it's here in West Baden Springs, population less than 800.
Welcome to America's Outback.
……….
Bill's e-mail address:
[email protected] Next month Bill will be on
Highway 290 in Texas.