Today, my curiosity is not running things. I have a plan. I'm headed for Elk City. It's on Interstate 40, about 35 miles into Oklahoma after leaving Texas. I have heard good things about the Old Town Museum Complex there, located along Route 66.
It's a re-creation of a Western town that spreads over a couple acres. Cities this size, population 11,000, usually cannot afford a museum like this. But Elk City has something special going for it.
Oil was discovered here in 1947. After that ran out in the late 1960s, interest turned to deep-gas exploration in the surrounding Anadarko Basin.
Driving into town I saw motels with no-vacancy signs, and it wasn't even noon. Stopping at a busy McDonald's, tables were occupied by tanned, prosperous looking guys wearing Halliburton T-shirts. I didn't have to ask – the gas business is booming here.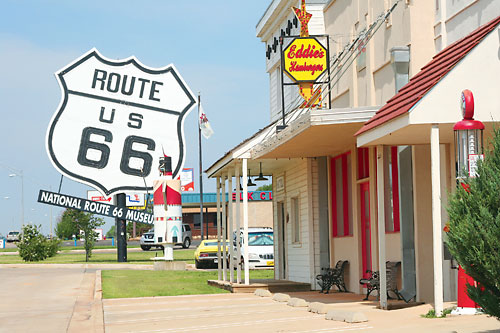 In fact, Elk City is one of the few places where most people today are not complaining about the high prices of oil and gas.
At the complex, I parked in front of a big, red barn with a sign that read "Farm and Ranch Museum." Inside, Donnie Jordan was sitting on a sectional near a giant windmill – its circle of blades extended from floor to ceiling.
Donnie is a retired high-school teacher. He taught art here for 37 years. He and his wife, Beverly, work now at the complex a few days a week during the summer.
They live outside town in what Donnie calls an "earth-sheltered home." Its top and three sides are buried in a hill, allowing nature to keep it cool in the summer and warm in the winter.
"When I was a kid, our house was destroyed by a tornado." Donnie says that's one reason why he built this house that's essentially tornado-proof.
It's all electric. "Gas appliances are not a good idea in an underground house with few windows. A gas leak could bring on a really bad day," he said.
"Our horses used to get on top of the house and prance around. So we fenced that off. In 1980, we could see upwards of 200 drilling rigs from up there.
"During those boom years, it was impossible to get a room in town. Workers slept in the park. Some rented spaces in public-storage buildings to sleep in. We had school teachers quit to work on drilling crews because the pay was great."
Donnie took me to his school to show me the work of his former students, of which he is immensely proud. Being summer, the school was empty except for maintenance people.
I followed Donnie to the library. He switched on the lights. On the walls, above the low book racks, hung 4 x 8-foot murals depicting "newsworthy" events of specified years.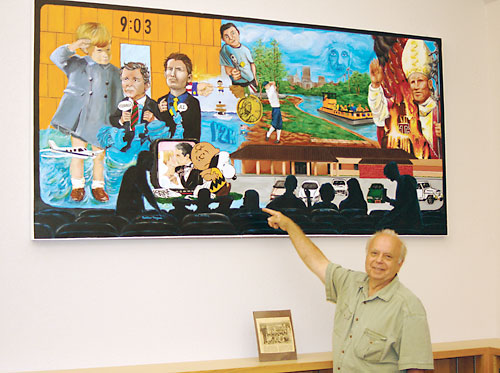 "These were projects of my seniors. Each class did one. They would work on it all year, deciding what should be included and how best to portray it. Then they would do the art work. Some of the events shown are national, some local, some even happened here at school.
"If you are writing about Elk City, please mention these kids. They spent hundreds of hours on their murals and learned not just about art, but also about life. Of course, I think they are wonderful, but not everybody does … Some say they are controversial, even political. Well, life is like that. Each mural is intended to be exactly what it is: Their senior year, a year in their lives as they saw it."
Welcome to America's Outback.
Bill's e-mail address: [email protected]