The big pine tree in front of the courthouse is now a Christmas tree – decorated, as it is every year at this time, with hundreds of white lights and red bows. Across the street an 18-inch replica of the historic Elmwood Inn, re-created in gingerbread and held together with icing, is drawing folks into the Community Art Center to have a look at it. It will be auctioned off at a charity event just before Christmas.
At Constitution Square on Main Street, where its buildings stand gray and weathered, wreaths with accents of red return some color that summer and fall took with them when they left, allowing winter to take over. The square's historic buildings go back to the late 1700s, depicting life as it was when Kentucky was a county of the state of Virginia.
It was here where they held 10 constitutional conventions that eventually lead to Kentucky's statehood in 1792, making it our 15th state.
The Square has the first U.S. Post Office west of the Allegheny Mountains. For a while after it was built people called it the first Post Office in the "West." But when this country moved west and Kentucky became part of the "East," that claim got lost in the reshuffle, and it was changed to just "west of the Alleghenies."
At the McDowell House and Apothecary, a national historic landmark across from the Square, the garden club has dressed the fireplace mantles with greenery and posted an occasional gingerbread man. This was the home of Dr. Ephraim McDowell, considered world-wide to be the "father of abdominal surgery."
In this house on Christmas Day of 1809, Dr. McDowell performed "experimental"
surgery on Jane Crawford, a pioneer woman. She had thought, before she consulted the good doctor, that she was pregnant.
After writing a prayer and tucking it in his pocket, and while Mrs. Crawford sang hymns – it was too early in the century for anesthesia – Dr. McDowell successfully removed a 22-pound ovarian tumor. Following 25 days of recuperation, she returned to her home and family 60 miles away – supposedly riding back there on the horse she came on. She lived into her 70s.
Across Main Street from Constitution Square is Burke's Bakery, where Joe Burke and many of his 30 employees have been rolling out butter-flake rolls for the past few days and freezing them. The week before Christmas they will start baking them. "There is no way we can make as many as we need," Patty Burke told me. "We'll sell 3,000 dozen."
For a town of roughly 15,500, I figure that to be 2.3 rolls per person.
While eating a powdered-sugar donut that was "snowing" down the front of my blue sweater, I followed Patty downstairs to the bakery. There her son Joedy was rolling out cookie dough on a long wooden table.
I asked about traditional fruit cake. "We're not making fruit cake this year," she said, reaching for a tray. "Try one of these." They were little squares. "We call them Christmas Cherry Chews and have some of the same ingredients. Again, we can't make   enough of these during the holidays."
Leaving the warm bakery I was hit by a blast of cold wind. It feels like snow is coming. It always comes, just like Santa Claus. I know he'll be here … and wherever you are, too.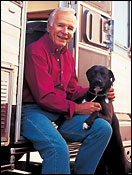 Merry Christmas from America's
Outback.
Bill's e-mail address: [email protected]