Q: Two years ago, I replaced the entire backing plate braking system on all four wheels on our 2001 SunnyBrook fiver. I have one wheel (left front) that periodically grabs and locks up, skidding the tire. There is always a metal-to-metal-squealing at lockup. The brake locking on this one wheel is sporadic and random. This past spring, I pulled all wheels exposing the braking mechanisms, thinking that the brake lining might be gone, resulting in the metal-to-metal squeal. All brake linings were fine. Could the brake magnet be bad? Could excessive voltage be causing the brake to grab and lock up? I have turned down the maximum voltage on the brake controller, which doesn't seem to make a difference. What are the possibilities for resolving this dilemma?
Larry W. Thompson, Gray, Ga.
A: I recommend carefully inspecting the wiring and ground connections. Note if the brake linings have any grease on them and if the shoes are mounted correctly. You can check brake current to each wheel with an ammeter. The one that's significantly different than the others should be the culprit.
– Ken Freund
---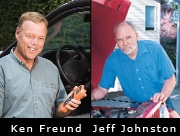 To send your questions to RV Clinic, write to 2575 Vista Del Mar, Ventura, Calif., 93001; or email [email protected]. Also, check out TrailerLife.TV for our expert RV how-to videos.