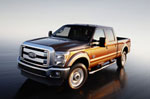 2011 Ford F-250 Super Duty Pickup
Brought to you by Trailer Life magazineThe 2011 Ford Super Duty lineup is fully redesigned, with new exterior styling and an interior that has 60 percent more storage space than the 2010 model. Super Duty seats are now 10-way units with heaters and coolers in Lariat and King Ranch models. A new information display shows the steering position and can show the vehicle's attitude when off-roading, as well as communicating system messages and the transmission's gear state.

Continued from newsletter…

There's lockable under-seat storage up front and a large storage cubby
beneath the rear bench. The extra storage is standard on XLT and Lariat Crew
Cab models. The new 6.7-liter diesel is designed, developed
and built by Ford. Two gas engines will also be available; the
6.8-liter V-10 Triton, and a new 6.2-liter V-8. The new SOHC 6.2-liter features variable cam timing, two spark plugs per cylinder, dual knock sensors, a higher compression ratio and better fuel economy. Specs aren't finalized, but the 6.7-liter diesel should be rated 390 horsepower and 720 lb-ft of torque, while the new 6.2-liter V-8 is expected to produce about 400 hp and 400 lb-ft of torque.

All three engines will be coupled to the all-new 6R140 TorqShift six-speed automatic transmission. The 6R140 employs a new torque-converter lockup strategy that enables the converter to lockup sooner for better mileage. The 6R140 also gets "Select Shift," which allows drivers to lock-out gears and manually shift and hold gears.

Electronics include standard trailer-sway control, AdvanceTrac electronic
stability control and roll stability control and a factory-installed trailer-brake control. Also optional is a new Productivity Display screen that provides information on fuel economy and towing performance. Towing and safety features include hill ascent and descent control, electronic locking differential and a tire-pressure-monitoring system.

Another new option is the first-ever factory fifth-wheel prep package designed and engineered by Reese Products. The truck will come with the bed floor cut, the frame mount and the wiring; although customers still need to buy a hitch.

Ford's 2011 F-Series Super Duty pickups are scheduled to go on sale in the
first quarter of 2010.