10 Reasons We Love Traveling with Pets
Plan a Perfect Trip, for Pet's Sake
Premium
It was a long drive to reach California's Yosemite National Park with our two rescue dogs, Peanut Butter Brickle, a Catahoula mix, and Digby Pancake, a foxhound, one chilly day in 2012. We knew there were restrictions on some of the trails where we could take our dogs, but we could not resist bringing them with us.
Other options included leaving them at home and hiring someone to look after them or taking them to a kennel. So we prepared ourselves to not be able to go on as many trails as we would have liked and hit the road with our excited dogs. This way, we could enjoy our time together with a leisurely drive, feeling the fresh air, and enjoying a picnic together.
Arriving at Yosemite National Park, we realized that our dogs were truly enjoying the scenery. They gazed up at snowcapped mountain peaks, they took a deep breath, and I will always remember the look on their faces. I knew from that moment on that our way of traveling in an RV as a family would be different. Our dogs would always be with us and they would experience the adventuresome feelings that captivated us.
Inspiration, energy, excitement, and learning were just the start of our new way of life with our dogs. But if traveling with pets requires more planning and adjustments on our part, why do we love it so much? And why are we continuing to travel with our dogs more than nine years later? Because we wouldn't have it any other way!
10 Reasons We Love Traveling with Pets
1. We Enjoy Each Other's Company
Our pets truly live each day to the fullest and teach us to do the same. Our dogs want to be with us despite our imperfections and love us even if we sometimes may not love ourselves. Spending time with our pals who appreciate us gives us more confidence to try new things and travel to new places.
2. We Don't Have to Rush Home
Looking at your watch or phone constantly is no fun for anyone! Worrying if our pets are safe and happy in our absence is avoided when they are with us. We can plan snacks and meals so that even normal dinner time is not interrupted. There are plenty of pet-friendly RV parks where four-legged companions are welcome.
3. Our Pets Help us to Savor the Moment
Maybe we are worrying about work, a school assignment, or everyday responsibilities that never seem to end. When we make sure our pets are enjoying ourselves, it takes the focus—and stress—away from us. We start to see aspects of their personalities that we may have been unaware of. We have learned what makes each of our dogs feel fulfilled, calm, and happy. This, in turn, makes travel easier because we know what activities they enjoy.
Digby loves the woods and creeks, so we make sure to schedule visits to those places. Brickle's favorite destination is the beach, so getting his paws to the sand makes us happy as well. Having pets as travel companions will require that you take more breaks when driving long distances. But why the rush? Enjoy every roadside stop. Instead of gas stations, try roadside attractions or rest areas with a grassy place to relax in or have a picnic.
4. We Value Our Pets
There is no better way to make a difference for animals than by displaying a good example. Talk to your pets and give them lots of scratches behind their ears!
Show the care you have for your pets to others by carrying water and picking up after your furry family members. Treat your pets like valued travel companions because they are. 
5. Pets are Great Conversation Starters
We have met some of our best friends on the road because of our dogs. Travel has a way of bringing people of different ages and cultures together and opening up a dialogue is easy with pets around.
You may have a short friendly conversation, or it could lead to a long-lasting friendship, or maybe you'll learn about new-to-you destinations to explore.
6. Pets Don't Complain About Your Driving or Getting Lost
It can be easy to make travel feel like a chore when everything doesn't go perfectly. And, yes, we have taken the wrong turn more than once.
But having our pets with us helps us to not take ourselves too seriously. Our pets enjoy the ride wherever we are, even if we don't know where that is!
7. Pets Make Every Picture Better
The photo galleries on our cell phones are packed with pictures of our dogs. That's because there are never-ending opportunities for taking snapshots of Brickle and Digby, who love being spotlighted.
They will tell us where they want their pictures taken by picking a spot and standing still since they know that is part of what travel is to us. Make taking pictures of them fun! Carry treats and reward them for standing still, if just for a moment.
8. Traveling Has Given Our Pets Purpose
Without a purpose and direction in our own lives, we may feel lost. Our pets are no different. You'll see the difference that travel can make in your pet's behavior and health. Watch their reaction after a hike when you tell them that they did a great job. Give your pets an opportunity to be their best selves.
9. You Will Always be Planning That Next Trip Together
Once you go on one trip with your pet, you will be planning the next one with your pet's interests and likes in mind. You may see aspects of your pet's personality you never knew about. You will find joy in the true excitement they have that comes with new places, smells, and faces.
10. You and Your Pet Will Find New Hobbies
Travel has always been a favorite hobby of ours and now it's a favorite of our dogs, too! At every destination, our dogs help us to learn more about ourselves. I used to wonder what was so interesting to them about a certain tree or even a leaf.
On a recent trip to the Georgia mountains, I picked up the hobby of foraging. Now when my dogs stop to take in the smells, I look in the woods for mushrooms and berries. Often, my dogs look at me as if wondering what I find so interesting!
---
That first short trip to Yosemite National Park with our dogs has turned into almost a decade of traveling with our dogs. We truly had a moment that day unlike any I have ever felt. Seeing my dogs as individuals gave us a new sense of purpose to make their lives with us as long and as enjoyable as possible.
It also gives us the responsibility of planning ahead with them in mind and to make compromises when we cannot travel to a particular destination that is not pet friendly. But we know that our journeys now are much better with Peanut Butter Brickle and Digby Pancake, as they have opened up our world to endless destinations and experiences.
Pet-Friendly Places
Four ideas for trips your furry friends will enjoy.
A Drive on the Blue Ridge Parkway
Plenty of roadside picnic areas along the Blue Ridge Parkway, dog-friendly attractions like Mabry Mill, and pet-friendly hiking opportunities.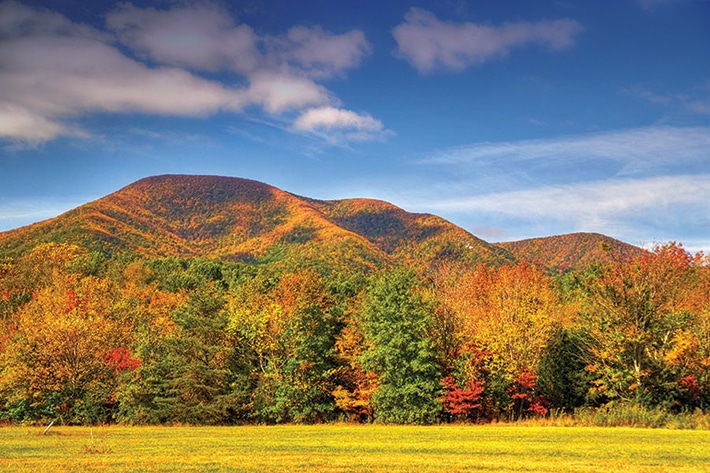 Rock City, Near Chattanooga, Tennessee
This is one of Brickle's favorite places! Take a walk on the enchanted trail and eat a meal together at the outdoor terrace.
Public Land Outside of Capitol Reef National Park, Utah
Public campgrounds are awesome, but sometimes it is nice to gaze up at the stars without the interruption of city lights. You can feel closer to your pet when appreciating nature together. Capitol Reef National Park in Utah is a great place.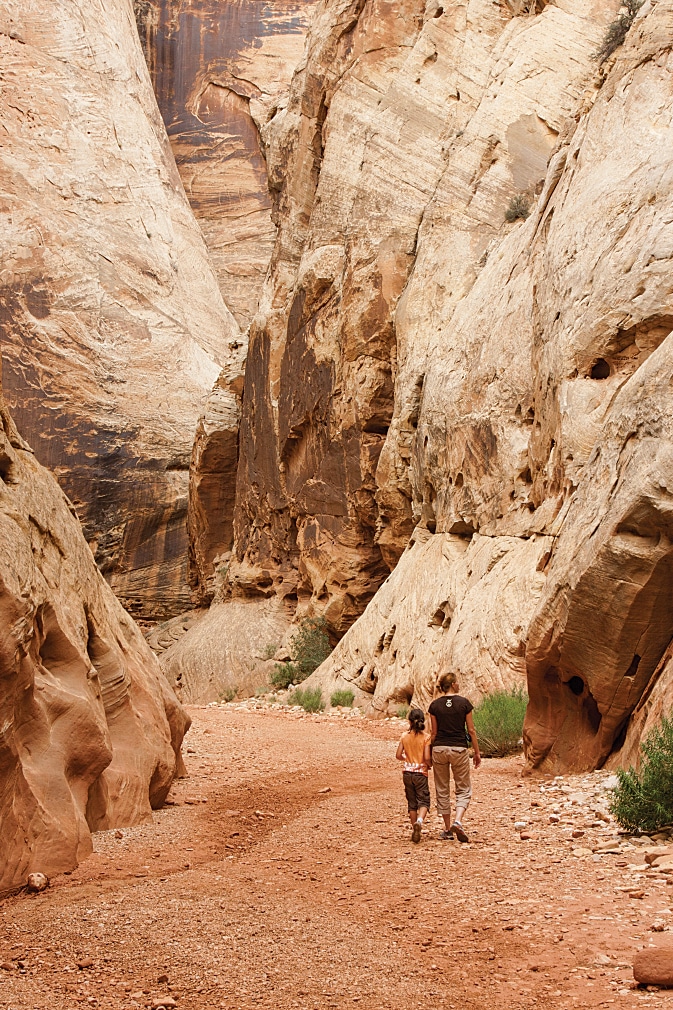 Hanna Park near Jacksonville, Florida
Hanna Park Beach has one of the most dog-friendly beaches around. Leashed dogs can not only walk the beach with their owners, but wooded trails are also accessible so you experience the best of both worlds. After a day of fun, you can have a campfire in the 300-site shaded campground with private campsites and full hookups.
Feeling Ruff? Get a Dog!
According to a report by the American Heart Association, owning a dog may lengthen your life. Dog owners get more exercise walking their dogs, have lower blood pressure, and are less socially isolated. So rather than letting your health go to the dogs, go to an animal shelter and get a dog!