Wild for Alaska's Kenai Peninsula
Salmon Fishing, Grizzly Sightings, and Calving Glaciers
Premium
Immediately after spending our relaxing honeymoon on an Alaskan cruise, we'd been planning to return to The Last Frontier in an RV someday. Celebrating our twentieth wedding anniversary, my husband, Mark, and I finally made our dream come true. Towing an enclosed trailer containing a Can-Am Maverick utility vehicle (UTV), pedal kayaks, and a freezer, we set out on a three-month expedition with our Ford F-350 equipped with an Eagle Cap 1165 truck camper.
Our time on the Kenai Peninsula held the most special moments and memories of our entire 10,000-mile trip. With oceanfront campgrounds and abundant wildlife, the Kenai is famed for world-class fishing. Everything we dreamed of seeing and doing in Alaska can be found on the Kenai: barn-door sized halibut, all five varieties of salmon, grizzlies, bald and golden eagles, glaciers, floatplane tours, sea life, national parks. Our bucket list was made and ready to fulfill.
Get Grizzly in Homer
 We arrived in Homer on the Sterling Highway. Since I longed to camp right on the ocean, our destination was Mariner Park Municipal Campground. Scheduling our arrival just before noon checkout time, we pulled in as a camper was leaving a beautiful spot along the water. Though there aren't any hookups nor a dump station, the campground boasts fire pits, easy beach access and a paved 3.5-mile path to the end of Homer Spit. Bald eagles frequented the beach as sea lions and otters made daily passes close to shore.
Viewing Glaciers from a Float Plane
Homer is the closest port to get to Katmai National Park and Preserve, where hungry grizzlies stand openmouthed at Brooks Falls to catch jumping salmon. Deciding we wanted a view from above, we booked a six-hour tour on a floatplane with Steller Air.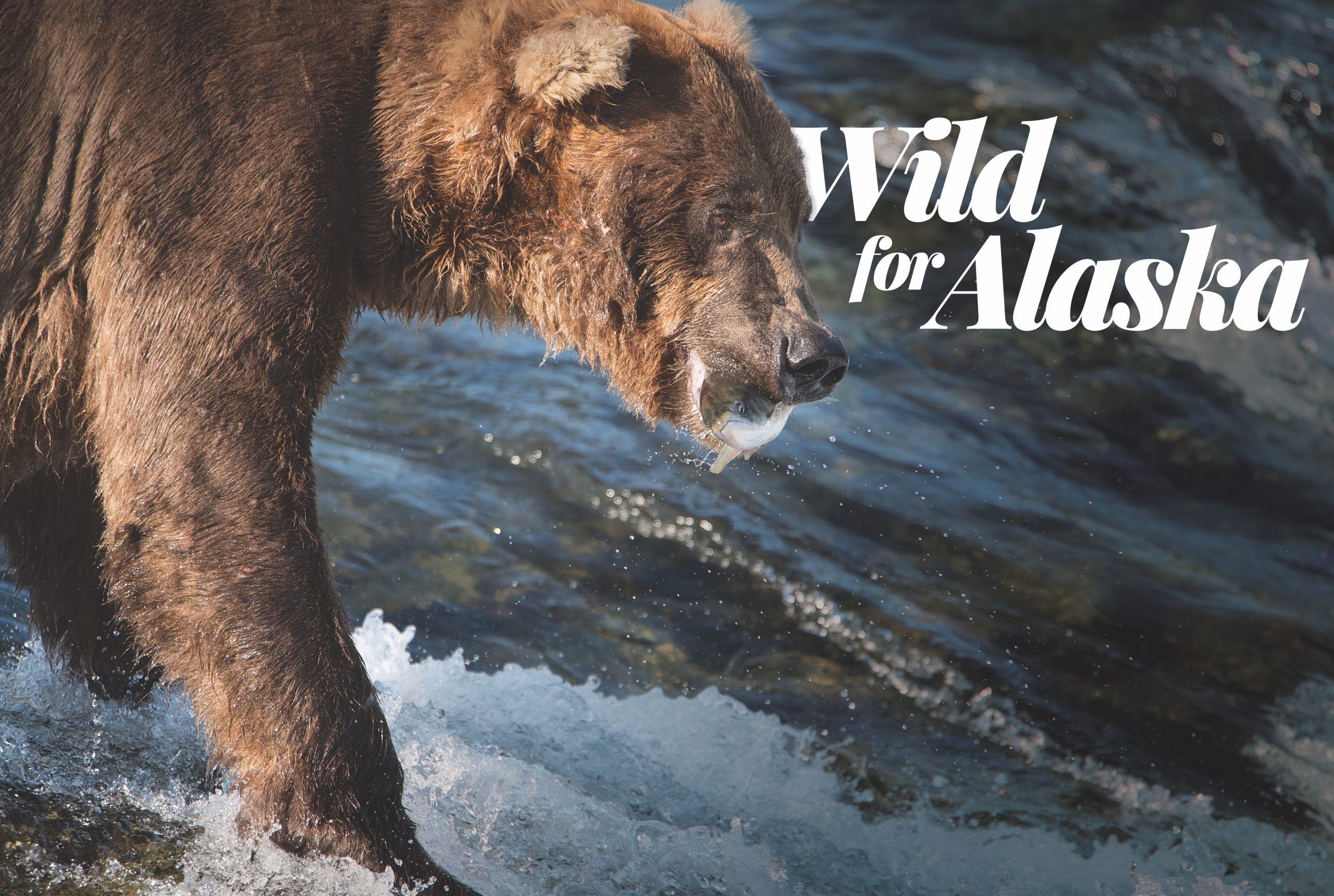 The small plane had space for five passengers and one pilot. After learning most companies provide morning tours, we booked the afternoon tour to avoid the crowds. Spending ninety minutes of flight time gawking out the window, the pilot described glacial sights to us through noise-canceling headsets as we soared over Cook Inlet before our water landing at Amalik Bay to dock on the beach.
Bear Viewing at Katmai National Park
After a thirty-minute mandatory bear safety class from rangers, we hurried along on the mile-and-a-half walk to the bear-viewing platforms. The main platform right at Brooks Falls is so popular that the rangers implement time limits and wait-lists when there are more than forty people present. Our priority was getting there first! On our way, an adolescent grizzly ambled down the path toward us. Exiting the trail as far as we could, barely twenty feet due to brush and trees, we talked constantly to the bear (as the class had taught us). Luckily, he kept walking down the trail with only a brief sniff in our direction. Because of the strict food restrictions by the national park, grizzlies here do not associate people with food. Our bear encounter, while thrilling for us, was thankfully uneventful.
We arrived at the gate-protected platform to find six other viewers where the biggest bears feed at Brooks Falls. Their grizzled fur—scarred from obvious altercations—covered bellies full of fish as they gorged themselves in preparation for winter hibernation. To safely view these amazing creatures from the platforms was spectacular and the ultimate pinnacle of our entire three-month northern trek. We spent more than an hour watching the bears alternate between catching and missing spawning salmon flying through the air as they attempted to swim up the falls.
At a lower platform, the smaller adult bears dove and snorkeled to make their catches. They were not large enough to compete with the big bears at the prime falls. Farther downriver were the moms and babies. One sow swam away from her cubs to fish. A cub tried to follow her into the water but quickly swam back to shore and uttered little baby growls and cries that were too cute to ever forget. Our time at Katmai was brief, but we loved every single minute of safely seeing the bears in their natural habitat. It was well worth the price.
Living off the Land in Alaska
Along with millions of viewers, we've tuned in weekly to life on the Kilcher homestead on the popular Discovery Channel TV show, "Alaska: The Last Frontier." With a phone reservation the day before and small donation, daily tours of the original homestead property are offered. The walking tour revealed a glimpse into American history as land parcels in Alaska were given free to people committed to the homestead lifestyle in the 1960s. While original homesteaders Yule and Ruth Kilcher have passed, their eight children and now grandchildren have expanded the property with their own homesteads as they live off the land and make improvements for necessity and comfort for future generations.
After completing the informative tour, our guide invited everyone to take the mile-long, steep (30 percent grade) walk down to the beach where the family harvests coal and makes cattle drives. Not only did we enjoy seeing more of this beautiful property, the extra time we spent worked in our favor. As we returned to the parking lot, the entire Kilcher family was gathering to celebrate a birthday.
A rare treat for tourists, we saw almost every cast member, including Grammy award-winning singer and family member, Jewel. Though reality TV stars, this family is down to earth and genuine. Our educational excursion provided a glimpse into a way of life much different from ours in the lower forty-eight but common in Alaska. Even visitors who never heard of the Kilchers enjoyed the homestead tour.
Fishing Around in Soldotna
 It was hard to leave Homer after the experiences of a lifetime, but there was still more to explore on the Kenai Peninsula. Without reservations, we had no trouble securing a site at the Centennial Park Campground. Though there aren't any hookups, there is a dump station available for a fee.
It quickly became clear that everyone in this campground was all about the fishing. With twenty-five sets of stairs and two boat launches giving access to the Kenai River, there was a line at the eight-person fish cleaning station from morning until night.
Salmon Fishing
As complete salmon fishing rookies, our arrival on July 24 was a stroke of luck as the next few days marked the high season of the sockeye (red) salmon run. Daily fishing limits doubled from three fish per person to six during our stay due to the high fish counts. Locals, veteran fishermen, and rookies like us lined up "combat style."
Standing ten to fifteen feet apart, fishermen here are obligated to embrace the Kenai Flip style of casting. The turquoise silty river rushed by as nearby anglers educated us on river etiquette, casting technique, unique tackle, legal snagging in the mouth (AKA flossing), and the learned skill of landing a fish in the net once caught. After much trial and error, we finally managed to catch and successfully net our first fish, which was a team effort.
Being experienced trout and bass fishermen, it was absolutely nothing like any fishing we've ever done before. We had outfitted ourselves in chest waders and boots before we left home, but the rods and tackle we brought were barely adequate. As the saying goes, "we didn't know what we didn't know." These delicious game fish fight hard enough to destroy fishing gear. One of our fly reels was demolished because the drag wasn't robust enough. Trustworthy Hardware & Fishing received business from us every day as we developed a better idea of what gear we needed and to replace what was broken and lost.
Our inauthentic gear provided much entertainment over the days and nights fishing, filleting, and vacuum sealing our catches to fill the freezer over the next five days. We brought home thirty fish, weighing between six and nine pounds each.
Hiking at Cooper Landing
Another popular fishing spot with an adjoining campground is the Russian River at Cooper Landing. Because the Russian River Campground was completely booked, we stayed only to do a day hike. The Russian River, in stark contrast to the milky turquoise Kenai River, was clear enough to look in and see the salmon swimming in various shades of coloring that depicted their stage of spawning.
The river is shallower and slower than the mighty Kenai and seems to result in smaller and less frequent fishing successes. We hiked 2.4 miles one way to see Russian River Falls and then continued another 1.5 miles to the confluence of the Kenai and Russian rivers. Though we observed some fishermen using the Kenai Flip technique, it was common to see a more traditional fly or spin cast used.
Oceanfront in Seward
Our last stop on the Kenai Peninsula was Seward, reached by the Seward Highway. The first morning was spent hiking two miles to view Exit Glacier in Kenai Fjords National Park. We learned about a new edible berry here, the watermelon berry. Purple when ripe, the fruit is oblong and does in fact taste like watermelon. Seward is also home to Mile 0 of the Iditarod National Historic Trail.
Because checkout time was noon, arriving an hour early secured us an oceanfront campsite at Marathon Campground. This city campground doesn't offer any hookups and does not accept reservations. From the campground, downtown was an easy half-mile walk, which was convenient considering parking was limited, even in various pay lots.
Our crowning experience in Seward was the Northwestern Fjord glacier cruise we took with Kenai Fjords Tours. A naturalist educated us on what we were seeing throughout the day in the national park. The wildlife was amazing! Luckily, we were bundled up in multiple layers with hats, gloves, and coats since being on the near-freezing water surrounded by glaciers was quite chilly, especially when the boat was in motion.
Surrounded in a valley of seven glaciers, our ship stopped for thirty minutes at Northwestern Glacier to allow plenty of time to view the magnificent blue ice crack and calve, plummeting into the water and causing massive waves that threatened anything not respecting a proper distance from the face of the glacier. Beautiful harbor seals sunned themselves on floating sheets of ice.
Endangered Steller sea lions barked, fought for prime locations on precarious rocks, and made quite a ruckus, much to our pleasure. Bird lovers were in heaven watching and learning about puffins, murres, and all varieties of seabirds flying and diving, some several hundred feet into the frigid depths to catch their prey. The naturalist endearingly referred to puffins as flying footballs because their bodies resemble footballs with wings in the air.
Though only a segment of our Alaska trip, our time on the Kenai Peninsula was filled with purely Alaskan experiences. Every day held the opportunity for new adventures, spectacular sights to behold, wild creatures to discover, and precious unforgettable memories. It's gonna be tough to top our twentieth anniversary.
---
Mandi Winland, her husband, Mark, and their cavapoo, Molly, travel from Colorado in their Ford F-350 and Eagle Cap 1165 truck camper. Their photo and blog site can be found at mandmadventures.com
What to Bring in a Kenai River Sockeye Tackle Box
Eight- or nine-foot spinning or baitcasting rod with high-quality drag system with twenty-pound braided line OR *Nine- or ten-weight fly rod (8.5 -10 feet in length) with large arbor reel that has a good adjustable drag system with eight- to nine-weight floating fly or sink tip line
½ to one-ounce piece of lead
*bright-colored yarn
*single unweighted hook
*fish bat
*stringer
*net
*chest waders and boots
*fish cleaning carpet
*Nine-to-ten-inch filet knife
Kenai River Salmon Run Schedule (approximate)
*King (chinook) salmon early run mid-May through mid-June, late run July
*Sockeye (red) salmon mid-June through July
*Silver (coho) Salmon early August through Oct
*Pink (humpy) and dog (chum) salmon are not considered sport fish and are not officially counted in online estimates.
Alaska has strict fishing regulations. Please be sure to obtain proper license and keep up to date with local regulations for the body of water you are on.
**Data found at adfg.alaska.gov, subject to change.
For More Information
Cooper Landing
Homer
National Parks
Seward
Soldotna