The Jayco 2023 Seismic Luxury Series is an Elegant Fifth-Wheel Unlike Any Other
This Upscale RV Takes Toy-Haulers to a Completely New Level
In 2023, Jayco is on a mission to redefine the luxury fifth-wheeler. The RV manufacturer's all-new Seismic Luxury Series 4113 toy hauler sets a new high bar when it comes to comfort, style, and functionality. With its seemingly-endless list of features and amenities, combined with a well-designed floorplan and cavernous cargo space, this is upscale RV living at its finest.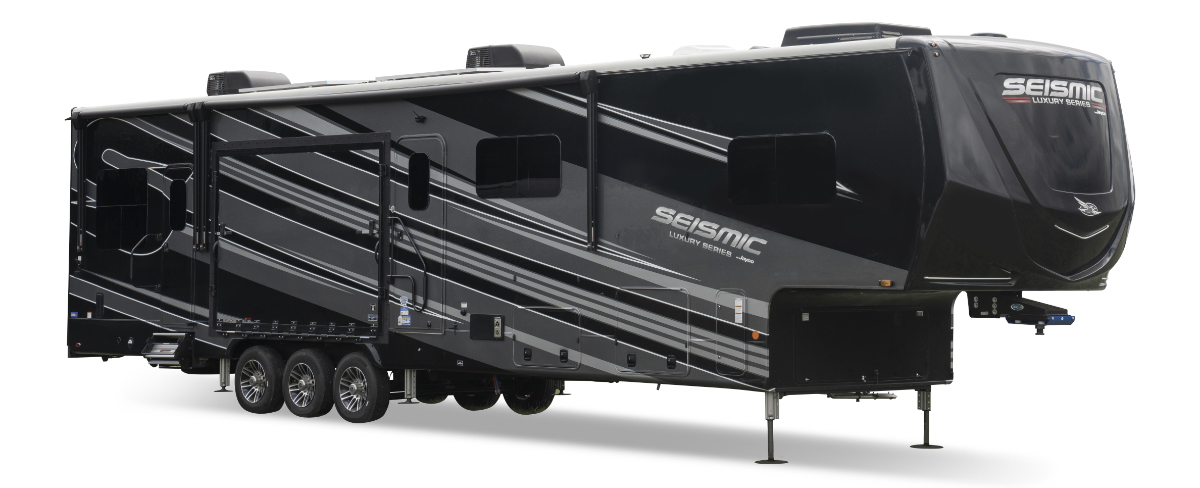 Some of the Seismic 4113's key exterior features include two standard patios—one located on the curbside and the other in the rear. The trailer comes with independently operated 21-foot and 8-foot awnings and an outdoor TV. A large front cap windshield provides expansive views of the outdoors while allowing plenty of natural light to find its way into the cabin.
As a toy hauler, the Seismic 4113 has a dedicated 12-foot, 6-inch garage to securely carry all of your favorite gear on your RV adventures. Jayco has given the cargo area an industry-exclusive 2" vacuum-bonded and laminated floor designed to keep it protected and looking great. That same space doubles as a man cave, complete with TV and private bathroom.
Inside, the Seismic Luxury Series 4113 continues to surprise and delight. The luxury fifth-wheeler comes with an industry-first elevated kitchen with a four-burner stove, microwave, and oven. The unit has a large farmhouse-style sink and a 17 cubic-foot residential refrigerator with an ice and water dispenser. Numerous wooden cabinets provide plenty of room for storage, and the wood-grained tile floor makes for easy cleanup.
Other features include plush theater seating in the living room, where RV owners will find a large smart TV and a fireplace. Another bathroom sits just outside the bedroom, which includes a queen-size bed, a large closet, built-in dresser, nightstands, and wall-mounted television. An en-suite bathroom features a luxurious walk-in shower and skin, with a skylight illuminating the space during the day.
With the 2023 Seismic 4113, Jayco proves that luxury and functionality aren't mutually exclusive. This fifth-wheel trailer provides an elevated camping experience, deftly blending comfort with thoughtful and practical design. The result is a toy hauler that sets a new standard for all to follow.
Find out more about the Seismic 4113—including a complete list of options and pricing—at the Jayco website.