RV Show Tips & Tricks
Every autumn like clockwork, kids head back to school, leaves start to change color, and RV show season kicks off across North America. RV shows can offer great deals for consumers, but they can also be overwhelming and intimidating. In fact, many folks walk away more confused than ever, heads swimming with floorplans and prices.
The secret to RV show success — whether you are in the research stage or ready to buy — is being prepared and having a strategy. Doing some legwork in advance and setting clear goals will ensure that you conquer the RV show, instead of feeling like the RV show conquered you.
It's important to note that not every RV show is created equal. A small handful of annual shows display more than 1,000 rigs in open-air arenas. These include the Hershey, Pennsylvania, show (branded as America's Largest RV Show), the Florida RV SuperShow in Tampa and the California RV Show in Pomona. These mega RV shows are more than just shopping events. They also offer a variety of vendors, entertainment and educational seminars.
Large RV Shows
Large shows are great for exploring a wide selection of models from many manufacturers and dealers. However, they can also be more difficult to navigate and require more preparation and planning. Other events like the Chicago RV and Camping Show and the Boston RV and Camping Expo are not quite as large but still display hundreds of rigs from a variety of manufacturers.
Small RV Shows
Then there is the smallest type of RV show where a local dealer sets up in a shopping-center parking lot or stadium, showcasing current inventory. These shows are often limited in their selection, and without competition from other dealers, competitive pricing is not guaranteed.
Bottom line? The larger RV shows can be overwhelming but are more likely to have a larger inventory and more competitive prices.
Whether you are just kicking tires or ready to write a check, here are some ways to get the most out of an RV show experience.
10 Tips for RV Show Shopping
1. Do some online reconnaissance.
Go to the RV show's website ahead of time and download a map of the show onto your smartphone along with any available coupons. Check out the parking guidelines and cash policies, since some shows do not accept credit cards for admission fees. Also look into food options and vendors.
2. Attend the show on the quietest day possible.
Not everyone has a flexible schedule, but if you can avoid the Saturday crowds, the RV show experience will be exponentially more enjoyable. Other options include Friday before the after-work crowd and Sunday afternoons.
3. Bring water, snacks and perhaps even lunch.
Check show policies in advance, and fill a backpack with refreshments if allowed. RV shopping can be surprisingly exhausting, so stay hydrated and prevent blood-sugar crashes. If food is not allowed inside the show, consider packing a cooler of sandwiches and eating tailgate-style in the parking lot.
4. Agree to a shopping plan.
If you are attending a show with a friend or significant other, chat about a general strategy ahead of time. Some people want to look at every rig on display. Others want to curtail window shopping and stay focused. Talking in advance will manage expectations and limit frustrations.
5. Have a system for recording information.
It's very easy to lose track of which rigs you liked after a long day of RV show shopping. Some folks use their phone to take pictures of the model number, specs, exterior and interior. Others prefer writing the information in a notebook or on a clipboard. To limit confusion, take a brochure only if you are seriously considering a unit. No matter what, do not rely on memory.
6. Talk to the manufacturers' representatives.
At the larger shows, RV manufacturers send representatives to support the dealers. They are a great resource of information since they usually know the models much better than the dealership's salespeople. If you have specific questions or concerns about a model or want help comparing two units, ask to chat with a rep.
7. Don't get rushed into an impulse purchase.
An RV may be one of the larger purchases you ever make other than your home. Don't get pressured to buy something without due diligence on pricing, financing and towing setups.
8. Check out dealers' online reviews and service centers.
The dealer you purchase from will be responsible for handling all warranty work during the coverage period. Building a relationship with a reputable dealer that runs an efficient and effective service center
will make all the difference in your RV experience.
9. Don't be embarrassed to check out the entire RV.
Some shoppers feel awkward spending too much time in an RV with so many other people around. If you are seriously considering a purchase, lie on the bed, sit on the toilet, stand in the shower and pretend to cook a meal in the kitchen. Test out all the couches to make sure they are actually comfortable. And, yes, ask the salesperson to bring in the slideouts to see if you can access the refrigerator and bathroom while traveling.
10. Attend seminars.
In all the excitement of shopping, some people miss out on one of the best opportunities available: educational seminars. Many RV shows offer seminars by leading industry experts. Schedule a break and take the opportunity to learn about towing safety, RV maintenance, travel tips and more.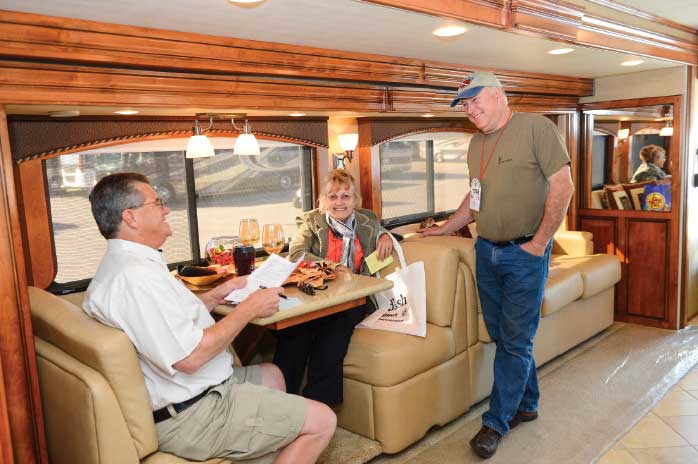 Advice for Newbie RVers
Many shoppers visiting an RV show have never owned an RV and aren't really sure what would be best for their lifestyle. If you fall into this category, do some legwork in advance to avoid being overwhelmed and paralyzed by too many choices.
Ask yourself the following questions to narrow down your shopping list:
• Do I want a towable or motorized RV?
• What size RV will be comfortable for my family?
• What is the capacity of my tow vehicle or future tow vehicle?
• What is my budget?
Also, listen to advice from experienced RVers. It can be tricky to figure out exactly what you want in an RV if you have never owned one before. Asking other owners about their RVs is a great way to gain insight and avoid making the same mistakes that others have made.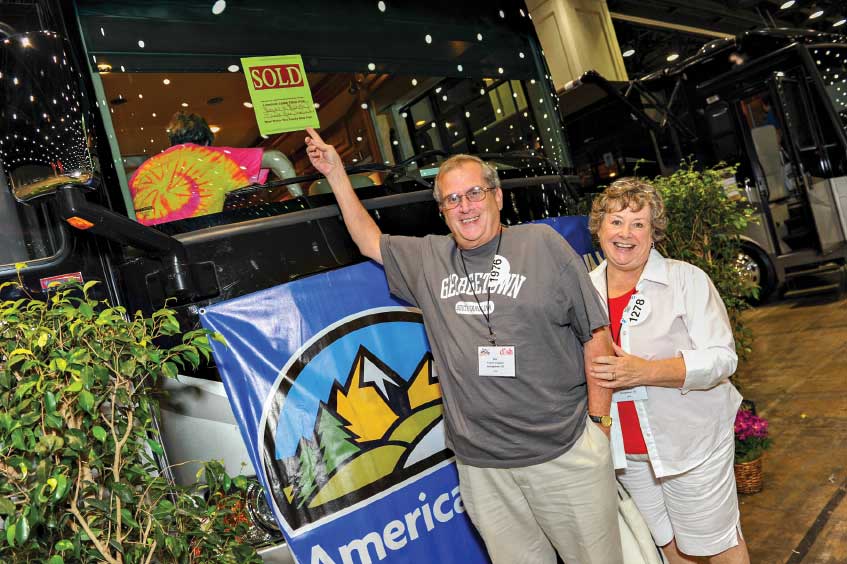 Advice for Seasoned RVers
It is sometimes said that people start shopping for their second RV the day they bring home their first one. If you are among the many RVers looking to upgrade, here are a few steps you can take to ensure your new RV is everything you dreamed of and more:
• Make a list of pros and cons for your current RV.
• Be honest about how you use your current RV.
• Have a list of non-negotiables like an outdoor kitchen or dedicated beds.
• Know the key numbers: tow ratings, cargo carrying capacity, gross vehicle weight rating.
• Establish a budget and stick to it.
It's easy to get sucked in by state-of-the-art features on shiny new RVs at shows, but nothing will dampen your camping mojo more than spending too much money or buying a trailer that is too heavy for your vehicle to tow.
Stay focused on what is important to you and make sure the upgrade is actually an improvement for your personal RV lifestyle.
RV shows can be the perfect chance to compare a variety of different manufacturers, models and floorplans, all in one place. They can also offer the opportunity to get a great deal on your first or next RV. Preparing a little in advance and developing a game plan will help you conquer the RV shows this season.
RV Show Resources
Locations and dates for many RV shows can be found on the following websites:
Go RVing