Lisa Liegl Rees Interview: Born for This
RV Industry Pro, Lisa Liegl Rees, Takes RV Manufacturing To New Heights
Premium
For Lisa Liegl Rees, it was not a question of if, but when, she would start her own RV manufacturing business. In 2017, Rees incorporated East-to-West, North-to-South Inc.—crafters of affordable travel trailers and fifth-wheels—while skillfully juggling a career and family.
Who is Lisa Liegl Rees?
The thirty-eight-year-old fireball grew up in Elkhart, Indiana, dubbed the "RV capital of the world," where about eighty percent of RVs are manufactured. The only child of Peter and Sharon Liegl, Lisa's happiest memories center around many camping trips and traveling in various towable and motorized RVs with her parents. After many years in the business, her father founded Forest River, the nation's second largest RV manufacturer, in 1996. Thirteen years later, Peter Liegl was inducted into Elkhart's RV/MH Hall of Fame.
Forest River Camping Memories
It's no wonder that Rees is following in her dad's footsteps. "We calculated that my dad has been in the RV industry for almost forty-five years, so when I was born, I was already pretty much in the industry," she says. Because of her dad's business, they spent a lot of time traveling to dealer meetings and visiting dealer partners—all of whom were friends—camping along the way. From big motorhomes to little travel trailers, they were all fun, she says, but she particularly enjoyed the smaller RVs because they had the fun sleeping spaces for kids back then.
As a rambunctious pigtailed, freckle-faced kid with braces, she "loved collecting frogs and taking them with me on my road trips and relocating them at a new campsite as we went." Rees has countless positive family RVing memories, like being outside really late with only her mom and seeing their special shooting star. "It's little things like that that make the experience," Rees says, adding "I still laugh about [those things] today; things that could go wrong, like finally getting to the campground and getting set up in the wrong campsite."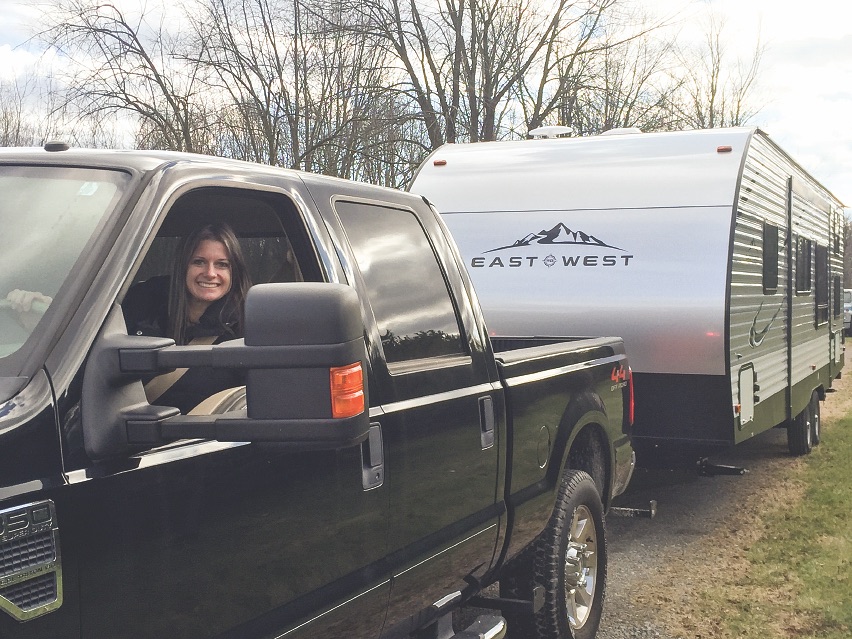 Lisa Liegl Blazes Business Trails
"We had a lot of fun, and we did a lot of cooking," she recollects. To this day, she
maintains that watching lightning bugs, roasting marshmallows over a campfire, and making s'mores epitomizes RVing. And the people, of course. All the folks in the RV business became like an extended family, especially the Forest River team members who are part of her one big happy family. With the idea of making a career in the RV business percolating in the back of her mind, she went off to college and graduated from Butler University in Indianapolis in 2004 with a Bachelor of Arts (BA) degree in marketing. But why stop there? In 2006, she graduated with another BA in fashion design from the Illinois Institute of Art-Chicago. So, what do you do with a fashion degree? You work for the National Football League's Chicago Bears, naturally! Rees applied for the job after finding it on Craigslist and worked in a temporary position as a magazine designer and for the Bears' apparel. She then worked her way into purchasing for the stadium and website for the organization.
"That's where I have a lot of purchasing background, especially with doing bills of materials for the RV, as well as working with software. I have a good understanding of what needs to go into our trailers, and what costs, and where our margins need to be. I'm so thankful for that experience," she explains. Blazing another trail, she purchased the assets for a small company and became an importer and distributor for home fragrances and home decor from Europe, growing the company. For Rees, this translates to becoming a successful salesperson and negotiator, and strengthening dealer and customer relationships.
That was the turning point for Reese. Being a distributor meant having no control over product manufacturing quality. She wanted to be in the thick of developing a good product, one that she could control, and if there were issues, they could be fixed. So, Rees finally did what she was born to do: "I knew I wanted to start manufacturing, and I could take what I learned and work in the RV industry with that expertise." She established East-to-West, North-to-South Inc. (for simplicity, shortened to East to West), and at the end of 2017, the first Della Terra travel trailer rolled off the line.
Lisa Liegl on Developing a Good Product
The plan from day one has been to keep it simple and manufacture entry-level towable RVs in an innovative way: offer one exterior color (with the company's prominent signature East to West coast mountain ranges logo), one interior decor, and limit the floorplans. This way, explains Rees, "The people on the line can continue to build basically the same floorplans every time with little differences, increasing the quality. There's standardization, and it's an easier way of doing things. Instead of giving the plant thirty different floorplans, we can get eight or ten consistently right, and improve upon each floorplan as we go."
In July 2018, she sold her company to Forest River because it was "best for my team and for the brand to be part of a larger company." Now as co-general manager of Forest River's newest division, her dad and her have become even closer. Their common knowledge has grown their relationship, and they can't help but get overly enthused when talking about RVs. She describes them as a "really tight, close family," who regularly spends time together. But, she chuckles, they have to zip it when it comes to talking about RVs at the dinner table since her mom and husband have banned the father-daughter duo from talking about— shhhh—RVs.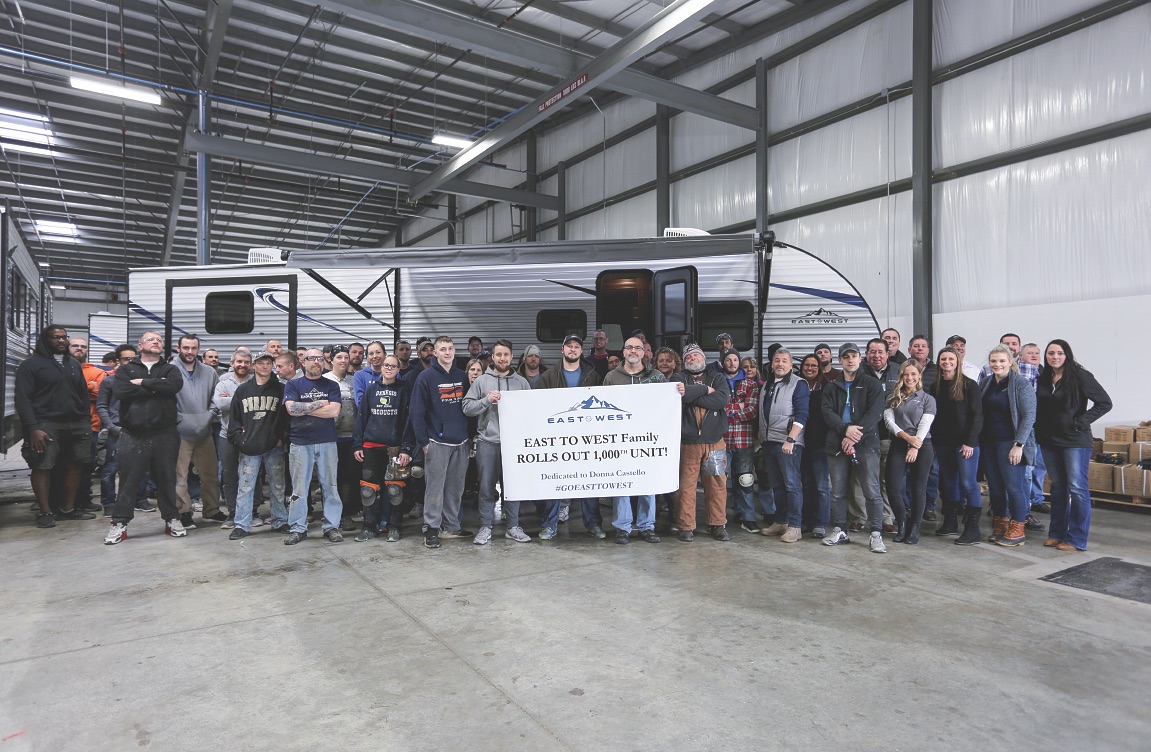 The Forest River Family
Her sidekick, an eleven-year-old Australian shepherd, often goes to work with her. Rees' passion for RVs is evident, bubbling with enthusiasm when talking about the lifestyle, the people, and the manufacturing process. Across East to West's four brands, standard features have been implemented from the ground up. It's East to West's DNA, so to speak, describes Rees, "our DNA has certain things in it like a Norco frame, enclosed and heated underbelly, a 15,000-Btu air conditioner, a bigger furnace, flush-floor slideouts, upgraded appliances, and a larger refrigerator—all at an entry-level price point."
East to West's brands include the flagship stick-and-tin Della Terra (starting at $21,000) and the fiberglass Alta (base MSRP $26,900) travel-trailer lines, and the recently added Tandara (base MSRP $43,500) fifth-wheel line that is specifically designed to maximize windows on the entry-door side. There's also the Silver Lake travel trailer, a dedicated label for Gander RV & Outdoors and Camping World RV & Outdoors, named after a lake near Gander Mountain in Lake County, Illinois.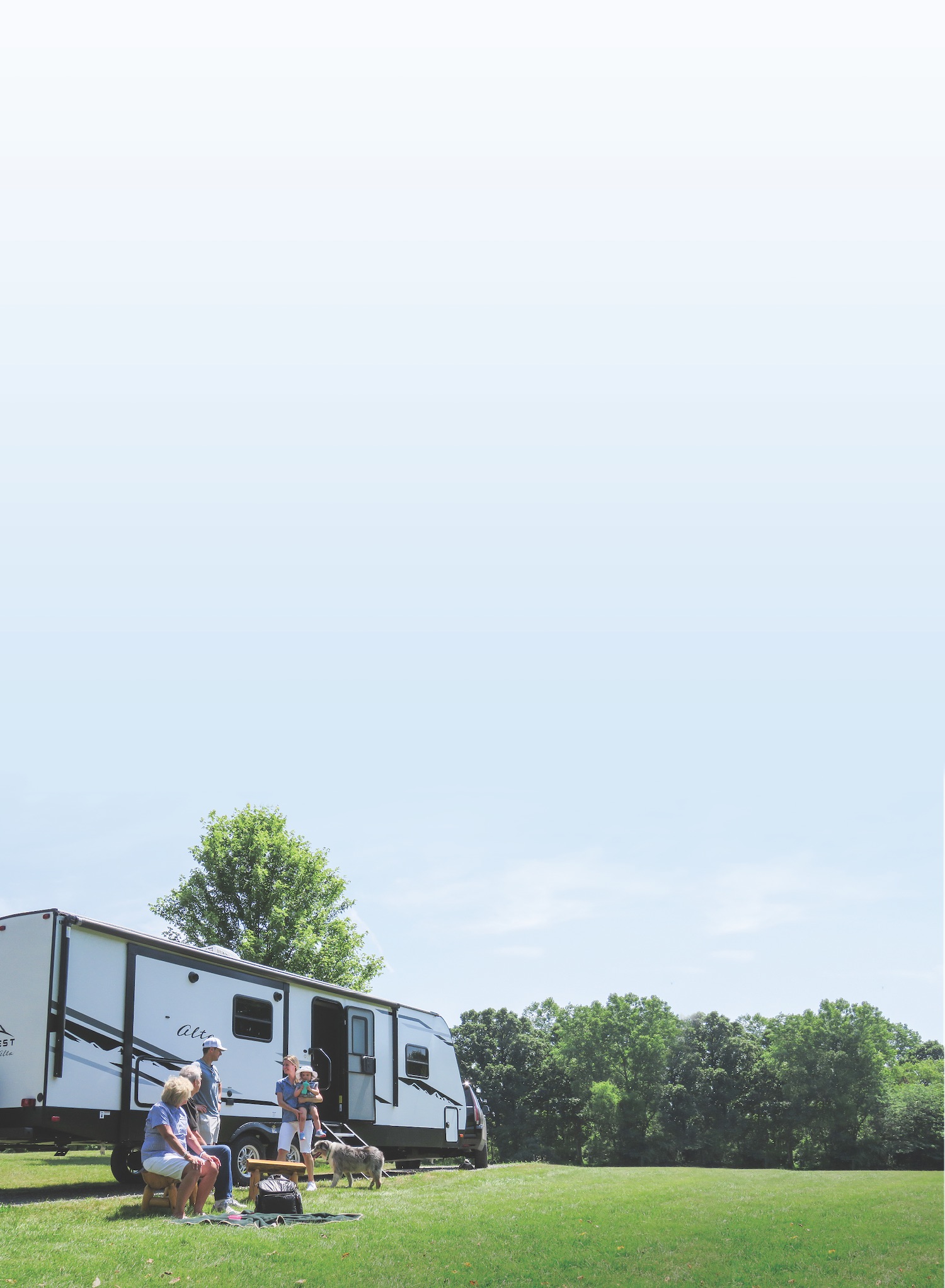 Lisa Liegl on Women in the RV Industry
Rees enjoys creating the names of the RVs; another fond memory that goes back to her childhood when her and her dad came up with names for future RVs while en route. "Tandara" is a phrase from the indigenous people of Australia meaning "Camp Here," and embodies the adventurous spirit of the new fifth-wheel; Della Terra means "of the earth" in Italian; and Alta is the feminine Spanish and Italian word for "tall" or "high." They all end in "a" because "that's kind of my little signature feminine touch, because 'a' in Spanish and other languages is usually the feminine version of something," says Rees.
At East to West, there are a lot of women who do a significant job in quality control and inspection of the units says Rees. Additionally, there are many women in senior positions and opportunities for growth for women in sales. Women make up at least twenty percent of the workers on the floor on the manufacturing side.
Rees' advice for women who are starting up a business is that determination and believing in yourself are musts. Set your mind to your goal and ignore those who say you can't do it, trust your gut, and be willing to take a risk.
"It's not the easiest industry for a woman to break into and be accepted right away," says Rees. "It's one of my goals to become a bigger part of the RV Women's Alliance (RVWA). It's my duty to give back to other women who might want to have a mentor, or learn, or grow within the RV industry."
East to West's Five Pillars
In addition to East to West's giving-back philosophy, instrumental to the company are five pillars. Those principles pertain to sustainable manufacturing, corporate and social responsibility, culture and values, quality and construction, and commitment to customers. Commitment is key: Rees' loyalty to her employees, partners, and customers has driven her philanthropy, such as donating trailers to Tents for Troops, an organization that "pays it forward" and provides complimentary stays at participating parks to active military members.
Finding Work-Life Balance
Being married and having a two-year-old has made Rees very aware of her work-life balance, and being a good mother and wife takes top priority. She enjoys relaxing with her husband, Logan, on weekends and this, of course, includes making sure their daughter is raised with the same values and love for RVing. One of the reasons Rees is hooked on RVing is that she feels like it slows down life, even if just for a weekend, and is an essential outlet for people to rejoice in. "If you don't have chores to do, you can just really enjoy life. That's what's so exciting about camping and the RV industry—it provides that opportunity for people to have the luxury of spending time enjoying it with their family, and that's really special for a lot of people."
She considers herself lucky for how she grew up and is grateful for a career she happily lives and breathes. Rees confirms that there are additional RVs in the works, but you'll just have to wait to see what's on East to West's horizon.