Want the feel of a large fifth wheel without the hassle that comes with it? The mid-profile might be right for you, especially if your typical guest limit includes you and your significant other.
In today's towable RV review, Tiffany from Us the Remingtons gives us a good look at the Tandara 285RL by East to West, a mid-profile fifth wheel that's the perfect weekender for a small-to-medium family looking to make the most of their getaway camping experience.
The East to West Tandara finds a great balance between affordability and luxury, combining the ease-of-use and manageability of a smaller RV option with high-profile aesthetic appeal. Plus, the option is completely towable by a half-ton, so you won't have to worry about upgrading your truck as well to haul this from destination to destination.
Let's take a closer look.
Living Area
Right off the bat, we get a look at the luxurious side of things with the plush seating arrangements in the living space of this mid-profile. There are two entertainment seats and a sofa that pulls out into a sleeper, with high-density foam for extra comfort. Tiffany shows how this pull-out sleeper can fit three to four in a squeeze but would have no problem comfortably fitting two.
Above the sofa are four connected overhead storage bins for extra blankets, pillows, or items you need less frequently. Also behind the sofa, Tiffany shows us how all the windows are equipped with black shades perfect for naps or additional privacy.
The entertainment center features a flatscreen 50-inch television with surround sound speakers. And an added touch of comfort and warmth is the electric heater positioned just beneath the television, perfect for saving money on propane and capable of warming up the whole rig with various modes and settings.
Kitchen
Tiffany notes how the Tandara kitchen and dining area really create a light, open-air feeling with vertical lines that elevate the rooms visually and bright walls that give this space an inviting, social feel. The room feels bigger than it is.
Take the kitchen island, for example. It acts as a food prep and cleaning area as well as a place to socialize and gather around with friends to share a drink or appetizer.
The oven range includes three burners up top, with a backsplash that can be pulled over the burners to create extra countertop space as well as create some needed airflow from the open window just behind the backsplash. With a household microwave sitting above the oven range, you have everything you need for dinner prep.
The kitchen includes a double-door refrigerator as well as a double stack fridge and freezer combo. And the double theme continues with a double-door pantry that creates all the room you'd need for kitchen appliances, with easily adjustable shelves to size accordingly.
Eat, play games, or talk over weekend plans at the elegant freestanding dinette table that comfortably sits four.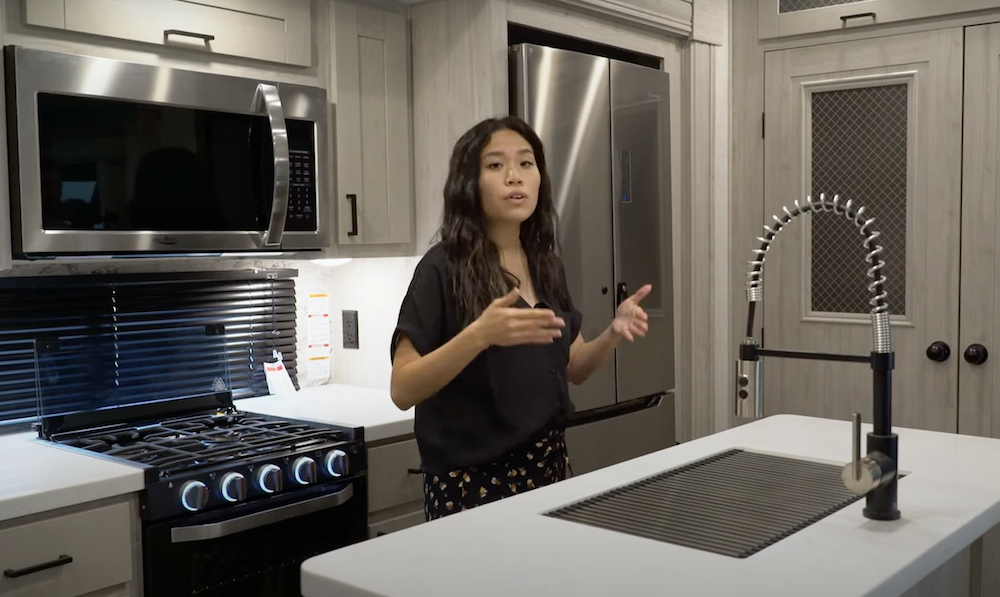 Bathroom
The bath area of the Tandara is more spacious than you might expect from a mid-profile. While you might miss out on some of the extra storage space from larger RV options, you don't miss out on what's important: shower space.
You get a standard handheld showerhead along with a skylight above to provide natural lighting to the space. Even the porcelain toilet is designed for ease of use with a foot pedal to open and shut the lid.
Bedroom
Get the sleeping space you need with a king-size bed and functional nightstands on either side of the bed, so you and your partner don't sacrifice a comfortable night sleep due to a lack of space. Above the bed is more overhead storage for bulky, cold-weather clothes or anything else that doesn't fit in the spring-loaded storage space beneath the bed–which might not be much!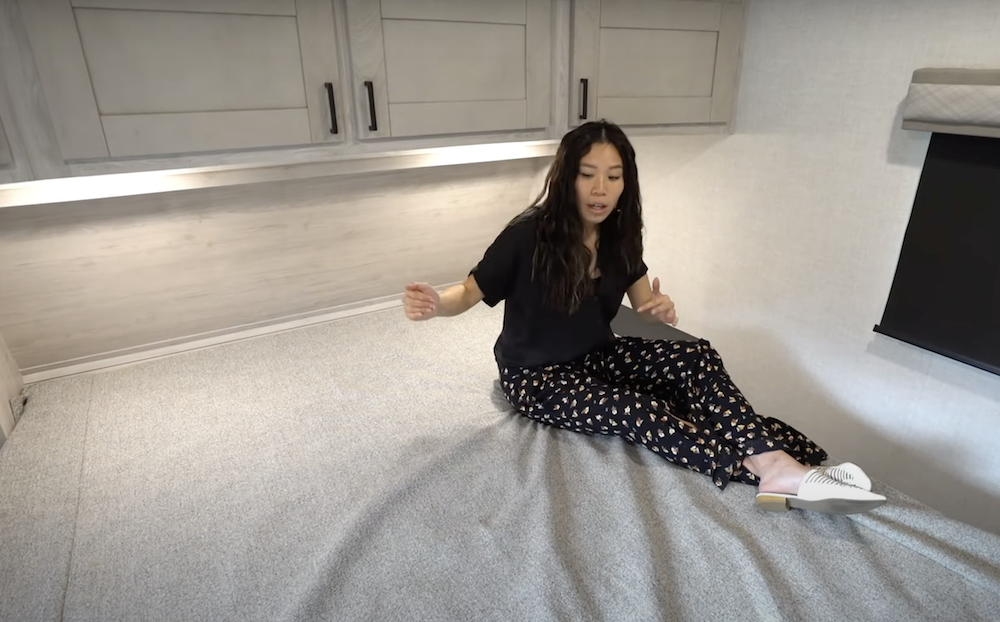 Outside Storage
Whatever storage space you can't find inside the rig, you'll definitely find it outside. Here, you get access to bay doors that can fit the likes of outdoor equipment such as paddleboards, bikes, surfboards, or any other recreational toys. There's a lot of space to go around.
For the weekender family or the couple trying out the full-time RV lifestyle, this Tandara mid-profile fifth wheel is an option you won't be disappointed with. But if it's not your style? Stay tuned as we continue to review outstanding RV options for you and your family.