Looking for something smaller than a Class A but with similar amenities, control, storage, and luxury? We might have the RV for you with the Super C Class Jayco Seneca 37RB. Style, power, luxury—the Jayco Seneca is so impressive that Tiffany Remington (Us the Remingtons) compares this RV to a celebrity A-lister.
Featuring a king-sized master bedroom and a bath-and-a-half, this winning RV gives you everything you need and more for your traveling adventures. Tiffany walks us through the various featured areas of this motorhome, highlighting all it has to offer for those lucky enough to drive away in the Jayco Seneca.
Today we'll focus on the kitchen, cockpit, and storage bays—but there's far more to this rig including an over-the-cab bunk, a corner-mounted tv, fireplace, theater seating, and a custom-built dinette. Everything about this Super Class C represents comfort and quality, and this quick tour will be sure to provoke the soonest possible test drive.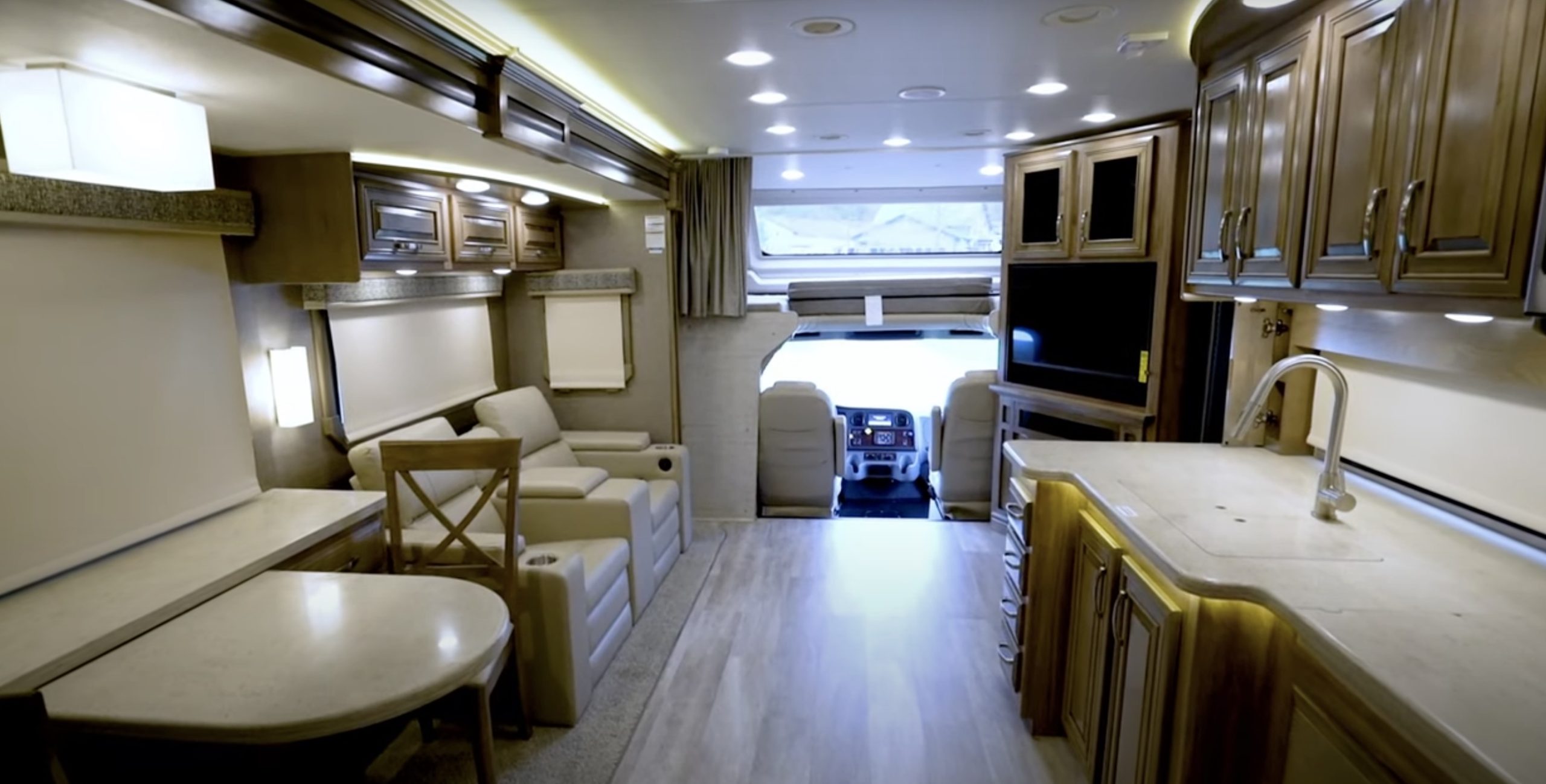 Kitchen
First Tiffany takes us through the elegant kitchen area where we find plenty of high-quality overhead storage and cabinetry, a spacious farmhouse-style sink, and great access to natural light with a backsplash-turned-window. Also included is a three-burner stovetop, convection oven, and—most impressive—large, pull-out spice cabinets perfect for pantry storage.
Further down from the front of the kitchen, we learn more about the refrigerator, a residential-sized, double-sided Whirlpool, accessible during travel and fully equipped to store all your perishables and chilled beverages. This large refrigerator is located in a great spot on the RV, near enough to the kitchen but out of the way to offer plenty of cooking and prep space. 
Front of the RV
This Super C Motorhome gives you the additional cockpit space and ability to sit high at the steering wheel like a Class A, but with the added diesel power and acceleration of a smaller model RV. Also featured is the digital screen for navigation, media, and access to the backup/side-view cameras for easy and safe parking.
The Seneca is powered by a Cummins 6.7L 360 HP diesel and an Allison transmission. And full air brakes and SACHS shocks make for a smooth ride onwards to the next campsite.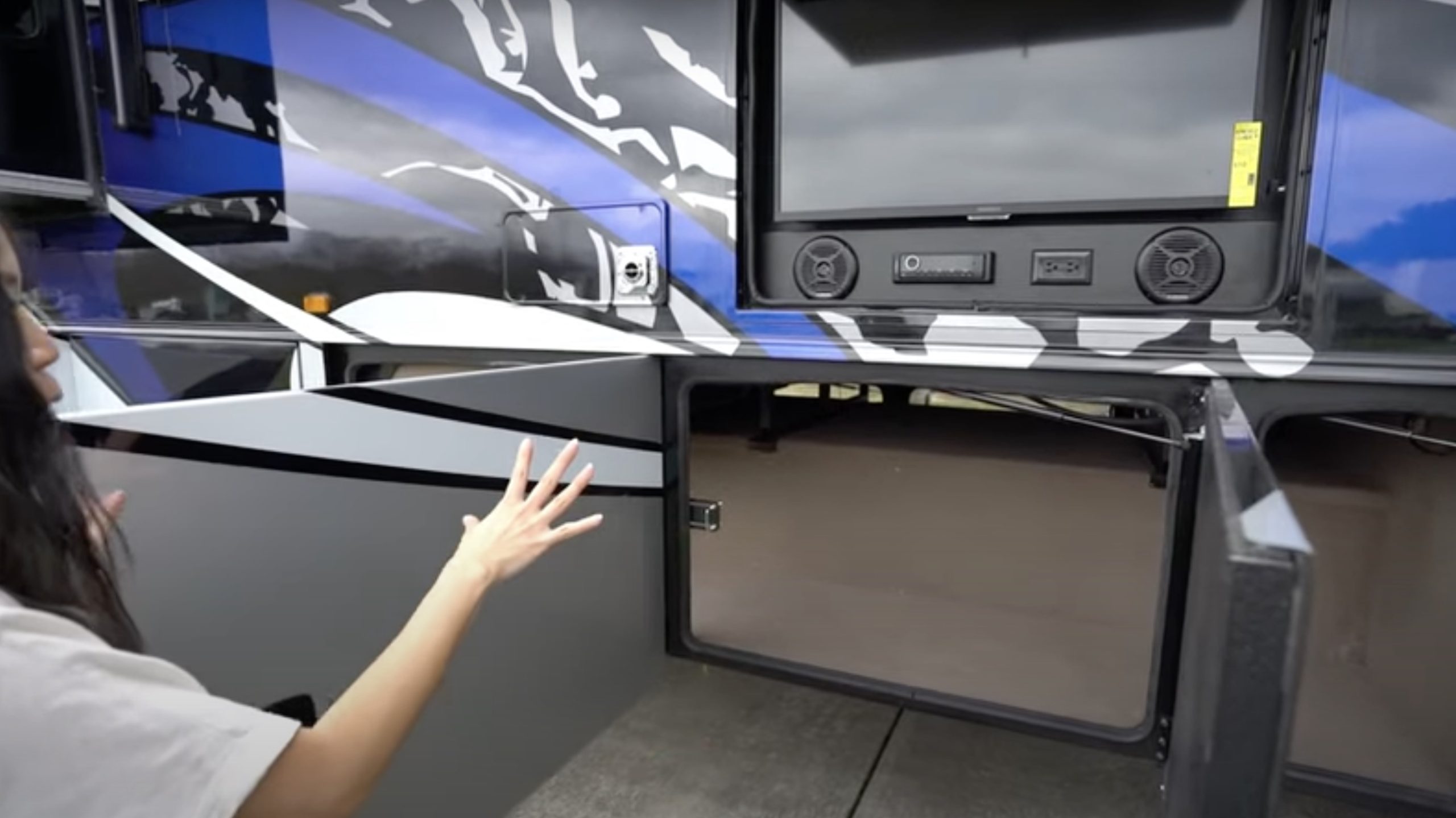 Outdoor Storage
Outside, we get a look at the massive amounts of storage space available beneath the motorhome. The large, passthrough storage areas allow for additional storage, especially for extra-long items–or Tiffany's shoe rack, in this case. The rear bay contains the propane tank, about 100lbs in size, which is several months' worth depending on your usage.
On the opposite side, Tiffany shows us the hookup area for water and power, as well as an 8000-Watt Cummins Onan generator capable of powering both AC units as well as the microwave.
Next to the generator bay, we get a look at the inlets for water and the sanitization inlet, making it possible to clean your black water tank prior to storing your RV for the year. Gray and black tanks are included in this bay as well. Then, past the opposite side of the pull-through bays, Tiffany shows us the front bay, which houses the batteries for the RV, conveniently stored away while maintaining accessibility.
---
Overall this is a great option if you're interested in a Class C motorhome. If you're interested in seeing what's available right now, check out the Jayco Seneca models available at Camping World.