Wild and Wonderful
New River Gorge National Park and Preserve is America's newest national park and a playground for adventure.
Carving a deep gorge through the Appalachian Mountains, the New River is among the oldest rivers on Earth. In December of 2020, the New River Gorge National River was redesignated as New River Gorge National Park and Preserve and encompasses more than 70,000 acres in southeastern West Virginia. The park, which stretches 53 miles along the national river, is open year-round and has seasonal visitors' centers. And there's no entrance fee! 
For the Adventurous
The New River's world-class white-water rafting and rock climbing are big draws, just for starters. Said Park Superintendent Lizzie Watts, "Our Nuttall sandstone is what draws people who come from around the world to rock climb." But there's plenty more to do beyond these particular adrenaline rushes.
The park's trails range from 1/4 to 7 miles for hiking and biking past pink-purple catawba rhododendron in May, spring and summer wildflowers, and colorful autumn leaves. Fishing is great in the spring and fall with a three-day state license easily obtained at area bait shops. And as a crucial migration stopover habitat, the park has become a favorite location for bird-watchers. Pets are allowed on all the park trails but must be kept on a leash no longer than 6 feet.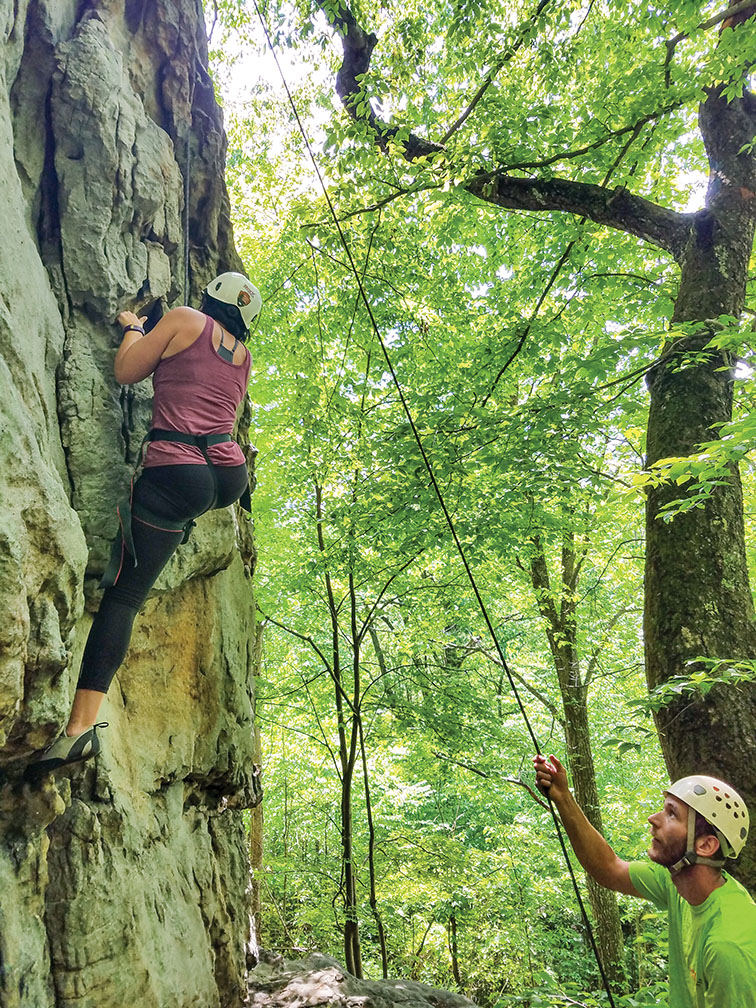 The New River flows through the park from south to north and its personality changes along the way as it drops 750 feet in 50 miles. The upper river (at the south end of the park near Hinton, West Virginia) has calm, long pools, riffles, and occasional rapids, mostly Class I and II, making it a fun rafting area for beginners and younger family members.  
The Lower Gorge section of the river north of Fayetteville is famous for challenging advanced Class IV to expert Class V rapids, as is the nearby Gauley River's big white water in the fall. You can bring your own gear but many people use river outfitters with licensed guides who know the New River and Gauley. 
Exploring the Park
Wherever you decide to make your base camp, plan to use your tow vehicle or smaller motorized RV to explore the park's narrow, winding back roads since many are not suitable for larger RVs.  
A good starting place is the National Park Service Canyon Rim Visitor Center in the Lower Gorge area near Fayetteville and U.S. Route 19. Exhibits and summer ranger programs provide an orientation on the park's natural features, activities, people, and history. Isolated until 1873, this area became known for high-quality bituminous coal shipped far and wide after railroad tracks appeared along the river. Coal meant "jobs for many and fortunes for few," as the saying goes, but 20 mining towns at the bottom of the gorge went from boom to bust by the 1950s.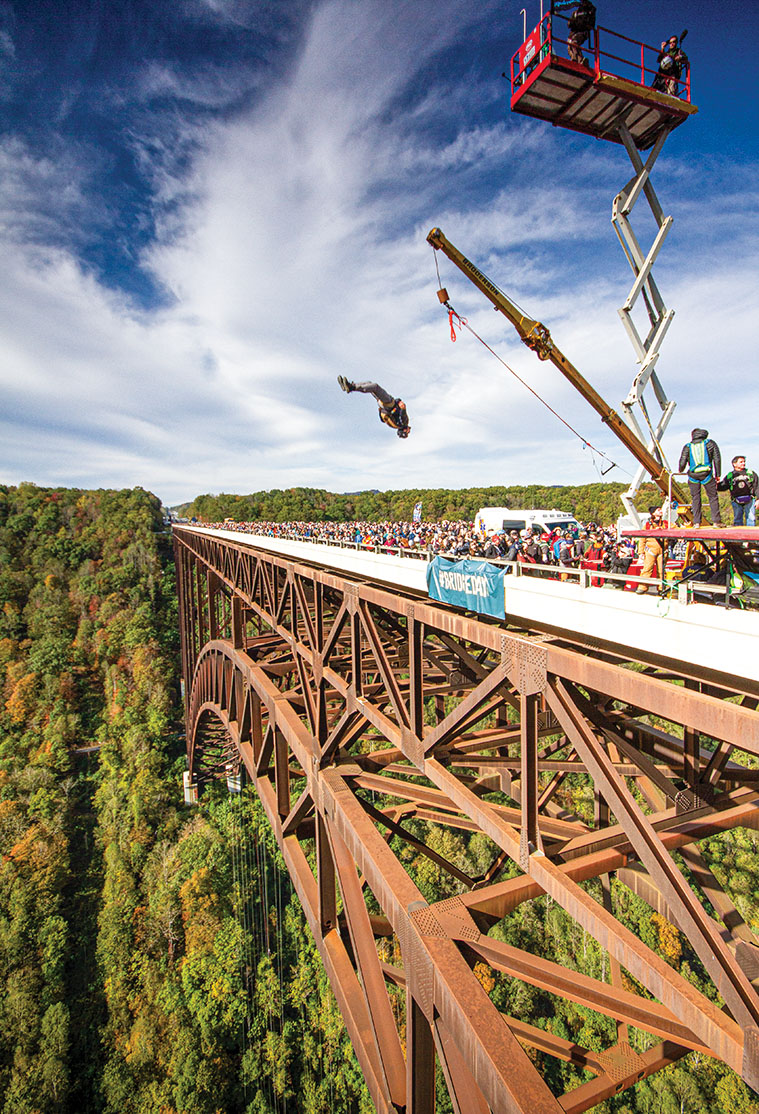 From the visitor center's back deck, a boardwalk leads to views of the iconic New River Gorge Bridge. The largest steel single-arch bridge in the Western Hemisphere, the 876-foot-tall span was completed in 1977 and has been a symbol of West Virginia ever since. Once a year on Bridge Day, the third Saturday of October (the 16th in 2021), U.S. Route 19 closes so thousands can walk across the bridge to watch rappelers descending from the catwalk and BASE jumpers flying into the gorge. 
Year-round, unless you have a serious fear of heights, you can walk the 3,030-foot length of the bridge across the gorge on an interior catwalk led by a Bridge Walk guide. Kids 8 and older can participate if they are at least 48 inches tall, and it's an unforgettable 2–3-hour experience. You'll be suited up in a harness and your guide will attach each person in the group to an overhead safety cable.
Walking single file on the 24-inch-wide steel catwalk with handrails, you'll soon get used to vibrations from the traffic 25 feet above your head. The guide explains the area's history and may even invite you to sit on the catwalk to dangle your feet in the air 850 feet above the river. From this incredible viewpoint, you'll see trains along the river and rafts entering the rapids far below.  
Beyond the Gorge
Allow time to explore all of the park including the railroad town of Thurmond and the Grandview overlook 1,400 feet above the river, both with visitor centers open during the summer. Less than an hour's drive south from Canyon Rim, the Sandstone Visitor Center is open seasonally as a handy stop for people traveling on Interstate 64. With an inlaid floor map mural of the New River watershed, it has exhibits explaining the natural features and cultural history of the area.  
To see the dramatic Sandstone Falls, though, you'll need to drive about 20 miles farther via the historic town of Hinton where a railroad museum displays artifacts from the early days of the Chesapeake and Ohio Railway.  
When you reach the Sandstone Falls day-use area, follow the boardwalk across two bridges that span islands below the falls. Your first view will be of the lower falls and you can continue on to an observation deck to see the main falls that span the 1,500-foot width of the river where it drops 15–25 feet.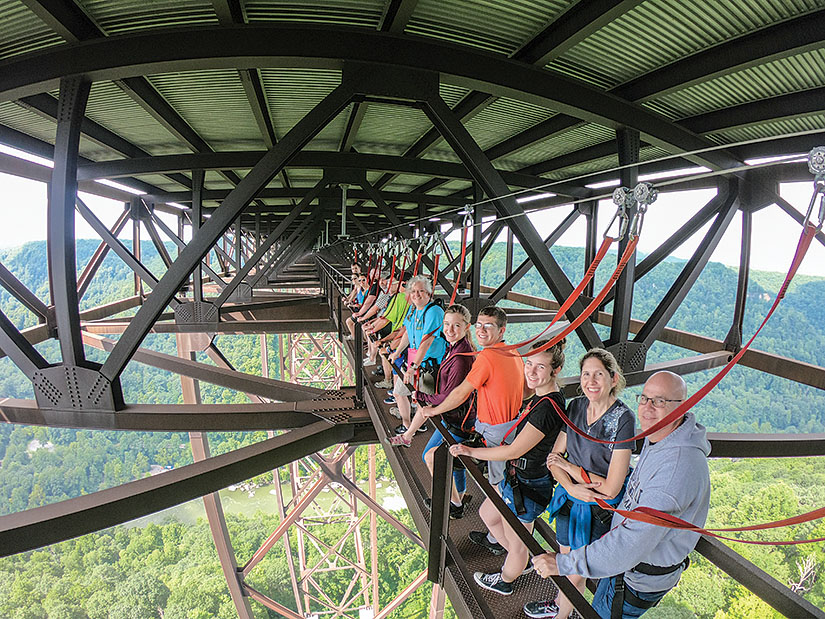 National River Designation
Decades of effort by countless West Virginians went into permanently protecting this river from further development and exploitation. Support "percolated from the grassroots level up," according to Nick Rahall, who represented West Virginia in Congress from 1977–2015. He fondly recalls broad bipartisan efforts to protect the rivers with every county commissioner, mayors, "friends and enemies," and even mining companies coming on board.  
As a result of their unity, the New River became a national river in 1978, followed by the designation of Gauley River National Recreation Area and of Bluestone National Scenic River, both in 1988. And now West Virginia has this newest national park to entice visitors. "We have a lot of special places," said Rahall about his home state, "and this is the most special."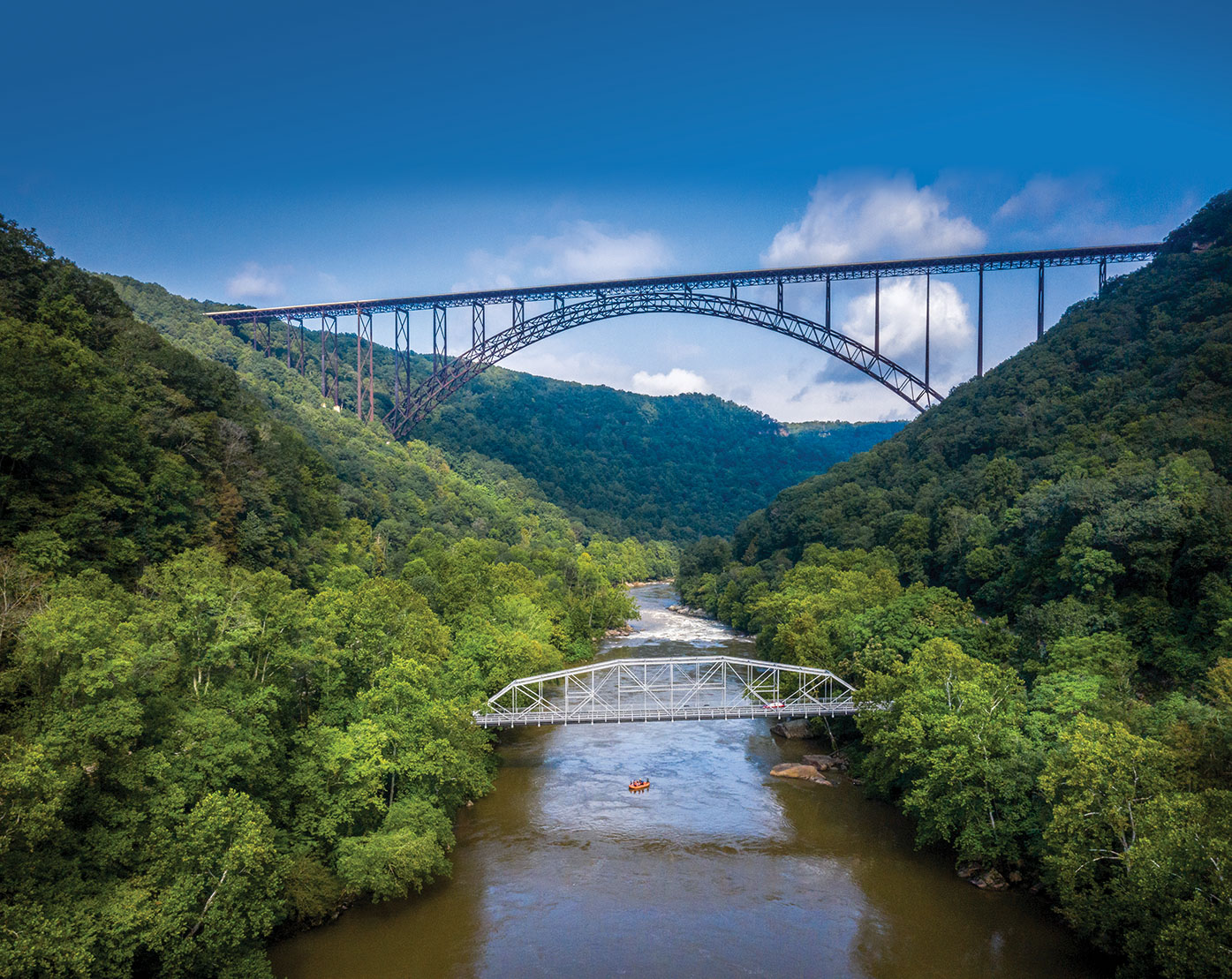 ---
Stay + Play
In the park and preserve, first-come, first-served primitive camping is free but the National Park Service advises that the campgrounds are mostly suitable for tents or smaller RVs. Restroom facilities are limited and there's no drinking water. Within an hour's drive or less, you'll find several state parks and the Army Corps of Engineers' Battle Run Campground at Summersville Lake. In the surrounding area there are commercial RV parks such as Rifrafters, a Good Sam Campground in Fayetteville with some full-hookup sites.  
A good option very close to the action is Adventures on the Gorge, a full-service river outfitter and outdoor resort less than 2 miles from the park's Canyon Rim Visitor Center (open year-round from 9 a.m. to 5 p.m. daily except major holidays). Mill Creek Village onsite has cabins, tent campsites, and 10 RV sites with 20/30-amp electricity. You can book rafting trips and choose from a full menu for all ages, including zip-lining, kayaking, and stand-up paddleboarding. After a busy day along the river, walk from the campground to a swimming pool with an incredible view of the New River Bridge, and choose from several food options by the gorge including Chetty's Pub for an excellent cheeseburger.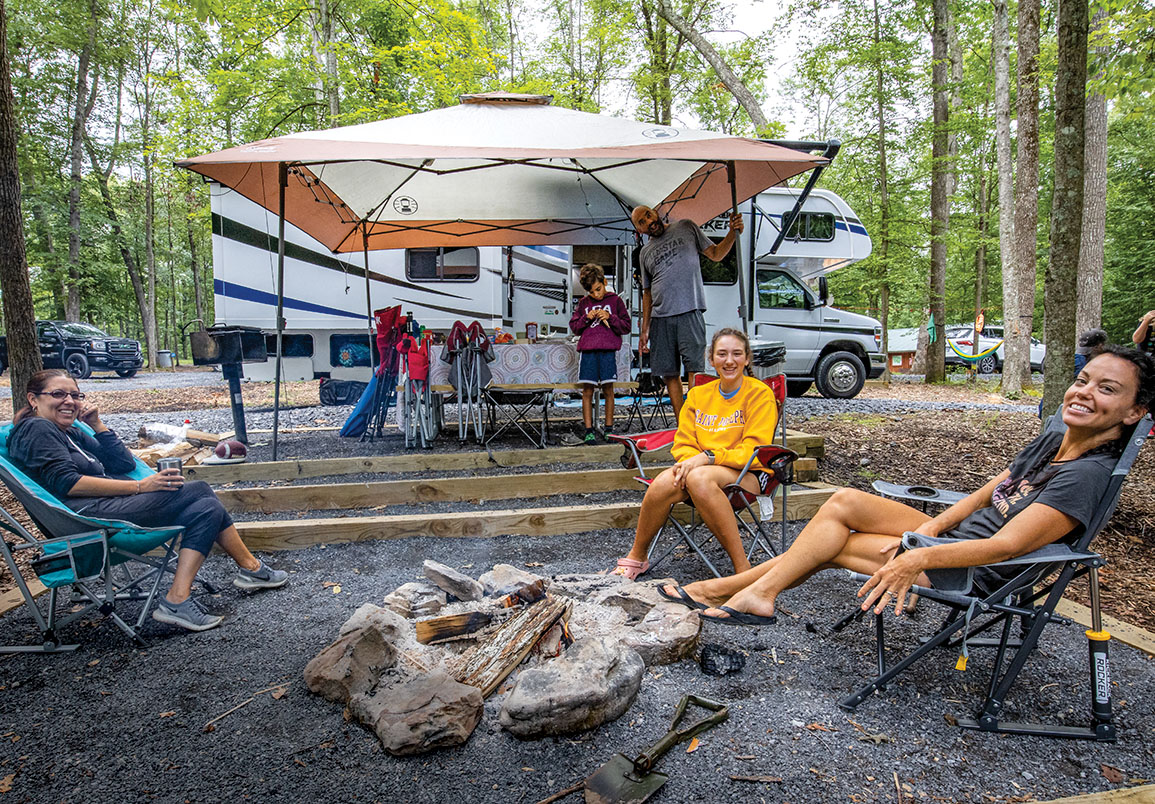 Blast From the Past
To the southwest of New River Gorge National Park and Preserve, the city of Beckley (beckley.org/coal-mine) is easily reached via U.S. Route 19 and interstates 64 and 77. During a visit to the Beckley Exhibition Coal Mine and Youth Museum, former miners and family members describe the hard life of a coal town and the toll taken by black lung disease. You can tour restored coal camp buildings and ride authentic "man cars" on tracks leading into the Phillips Family Mine that operated from the late 1800s to early 1900 (bring a jacket for the 58° temperature inside). A campground on the property has 17 full-hookup sites. Tours are offered from April 1–November 1.   
Two miles from the mine, Tamarack Marketplace is a major draw for visitors looking for high-quality artisan products made in West Virginia. It's easy to access in any size RV, offers food services, and has eight sites with free overnight parking for rigs up to 45 feet. 
Classified No More
A must-see when visiting southeastern West Virginia is the fascinating, formerly top-secret Relocation Facility planned and built by the Eisenhower Administration in the late 1950s. Designed to house all the US senators and congressmen for "continuity of government" in the event of a national emergency with radioactive fallout, the underground bunker was disguised as a conference center beneath a new hotel wing of the Greenbrier, one of the most elegant resorts in the world.  
Behind 25-ton blast doors, the self-contained power plant, 60-day stockpile of provisions, dormitories, clinic, and communications systems were kept in full operational readiness for 30 years by an onsite team whose cover story was that they were the resort's TV repairmen. Amazingly, the bunker remained a secret known to very few until The Washington Post published a story in 1992 exposing its existence. The Bunker was immediately declassified and vacated.  
Today the Bunker holds a high-security data storage facility for 17 Fortune 500 companies, so before entering on a tour your guide will assist you in stowing cameras, phones, and all hand baggage in lockers. Children younger than10 are not permitted. The Greenbrier in White Sulphur Springs is located off I-64 just 40 miles (Kris, I called to confirm this, FYI) east of New River Gorge National Park and Preserve. 
Aside from the fabulous Greenbrier resort, the nearby hip and historic small town of Lewisburg has great shops and restaurants to explore. If you want to linger there for a few days, book a full-hookup site at the State Fair of West Virginia Campground, available April 1–October 31.