Backcountry Camping on the Continental Divide Trail
It might look like we were emulating the mountain men of the early 1800s, but we were not mule skinners in Conestoga or Studebaker prairie schooners. We weren't riding horses and guiding pack animals. We were modern-day mountain folks in four-wheelers towing camping trailers and following trails that may have been opened up almost 200 years ago.
Although we enjoyed our evening campfires, we didn't dodge smoke while cooking over them; we used Coleman stoves. We used electric lanterns rather than reading by candlelight, and to keep warm, we slipped into well-insulated sleeping bags rather than wrapping up in buffalo robes. However, the morning bacon smelled just as enticing and the coffee tasted just as good as they must have all those decades ago.
After almost a year of planning, our group of six conquered the Continental Divide in three separate segments. We chose to start at the southern end of the Great Continental Divide Trail, making our way through five states and ending in Canada. The first stage was the Mexico border to Interstate 40 in New Mexico, the second stage was from I-40 to Interstate 80 in Wyoming, and the third stage was I-80 to the Canadian border, with trailheads at the listed interstates.
Since the official Continental Divide National Scenic Trail is for hikers and horseback riders only, and we were in four-wheelers, we followed a route suitable for motorized travel and towed trailers, some topped with tents, that were cut out for off-road terrain. Our vehicles ran the gamut from a five-year-old Jeep Wrangler to a 45-year-old Toyota Land Cruiser FJ40, with two more Jeeps (a Cherokee and a Wrangler) in between. Two of the four camping trailers were homebuilt, and two were borrowed.
Our trip took a route that closely parallels the Continental Divide National Scenic Trail, which runs from the U.S. border with Mexico to the Canadian Rockies and covers almost 3,000 miles. As we discovered, the U.S. portion of the route is very close to 2,700 miles.
Finding Backcountry Trails
The spectacular vehicle trail we followed is on a memory card I purchased from GPSKevin Adventure Rides (www.gpskevinadventurerides.com) that is compatible with several Garmin GPS models. Kevin Glassett (aka GPSKevin) has put years of effort into developing this route, along with several alternative routes along the way. As shown on the website, GPSKevin provides one main route (a blue line), some more difficult alternative routes along the way (red lines) and several easier routes (green lines). GPSKevin also offers two-week adventure tours for dual-sport motorcycle riders.
With the card in your GPS device, you'll see the route plainly delineated as a blue track, with arrows pointing southward. At various spots along the route, you'll see the alternative routes. There are so many of these along the divide that we did not have time to explore them all, but we did sample some. While the blue tracks aren't all that difficult, the green tracks are definitely easier, meaning that they are usually all pavement. Likewise, the red routes we traveled weren't extremely difficult, just more challenging than the blue ones, although we did see one red single-track road that was suitable for a motorcycle only.
All four vehicles were outfitted with Yokohama tires: Geolandar M/T G003 for the 2013 Jeep Wrangler and 1999 Jeep Cherokee, and Geolandar X-MT tires for the 1974 Toyota FJ40 and 2005 Jeep Wrangler. As it turned out, each of us accrued almost 8,000 miles total while on the expedition because of all the highway travel to and from the trailheads and various detours. Although our vehicles had some mechanical complications and we had a few health issues, we had no problems with the tires.
Backcountry Camping Along the Continental Divide
To avoid summer heat — our vehicles had air conditioning, but our tent trailers didn't — we began our epic journey in March at Antelope Wells, New Mexico, at the Mexico border, and headed north after commemorating the event with several photographs. This also gave us bragging rights to doing the entire route and meeting the nice folks at the Hachita Food Mart.
The drive down state routes 146 and 81 from Interstate 10 is pretty much just a cruise on a two-lane highway over rolling hills through cattle country. Along the route we'd be meeting hikers, mountain bikers, dual-sport motorcyclists and some fantastic people living in the small mountain towns we'd be visiting.
Our first night on the trail was spent in the mountains of New Mexico, a few miles north of Interstate 10. The second night was also very cold, so we stayed in Datil, New Mexico (it's on a GPSKevin green route). Datil does not even have a stoplight — it's just a minor crossroads — but it does have a combination general store, motel, RV park, gas station, restaurant and butcher shop, which also raises its own beef. This cool combo is called the Eagle Guest Ranch, and when we found out they raised and served their own beef, we decided to eat and stay there.
Just down U.S Route 60 from Pie Town (Pie Town's claim to fame is two restaurants said to serve the best homemade pie west of the Mississippi), Datil is a must-stop for anyone
who enjoys a good beef steak with all the trimmings, served by some of the nicest people you'll ever have the joy to meet.
Weather in the Backcountry
We were ready for every kind of weather since it is completely unpredictable in the Rockies, even in July. Some passes could be inundated with rain, hail or snow, or even be impassable at times. We packed clothing, sleeping bags and blankets to keep comfortable no matter what weather conditions we encountered. We suggest bringing emergency meals that can be heated or cooked easily, in addition to normal food, in case you're forced to endure snow or rain while cooking.
As mentioned, we began the journey in New Mexico in March because of the potential for too much heat that far south later in the year. Once we climbed into the Mogollon Mountains north of Silver City, we were blessed with springtime fragrances of flowers and the sound of bees buzzing on the warm breezes. That night, however, turned out to be the most uncomfortable — read that as cold — night of the entire expedition. Sharing the nüCamp TAG teardrop with my cousin's chocolate Labrador, I would gladly have traded in the trailer's air conditioning, TV and radio for a wall heater.
Snuggled down into my L.L.Bean sleeping bag (rated for 20 degrees Fahrenheit) and dressed in sweatpants and a sweatshirt with the hood tied and tight, I discovered I couldn't change the page on my Kindle while wearing gloves. I had to remove my glove after each page. I was reading because it was too cold to sleep. In the morning, after the sun warmed the trailer and melted the frozen condensation, Coco's happy tail began swiping the moisture off the walls so it was like being in a rainstorm.
Mexico Border to Interstate 40
Silver City, a true old-time Western town, figures highly in the history of New Mexico. Back in the 19th century, it was visited by virtually all the well-known Western folk, from both sides of the badge. From Billy the Kid to Kit Carson, Silver City played host to them all. Today's Silver City is surrounded by manmade mountains of mine tailings, so much so that it's mind-boggling seeing the huge peaks that seem to circle the city. Nature's hills in the area must be almost completely hollow from so much being removed from them to make up these mountains of tailings.
Attractions around Silver City include Gila Cliff Dwellings National Monument (with five caves that were occupied starting around 1275 A.D.), Whitewater Canyon's Catwalk National Recreation Trail, Fort Bayard National Historic Landmark and Museum (the fort played a role in the search for Geronimo) and several lakes. The Kneeling Nun, a natural rock formation located in the Santa Rita Mountains, has a legend that is dear to the people of Grant County.
Interstate 40 to Interstate 80
While in Colorado, one of our side trips was to Leadville. From Fairplay (on a green route), we climbed 13,185-foot Mosquito Pass into Leadville, which required all the clearance our vehicles and the transfer cases' low ranges had. But tackling the pass was well worth the effort as the history, relics, mine shafts and scenery are beyond description.
At an elevation of nearly 2 miles, Leadville has been called Cloud City. The town enjoyed two gold rushes with a major silver strike in between. People have described Leadville's climate as "10 months of winter with two months of late, late fall." We lucked out, as the day we arrived felt like early fall with sunshine and temperatures in the mid-70s.
I had visited Leadville once before in 1978 to tour the famous Tabor Opera House, but it had been closed that day; 41 years later it was also closed on the Monday we were in town. I guess I'll have to plan another trip to Colorado! Built in 1879 by a mining magnate, the beautiful building is one of the costliest and most substantially built structures in Colorado history. The opera house is open certain days between Memorial Day weekend and the beginning of October.
Interstate 80 to Canada Border
Many historic sites and towns line the Continental Divide Trail, and you can also use the route as a thruway from which to branch off to visit nearby sites that pique your interest. By doing the route in three stages, we had the time to take some of the side trips.
In Wyoming or Montana, depending on the direction you're traveling the Continental Divide Trail, you can take the easier green route through Yellowstone National Park. This route takes you right past Old Faithful Geyser and the Old Faithful Inn. The rustic inn, a national historic landmark built in 1904, is a beautiful sight inside with its four-story wooden log railings and balconies and 85-foot stone fireplace.
Years ago, while on a winter trip via snowmobile, I enjoyed a speech given from the inn's balcony by a Teddy Roosevelt lookalike. Since the 26th president spent a memorable two weeks camping in Yellowstone during his term in office, the speech was very moving.
Because of the altitude, my Jeep's electronic fuel injection started acting up, but this didn't detract from the park's spectacular views of geological stunners such as its 300 geysers, wildlife that include bear, bison and wolves, miles upon miles of trails, roadside picnic areas, waterfalls, petrified forests and a dozen campgrounds. Yellowstone is so uniquely special that it deserves as many visits as you can do in your lifetime. We'll be back.
We discovered some great restaurants in the towns along our route, and one of our favorite diners was Café Jax in Eureka, Montana, less than 10 miles south of the Canada border. Its name sounds like it should be serving those tiny meals known as nouvelle cuisine; however, its food matches its coffee — robust and delicious. The café serves great coffee, large portions, delicious vittles and has a wide selection on the menu. We thoroughly enjoyed the huge servings of kielbasa, hash and eggs while celebrating our completion of the Continental Divide Trail. And if the weather cooperates, sitting outside on the patio is delightful.
We parked at the Canada border to capture our completion photos and then motored back into Eureka to celebrate our last evening before wending our way home to Arizona via U.S. Route 93. To say this had been the adventure of a lifetime would be an understatement.
Backcountry Camper Trailers
Smittybilt thought of everything when designing the Scout trailer kit, a DIY project that starts with a fully boxed galvanized steel frame, which is then powder-coated and covered with heavy-duty undercoating. The galvanized 14-gauge powder-coated tub (boxed body) has a large main compartment and two side cabinets that are perfect for a generator or a camp kitchen, with easy access and locking handles.
Normally, the Scouts are shipped to your home on a pallet (and you assemble them, which takes approximately 16 hours for two people who are experienced in projects like this), but our borrowed unit was assembled by the Smittybilt folks as a demo for our use and then used in traveling trade shows and dealer showrooms.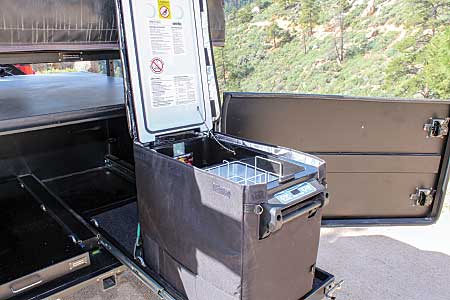 The steel fenders are removable to accommodate any size tire and strong enough to support a full 5-gallon gas can. At each end of the Scout is a 2-inch receiver, which allows the use of different types of hitches on the front end and any number of hitch-mounted accessories on the back end, including an attachment point for a winch or strap. Beneath the trailer, three off-road jacks make the Scout easy to unhook and level, and electric axle brakes with a trailer breakaway system provide security in the event of trailer detachment.
Beneath the trailer is an independent trailing-arm suspension, which features coil springs, dual shocks on each side and travel-limiting straps. Double shocks are used to disperse the dampening force evenly across the trailing arm while providing space to allow the center-
mounted limiting strap.
The trailer's tongue is designed to accommodate the toolbox, spare tire and parking brake. We found that the Scout offered excellent off-road handling and turning capabilities to match our Jeep while not compromising highway speed stability.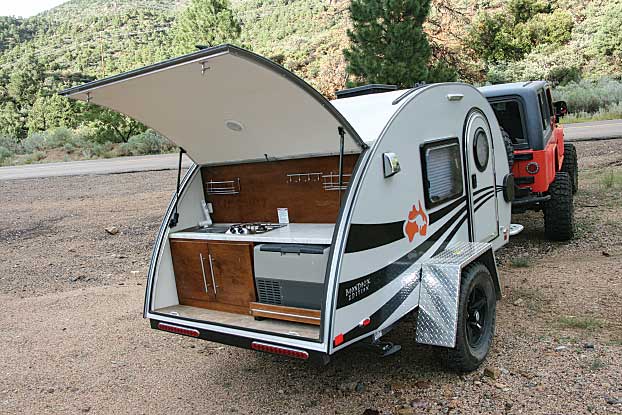 NuCamp TAG Boondocker
We took turns towing the rugged nüCamp TAG Boondocker teardrop to compare our impressions, and we all felt that it towed easily, braked well and was a luxurious camping venue for off-roading adventurers. A lot can be said for the ease of just opening a door and climbing into bed.
And there's no having to set up a camp kitchen as the TAG's outdoor galley merely requires you to raise the rear hatch to start cooking. This raised hatch also became a protective cover against the elements, and the kitchen has a 12-volt DC slide-out fridge, a two-burner stovetop and holds 8 gallons of freshwater.
The nüCamp literature says the TAG with the Boondock package is designed for the off-road adventurer with its heavy-duty pitched axle, aggressive knobby tires and high ground clearance. You probably don't want to tow it over trails other than moderately technical ones, but it tagged along easily and safely on the dirt roads and trails we threw at it.
Empty, the TAG weighs in at 1,240 pounds, and it has a 2,200-pound gross vehicle weight rating that provides almost 1,000 pounds of cargo capacity. Storage space in the tiny trailer is minimal; there's some shallow storage beneath the mattress and additional storage in the galley cabinet. We hauled most of the cargo in our tow vehicles.
nüCamp RV, www.nucamprv.com
Special thanks to Tom's Camperland in Mesa, Arizona, for use of the NüCamp TAG.