10 Most Popular National Parks for RVers
Navigate These Parks Without Trouble and Camp in Comfort
For many travelers, the National Parks are reason enough to fall in love with camping. Iconic landmarks like Yosemite's Half Dome, or Joshua Tree's otherworldly fauna, have attracted all kinds of adventurers eager to immerse themselves in the romanticism of America's most treasured landscapes.
But, what many campers don't know is that not all of these National Parks are easily accessible to all RV's. Some National Parks lack full hookups and require boondocking skills and off-grid capabilities. Whatsmore, the National Park system also mandates a strict decibel limit on generators. This means not all generators are usable within the park system and only during certain hours.
Most importantly, many National Parks and their campgrounds were built before the age of big rigs. Today, not all RV's can fit into a campsite, limiting entry to motorhomes and trailers that are less than 40 feet.
Don't let your National Park dreams be dashed just yet. There are plenty of National Parks that make for excellent RV camping. Having a home base within the park makes it even easier to explore your surroundings when you can come back to a cozy RV at the end of a hike and kick up your feet in front of the campfire.
Plan your next RV trip to some of these popular National Parks for RVers and enjoy "America the Beautiful," from the comfort of your camper.
Denali National Park and Preserve
Covering 6 million acres of the Alaskan wilderness, the Denali National Park in Alaska encompasses three different kinds of landscape: tundra, forest, and glaciers. Having a home on wheels to explore this vast terrain is one of the best ways to get around and comfortably see it all. You may also feel safer camping with hard walls due to the wildlife that calls this park home, like grizzly bears, black bears, and moose.
Three campgrounds within the park allow RV camping: Riley Creek, Savage River, and Teklanika Campground. The Riley Creek Campground is open all year and accommodates RV's up to 40 feet in length. Learn about Denali's campgrounds and make reservations for the peak summer season with the National Park Service.
Grand Canyon National Park
There is nothing quite like seeing the Grand Canyon for the first time. Magnificent and awe-inspiring, the Southwest's pride and joy is a can't-miss national park. According to the National Park Service, 90 percent of travelers visit the South Rim on the Arizona side.
Make reservations up to six months in advance at Mather campground, or take your chances at the first-served Desert View Campground, both boondock-only sites. For full hook-ups for your RV, you can stay at Trailer Village, a first-serve campground located within Grand Canyon Village. Learn more about each campground at the Grand Canyon's National Park Service page.
Hot Springs National Park
Hot Springs, Arkansas in the Ouachita Mountains is a very special mountain town. With a National Park at its heart, the town celebrates its mineral-rich hot springs while preserving and protecting its claim to fame for centuries to come.
RVers camp easily at this urban park at Gulpha Gorge Campground, equipped with forty-four full-hook-up sites. Enjoy camping along a scenic river and having close access to the bathhouses of Hot Springs, Arkansas. Reserve your site through the National Park Service.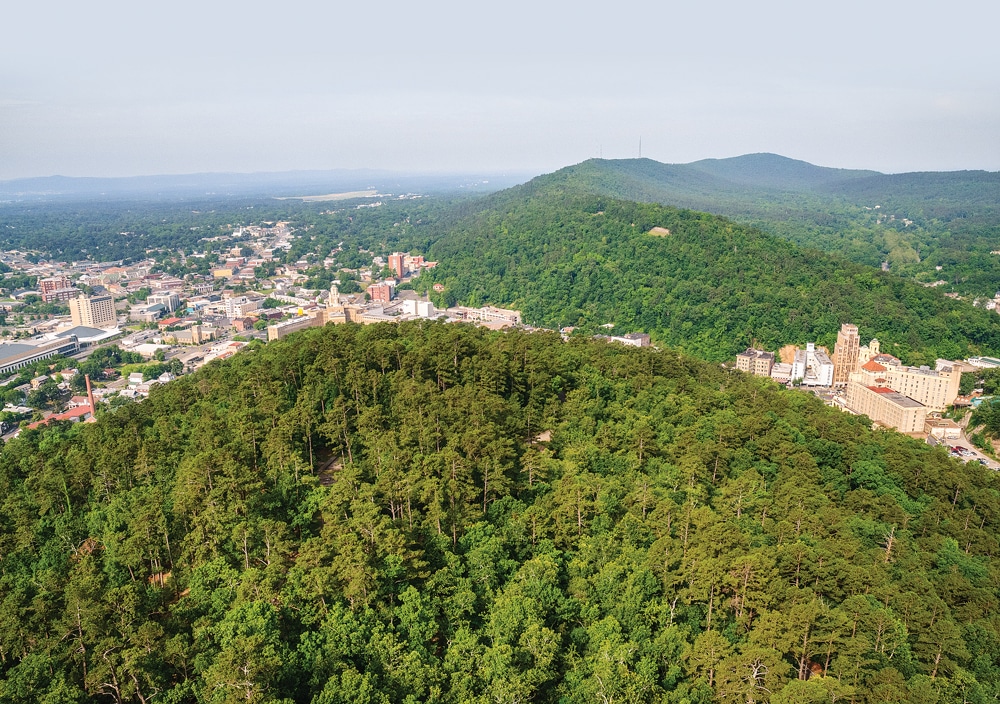 Death Valley National Park
The vast and diverse landscapes within Nevada's Death Valley National Park deserve ample time to explore. Due to extreme temperatures and wildlife, like rattlesnakes and scorpions, RV camping in Death Valley is ideal.
With 18 campgrounds to choose from, there are plenty of places to park your rig, though only one campground, Furnace Creek, is equipped with full hook-ups. Campers should plan their visits seasonally to avoid the Summer's dangerous temperatures. Explore Death Valley's campgrounds and make reservations when you can.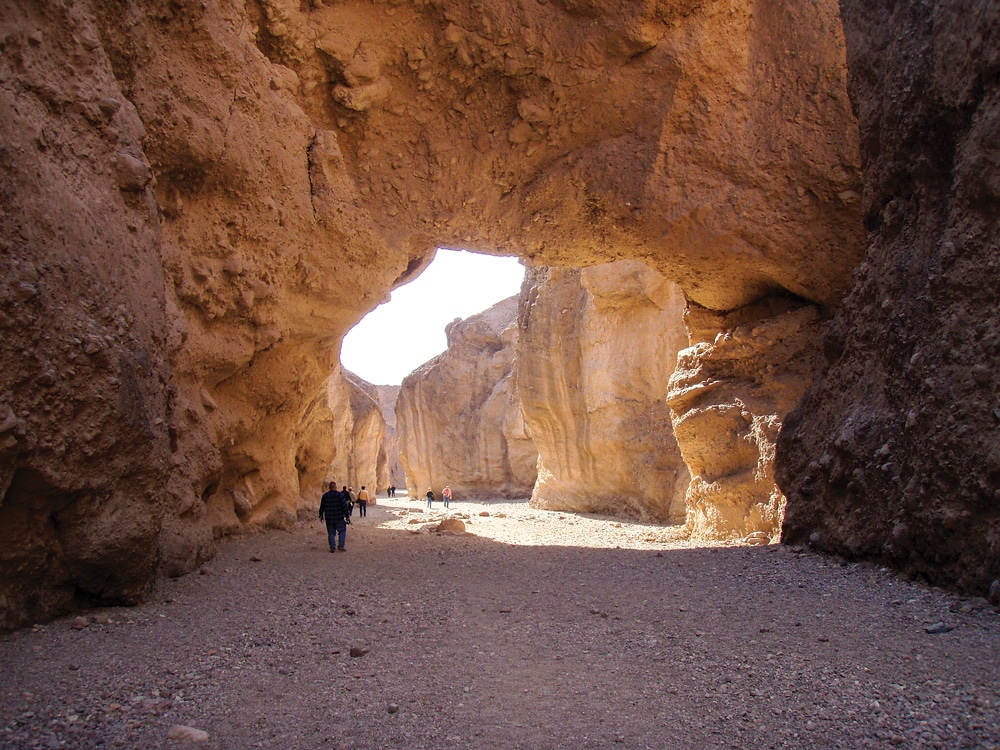 Joshua Tree National Park
Like a scene from Dr. Suess, Joshua Tree National Park is a playground of soft-edged boulders and bristly Joshua Trees. With over 500 campsites throughout the California park, there are plenty of places to set up camp. Still, in the popular Spring season, Joshua Tree campgrounds fill up fast and well ahead of time.
Black Rock and Cottonwood campgrounds are the two most RV-friendly campgrounds, with capabilities to handle larger rigs and an onsite dump station. Joshua Tree's campgrounds offer no electric hookups, so be prepared with solar power or a national park approved generator. And of course, when camping in the desert, always bring extra water. Explore Joshua Tree Campsites and book in advance when possible.
King Canyon National Park & Sequoia National Forest
California's sequoia trees are a sight to behold, towering silently over visitors like stoic sentinels. A visit to King's Canyon National Park at the base of the Sierra Nevada mountain range is a recreational wonderland. Hiking, rock climbing, canoeing, horse-back riding, and fishing await explorers of this National Park, all the more reason to set up camp for a few days to see it all.
Though Kings Canyon National Park has six campgrounds to accommodate RV's, it does not offer sites with hookups so be prepared to boondock. With steep windy roads and icy winters, visit this park in a smaller rig and during warmer months for safer driving conditions. Review campground rules and regulations for Campgrounds in Kings Canyon National Park before planning your trip.
Everglades National Park
Landscape photographer Clyde Butcher once said of Florida's swampy scenery "Out west, they have their mountains. We have our clouds." Florida sunsets and skies are indeed epic and endless. In Everglade's National Park, the skies sprawl out over 1.5 million acres of swamp and bush. Enjoy these grandiose skyscapes when camping here, ideally in the winter months when the weather is cooler and bugs aren't as bad.
A working air conditioner in Florida's warm climate is recommended. Lone Pine Key and Flamingo Campground welcome RVers, though only Flamingo Campground provides a limited number of electrical hookups. Be prepared to boondock, but enjoy amenities like showers, restrooms, fill stations, and dumpsites.
Big Bend National Park
It's no easy drive to get to Big Bend National Park on Texas' southwestern border. That's why packing up the RV and camping out for a longer trip is the best way to see this hard-to-get-to National Park. Natural hot springs, canyons, and mountain ranges beckon adventurous hikers looking for a taste of the Wild West. Spring is a popular time to visit when desert wildflowers bloom.
Find full hookups at Rio Grande River RV Park, a concession operated RV camping area within the park.  Or, choose from three other park service campgrounds, all with varying amenities. All Big Bend campgrounds require advance booking.
Olympic National Park
Mossy rainforests, craggy coastlines, and glacier-carved mountains are hallmarks of Washington's wild Olympic National Park. With 900,000 acres to explore, camping for a few days or weeks here in an RV is the ultimate way to explore this Pacific Northwest playground.
For full hookups, your only option is the privately run Sol Duc Hot Springs Campground. Treat yourself to a stay here and enjoy the steaming hot spring baths amid old-growth forests. Nine other campgrounds within the Olympic National Park accommodate RV's up to a certain length but offer no hookups so be prepared to live off-grid.
Shenandoah National Park
Just a short drive from Washington DC is the bucolic meadows, mountains, and valleys that beckon frazzled city-goers from their fast-paced East coast city life. Skyline drive dissects the Shenandoah National Park and is just that, a beautiful drive offering view after view of the soft-edged mountains of the Blue Ridge range.
Spring paints the mountains with new growth and blossoms, while Fall provides a warm ombre of changing leaves. RV campers of certain lengths can stay at any of the five campgrounds throughout Shenandoah National park, with access to dump stations and water but no electric hookup.