Heineken 0.0
It doesn't need to be Sober October to enjoy a fantastic NA beer. But here we are! 
We all love a great brew with friends, and what's better than a cold brew camping – overlooking the lake, ocean or mountain top. But there are times when you want to avoid alcohol, but that doesn't mean you need to stick with soda or juice. In the past, the sober-curious were stuck with a watery, dissatisfying beer product. But nonalcoholic beer is no longer an afterthought; there's been growth in the NA space.  
Did you know Spain drinks the most "sin" ("without") beers out of any country, account for 13% of all beer sales? And believe it or not, young people in America are drinking less and less often as the health and wellness movements go hand in hand with lower-calorie beers that naturally feature less and less alcohol. A recent Nielsen study showed that one-fifth of beer-drinking consumers in America have interest in drinking non-alcoholic drinks. Whether you're hiking with friends, embracing a more sober lifestyle, or just looking to slow down on the high ABV IPAs, you now have options. Hell, now you can break out that beer for breakfast with zero guilt! 
Heineken 0.0 is the leader in the alcohol-free space and – as the first beer sold in the US brewed with ZERO alcohol – it provides unexpected benefits for those leading a sober, balanced and healthy lifestyle. Just because there's no alcohol doesn't mean you have to sacrifice flavor 
If time is money, then Heineken 0.0 is the gold standard of beverages that you can (and should) enjoy while doing, well, pretty much anything. It's the refreshing, balanced taste of Heineken, without any alcohol.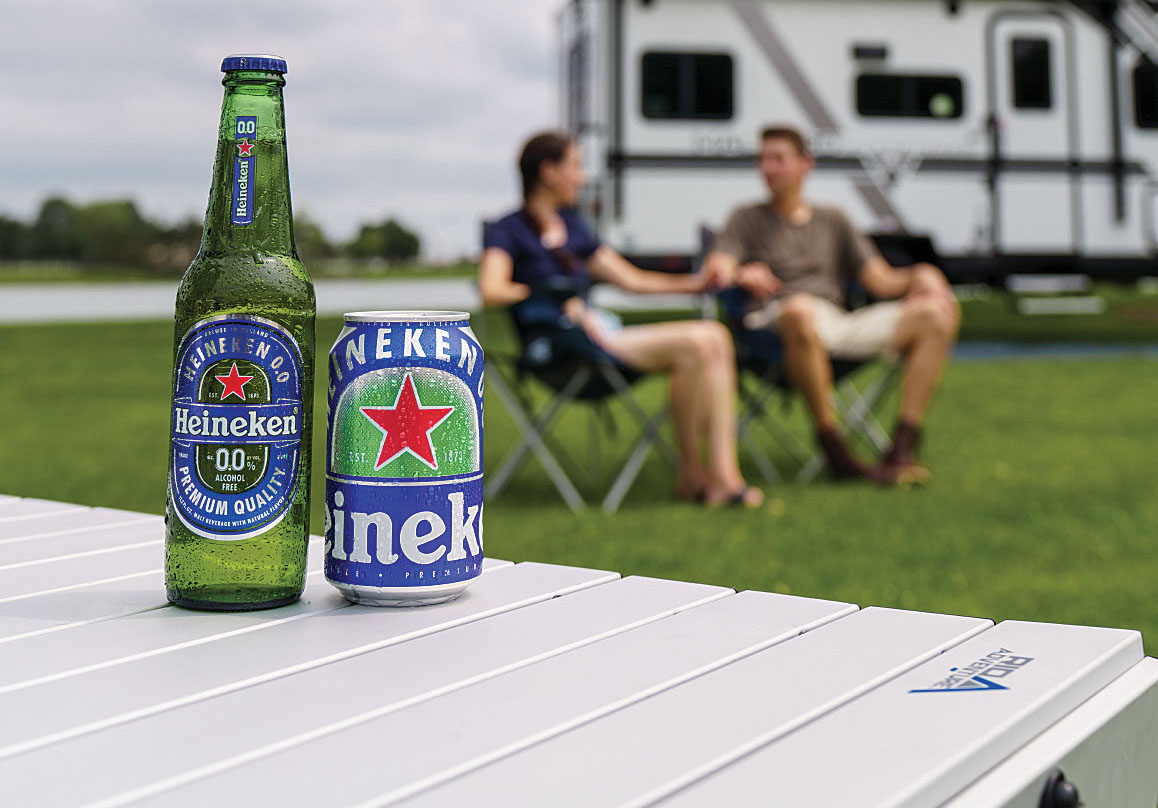 With Heineken 0.0, you can drink on the job. Heineken 0.0's great taste – it's an alcohol-free beer that tastes like beer. Get your camp organized and add any homey touches while enjoying a Heineken 0.0 in hand. Grab a can and light the most perfect roaring campfire your friends have ever seen. Drink a Heineken 0.0 and go on to make the best s'mores you've ever tasted. Bonus: you get to enjoy it with friends when they're done. Heck, you can even down a Heineken 0.0 and then hang 10 (we think that means surf). While you're at the beach, grab a friend and build an elaborate sandcastle that can rival entries in The Hampton Beach Master San Sculpting Competition. Take the boat out and stay confident that now you can give your friends an epic ride around the lake, safely. And at only 69 calories, you're basically out of reasons not to live your life with a Heineken 0.0 in hand. 
"There is a growing demand for alcohol alternatives," says Meredith Kiss, Heineken senior brand manager.  
No-ABV is no longer just the car driver's beer. Beer drinkers want the flavors, complexity, and depth of skill that comes from fermentation. Heineken removes the alcohol with vacuum distillation and blends the brew to perfection with natural flavorings. Tap into the trend of healthy lifestyles. Heineken agrees there's no limit to what the human body can achieve.   
Now you can spring out of the RV in the morning without feeling sluggish. Now you can pop another bottle around the campfire. Now you can kayak out to that island.  Open your world and let yourself free. Zero, that is.