One-Pot Vegan Recipes Anyone Will Love
Uncomplicated road food even carnivores can swallow!
My beau loves steak, and I'm mostly vegan. Living in a van with a small pantry and a two-burner camp stove, we must develop creative ways to share food space.
Luckily vegan food and camping naturally jive well.
Ingredients like dry grains and beans are spoil-proof, compact, inexpensive, tasty, nutritious, satisfying, and easy to find. They also encourage getting outside and enjoying the fresh air. For many people, it only takes a few days on a vegan diet to start feeling more energetic.
Technically, french fries are vegan. But for now, we're going to focus on more wholesome meals that will satisfy your dietary needs no matter where you're traveling. Whether you're eating vegan for health, environmental or compassionate reasons, balancing a nutritious vegan diet means more than just french fries for dinner.
So what are healthy vegan foods? – Whole foods that are unprocessed and require minimal added sugar, salt, oils, and other fats. It sounds a little boring, but only when one lacks imagination.
These recipes are not gourmet, just simple, satisfying road food. All of these recipes produce tasty leftovers, so you can spend more time exploring and less time sitting at basecamp cooking.
High Country Quinoa
We're currently RVing in our van in San Luis Valley in Colorado. Soon sandhill cranes will start arriving to feed in the wetlands and farm fields, a vital stopover for them on their 3,000-plus-mile migration from the arctic to Texas and New Mexico. Home to Great Sand Dunes National Park and lots of UFO seekers, the San Luis Valley is the largest high-altitude valley in the world, and it's known for two particular ingredients: quinoa and potatoes.
Serves:
2 hungry campers (fills up two large soup bowls)
Ingredients:
1 cup quinoa

3-4 cups water

2-3 medium potatoes, diced

1 T vegetable bouillon, or to taste

1 cup kale, spinach, chard, or other greens

Peas and red cabbage, if you have them on hand

Black pepper to taste
Cook It: 
Put the quinoa, potatoes, bouillon, pepper, and water into a pot, and bring them to a low boil. Cover and simmer for about 20 minutes, or until all of the liquid is absorbed and the potatoes are cooked but not falling apart. 
Near the end, but when there is still water in the pot, add the kale (tear the leaves into bitesize bits and remove the stalks, and it will cook in time) and any other vegetables. 
If using spinach, put that in at the very end so it doesn't overcook. After it's done, let it sit with the lid on for 5 minutes before serving, so the quinoa fluffs up.
Variations: 
Would a sweet potato look better? Yes, and it would make the dish a little sweeter. But sometimes you just gotta use what you have in the cooler, and right now with the russet potato trucks loaded up and lumbering by, that's what happened. You could also sub couscous or millet for the quinoa. And garlic is always good. Chop in chunks and add with the potatoes. For a little bit of fancy, a touch of sage is a nice addition. Some veggie sausage adds heartiness.
A note about bouillons: I like Better than Bouillon's No Chicken base, but it requires refrigeration after opening. Marigold Swiss Vegetable bouillon is a tasty powdered alternative.
Midwest Barley Comfort Bowl
This is hearty for warming up on a cold evening or recovering after a long hike.
Serves:
3 (enough to fill three large soup bowls)
Ingredients: 
1 cup hulled barley

5 cups water

1 T vegetable bouillon, or to taste

1/2 head of cauliflower, cut in bitesize pieces

1-2 cups mushrooms, quartered

2 carrots, if you have them on hand

Bouillon, to taste
Cook It:
Bring barley and water to a boil. Cover and simmer for 40 minutes or so. 
Add the cauliflower, mushrooms, carrots, and bouillon. Cook another 20 minutes, or until the water is gone and everything is cooked. Add more water if it runs low before it's cooked. It's hard to overcook barley, but it's nice to time it so the cauliflower is al dente.
Note:
There are two kinds of barley: hulled and pearl. Hulled barley is a whole grain, with only the indigestible outer husk removed, so it is healthier. Pearled barley lacks its bran layer. Because of that, it takes less time to cook but doesn't have that robust, stick-to-your-ribs texture.  
Variation:
Sub rice for barley.
For a little bit of fancy: 
Near the end, add 5-20 red chiles secos for spicy heat and color. Secos are tiny dried red peppers popular in Mexican cooking, and you can usually find them amongst all the little bags of Mexican spices.
Creole Bowl
Okay, so it's not NoLa authentic, but it's pretty good. And if you are from Jambalaya land, just remember – everything tastes better when cooked outside on a camp stove.
Serves:
1-3 hungry campers (enough to fill one large soup bowl)
Ingredients: 
1 can of beans (kidney, pinto, black, white, whatever you have)

1/3 cup rice

2 cups water

1 celery stalk, diced

1/2 onion, chopped

1 cup spinach or kale

1/2 bell pepper, whatever color

1 serrano or jalapeno pepper

1/2 can corn

1 T vegetable bouillon, or to taste

vegan sausage

creole seasoning to taste
Cook It:
Put everything into a pot. Bring to a boil. Cover and simmer on low for 20 minutes, or until the water is absorbed and the rice tender. Serve atop fresh spinach or kale, and garnish with celery and chopped onions.
Seasoning:
To make your own Creole seasoning, mix these ground spices to taste: garlic, onion, smoked paprika, cayenne, basil, thyme, oregano, salt, and pepper.
Note:
Vegan sausage is processed and therefore not a whole food, but that's okay. The goodness of the rest of the meal probably makes up for it.
For a little bit of fancy: 
Soak and then chop up nori (seaweed) into small bits to give it a taste of seafood.
Southwest Chile Bowl
For thousands of years, maize, winter squash, and beans have been staples of southwestern food. Today, the flavors and nutritional quality of the "three sisters" are as satisfying as ever.
Serves:
2-4 hungry campers (enough to fill two large soup bowls)
Ingredients:
1 can black beans

1/2 can corn

1 cup butternut squash, peeled and cubed

1/2 onion, chopped

6 cloves garlic, peeled and minced

1 tomato, diced

1 hot pepper, diced

fresh cilantro, to taste

ground spices to taste: cumin, ground oregano, turmeric

1 avocado

corn tortillas
Cook It: 
Boil squash cubes for 10 minutes or until tender. Drain all but a couple of inches of water from the pot. Add remaining ingredients except for the avocado and tortillas and cook for another 10 minutes, or until it's hot and all of the ingredients have had enough time to release their flavors. Garnish with avocado slices and use the tortillas for dipping (or rip them up and mix them in near the end).
Variation:
Add some fried soyrizo crumbles. Also, if you cook beans from scratch, add a tiny pinch of epazote for authentic flavor.
For a little bit of fancy: 
Use heirloom Anasazi beans add roasted New Mexico green chiles (or roasted Anaheim or poblano peppers, if you don't happen to be in New Mexico and Colorado, where they're plentiful).
Northwest Miso Ramen
This light yet filling soup is perfect for a quick rainy day lunch or dinner after a big hike. It's also a pretty good breakfast. Miso is rich in minerals, and as a fermented food, it also helps your gut's bacteria biome.
Serves:
2-4 hungry campers (enough to fill two large soup bowls)
Ingredients:
2 packs of ramen, whole-grain, or rice noodles

5 cups weak vegetable broth

1 cup mushrooms, sliced

3 scallions, chopped

3-4 T white or yellow miso paste

1 cup chard or other greens
Cook It: 
Simmer broth, mushrooms, and scallions until mushrooms are cooked. Add the noodles and chard, and cook for 3 to 5 minutes, until noodles are as tender as you like them. Remove it from heat and stir in the miso.  
Variations:
Add hot peppers, thinly sliced garlic, firm tofu, snow peas, bok choy or Chinese cabbage, mini corns, a touch of sesame oil and ginger, and nori (seaweed) chopped in small rectangles. If you use spinach, add it with the miso, so it doesn't deteriorate too much. It should still cook enough before you eat it.
Notes:
Boiling miso strips it of its aroma and some of its nutrients. That's why it goes in at the end. Also, when buying whole-grain pasta and other foods, look for ones with 100 percent whole grain. Otherwise, they might be mainly processed flour, with just a little bit of whole grain tossed in for advertising's sake.
For a little bit of fancy: 
Use local chanterelle mushrooms (either fresh or dried) for an authentic Northwest experience.
For more easy vegan recipes, check out The Easy-Going Plant-Based Cookbook, edited by author Karuna Eberl.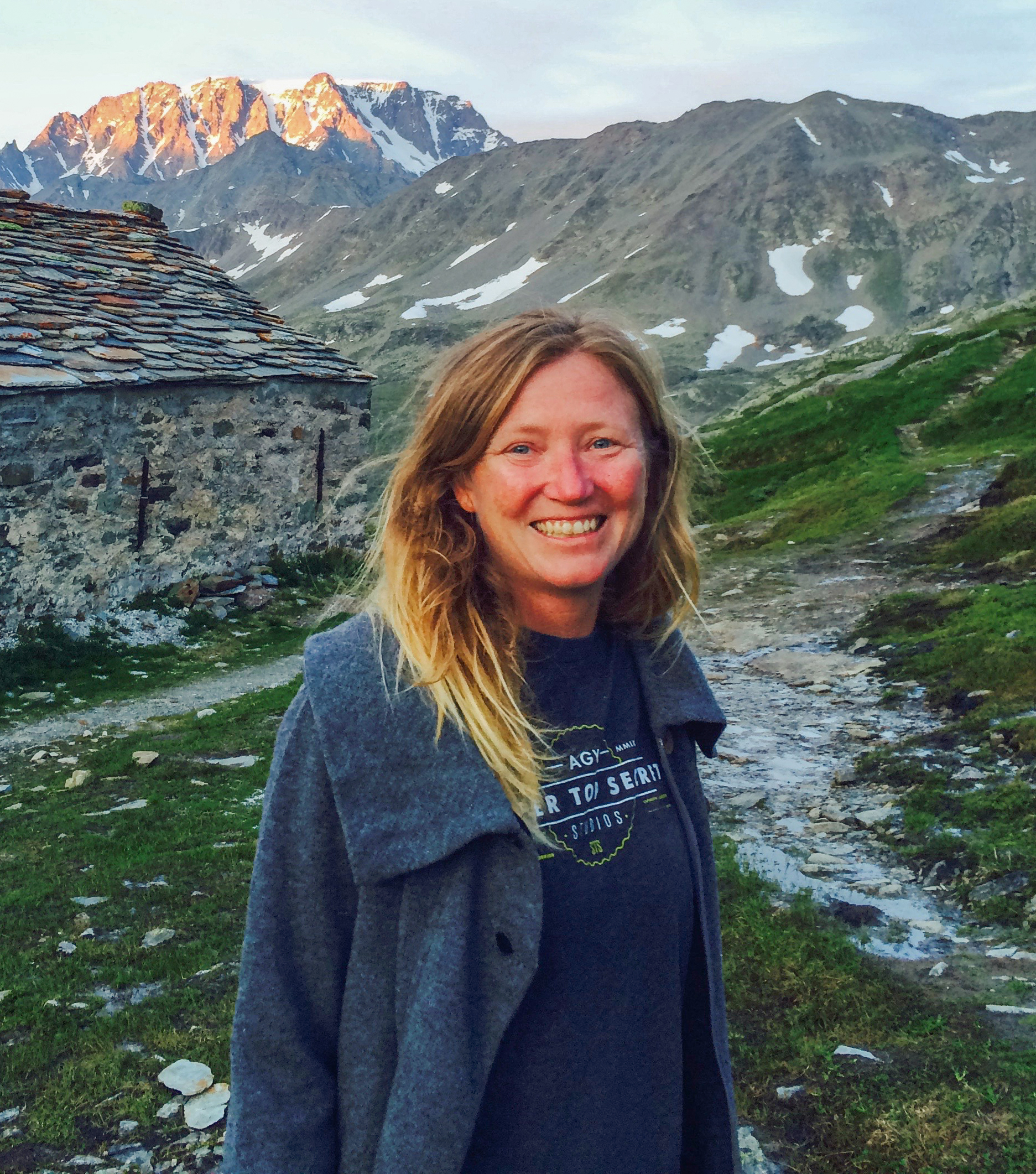 Karuna writes about wildlife, nature, history and travel, for outlets including National Parks, National Geographic Channel and Atlas Obscura. She edited the Easy-Going Plant-Based Cookbook and has produced a number of independent films and directed documentaries. She and her husband, Steve, wrote an award-winning guidebook to the Florida Keys. They live in their converted ProMaster van, when they are not renovating an abandoned house they recently purchased in a ghost town. Karuna holds a B.A. in journalism and geology from the University of Montana. Member of OWAA, SATW.