Best Portable Grill for Camping
Outdoor chefs, rejoice! There has simply never been a better time for cooking alfresco, as the selection of grills and accessories is nearly endless. Grills range from the sub-$25 tabletop variety to bumper-mounted propane behemoths that are custom-made and so pricey you have to get a quote from the company. Whether we go big or small, outdoor cooking is an integral part of the RV lifestyle, and some of us pride ourselves on our grilling dexterity, even taking it to the level of culinary art.
So Many Grills. Which to Pick?
Beyond recipes and ingredients, the debate about grilling methods never ends, and the search for the perfect setup is perpetual. On my home patio, I have three Weber kettles and have cooked Thanksgiving turkeys over coals for more than 30 years. I also have a Weber gas grill that is my go-to outdoor cooker because of its convenience and simplicity.And I always have a gas grill and a Smokey Joe when we're camping.
There's definitely something artful and even a little profound about preparing the charcoal and getting it to just the right temp. It's a challenge to do multiple courses on multiple charcoal grills, but there's no denying the flexibility and instant gratification of a gas grill. Even as I largely concede the argument to gas, though, how does one narrow the choices? There are little ones and big ones galore, and different genres such as griddles, griddles with grills, and grills that convert to griddles.
Lorisa Pierson, and her husband, Ron, have become Blackstone Griddle evangelists. They are members of the Blackstone Griddle Owners group on Facebook, which has more than 33,000 members, and they've been cooking up a storm on their RV camping trips. The Piersons recently upped their game from a Blackstone Tabletop Griddle to the Blackstone Tailgater Combo. It's a combined grill box and griddle plate on a stand with 477 square inches of cooktop and 35,000 Btu from two burners — and I'm pretty sure I've heard Ron swear it gives him mystical powers.
I'm more of a traditional grill aficionado and currently have a grill-crush on a recently acquired Coleman RoadTrip 285. The latest in the RoadTrip line, it's among the "Cadillacs" of portable gas grills, with such niceties as three burners and up to 20,000 Btu of ahi-searing energy. I cannot tell a lie, though — a little case of FOMO drove me to get the RoadTrip Swaptop Cast-Iron Griddle and Stove Grate accessories.
So the gauntlet is down: the RoadTrip 285 versus the Blackstone Tailgater. It's lunch, dinner, dessert and breakfast, and our families, friends and colleagues will be the judges.
A Bunch of Lunch
Our grill-versus-grill adventure began with a Friday lunch to kick off a weekend at Lake Casitas Campground in Southern California. It was classic Southland weather: sun shining, mid-70s, the universe seemingly telling us that every day is meant for outdoor cooking. Lorisa and Ron had carne asada, chicken tacos and refried beans on their menu, and my wife, Seana, and I had ingredients at the ready for grilled onion and ham melt sandwiches and a grilled apple tossed salad. And we were off and cooking.
Both grills, it was immediately clear, were up to the task. The Piersons' lunch was tailor-made for the Blackstone, and Ron put a nice char on the beef on the grill side and cooked the chicken to perfection on the griddle side. They brought the frijoles up to temp by leaving the pan to sit on the griddle side, but they could also have used the handy stovetop that can be accessed simply by removing the grill box. Bonus points to the Blackstone for having enough griddle area to warm several tortillas at once.
On the RoadTrip side, a big high-five goes to the Swaptop accessories, as we used the stove grate to toast walnuts in a pan for the salad and the griddle to grill the onions, and then the sandwiches. Using the standard grill top, we put a nice char on the apples, complete with classic grill marks. The only demerit on the RoadTrip was the need to take care when swapping the hot grill, griddle and stove grate. (Note to self: Find the perfect barbecue tongs for changing grill tops.)
Sitting back in our camp chairs while enjoying our lunches, enveloped by the green hills and sunshine, it was clear that both meals were a big hit with family, friends and coworkers.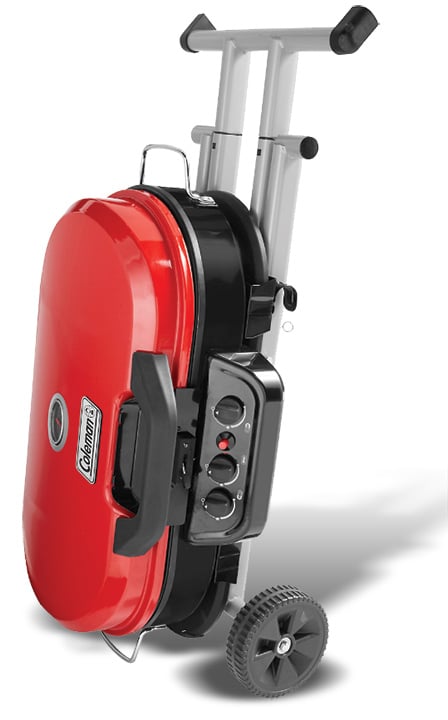 The Main Event: Dinner
After a lively cornhole tournament, it was time to roll right into prep for dinner. Seana and I lined up the ingredients for flatbread-pizza appetizers and grilled chicken skewers, sweet-potato wedges and veggies. Meanwhile, Ron and Lorisa prepped bacon-wrapped smokies and shrimp for appetizers and Philly cheesesteak sandwiches as their main course.
Switching out cooktops on the RoadTrip was key to the Dawson meal. We went for nice grill marks on the flatbread and random char on the artichoke hearts on the griddle. We then removed the flatbread to a plate where we built the pizzas with pesto sauce, the artichoke hearts, goat cheese, sliced tomatoes (sun-dried tomatoes on some) and fresh basil leaves. Putting the pizzas back on the griddle side, the RoadTrip allowed us to cover them and use indirect heat to bake them to perfection without worry of burning the bottom of the flatbread.
In the neighboring campsite, the Piersons took advantage of the Tailgater's 256-square-inch griddle surface to cook up enough bacon-wrapped smokies and shrimp to feed, well, more than our group. Delicious and plentiful.
But this meal was just getting started and, again, Seana and I were swapping out cooktops on the RoadTrip so we could use both sides to put a nice sear and grill marks on the chicken. Then we piled the chicken skewers on one side to slow cook and start the glazing. With high heat on only one side, we grilled the potato wedges there, which provided a good temperature for the skewers to cook through but not too fast.
Slapping some glaze on the potato wedges and allowing it to caramelize just a bit, we then moved them to a covered plate and swapped out that grill for the griddle. We let the chicken cook on indirect heat while the griddle heated up, and when it was about done, we spread out the veggies on high heat and splashed them with some dressing from the lunch salad. When they were cooked through and had a nice char, we plated our dinner, and the RoadTrip stood stoically, as if not to notice the praise we were heaping on it for rising to the task of a pretty complicated camp dinner.
Not to be outdone, Ron and Lorisa grilled up a mountain of steak, onions, peppers and mushrooms, swapping between the grill side and the griddle side of the Blackstone, and assembled a gorgeous spread of sandwiches. Again, the Tailgater dominated the campsite's patio with its size and penchant for large quantities. Now that's comfort food, and again, plenty of it.
Not Just Any Desserts
When planning to use a grill to prepare dessert, you almost have to be thinking fruit. Paired with a little extra sugar and maybe some citrus juice, fruit on the grill is deliciously transformed.
For Seana and me, it would be red pears with lemon juice, white sugar and cinnamon. For Ron and Lorisa, it would be sautéed apples. Both the RoadTrip and the Tailgater were perfect for these dishes, and the fruit was warm, soft and extra sweet, with just a bit of crunch from the caramelization. We paired the apples with ice cream and the pears with gelato and a raspberry Grand Marnier sauce.
Finishing the evening in what could only be described as a collective food coma, we roasted marshmallows for s'mores over the roaring fire at our feet and made a toast to our good fortune.
The Final Cook-Off
Saturday mornings are made for brunches on the RV patio. After our food fest from the day before, we were all a little slow getting moving, but move we did, as we began preparing the fixings for the morning fare on our competing grills.
For Lorisa and Ron, a classic camp breakfast of bacon strips, scrambled eggs, hash browns and pancakes topped the menu. And the Blackstone is ideal for this meal. Its huge griddle made short work for Ron as he flattened the bacon with a pair of bacon presses, then rolled through the eggs, hash browns and pancakes, removing each to a warming pan over low heat on the grill side of the Tailgater. That breakfast and the Blackstone are a match made in RV heaven.Blackstone Tailgater Combo
Seana and I were enamored with the stove grate on the RoadTrip. With that new toy in mind, we combined some traditional breakfast ingredients into an omelet. First, we cooked the bacon on the griddle, then we heated a skillet on the stovetop and started the egg whites cooking. We griddled the hash browns and kept them warm, while the omelet heated through and the cheese melted.
Side by side, the two breakfasts were made for Instagram, but wound up more like Snapchat as they disappeared in what seemed like seconds.
We had set out the day before to do an aggressive comparison between two popular camp grills. Beyond mission accomplished, though, both grills shone like the sun on that classic Southern California weekend. And the true winners were all of us who got to show off our favorite recipes and enjoy some amazing fare, courtesy of the Coleman RoadTrip 285 and Blackstone Tailgater Combo.
Grill vs. Grill
The Coleman RoadTrip 285 and Blackstone Tailgater Combo share a number of features, among them built-in pushbutton igniters, independently adjustable burners, integrated thermometers, and trays that catch grease to simplify cleanup. Both grills run on disposable 1-pound propane canisters and can be powered by 5-gallon cylinders with the available adapter hoses. Folding stands and optional carrying cases make them a breeze to transport and store. The grills are sold on the Coleman and Blackstone websites and at Camping World, Gander Outdoors and other retailers.
Coleman RoadTrip 285
What We Liked
Interchangeable grill-, griddle- and stove-top accessories. Three burners with a combined 20,000 Btu and an indirect-heat option. Slide-out side tables. Folding legs and wheels for portability.
What We'd Like to See
An easy way to swap hot cooktops and a slightly bigger carrying case.
Blackstone Tailgater Combo
What We Liked
Griddle, grill and grill box in one. 20,000-Btu and 15,000-Btu burners for a combined 35,000 Btu. Vast 477-square-inch cooking surface. Deep drip trays on both sides. Independently adjustable leg height.
What We'd Like to See
Wheels for moving at the campsite and extendable side tables.