Review: LionCooler X40A Portable Fridge Freezer Cooler by ACOPower
Forgot to get ice? No problem!
Everyone knows that a cooler is a must-have essential, must-have item. And while we have plenty of coolers, over the last few years, I've become a little obsessed with finding the "best" cooler for our RV adventures. I've long wanted a Yeti or Yeti-like cooler but deciding which one was the right one for us has always been a tad overwhelming. I've read countless articles on specs, performance, and features. I've absolutely watched one too many ice retention challenges on Youtube all in pursuit of finding the "right" cooler. My wife Lindsay has long stopped listening to my pining about wanting this or that cooler.
As it turns out, however, I may have been researching the wrong type of cooler altogether. Rather than worrying about which roto-molded cooler holds ice the longest, I should have been worried about the cooler's battery life and charging methods because a new type of cooler exists—the portable, electric cooler has arrived!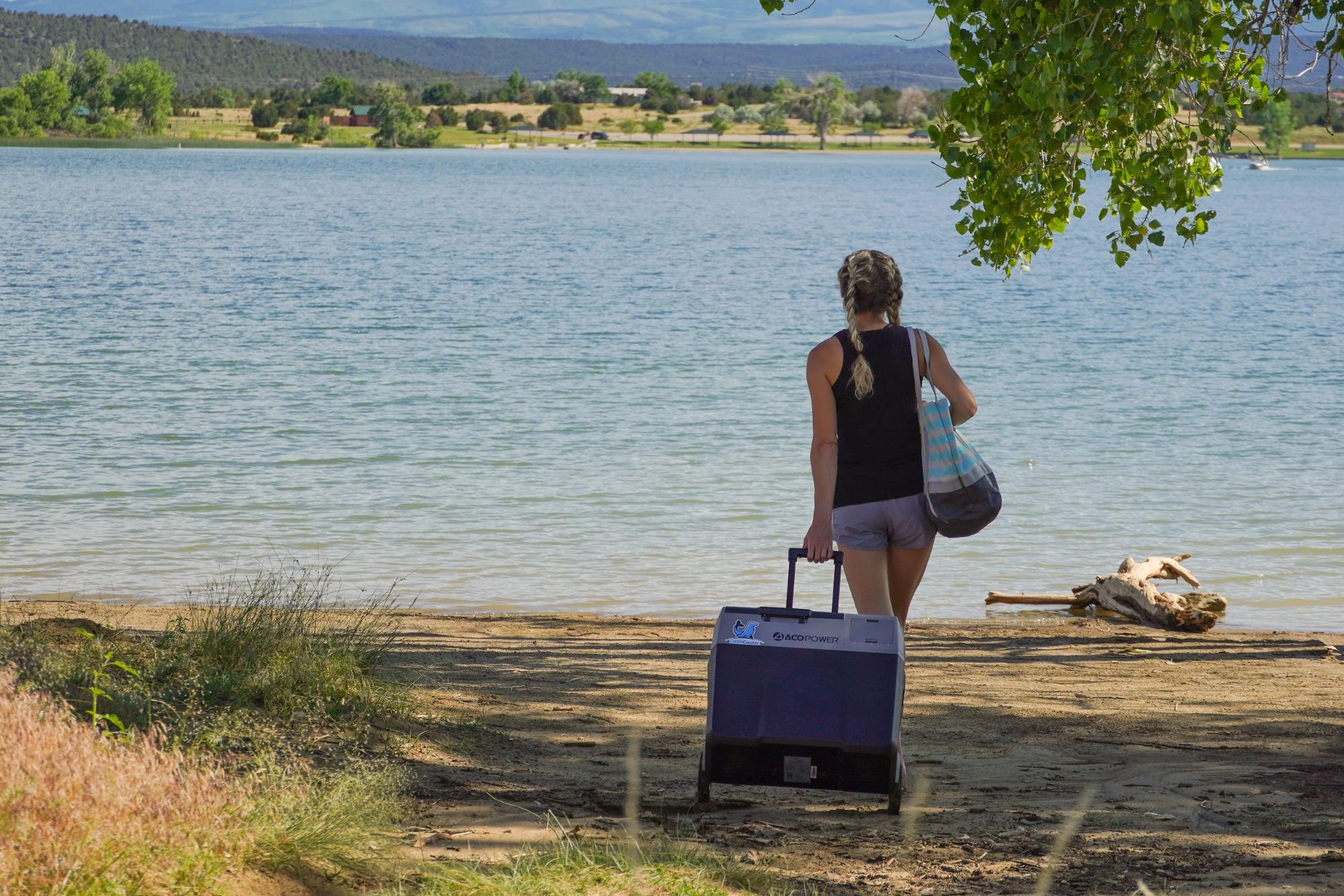 Honestly, I'd never heard of a portable electric fridge freezer cooler until I got the chance to review one for this article. Now that I'm all up to speed and have had the pleasure of using one, everything I thought I knew about coolers has changed. 
I know, that sounds pretty dramatic…
But, what if the cooler's ability to retain ice actually didn't matter because the cooler didn't need ice? How would that change the entire experience?
How much more food and drink could you pack if you didn't need 20-30lbs of ice taking up space?
What if you didn't have to worry about your food getting ruined because the ice water got inside your storage bag?
What if the cooler could serve as more than just a cooler? What if you could keep things frozen inside of it when you are out camping or traveling?
What if you could control it from your phone or charge it from your car or from the sun?
As it turns out, a portable electric cooler is a game-changer for our outdoor adventures and pretty much any other time that we'd be packing a cooler.
We've spent the last few months testing out the LionCooler X40A Portable Fridge Freezer by ACOPower. I am really excited to share our experience and review of this product so that other RVers and outdoor enthusiasts can determine if they should invest in this unique and cutting-edge product.
What Is a Portable Fridge Freezer Cooler?
A portable Fridge Freezer is exactly what it sounds like – a refrigerator or freezer that is portable. However, I choose to think of it less as a portable fridge freezer and more as a rechargeable, battery-powered e-cooler. It's pretty much it is like every other cooler that you've ever seen except this cooler doesn't require ice to keep your stuff cold! And even better, this cooler can actually keep your ice frozen rather than just preventing it from melting if you wanted it to.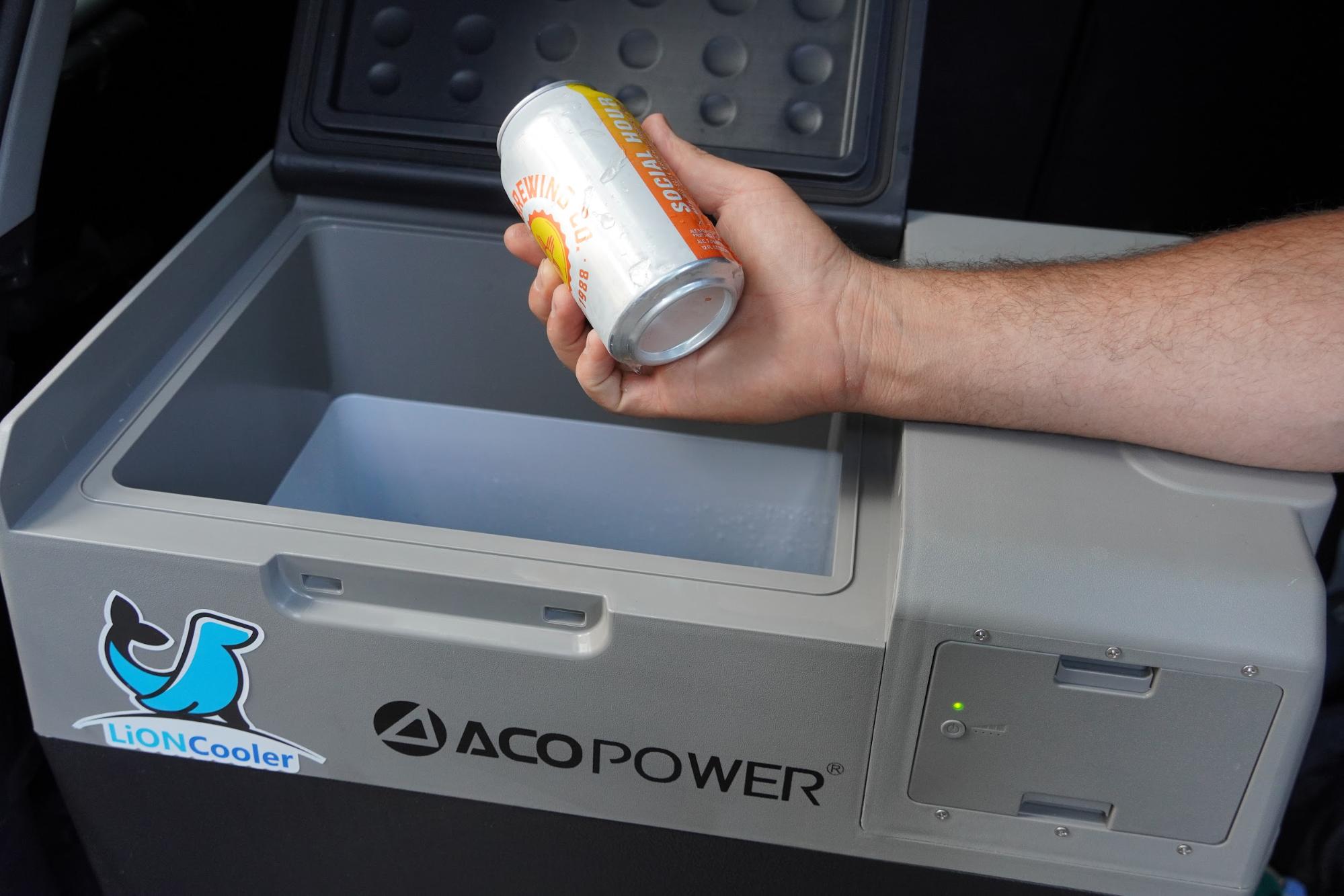 Why Would an RVer Want a Portable Fridge Freezer?
Any person that has a need to keep things chilled during an event should have a good cooler. The LionCooler electric cooler simply takes things to a new level. For RVers, in particular, there are a variety of reasons that this portable fridge freezer should be an essential part of their packing list. For us, we love this cooler for the following reasons:
Battery Powered  Cooling = No More Ice!
Let's face it, when it comes to your camping trip, ice can be a major annoyance. How many times does somebody have to leave the fun of the campsite and head into town to get more ice for the coolers? Or how many times have you not been able to fully pack the night before because you can't pack the cooler until you have the ice in the morning?
And, let's not even talk about how many things have been ruined because they got soaked but the melted water – im looking at you marshmallows and graham crackers. It's hard to make great smores when your graham cracker is a pile of mush.
The LionCooler X40A is doesn't require ice to keep things cold since it's a battery-operated fridge/freezer. In every situation that I have used this cooler, I've found myself overjoyed that it doesn't require ice.
Caption: great capacity, no ice!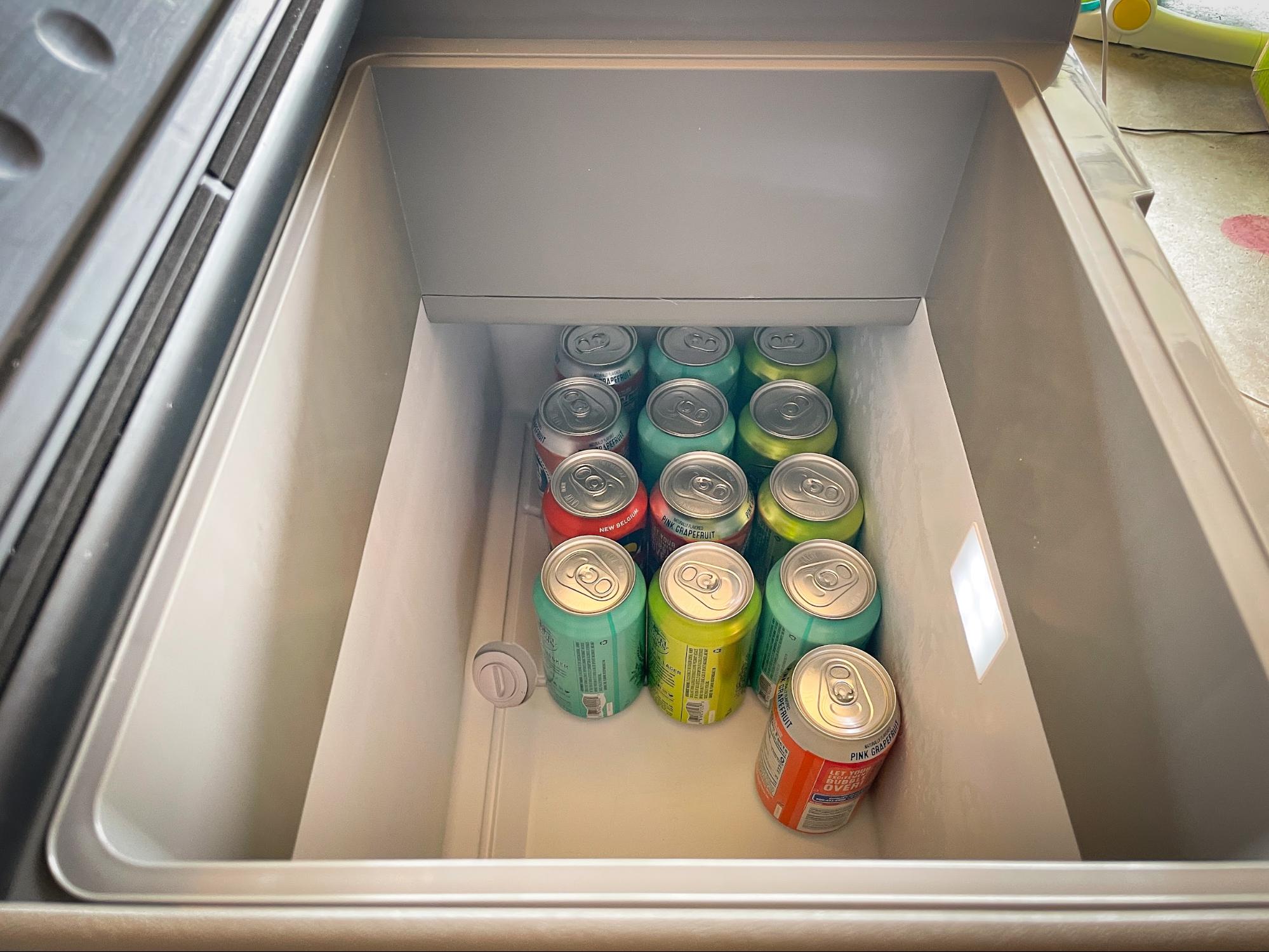 Multiple Charging Methods
When the X40A's battery begins to dwindle, there are three ways it can be charged. You can plug the cooler into a standard 110v outlet,  into a 12v outlet like you'd find in a car, or you can plug it into a solar panel. This flexibility makes this cooler very easy to use in almost any outdoor situation. Hanging around the house for a summer cookout? Perfect, plug it into a normal household outlet. Hitting the road on an epic road trip? Plug right into the 12v outlet and charge the cooler while you drive! Enjoying your epic boondocking spot with your RV? No worries at all, plug into solar and keep your stuff nice and cold, regardless of how hot it gets outside. 
The best part is that all the necessary adapters to use all three charging methods are included in the box.
Impressive Performance
The LionCooler X40A performs really well. It has two modes for cooling—eco and max. When using the max mode, the cooler quickly brings the internal temperature down. I typically set the temperature at 37 or 38 degrees and use "max" mode to chill the cooler quickly, then switch to "eco mode" to minimize the power consumption. The unit does very well at getting to and maintaining the desired temperature. The first time that I opened it and turned it on, it cooled from 75 degrees to 37 degrees in about 30-40 minutes.
I was pleased with the cooler's battery life. I never experienced moments where my food was warm or when the cooler couldn't keep the desired temperature, regardless of the ambient temperature.
The manufacturer claims the battery will last up to 10 hours of use. I found the battery typically lasted approximately 8 hours (summer temperatures, eco and max mode for cooling, 37 degrees, opening the lid 5 or 6 times an hour), which I still thought was impressive and was plenty of time for most of the things for which I was using it.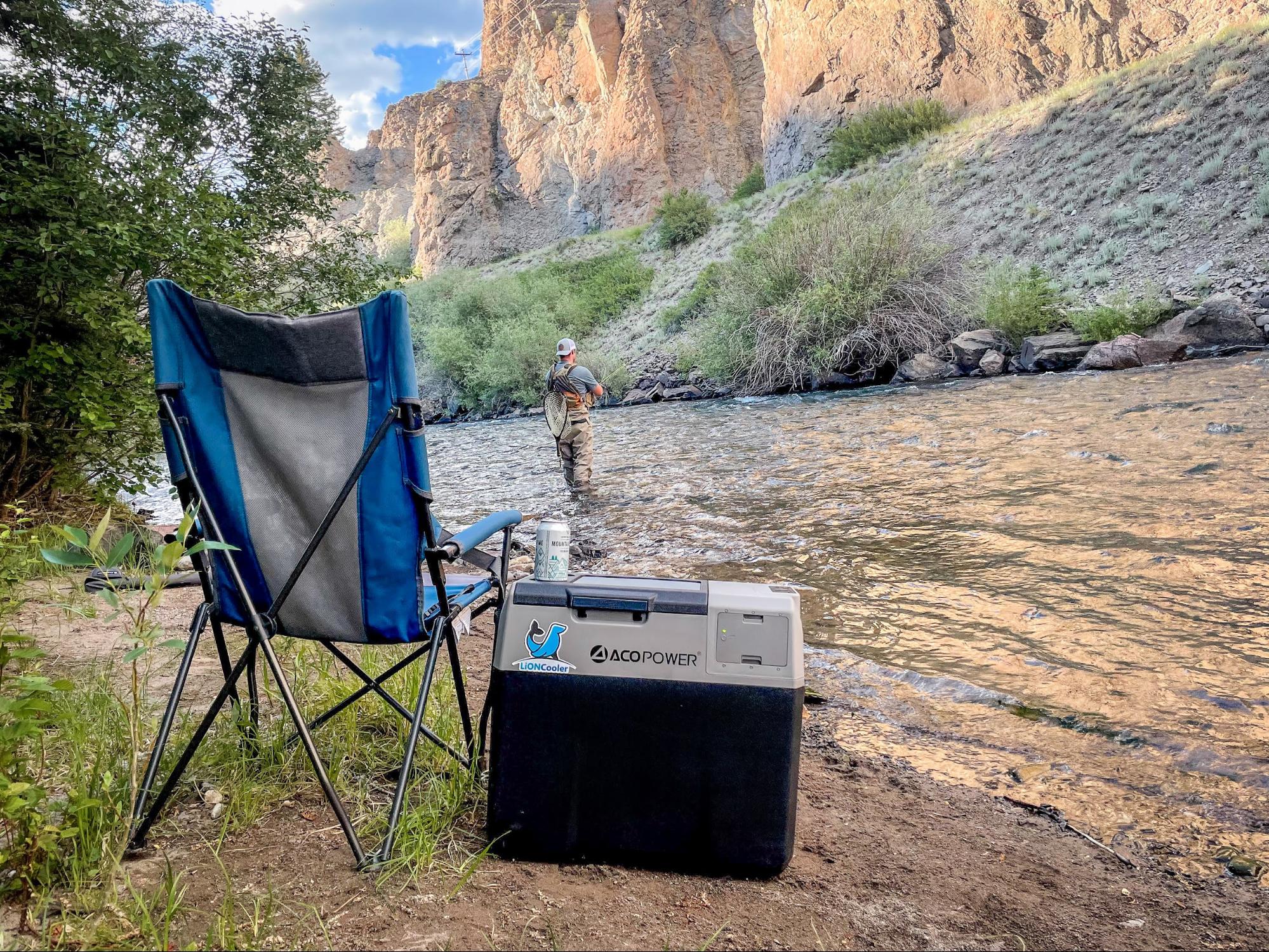 Good Storage Capacity, Compact Size
The X40A provides 40 liters of storage capacity, enough space to fit about 53 12 oz cans. It achieves this while still being fairly small and lightweight. These attributes make it a really good choice for those that may wish to use this cooler more like a traditional refrigerator in small spaces such as inside a van or truck bed.
This fridge cooler is only 20" tall and 25' wide, so it is easy to fit in a lot of places. I personally loved that I could throw it in the trunk of my compact SUV and still have room for lots of other gear (while charging via the 12v car outlet). If you have a need for a small fridge freezer, this is a great choice.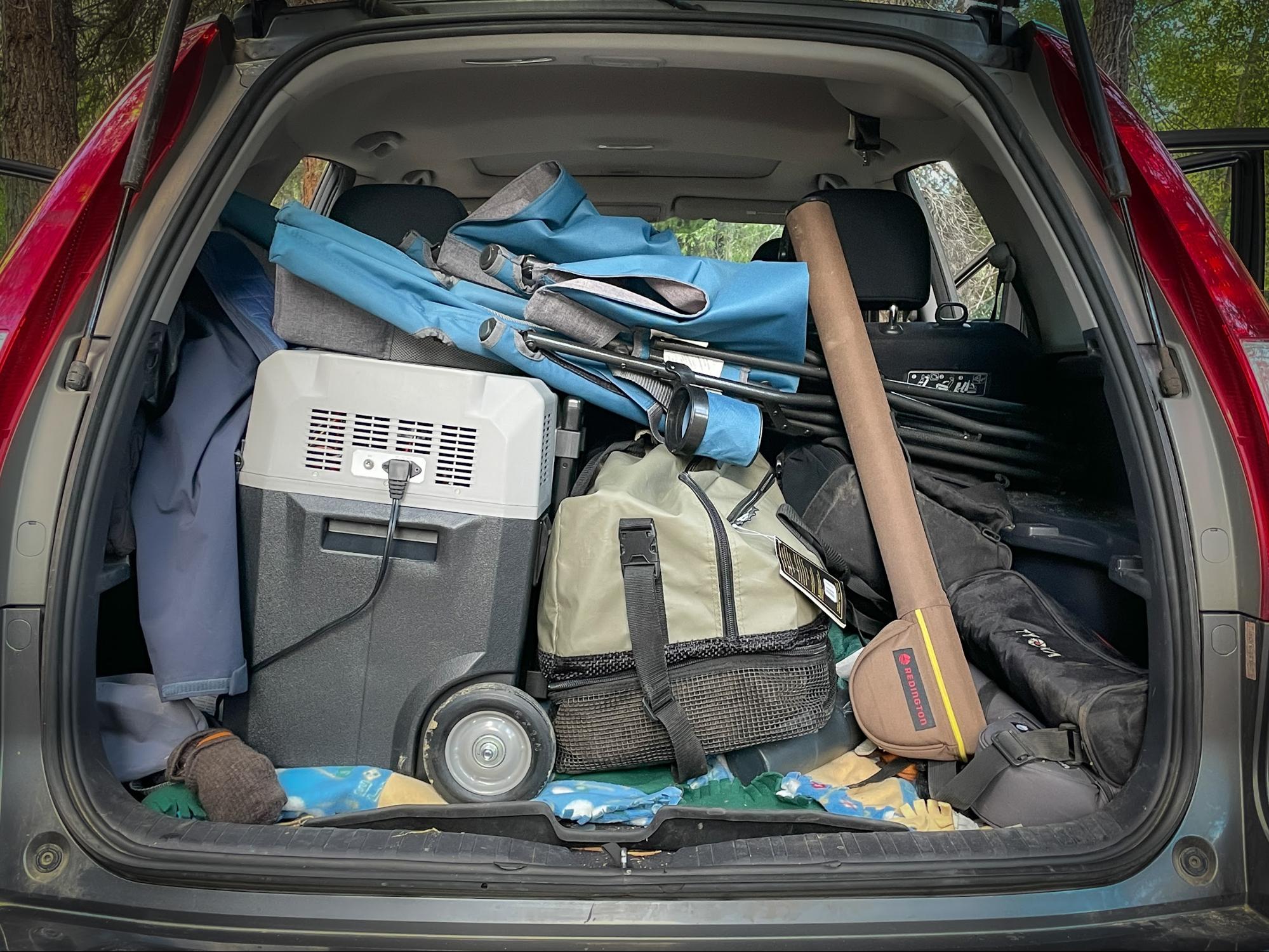 Small Things That Make a Big Difference
Several little features make using the X40A very enjoyable. For starters, I really appreciate that you can control the cooler from your smartphone via the free app. This makes it easy to track performance and make changes to temperature without needing to be right next to it i.e. it is in the truck of your car or in the back of the RV.
I also really like that there is an LED light inside the cooler so when you open it, you can see what is in there.
There is a stick pad and cup holders on the top of the cooler which is great so you have a convenient place to put your drink, phone, keys, etc.
Lastly, I like that there is a USB charging outlet built right into the cooler. This is particularly useful for charging your phone or Bluetooth speaker. Nobody wants a dead speaker when you're out hanging with friends.
Does the LionCooler X40A Portable Fridge Freezer Fulfill Its Purpose and How?
Regardless of how fancy or what features a cooler has, its number one job is to keep things cold, and the LionCooler X40A Portable Fridge Freezer does a great job at that. The multiple charging methods give extreme flexibility for use in all types of situations and the long-lasting battery provides peace of mind knowing your day at the lake or beach will be filled with cold refreshments.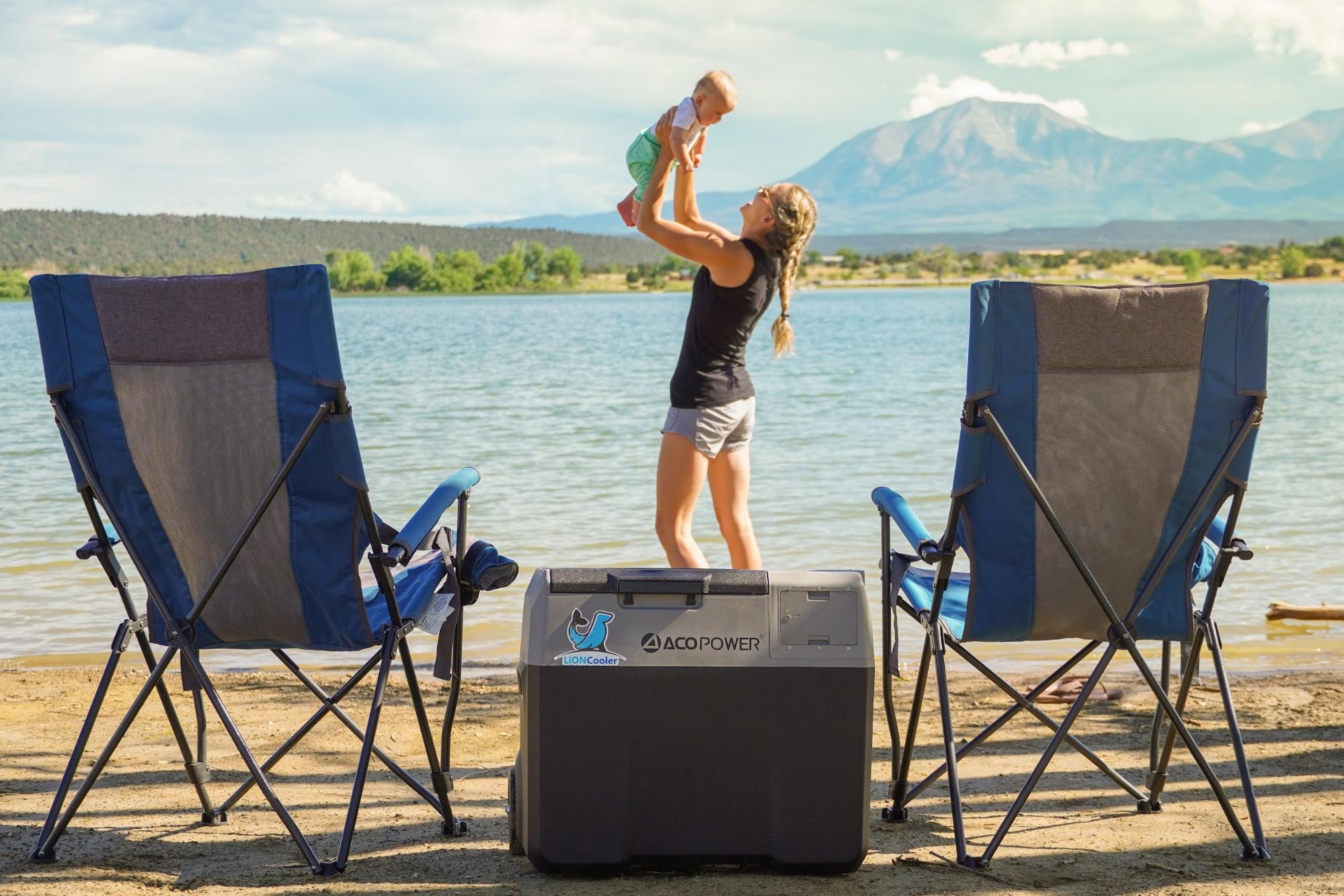 How Does ACOPower's LionCooler Fridge Freezer Compare to the Competition?
There are many competitors to the LionCooler Fridge Freezer. I have never used them so I can't compare them one to one. However, in the RV space, the primary competitor to ACOPower is Dometic. Dometic is a highly trusted and established brand and it's similar coolers have good reviews on their website and Amazon. 
The closest comparable model is the CFX3 45, which is listed on Dometic's website for $959.99. This model seems very well constructed and durable, can be controlled by a smartphone, and has a larger storage capacity (46l or 67 12oz cans). 
The Dometic is slightly larger, but it is also more expensive. The LionCooler X40A offers two features that I like that the Dometic doesn't—a telescoping handle and wheels. These features make the X40A easy to maneuver the cooler so you can take it to more places.
A less expensive, highly rated option is the Bodega 45L Portable Fridge Freezer. This unit is currently available on Amazon for $459.99, which is a significant savings compared to the LionCooler. It is slightly larger and comes with a dual-zone basket so you can keep things separated and at different temperatures, which I really like. However, the LionCooler offers several features that I still feel make it a great option.
The X40A can be powered via solar making it 100% boondocking ready, and the battery is removable. You can purchase additional batteries and swap out a fresh one when the old one is dead. This is a really nice feature and ensures your food will always be cold, even if you don't have access to a power supply for charging.
Should You Buy the LionCooler  Portable Fridge Freezer?
If you are looking for a cooler built for the 21st century, then the LionCooler X40A by AcoPower is for you. It is packed with great features and displays impressive performance in a variety of settings. I love how the X40A does all of the normal things that a traditional cooler does, but also provides so much more. This cooler would be great as a second refrigerator or freezer in your house, works perfectly as the main fridge in a van or small RV, or is great to keep food and drinks cold for a fishing or camping trip with friends.
The one thing that I dislike about the cooler is the inside dimensions. Due to the battery position, there is a section inside the cooler that is sort of hard to get to and is shorter than the rest of the cooler. This was not a problem when I only packed cans, but it was harder to pack food and drinks of different sizes into that space.
All in all, however, I think the LionCooler X40A by ACOPower is a high-performing and easy-to-use cooler. While it comes with a manufacturer's warranty for one year, I firmly believe that I will continue to use it for a very long time.
Specifications and Details
The LionCooler X40A has a 40-liter capacity. It is capable of holding over 50 12oz cans while only weighing a modest 32.8 lbs. The outside dimensions are 25.1" W x15.9" D x20" H. The inside dimensions are 18.5" W X 10" D X 14.8" H.