Snow can fall at nearly any time; here's what you need to avoid disaster in camp and experience the joys without disaster

It was a beautiful May morning when I checked the weather forecast. It was calling for snow – 3 feet of snow. The snow would start later that afternoon and continue for the next two days.
We were in our 39-foot Fleetwood Discovery motorhome parked in a campground in Estes Park, Colorado. We were ready for the onslaught of the heavy, wet snow typical of the Rocky Mountains as we enjoy traveling in these regions. Snow in May is not uncommon in Colorado, but that much snow caught several RV owners in the campground off guard, especially the ones who just traveled to Colorado from warmer, southern climates.
This type of seemingly unexpected weather may also be experienced in the higher elevations of Idaho, Utah, Montana, Washington and Oregon, and the northern states bordering Canada, such as Minnesota and North Dakota. It isn't uncommon for snow to start falling in late September or early October in either in these regions. But regardless of what the calendar says, dealing with an unexpected abundance of the white stuff is the same in December as it is in late spring.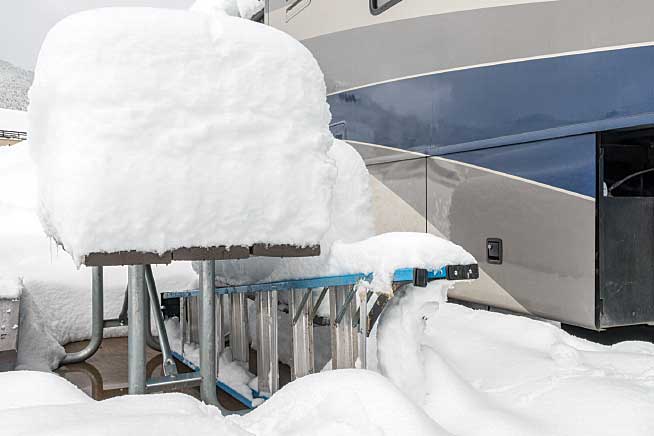 After the snow stopped about 40 hours later, we pulled out our arsenal of brooms, shovels, and wipers and went to work helping other RVers clean off their roofs and dig out their vehicles.
It is tough to give up precious storage space in our motorhome for shovels and other tools that might only be used a few times a year, but ultimately it is best to have the right tools to keep our coach and us safe from the elements.
One of the biggest challenges of a spring storm in the Rockies, or other places throughout the U.S. that experience adverse shoulder-season weather conditions, is that the snow is heavy and wet. This can potentially lead to damage on the motorhome roofs, slideouts and awnings. And as the snow begins to melt, it may start to seep into the seams on the roof and slideout seals.
So, my first tip is to consider if you can live without the extra space and retract the motorhome's slideouts when you hear about incoming weather.
Next, you need a way to reach the higher portions of your motorhome. Some motorhomes have ladders on the back, some don't. Either way, you need something that you can use to reach above a slideout should you decide to leave those open during a storm.
There are a variety of ladder options out there. Ideally, you should have a ladder with nonslip grips on the steps but a good pair of snow or hiking boots will work too to prevent slipping as well as keep your feet warm and dry.
We keep an 8-foot, lightweight, fiberglass ladder strapped to the permanent ladder on the back of our motorhome while traveling, and then tuck it under the coach while parked. The portable ladder gives us the option of moving it around the motorhome so we can reach any area, including the slides, rather than just those in arm's length from the roof. Walking on a wet or snow-covered roof can be very dangerous; using a ladder and reaching across from the sides is much safer.
You will also need tools and supplies for removing the snow. We keep a snow shovel in the basement storage area of our motorhome. It has come in very handy for shoveling a path through the snow, pushing heavier snow off of the roof, digging out the vehicle and, on a few rare occasions, for shoveling dirt and sand out from under our dinghy-vehicle's tires when navigating off the beaten path. A snow shovel, such as the Backcountry Shovel from www.backcountry.com, is an excellent option. Most of these shovels will telescope down to about 18 inches and are extremely lightweight.
Another must-have tool to remove snow is a brush and scraper combo device. This is a tool that can be used year-round. In addition to the smaller brush with scraper we keep in our dinghy, we also keep an adjustable brush with squeegee in the coach. This type of brush extends up to 72 inches and telescopes down to almost half that size for storing. The extra length will help you clear off snow in hard-to-reach areas while also giving you a tool for cleaning windshields and higher areas of your motorhome throughout the year. The Adjust-a-Brush Quick Connect Brush System with Pole from Camping World is a good option.
Remember to stand your tools upright if the snow is still falling. You might risk the chance of not finding your scraper and shovel in the morning if you lay them down on the ground and head in for the night.
Sprinkle a little pet-friendly, biodegradable ice melt on the steps to your motorhome and around the base of the steps. Water may drip in this area and collect around the steps. It will turn to ice when the temperatures drop in the evening, so take precautions for allowing ice to form. There are many options available; we use Paw Thaw Ice Melt, available at Wal-Mart.
You also need to make sure that you and your traveling companions stay warm and safe in the cold and snowy conditions as the snow falls and during the cleanup phase after the snow stops.
When the ground is warm and then experiences a snowfall, the snow that hits the ground first will melt and turn to slush. If the temperatures drop, however, this slush or the coating of melted snow on the ground may become very icy.
Even if you winter along the Mexico border every year, you'll want to keep a warm layer of clothing in your motorhome. This includes boots with good traction on the soles, a warm and waterproof jacket, hat and gloves. It may not seem like a logical thing to travel with when you are heading to your summer destination, but in Colorado, as well as other states with high-altitude campgrounds, snow can happen any month of the year. I have even seen snow fall on the Fourth of July in the mountains in Colorado.
And finally, make sure you have some fun after shoveling all that snow away. A warm cup of hot chocolate is an option, as is building a snowman and dressing it up as a festive campground mascot.
Dawn Wilson (www.dawnwilsonphotography.com) travels full-time in her motorhome documenting, writing about and photographing the wildlife and scenic landscapes of the U.S.
---