Q: The water pump in my old Layton 28-foot travel trailer is a manual unit that comes on only when the water pump switch is turned on. I would like to make it an on-demand system, and realize I can wire in a demand pump and leave the switch on. However, how do I choose between pump models and brands? Any help you can give would be appreciated.
Gerry Mayers, Via Internet
A: You can choose any of the available demand water pumps, Gerry, based on cost and features as with any other RV product. Even the least-expensive model will successfully deliver water for your RV. The higher-cost models include more features, such as quieter operation, higher flow rates, smoother on/off pump action and so on, but the lower-cost models also work fine and are viable options if you're on a budget. As usual, though, your best bet is to stick with the name brands such as SHURflo or Flojet.
You may need new plumbing connections, but the existing electrical feed should be fine for your new pump.
– Jeff Johnson
---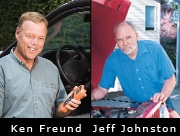 To send your questions to RV Clinic, write to 2575 Vista Del Mar, Ventura, Calif., 93001; or email [email protected]. Also, check out TrailerLife.TV for our expert RV how-to videos.