RVers are a fascinating bunch. Most of the people I meet during my travels are either retired or have the flexibility to work while on the road. Not only do they pass their time in creative and adventurous ways, they are generous. Volunteerism is strong in this mobile community. Some people work with Good Sam chapters; others find independent causes.

The Good Sam Club is the world's largest organization of RV owners with more than 1.65 million members. Many of those members are also active in the nearly 1,500 grassroots Good Sam chapters in the U.S. They get together for RV campouts, good times and community service. Members volunteer thousands of hours annually to help their communities.

While each chapter adopts its own favorite causes, there are some that are supported on a national basis. Dogs for the Deaf is a nonprofit with a mission of rescuing dogs and helping people. Chapters have raised hundreds of thousands of dollars that help this charity spare the lives of shelter dogs, train them and give them to people who need hearing dogs. During annual Cleanup Days in May, chapters help prepare a campground, park or other public land for the camping season by picking up branches and trash. Good Sam members take being a "good Samaritan" seriously.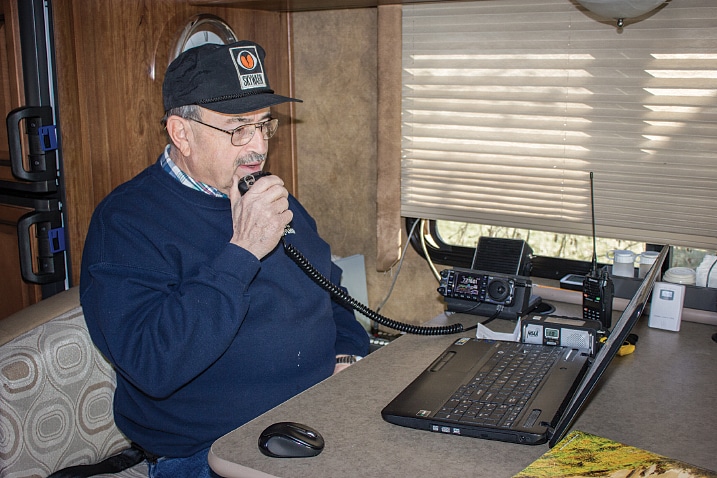 Good Sam Members
Doug Moloney is a member of the Hammin' Sams, a Colorado Good Sam Chapter located in Colorado Springs. Most of the Hammin' Sams are volunteers with one or more of the following groups: SKYWARN, El Paso County or Colorado Springs Emergency Management, Red Cross and Salvation Army. SKYWARN is a volunteer program established by the National Weather Service. Nearly 290,000 trained storm spotters identify and describe severe local weather. These real-time reports, along with Doppler radar technology, improved satellite and other data, provide timely and accurate reports to help keep local communities safe. When storms arise while the Hammin' Sams are camping, they are the National Weather Service's trained eyes in the field.

Doug, a Colorado native, started supporting emergency communications in 1977 during the worst blizzard he had ever experienced. Ham radio operators supported the U.S. Army and the El Paso County Sheriff for four days by providing communications during the rescue missions the Army was running on behalf of El Paso County. After that experience, he began volunteering with SKYWARN. When county- and statewide police, fire and emergency communications infrastructures were badly damaged by a tornado that struck Limon, Colorado, in 1990, the National Oceanic and Atmospheric Administration (NOAA) weather radar at Limon was able to communicate with Colorado Springs via ham radio, thanks to Doug and his fellow ham radio operators.
---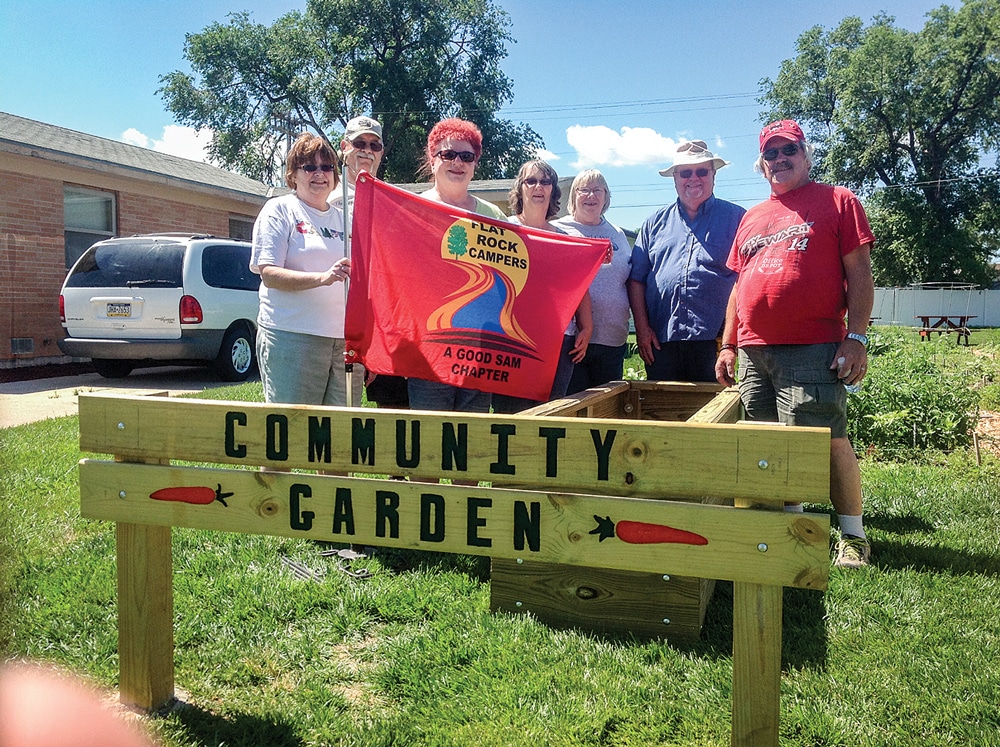 Jerry Kirby: Community Garden Builder
Adopt-a-Park is another one of Good Sam's national initiatives. Members volunteer to do whatever is needed, such as planting new gardens, maintaining existing landscapes or building shelters.

Jerry and Janice Kirby are members of the Flat Rock Campers, a 3-year-old chapter in North Platte, Nebraska. When Jerry heard about a new community garden, he joined other Flat Rock Campers to help build flower boxes for it. This Good Sam Chapter also has fundraisers for Dogs for the Deaf and Special Olympics. They've organized garage sales and a "no-bake bake sale," donating the money they would have spent on baked goods.
---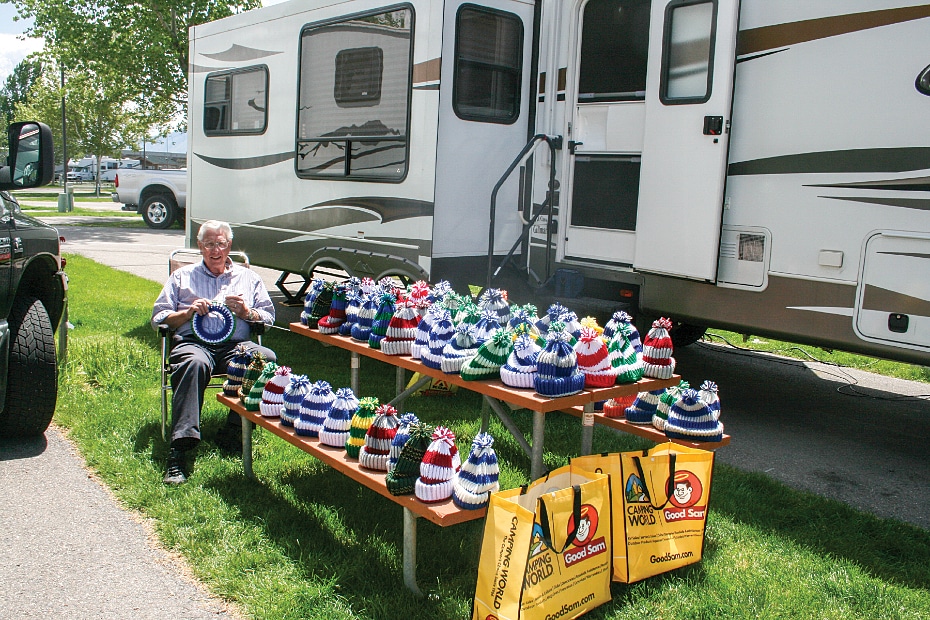 As Good Sam regional directors for the Central Plains Region, which includes Colorado, Iowa, Nebraska, Utah and Wyoming, Harold Jacklin and his wife, Rosalie, are active members of the Utah Deer Sams in Provo. In an average year, this group of 20 couples will volunteer 13,000 hours and make 100 quilts for newborns and cancer patients. The chapter also raises $12,000 to $15,000 dollars that will be donated to their two favorite charities, Dogs for the Deaf and Shop with a Cop, the latter of which allows children from low-income families to shop for a Christmas gift of their choice accompanied by a policeman. This generous group was named Chapter of the Year for 2008.

All of this is very impressive, but nothing impressed me more than the fact that Harold alone knitted more than 500 hats for cancer wards, a Native American reservation, and homeless and battered women's shelters. Occasionally Harold gets together with other men in the chapter to knit.
---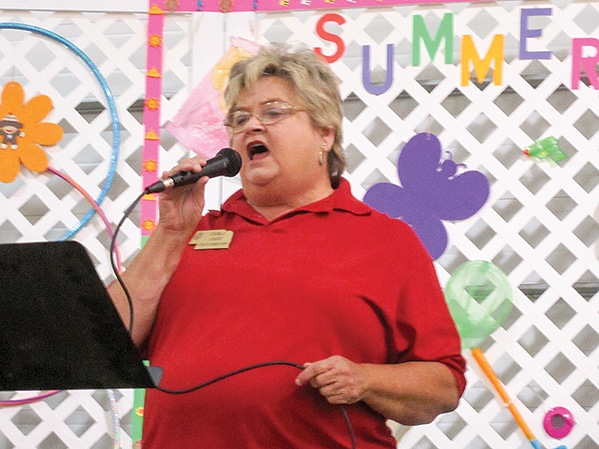 After retiring as a high-school vice principal in 2005, Carla Gries and her husband, Doug, joined Good Sam in 2006. A year later, Carla was elected president of the Pathfinder Good Sams in Freemont, Nebraska. She's also active in her church and the Omaha Optimists, does publicity for the Summer Bash for Childhood Cancer, and participates in the Assistance League of Omaha's Operation School Bell and Operation Teen Parent. Through Operation School Bell, each year 4,000 kids are given $90 clothing vouchers at JCPenney, plus a shoe voucher. Operation Teen Parent encourages students to complete their high-school education. Carla feels blessed to have a fine voice, and has sung the national anthem at Samborees in seven states. "I like being involved," Carla explained. "Some of us have 'yes' written on our foreheads."

Carla has served as the Nebraska state director since 2009. After losing her husband of 47 years in 2013, she ran for another 2-year term. "Good Sam is the family we choose," Carla said. "I probably would have died right along with him if not for Good Sam."
---
Independent Causes
Here are some creative ways RVers give back to their communities through independent causes.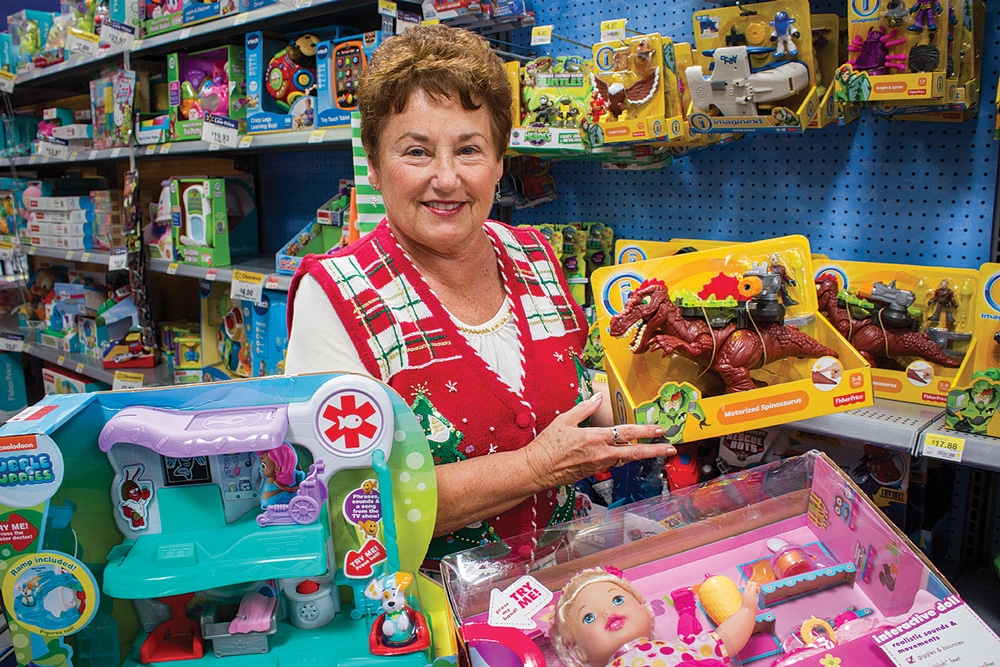 Mary Lou Wilton: Toy Drive Organizer

Mary Lou Wilton and her team of volunteers are the driving force behind the Salvation Army Toy Drive in Tucson, Arizona. Mary Lou has worked on the drive since 2010, and took over as chair in 2012. Each year, when she arrives at Voyager RV Resort on November 1, she starts by checking out the vacant building that the Salvation Army has rented for the event. More than 200 volunteers – mostly winter residents of Voyager – work on committees that do things like build the display area and decorate the warehouse; shop for toys, bicycles and books; and package them into bundles by age group and gender. Parents register with the Salvation Army, then come at the appointed time to select gifts for their children up to age 12. In 2014, toys were distributed to 4,175 children in 1,700 families in Tucson. The Voyager community is a generous one. They volunteered 5,546 hours and donated $14,760 to the toy drive.
---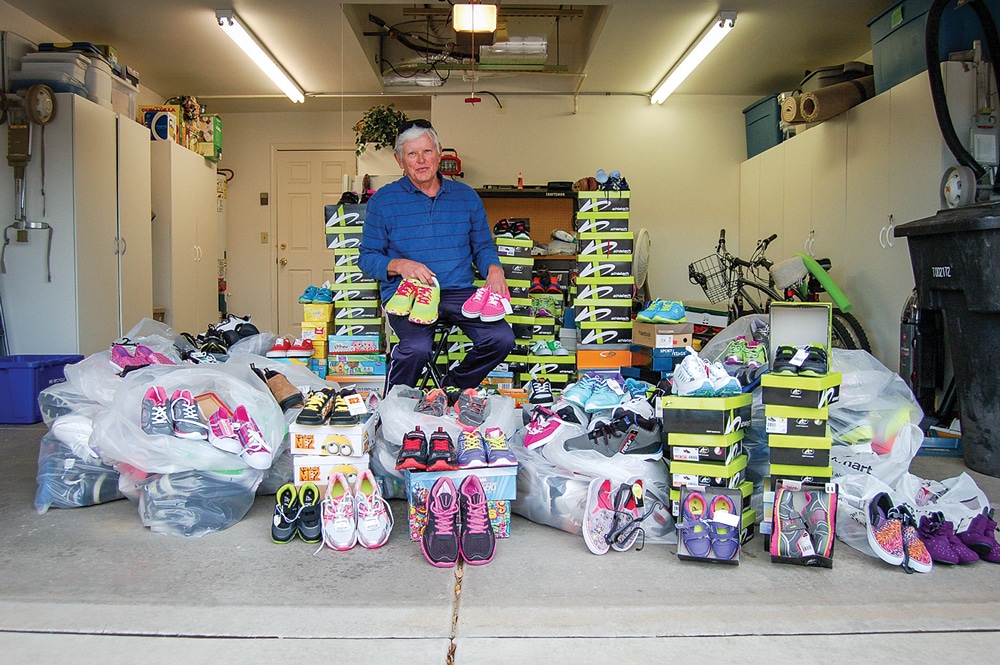 Larry Kowalik: Shoe Drive Organizer
Larry "The Shoe Man" Kowalik has a yearly goal of giving shoes to 1,000 needy children and adults at the Gospel Rescue Mission in Tucson. In 2014, he came close when he gave out 962 pairs of shoes and 1,000 pairs of socks at the Mission's Christmas Street banquet and toy giveaway. He said, "My favorite day is when I get to hand out shoes." The generous folks, again at Voyager, donated $8,000 in cash, and other businesses and individuals brought the total up to $15,000. Throughout the year, Larry watches for shoe sales. Athletic shoes account for 90 percent of his purchases. He looks for closeouts and big discounts. Fifty "shoe angels" remove price tags and place the shoes on tables according to size for the Christmas giveaway.
---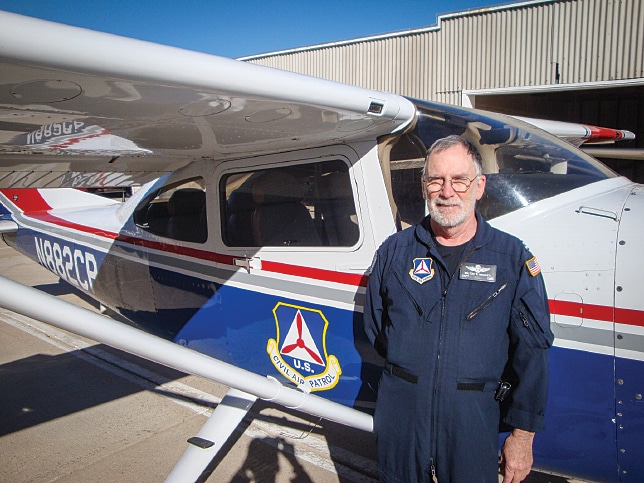 A pilot in the United States Air Force and for United Airlines, Milt Moores retired in 2003. A friend mentioned that he was volunteering to fly for the local sheriff's department, and Milt thought that sounded like a good way to remain useful and productive. Since he taught in the Air Force and at United, he volunteered to train and teach for the Civil Air Patrol (CAP), an all-volunteer, civilian auxiliary of the Air Force. In addition to training flights, Milt also may be called upon to perform search and rescue for lost people or downed airplanes, perform photo assessments in areas damaged by flood or fire, and to take photos for the Department of Homeland Security, the USDA Forest Service, U.S. Customs and Border Protection, and the Drug Enforcement Administration. Each flight has a pilot, an observer in the right seat and a scanner behind the pilot. Milt is qualified for all three positions.
---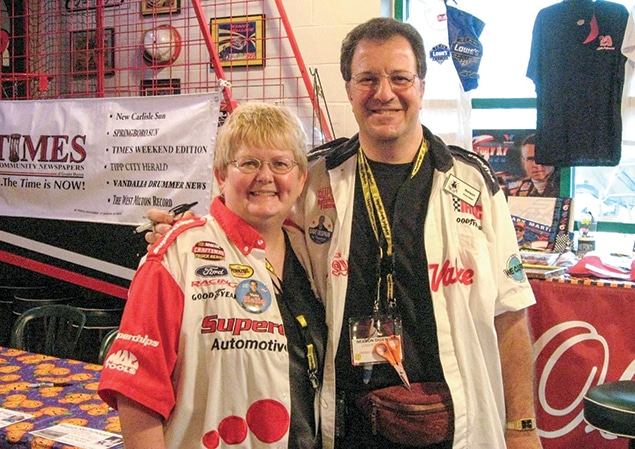 In 2004, Paula DiGennaro founded a fundraiser to benefit the Society for the Improvement of Conditions for Stray Animals (SICSA), an animal welfare organization in Dayton, Ohio. The SICSA Red Dog RACERS Charity Auction and Cruise-in Event united her two favorite passions: animals and auto racing. With her husband, Nelson's, help, they grew the event to include a huge silent auction, a live-bid auction run by an auctioneer, an autograph session with racecar drivers and a display of racecars. Three years later they retired from their careers and became full-time RVers. Since they sold their home, they no longer had a place to store donations and logistical items throughout the year. After one of their volunteers offered a room in her home for storage, they realized they could take the event on the road with them. Paula and Nelson had the connections with drivers, teams and racing venues that helped make the event a success. Being mobile has allowed them to pick up donations all across the country. Nelson likes to tell fellow RVers that they transported the entire nosepiece of NASCAR's Kasey Kahne's Daytona car in their dinghy vehicle. The DiGennaros spend six weeks in the fall preparing for the event in Dayton, then they hit the road again.
---
Dan and Ruthie Valeri: Balloon Fiesta Volunteers
For four weeks prior to Albuquerque's International Balloon Fiesta, Dan and Ruthie Valeri cleaned the grounds, pulled weeds and marked off 1,800 RV sites. During Balloon Fiesta, they checked in RVers as they arrived, arranged for vendors to fill freshwater tanks and dump holding tanks, and had an ideal location to watch hundreds of balloons drift by overhead. After the close of the nine-day event, they stayed to help clean up. In exchange, they got RV parking and the opportunity to hang out with some fun-loving people. "The volunteers are so happy," Dan said. "It's a great environment to be in." They plan to make the trek out from Massachusetts to do it again.
Second Act
When we think about our "second act" – what we want to devote our lives to after retirement or a career change – we look to activities that give our lives purpose and meaning. Volunteering is a great way to combine our talents and passions and give back to our community. It's never too late. As novelist Richard Bach once said, "Here is the test to find whether your mission on Earth is finished: If you're alive, it isn't."
---
Mary Zalmanek and her husband, Jim, enjoy traveling in their 2019 Winnebago Vista LX when they are not at home in Colorado. Mary loves to cook and entertain, even in the small confines of her motorhome. She shares her favorite recipes on her food blog cookinginaonebuttkitchen.com