A spur-of-the-moment road trip turned into a life-changer for an Alabama couple when they discovered a classic trailer to renovate
Five years ago Robert Fouts and his girlfriend, Pat Grumm, hopped in the car for an adventure. The day's plan changed, however, when they happened upon an old travel trailer sitting at the side of the road with a "For Sale" sign on it. On a whim, they stopped
to take a look.
"We really didn't wake up in the morning and say we were going to buy a vintage camper," Fouts says. "But we ended up buying it for $700 — and didn't know what we were getting into."
Serro Scotty Remodel
Almost immediately, they began researching how best to renovate their 15-foot 1977 Serro Scotty HiLander. Over the next three years, they worked on the trailer, totally remodeling it. Since both love to garden, they chose a gardening theme for decorating and nicknamed the trailer Garden Party.
Soon afterward, Fouts and Grumm attended their first vintage-camper rally at Chewacla State Park in Auburn, Alabama. They quickly struck up friendships with other vintage-camper enthusiasts, sharing remodeling stories and talking about old times.
"After the first rally, we looked at each other and said, 'This was so much fun. When's the next one?'" Fouts says. The couple now proudly talks about their camper family, a large group of people who live within two hours of them. They frequently camp together, and anywhere from two to 30 people may show up.
Hobby or Lifestyle?
At this point Fouts and Grumm were hooked on vintage camping as a way of life. They purchased a second vintage trailer in need of renovation — a 21-foot 1968 Cree Balboa Deluxe — for $495.
"We learned a lot from our experiences with the first camper, and with the second camper, we knew it was all about the bed," Fouts says.
He elaborates by explaining that they cook outside and live outside, so most of what they do inside is sleep. With that in mind, the first thing they did on the Cree remodel was fix up the bed with room on each side to walk around, making it a comfortable and functional space.
This time, the couple chose a Native American theme to decorate the trailer and named it Wiki Up. Wikiup is the nomadic Indian word for a temporary shelter. Coincidentally, Cree is also the name of one of the largest groups of Native Americans, and it all just seemed to fit, particularly since Grumm is part Native American.
Fast-forward to 2016, when Chewacla State Park had a vacancy for its campground-host position. The park ranger, a friend of Grumm's, offered the position to her, as she had recently retired from nursing. She jumped at the chance to make the switch to work-camping.
"I love it," she says. "We sold everything in my house — including the house." Grimm moved into Wiki Up, which is now permanently located at Chewacla State Park. "It takes me 15 minutes to clean my house. I don't miss the stuff at all. Things aren't necessary to make you happy."
As a full-time camp host at the state park, Grumm works part time, usually 10 to 20 hours per week, which she splits with Fouts. Grumm loves cutting the grass, while Fouts often helps the park with special projects. In return, they receive a free campsite and electricity, sewer, water and cable hookups.
Flamingo-Themed Campsite
The two have worked hard to make their host campsite into a colorful, quirky, fun place. The campground's former host had started by adding a pink flamingo to the outdoor decor. It became so popular that Grumm and Fouts have drastically expanded the flamingo family with enough birds to populate a whimsical Flamingo Park and Flamingo Rescue Center (pictured above). Campers often gift flamingos to the campsite, personalizing them with their names and taking photos to make it official. "They're quite a hit," Fouts says.
Additionally, the entire campsite is filled with interesting knickknacks, seating areas and an outdoor tent-covered kitchen, and the couple has landscaped extensively with large rocks. A happy and welcoming orange, red and teal pattern ties it all together, inside and out.
Cost of Renovation
Fouts estimates that he has spent about $5,000 on the renovation of Wiki Up, with a large portion of that going to new appliances including a refrigerator, an induction oven, a water heater, a shower, sinks and a toilet. He also added a deck off the front side.
According to Fouts, the package wouldn't be complete if the towing vehicle weren't also vintage, so he purchased a 1966 Ford F100 pickup, "like the one I had in high school," and spent three years fixing it up. He's done an eye-popping job on it, down to the gleaming blue paint with red accents on the tires and chrome.
Ultimately, what really comes across is how vintage camping has changed their lives for the better. Fouts and Grumm have fallen in love with Chewacla Park, camp-hosting and their camper family. They enjoy having new neighbors every night, and they find Wiki Up is often the center of attention at the campground.
In addition, Fouts pointed out that the dynamic of camping is such a de-stressing experience that people will often take time to socialize, unlike at home where neighbors often are too time-crunched to talk to each other.
"It's nothing to get into an hour conversation with a stranger," Fouts says. "It's like a mini-retirement for people."
Following a Dream
This couple has found that vintage-trailer living agrees with them immensely. Since Wiki Up is permanently located at Chewacla, they use Garden Party for their own camping trips. Work-camping has allowed them to retire in a way they never dreamed possible.
"You can retire at home and try and keep up with the mortgage and the bills and all that, or retire at a campground and have different neighbors every night and social activities and no bills," Fouts says. He jokingly refers to it as his "gated community." He adds, "The only time I spend money is when I leave the gates, so I try to stay inside!"
Grumm agrees and offers these words of advice to others: "Don't be afraid to live your dream. And do it while you have time."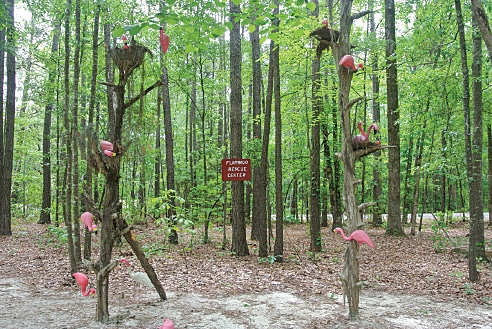 Working and Camping
The following websites provide information on job opportunities for RVers looking for seasonal and temporary work.
CoolWorks | www.coolworks.com
Recreation Resource Management | www.work-camping.com
Workamper News | www.workamper.com
The longtime service for matching RVers and employers is hosting the Workamper Rendezvous job fair in Heber Springs, Arkansas, October 15 to 19 this year.
Workamping Jobs | www.workampingjobs.com
Workers On Wheels | www.work-for-rvers-and-campers.com
---