Q. I wanted larger tires than the standard 245/75R16 models on my 1997 Dodge Ram 2500 4WD. I asked for 265/75R16 at Costco, and I was told [Costco] had to stay with what was on the spec plate on the door jamb. The installer explained that the main reason had to do with ABS brakes, and that the ABS signal with a larger tire than recommended by the vehicle manufacturer could be disrupted with a different-size tire. I would appreciate any comment you could give me.
— A.F., Portland, Oregon
A. There are several reasons to stay with the original tire size, including compatibility with the spare. Another reason to stick with the same size is that a wider tire may also be taller, thus introducing speedometer error and changing effective gearing. I don't think that in your case the relatively small increase in diameter would create a problem with the ABS. Rather, I suspect it is Costco's policy there to replace tires only with the same size to avoid liability with tire-clearance issues that occur with larger tires on some vehicles. Costco may blame the ABS to deflect complaints, or may not understand how it affects ABS. Either way, check with Dodge before making any changes.
---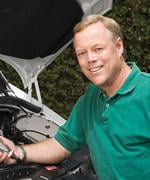 Ken Freund's more than three decades of auto-repair experience and 20-plus years of RVing helped him author numerous books and articles on vehicle repair. In addition to RV Clinic and Performance, he writes the Powertrain column in MotorHome magazine. Ken has been a California Automotive VO-Tech and
Smog-Test Program Instructor and an ASE-certified Master Automobile Technician.