Q: I see a lot of information on powering up your truck and find it all interesting, but I recently had my turbocharger replaced by GM on my 2007 (new body style) Silverado Duramax at 53,000 miles. Before GM would replace the turbo under warranty, the dealer had to send in all the computer data from the truck. The dealer explained that GM could tell if any aftermarket equipment had ever been on the truck, as it leaves data traces — which would void the warranty. Thankfully, I had never used aftermarket equipment. I have also been interested in changing tire size. But, again, GM is really picky about that and voids warranties on suspension and steering modifications. Maybe others have not had problems with aftermarket parts and factory warranties, but I think I will stay stock.
Tim McCormick, Colville, Wash.
A: Thanks for writing, Tim. This is certainly a contentious issue worth reviewing. There is a federal law called the Magnuson-Moss act, which regulates what companies can and can't do with their warranties. Part of it says that warrantors cannot require that only branded parts be used with the product in order to retain the warranty. The law does allow warrantors to void coverage if they can show that the product was abused by the end user, or that a non-stock part caused the damage. However, they cannot cancel warranty coverage simply because some aftermarket part has been installed. The burden of proof is on the warrantor; for example, a manufacturer can't legally refuse coverage of the turbo simply because an aftermarket part was installed. They must be able to demonstrate that a modified part caused a failure in order to void coverage on that system or component.
Having said that, many dealers and manufacturer personnel either don't know the law, or pretend to not know it and hope to get away with ignoring it. Dealers generally get paid more for non-warranty repairs and therefore prefer warranty coverage be denied. Obviously the manufacturers save money if warranty coverage is denied. The problem is educating the dealership personnel and possibly others. Sometimes it takes a lawsuit, which can be both expensive and time consuming.
– Ken Freund
---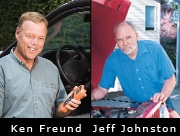 To send your questions to RV Clinic, write to 2575 Vista Del Mar, Ventura, Calif., 93001; or email [email protected]. Also, check out TrailerLife.TV for our expert RV how-to videos.