Q: I tow a 35-foot Open Range fifth-wheel with a 2011 Ford F-250 four-door crew cab powered by a 6.7L diesel. When I hook up the trailer the back of the truck sags about 4 inches. The trailer is level when towing and when I make turns there is ample clearance between the truck bed and the trailer. My trailer weight is within limits, and the rig tows smoothly. Would you suggest air bags to eliminate the truck sag or leave everything the way it is?
-Mike Feldman, Bakersfield, Calif.
A: Air bags are a proven solution to a truck with a sagging rear end. Even when loaded to specification, a pickup's rear end can sag lower than it seems it should, and installing air bags can provide the extra lift you need to keep things riding level; they will not increase axle weight capacity. Choose a quality product from a known manufacturer and your saggy days may be over. 
– Jeff Johnston
---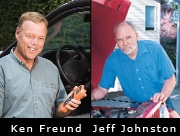 To send your questions to RV Clinic, write to 2575 Vista Del Mar, Ventura, Calif., 93001; or email [email protected]. Also, check out TrailerLife.TV for our expert RV how-to videos.