Celebrating 2019 with three limited-edition anniversary truck campers, plus three equally intriguing new models

.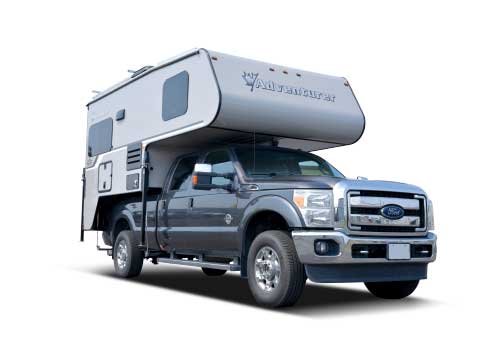 Marking its 50th year building truck campers, Yakima, Washington's Adventurer Manufacturing has rolled out the limited-edition Adventurer 901SB. State-of-the-art features start with a KIB Electronics touch-screen control system, HappiJac direct-drive jacks and a bunk above the dinette that raises and lowers with an electric lift. LED-strip lighting, leatherette dinette cushions, and concrete-look counters and dinette tabletop complement the stylish white-and-gray interior. Dry weight: 3,280 pounds. MSRP: $39,379.
---
Capri Camper of Bluff Dale, Texas, is likewise commemorating a half century in business with a special-edition truck camper. The 50th-anniversary Capri Retreat has an extended cabover, an inside shower, a new battery system and charger, a low-profile air conditioner, and a Nova Kool 12-volt DC compressor refrigerator and freezer. Dry weight: 1,743 pounds. MSRP: $20,590.
---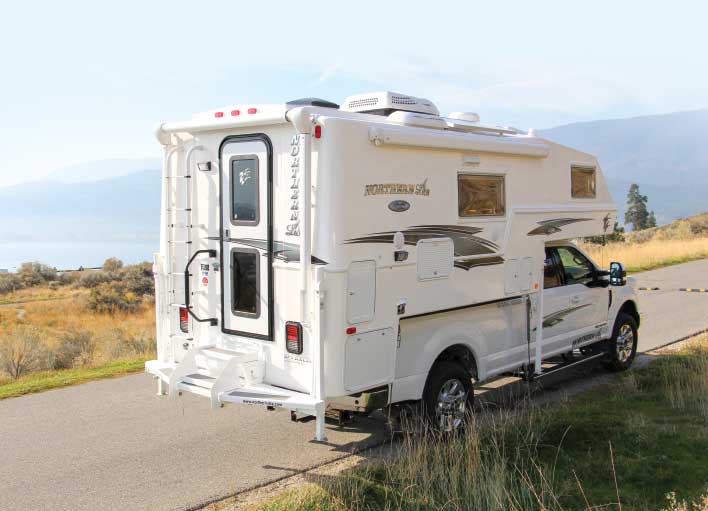 To honor its 30th anniversary, Northern Lite of Kelowna, British Columbia, is producing 100 Limited Edition truck campers. The molded-fiberglass campers include all the standard amenities and most of the options from the company's Special Editions, plus upgrades like leatherette seating and a solid-sapele dinette table. Dry weight: 2,775 to 3,285 pounds. MSRP in U.S. dollars: $45,965/9-6 QC, $47,110/8-11 EX, $50,280/10-2 EX.
---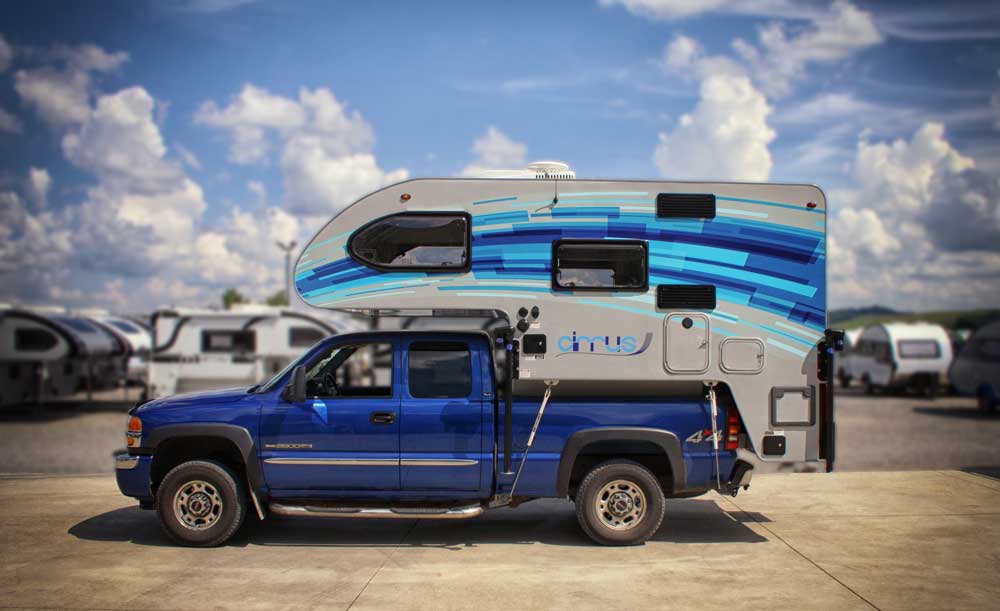 When nüCamp introduced its Cirrus truck camper line in late 2014, the sleek and colorful models found a ready audience, and earned accolades, including 2017 Truck Camper of the Year from Truck Camper Magazine. The 820 tips the scales at 2,540 pounds (dry), while the 920 comes in at 2,905 pounds (dry).
nüCamp CEO Scott Hubble said the new Cirrus 670 was specifically designed for half-ton trucks. "The reason we are building this is to help fill the void in the market for a half-ton truck camper. Right now, truck owners don't really have a lot of options," he said.
The 670 is designed to weigh just under 1,600 pounds while still including many of the features that make its bigger brethren popular. The initial prototype has a kitchen, wet bath, a queen bed in the cabover area and a dinette right below it that can be converted into another sleeping area.
---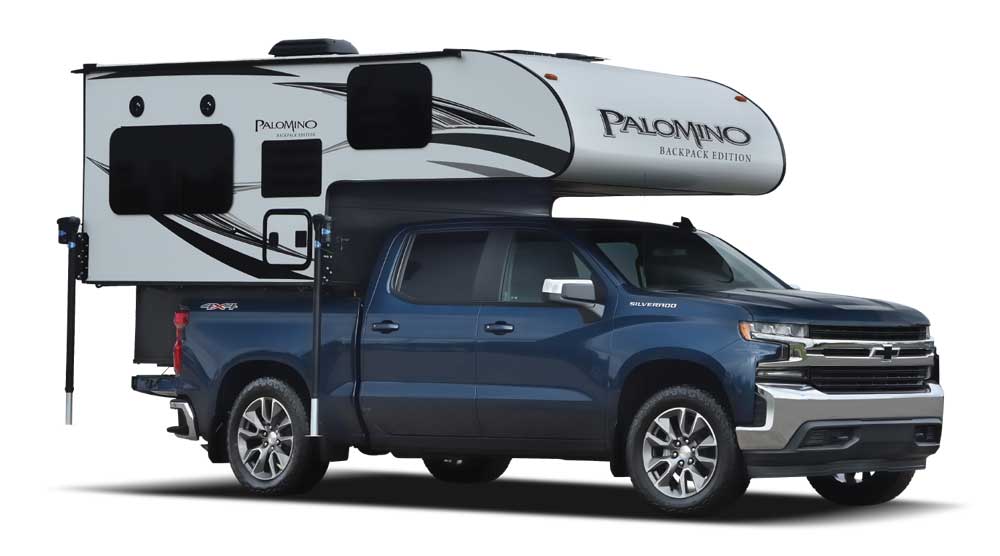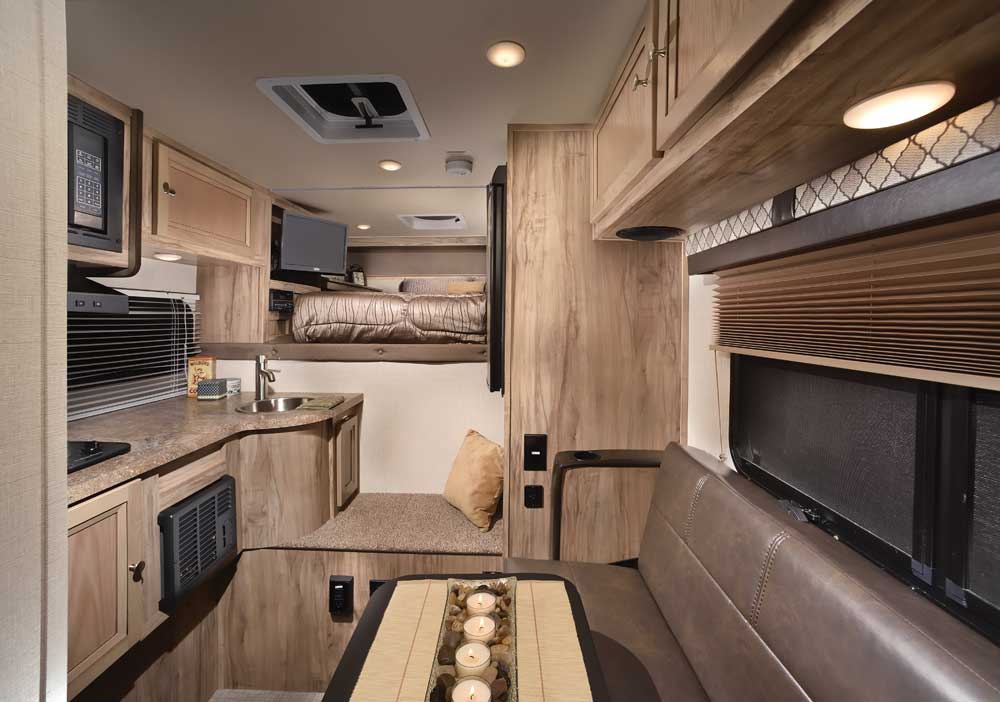 After being in business for 51 years, you'd think a manufacturer would know how to build an RV, and so it is with Forest River's Palomino Backpack Edition HS-750. While that may be a mouthful to say, this truck camper appears deserving of a little tongue-twisting.
A hard-side camper with a base dry weight of 1,860 pounds, the HS-750 is designed for short- or longbed three-quarter-ton trucks. Palomino has worked to keep the weight down, with high-gloss exterior fiberglass and full-welded aluminum framing inside the laminated walls. High-density foam insulation keep occupants comfortable. This extends to the fully walkable roof with Alpha Super-Flex roofing. The camper comes standard with a heated and insulated basement.
A small corner wet bath has just enough room for necessities, while a 60-by-80-inch innerspring mattress in the cabover makes a comfortable sleeping spot. Standard features range from all-LED interior lighting to battery disconnect for storage, jackknife sofa with dining table, Congoleum flooring, and mortise-and-tenon walnut cabinetry. Popular options include air conditioning, a choice of white or gray siding, a microwave oven, and side and rear awnings. Base MSRP is $19,227.
---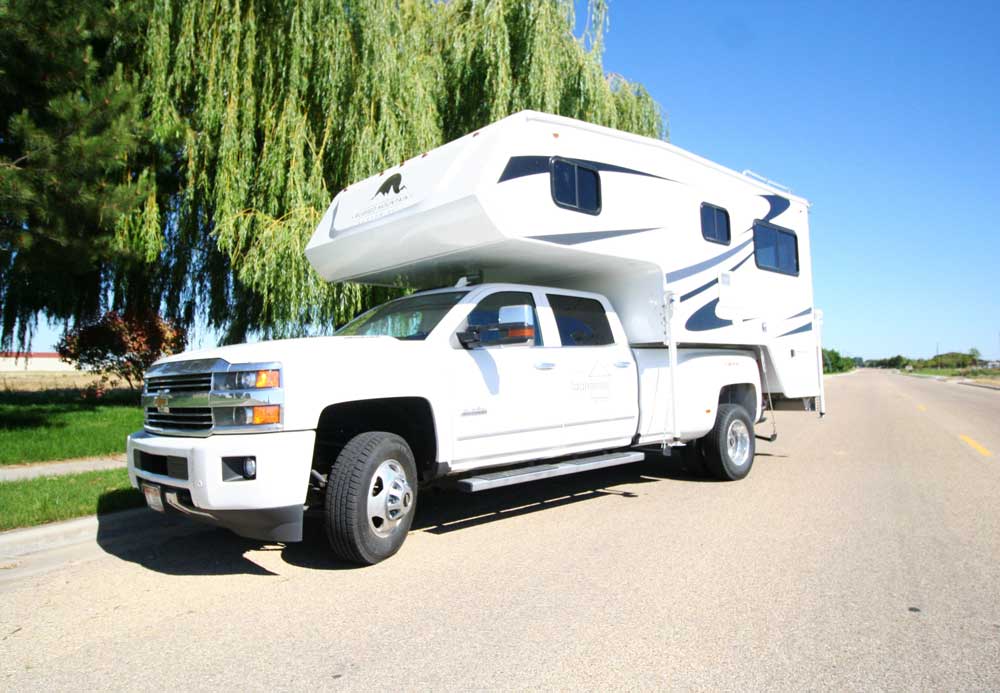 It's refreshing when someone comes along and challenges the status quo. One such maverick is Jesse Collinsworth, owner of Rugged Mountain Custom RV. When prodded by Truck Camper Magazine to take his tiny-home-building flair and expertise and apply it to the truck-camper market, Collinsworth stepped up.
The Granite 11RL is an all-season, rear-living-room-and-galley floorplan with a full dry bath mid-camper. A queen-size bed, wardrobes, hampers and cabinets fill out the cabover section. The outside skin of the camper is a glossy white Crane Composites fiberglass, but underneath is tried-and-true wood.
"I'm not overthinking stuff. I'm going back to the times when stuff worked and just making it nicer," Collinsworth said, noting the added insulation value of wood.
It's on the inside that the Granite's difference is most evident, with the use of true residential materials like wainscoting, tile backsplash in the kitchen, and beadboard and hardwood cabinets that are painted and lacquered. A true farm sink and residential-looking appliances give the camper a more homelike feel.
The Granite has one major option package, but after that, everything is à la carte. MSRP starts at $29,350.
---