Comfort, quality and sophistication are common denominators among travel trailers in the $35,000 to $60,000 range
If you haven't checked out travel trailers in the $35,000 to $60,000 range lately, the choices can be overwhelming. Competition between brands is fierce, with each RV manufacturer continually improving on build materials, layout design, standard features and custom options. For the sake of comparison, we've highlighted five midpriced 2019 models with residential comfort, roominess and plenty of amenities, typical items on RV shoppers' must-have lists. Each model offers something that sets it apart from others in this price range.
But don't take our word for it. Buying a travel trailer is like buying a house. Do a serious walk-through of each model that piques your interest. Sit in every seat. Open every drawer and door. Study the layout from front to rear and bedroom to living room. Pay close attention to the comfort of the seating arrangement and how it's located in relation to the television screen. Whether you watch TV or not, you'll be spending much of your time there.
Move around the galley while noting where the appliances are located. If you are going to spend a lot of time in any RV, convenience and functionality of the galley layout are important. My wife insists on a new RV having a residential-size refrigerator, as well as bright lighting in the bathroom and room to walk around the bed in the master bedroom. I require a roomy shower, comfortable recliners, double- or triple-sealed slideouts and plenty of storage compartments.
Before heading out to an RV dealership or show, be sure to make up your own wish list, then check off the items as you inspect each trailer.
The Right Ride
Travel trailers in this price range often have a gross vehicle weight rating (gvwr) around 10,000 pounds with lengths nearing 40 feet. Trailers of this size can tax the capability of many half-ton pickups and most full-size SUVs, making three-quarter- and one-ton trucks better suited to the job.
Even with a heavy-duty truck, it's vital that the weight-distributing hitch is installed and set up properly, a task at which most RV dealers are experienced. Whether you are buying your first tow-behind or stepping up to a bigger trailer, it's wise to give the tow vehicle a thorough safety and equipment check before hitting the road.
With the tow vehicle suitably equipped and all the boxes on the must-have list checked off, RV life should be every bit the enjoyable experience you anticipated when the search for that new travel trailer began.
Keystone Cougar Half-Ton 32RLI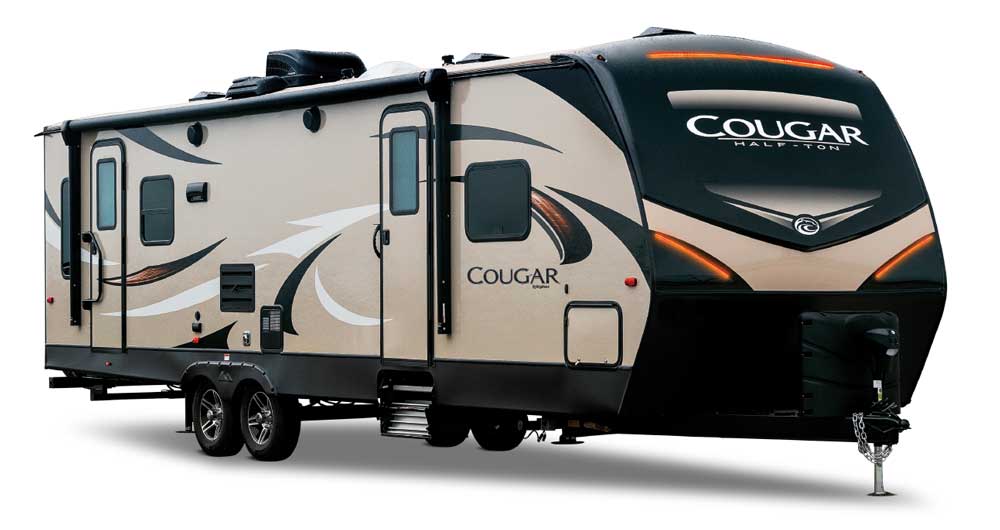 If cutting-edge technology and construction methods are high on your must-have list, few travel trailer manufacturers are savvier about incorporating those aspects into RVs than Keystone. The 2019 Cougar Half-Ton 32RLI is a case in point. A mobile app operates just about every function in the RV, from lights to slideouts to entertainment components and everything in between, using the iN-Command control system.
This nearly 36-foot travel trailer has three slideouts, starting with a streetside slide in the rear living area that houses the well-equipped kitchen and impressive entertainment center. Beneath the 54-inch 4K HDTV screen is a 30-inch, 5,500-Btu electric fireplace with a thermostat and remote control. In the curbside slide are a pair of plush recliners to stretch out on next to the generous booth dinette. A 68-inch trifold sleeper sofa lines the rear of the trailer, and a kitchen island in the center of the floor supplies an oversize stainless-steel sink and storage.
Up front in the bedroom, sleep should come easily on the king-size bed that's part of the third slide, providing easy walk-around space to get to either of the two big wardrobes. More storage is under the bed and in a collection of drawers. Adjacent to the bedroom is a sizable bathroom with a curved shower, linen closet and skylight to let in plenty of natural light.
Hidden from view is another key element of the Cougar Half-Ton 32RLI: its stout construction. The trailer is built with welded-aluminum framed walls, slides, cargo boxes and floors to combat road vibration and maximize overall structural integrity. Underfoot are double-welded aluminum floor joists that span the width and length of the RV so the floor continues to feel as solid as the day the trailer was driven off the lot. Above its 7-foot ceiling is an array of arched aluminum rafters put together the same way as the rest of this Cougar's strong bones.
---
Jayco Eagle HT 270RLDS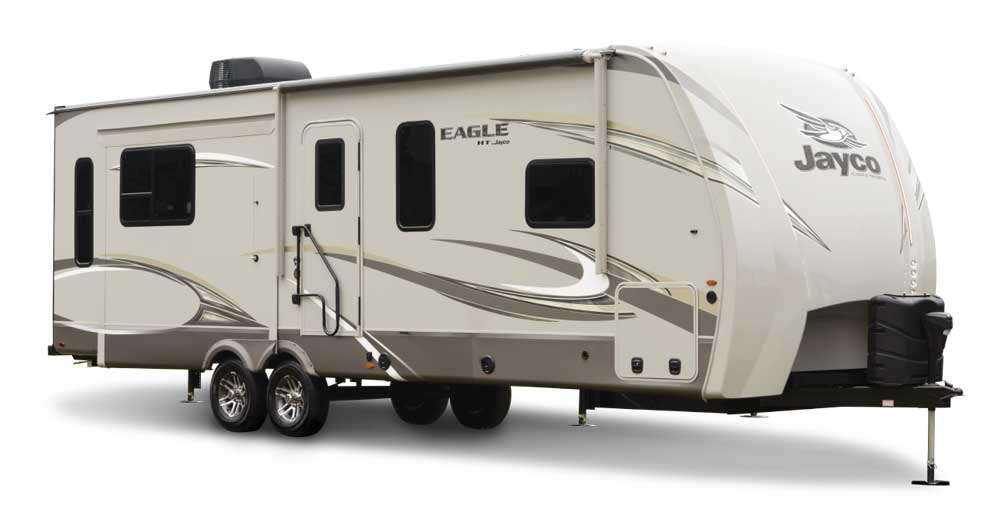 Jayco's 28-year-old Eagle brand has stepped up the comfort and aesthetics to an industry-leading level with two choices in interior decor: Modern Farmhouse's contemporary styling, featuring painted white woodwork with rustic accents, and American Tradition's traditional look with glazed brown maple woodwork. Every fixture, fabric and feature has been carefully selected and installed. Hand-rubbed antiqued finishes, custom shiplap and barn-wood textures enhance the overall look and feel, while contrasting designer hardware and rustic lighting define each decor package.
Underfoot is Shaw residential carpeting butted up to IVC Trekk wood-plank flooring that makes the Eagle HT 270RLDS feel like home. Even the bathroom looks residential with a porcelain toilet, a stone-and-glass backsplash along the countertop and plenty of light streaming in through the skylight.
Recliners are standard on the nearly 34-foot rear-living HT 270RLDS, as is a trifold sofa located in the streetside slide, which also houses the refrigerator and three-burner cooktop. The curbside slide contains the entertainment system, available electric fireplace and dinette table with four freestanding chairs; an L-shaped dinette is optional. The master bedroom up front has a walk-around queen bed with mirrored wardrobes and nightstands on either side.
Unseen yet even more important than the layout and decor is the construction. Jayco's Magnum Truss Roof System, with screwed-down 3⁄8-inch roof decking, is claimed to be significantly stronger than competitors in this class. The Eagle HT line also incorporates 5⁄8-inch floor decking and 2-by-2-inch studs in the walls, with oversize nail plates at each joint and double-layer fiberglass insulation in the ceiling and floor.
Between the build quality, decor options and quiet Helix air-conditioning system and forced-air heating, the Eagle HT 270RLDS is a worthy contender in this price category.
---
Travel Lite Evoke Model B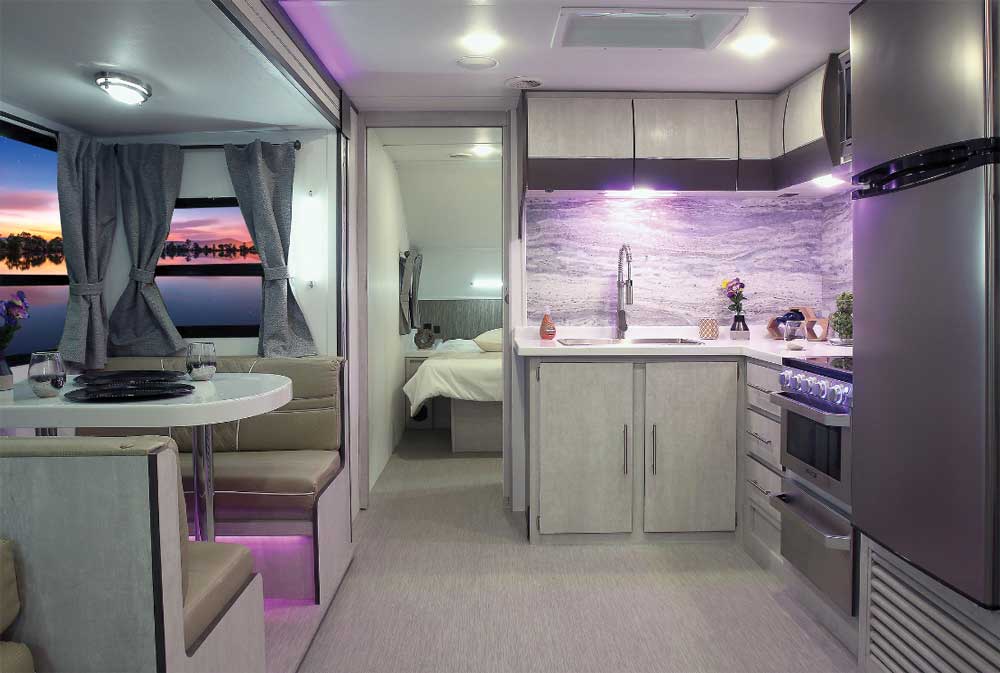 From the elegantly curved, soft-close cabinetry to the water-resistant Infinity woven-vinyl flooring, Furrion entertainment system, 10-cubic-foot double-door refrigerator, extra-wide bunk beds in the rear and spacious king bed up front, the new full-body Evoke Model B was built to impress buyers shopping for a midpriced travel trailer.
One of three floorplans offered in the Evoke line, the 31½-foot, single-slide Model B is designed to accommodate large groups. The layout appeals to families, with double-over-double bunks and an adjacent rear-corner bath. Up front, the master bedroom has its own vanity and sink, along with a king-size bed, a small fridge and an exterior entry door, one of two on the trailer.
High-end features include Granicote countertops and tables, stainless-steel Furrion appliances that complement the Americana fridge, and a 24-foot smart awning that automatically retracts when it's too windy. The trailer rides on a Lippert Equa-Flex equalizer and 102-inch-wide axles for comfortable towing.
---
Coachmen Catalina Legacy 303RKP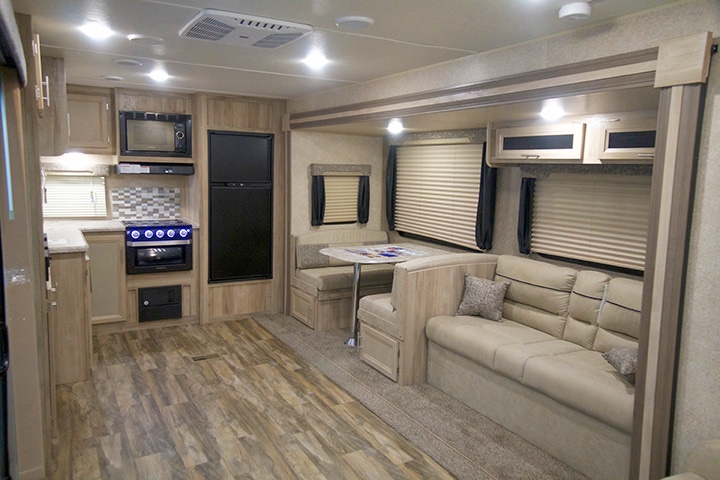 Coachmen, a division of Forest River, has introduced the Catalina Legacy 303RKP, a unit that measures just over 35 feet and pushes the boundaries with a 6-by-10-foot fold-down patio deck accessible through sliding-glass doors on the curb side of the trailer.
The wide-open living area in this rear-kitchen floorplan is furnished with two recliners midship. A bench dinette and comfy jackknife sofa fill the streetside slide, opposite the entertainment center with its 32-inch LED TV on a swing-arm bracket and optional electric fireplace. The bathroom is airy with a residential-size 48-by-30-inch shower.
A walk-around queen bed dominates the master bedroom, which features his-and-her wardrobes, a closet and abundant additional storage in the cabinet below the TV. Throughout the trailer, flooring is 5⁄8-inch tongue-and-groove plywood, counter-tops are drop-edge Thermofoil, and the light oak cabinetry is screwed together for strength.
But the coolest feature is stepping through those sliding-glass doors onto the patio, with its blue LED lighting, exterior speakers and TV hookups. The drop-down patio, which has a 1,500-pound capacity, takes less than two minutes to set up. It's supported by a sturdy stabilizer leg and features solid-step stairs furnished with a handrail that can be attached to the platform. A 21-foot awning covers the patio so everyone on deck can enjoy the outdoors, rain or shine.
---
Winnebago Minnie Plus 30RLSS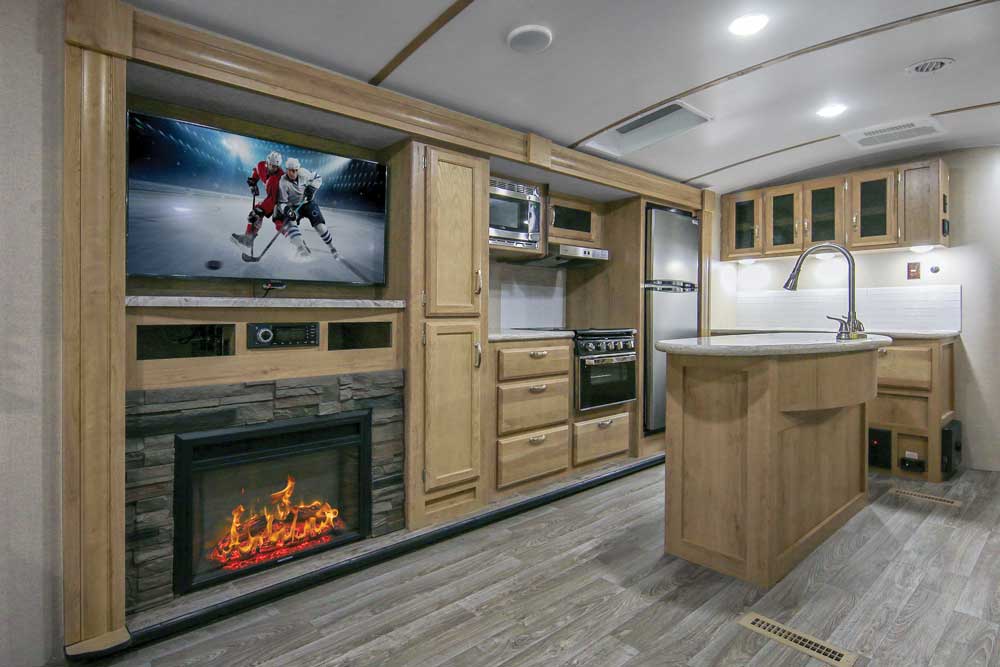 Just shy of 37 feet, the Minnie Plus 30RLSS is a luxurious rear-living floorplan with three slideouts. The two in the back are large opposing slides, with the streetside slide containing the large entertainment center and nicely appointed galley, and the curbside slide housing oversize recliners and a bench dinette or optional freestanding table and four chairs. In between, tucked in the comfy rear nook, is an oversize trifold sofa that matches the recliners, giving yet another place to lounge and relax.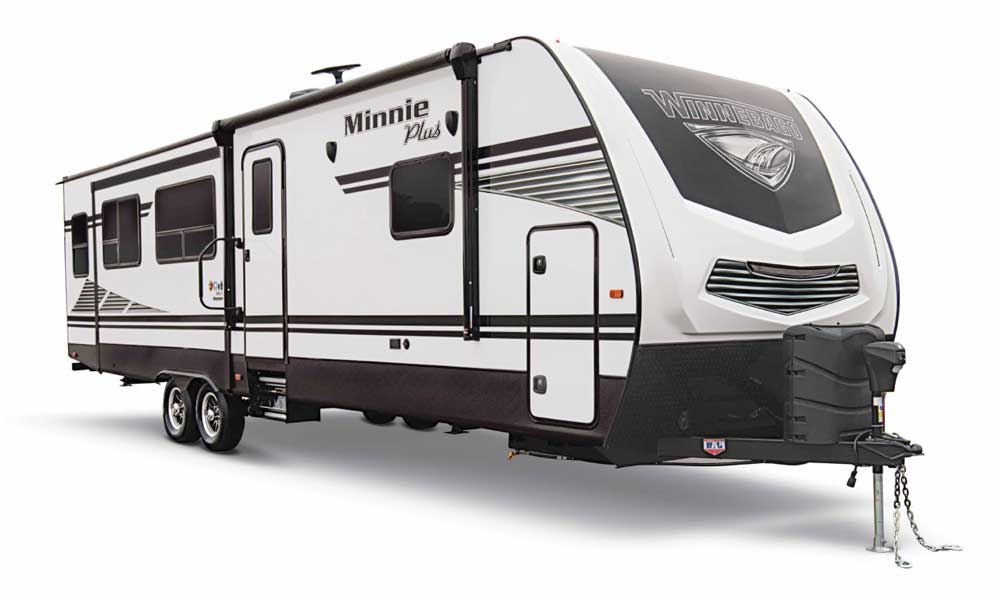 The Minnie Plus' domed ceiling, big windows and overall decor exude richness and comfort. The kitchen offers an 8-cubic-foot refrigerator and a three-burner range, along with a pantry and overhead cabinet for storage. Adjacent to the slide is a hutch, providing additional storage space, plus a center island offers more drawers, cabinets and countertop, as well as a double sink.
Down the hall is a queen bed on the front streetside slide, which opens the master bedroom into a spacious, well-appointed sanctuary with a full-width wardrobe and dresser. The bedroom also has a sliding door for direct access to the bathroom, which features a curved-front corner shower and the same rich cabinetry as the rest of the trailer.
The Minnie Plus is built on a BAL-engineered chassis with a claimed industry-leading strength-to-weight ratio and rust protection. Exterior-grade tongue-and-groove plywood flooring, aluminum-tube side-wall construction and high-gloss fiberglass side walls add to the overall durability. The standard iN-Command control system runs most of the trailer's electrical systems with the touch of a phone app.
---
Bigfoot 25B25RQ
With its 7,500-pound gvwr, this molded-fiberglass travel trailer is well suited for towing behind many half-ton pickups. Its exterior is a full-fiberglass shell much like a boat — no wood or aluminum framing. Thick polystyrene-foam insulation keeps occupants comfortable down to minus-10 degrees Fahrenheit. The plush interior rivals many more traditionally built towables in this price range.
Exterior Length 25′ 6″
GVWR 7,500 lbs.
MSRP, Base $57,645
www.bigfootrv.com
---
Grand Design Imagine 2400BH
Towable by many half-ton trucks, this bunkhouse model has double-bed bunks in the rear and a residential queen bed in the front. An oversize U-shaped dinette in the single slideout with a view of the 32-inch LED TV on a swing arm are among the amenities inside. The exterior features an outside kitchen, a 21-foot power awning and substantial drop-frame pass-through storage.
Exterior Length 29′ 11″
GVWR 7,495 lbs.
MSRP, Base $34,450
www.granddesignrv.com
---
Coachmen Spirit 3373RL
Opposing slides at the rear provide a spacious living area that features theater seating, a trifold sofa sleeper, sofa end tables, a 40-inch TV and an electric fireplace. There's a large kitchen island and a pet center that conveniently slides under the dinette. Motion-activated LED floor lights, a big walk-in shower and fishing-rod storage in the cargo area are just a few of the well-appointed 3373RL's special features.
Exterior Length 36′ 6″
GVWR 9,800 lbs.
MSRP, Base $45,070
www.coachmenrv.com
---
Keystone Outback 341RD
A 55-inch HDTV stretches out above a 48-inch electric fireplace along the rear wall of the 341RD for easy viewing from the pair of theater seats, two sofa sleepers in opposing slides and the dinette, with a bench seat and two freestanding chairs. The king-size bed in the master bedroom has a built-in pet kennel underneath that doubles as a storage cabinet, and the huge wardrobe is easy to access. Outside, there's a 21-foot power awning and a fold-away bike carrier.
Exterior Length 38′ 8″
GVWR 10,500 lbs.
MSRP, Base $47,018
www.keystonerv.com
---
Lance 2465
The new flagship of Lance travel trailers is the ultralight dual-slide 2465, sporting a king bed in the master suite at the rear and an inviting wrap-around sofa bed in the bright, airy living room up front. High-end cabinetry, appliances, aluminum framing and state-of-the-art manufacturing processes ensure comfort that extends year-round with dual-pane windows and advanced ducted heating. This trailer also tows well behind half-ton pickups.
Exterior Length 24′ 11″
GVWR 7,300 lbs.
MSRP, Base $47,407
www.lancecamper.com
---
Oliver Legacy Elite
Oliver Travel Trailers are handcrafted and built to order, taking approximately 10 weeks to build. They are uniquely constructed and feature a double-hulled fiberglass shell mounted on an alu-minum frame with a steel subassembly. The single-axle Legacy Elite sleeps three and has a gvwr of just 5,000 pounds, but it's loaded with upscale features and built from premium materials. It's also one of the most energy-efficient and aerodynamic designs on the market, with a long list of add-ons and upgrades to suit a wide range of buyer preferences.
Exterior Length 18′ 5″
GVWR 5,000 lbs.
MSRP, Base $47,900
www.olivertraveltrailers.com
---
Northwood Arctic Fox 25W
A spacious garden tub, booth dinette and a single slideout with a jackknife sofa and copious storage are just the tip of the standard features found on Northwood's flagship travel trailer. A large residential fridge and built-in microwave stock the kitchen, and plush furnishings and hardwood cabinet doors with roller-bearing drawer guides spruce up the interior. Northwood is known for its proprietary chassis, welded aluminum-framed construction and four-season features that include high-density insulation and heated holding tanks.
Exterior Length 29′ 6″
GVWR 10,000 lbs.
MSRP, Base $47,874
www.northwoodmfg.com
---
Venture SportTrek Touring STT343VIK
An electric fireplace, window seating and a king bed in the master suite, plus a sophisticated residential kitchen, rich walnut cabinetry, solid-surface countertops and a recessed gas cooktop for added counter space highlight this model. Panoramic windows bring in lots of natural light, and wide doorways throughout let you roam in comfort. The new Weather-Shield Package is designed to keep the cold of winter and heat of summer comfortably controlled.
Exterior Length 37′ 8″
GVWR 9,995 lbs.
MSRP, Base $45,485
www.venture-rv.com
---
A respected automotive and RV journalist and longtime Trailer Life contributor, Bruce W. Smith has held numerous editorial titles at automotive and boating magazines, and authored more than 1,000 articles, from tech to trailering. He considers his home state of Oregon a paradise for RVing and outdoor adventure.
---