Q I purchased a new 28-foot Surveyor travel trailer by Forest River that has a claimed dry weight of 4,400 pounds and a hitch weight of 418 pounds. I plan to tow it with my 2008 Chevy Silverado 1500 pickup with a 5.3L V8 engine. If it were your rig, would you bother with an equalizer hitch? I know it will weigh more when loaded, but I travel alone and don't bring much stuff with me, and never travel with water in the tanks. I'm hoping to find a scale, but they are rare around here.
– Marc Bazin, Via email
A When the rig is loaded, the hitch weight will probably exceed 500 pounds, and when applied to the hitch receiver mounted far behind the rear axle, it will probably make the truck's rear end squat significantly. (This also unloads weight from the front axle, which is not good.) Measure the distance from the top of the front and rear wheel wells to the road. Hook up and compare the measurements. Your goal is to have the truck sit fairly level when connected and loaded. You may need to use a properly rated weight-distribution hitch set to achieve this.
– Ken Freund
---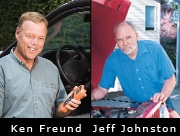 To send your questions to RV Clinic, write to 2575 Vista Del Mar, Ventura, Calif., 93001; or email [email protected]. Also, check out TrailerLife.TV for our expert RV how-to videos.