A dozen fun and functional travel trailers and toy haulers that won't break the bank
The face of the average RV consumer has changed substantially over the past few years, and manufacturers are slowly but steadily adapting to the shift. Reports from the RV Industry Association (RVIA) point to a surge in young families and millennials entering the RV market, and these new buyers have tastes and preferences that set them apart from the Baby Boomers who have driven RV sales for decades.
The most important difference for this demographic may be their budgets. Although many people are looking to buy RVs earlier in life, they want to do so at a significantly lower price point. The good news for these shoppers is that the entry-level market for towable RVs has never been hotter, and manufacturers are eager to get a slice of the pie. Every model year brings more floorplan options and more features.
Now, if you hang out long enough with RV shoppers, you might hear the common complaint that all entry-level trailers look the same. This may be true if you are visiting only smaller, local RV shows or dealerships. However, a quick glance at the pages that follow shows that, for those willing to expand the search, there's an incredible range of trailers available for $21,000 or less.
From rugged teardrops like the [email protected] Boondock to family-friendly bunk models like the Sonic Lite 169VBH, there is something for every shopper. Folding tent campers, hybrids and toy haulers all appear at this price point, and many show off creative new design trends like murphy beds and hidden bunks. Want to stand out from the crowd? A few of the models in this roundup offer bold exterior colors like cherry red and canary yellow.
Many first-time RV shoppers do not own a heavy-duty tow vehicle, and they have no interest in purchasing one. The new trailers featured here demonstrate that manufacturers are providing plenty of ultra-lightweight options that can be towed by suitably equipped SUVs and other family vehicles. Companies like Taxa Outdoors and Purple Line are using aluminum to build high-quality trailers that have a dry weight under 2,000 pounds. Some even fit in a standard garage.
Bottom line? You can stick to your budget and still find an RV that's fun and functional. The hard part won't be figuring out how to pay for it but deciding between all the different options.
Jayco Hummingbird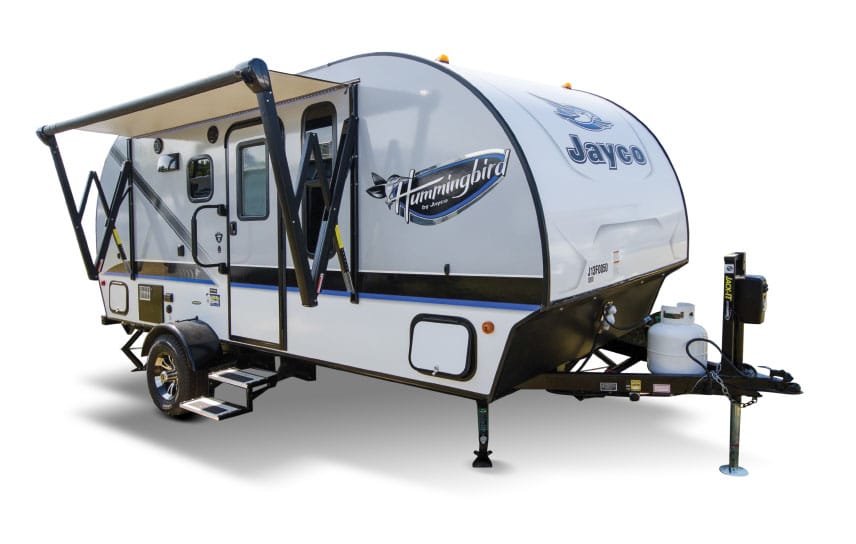 Murphy beds are having a moment in the RV industry, and for good reason. In the 16MRB, the bed easily folds up into the wall, allowing for comfortable living space and a large bathroom in a trailer less than 20 feet long. The kitchen is fully outfitted with a sink, two-burner cooktop, 3-cubic-foot refrigerator, convection microwave and a pantry. The television is positioned for comfortable viewing from the couch or the bed when folded down. A folding table can be set up for dining inside or out and tucks away in a designated storage cabinet when not in use. The rear bathroom has a closet, a linen cabinet and a roomy shower. On the outside are large front and rear storage compartments, a 10-foot awning and an outdoor shower. Goodyear tires are now standard on all Jayco models, and the optional Baja package comes with upgraded 15-inch off-road mud tires, double-entry steps and an enclosed underbelly with insulation.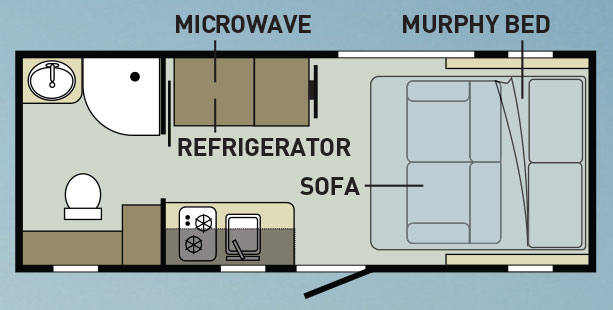 800-283-8267 | www.jayco.com
---
Purple Line OPUS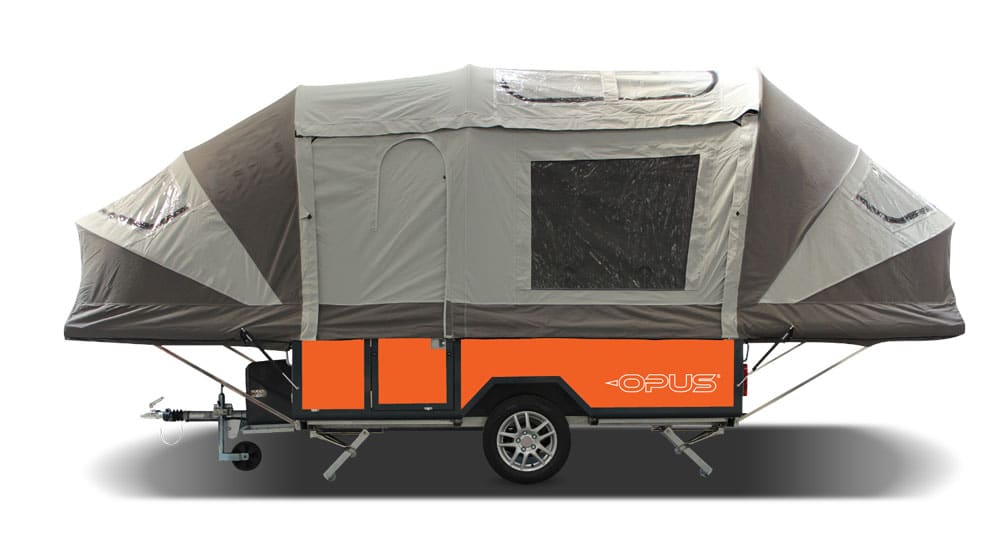 Available in orange or blue with a gray pop-up tent, the Opus Original is a folding camper with unique style and functionality. When folded, the trailer's low profile offers ease of towing and storage. This is especially appealing to those looking for a lightweight RV that parks in a garage. The reinforced top contains universal roof racks, and the Great Western package provides roof-rack bars with a carrier for bikes or kayaks. The manufacturer reports that the heavy-duty canvas, aluminum frame and insulated panels will withstand year-round weather conditions. The interior is sleek, modern and practically luxurious for a folding camper. Double beds are on both ends, and a U-shaped dinette transforms into a third double bed. The kitchen has a sink, cooktop, microwave and refrigerator. A portable toilet and shower come in handy when camping in rustic locations. The Air Opus inflating-tent option adds to the cost but makes setup a breeze.

925-215-7315 | www.opuscamper.us
---
Forest River Cherokee Wolf Pup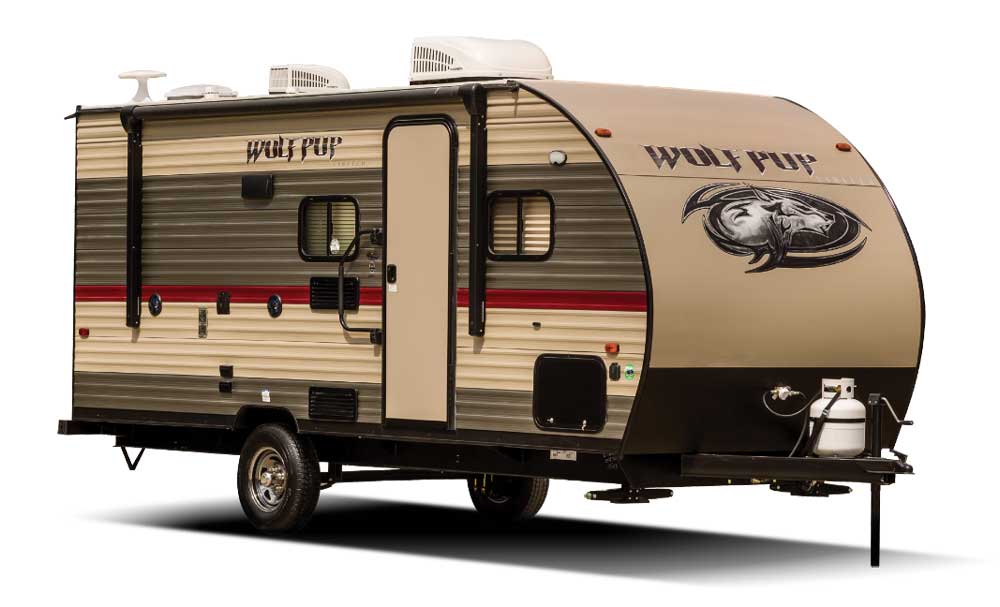 The 18TO sets itself apart from the pack by offering a super-slide on a single-axle trailer with a gross vehicle weight rating (gvwr) under 5,000 pounds. This opens up the interior and provides great living space in a small package. Standard features include front and rear stabilizer jacks and a double-step entry, but the most interesting feature in this floorplan might be the hidden bunk that resides above the jackknife sleeper sofa. This transforms a couple's rig into a trailer that works for a variety of different buyers. Some empty nesters like to have room for occasional visits from children or grandchildren. Other families are looking for a floorplan that offers comfortable sleeping arrangements in a small, lightweight trailer. The bathroom has a kid-friendly tub-and-shower combo, and the kitchen has great counter space, with a residential-style faucet, a refrigerator, microwave and two-burner cooktop. Faux bricks line the wall along the back.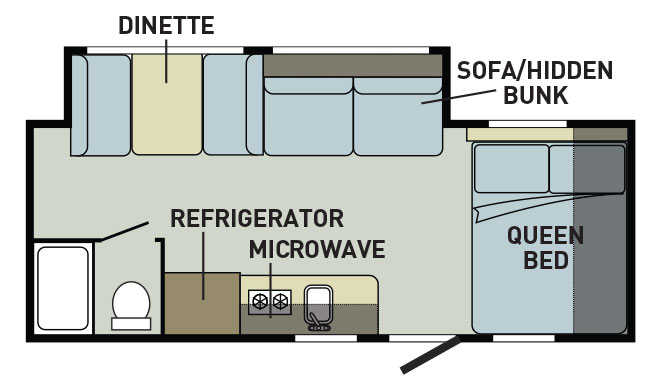 260-499-2100 | www.forestriverinc.com
---
Starcraft Launch Outfitter 7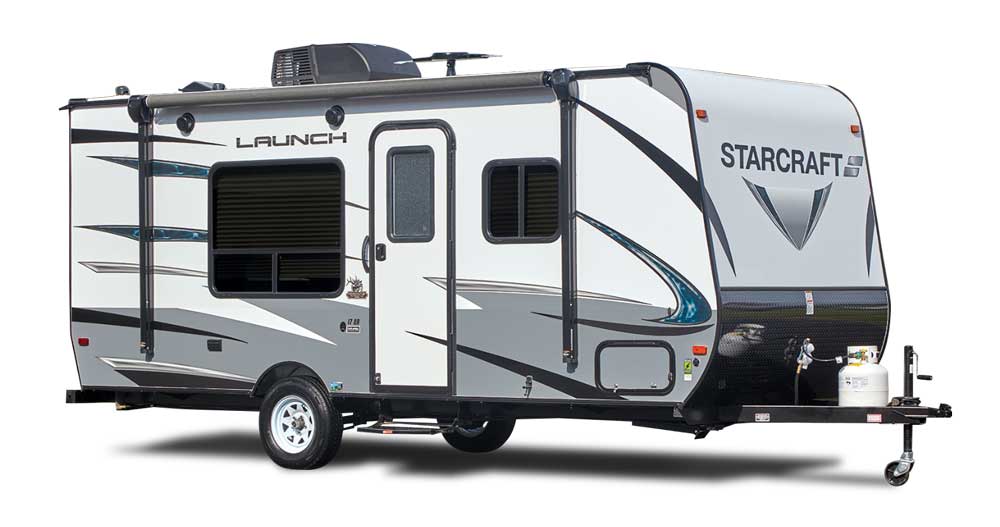 Although the 17QB does not have any slides, the interior seems roomy, thanks in part to a 6½-foot ceiling height. On the outside, fiberglass and neutral graphics give the trailer a fresh, modern look. Otherwise, the RV offers a standard workhorse layout for couples in a very affordable package. The walk-around queen bed is a definite plus for many owners, with overhead storage and a wardrobe on each side. The kitchen has a refrigerator, microwave, two-burner range and a pantry. The residential-style high-rise faucet offers a nice bit of function and design in a small space. The single-basin sink leaves some countertop available for food preparation. In the rear of the trailer, the bathroom has a tub and shower, along with plenty of space for linens and toiletries. A 12-foot electric awning comes standard, as do exterior speakers, an outside shower and an insulated, enclosed underbelly.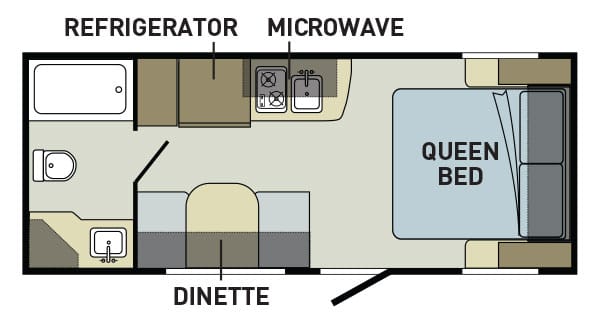 800-945-4787 | www.starcraftrv.com
---
Travel Lite Falcon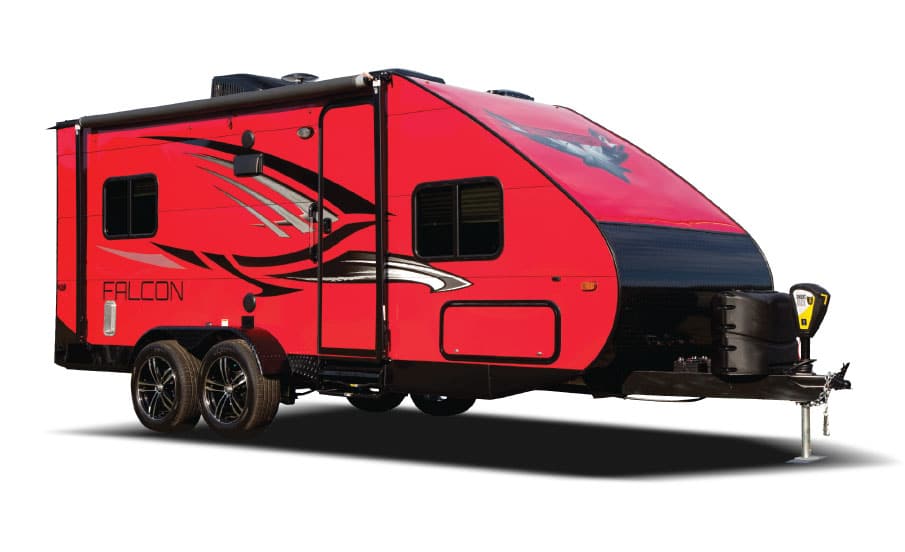 The lightweight F-23TH is a toy hauler that doesn't need a heavy-duty truck to tow it. The dual-axle trailer has 7 feet, 8 inches of garage space to hold a dirt bike, motorcycle, four-wheeler or kayaks. The garage contains a jackknife sofa that converts to a bed. The kitchen is small but efficient, offering a two-burner cooktop, 5-cubic-foot refrigerator, microwave and a pantry. Interior decor combines stainless steel and wood finishes, making the design feel modern and on trend. Two skylights bring plenty of natural light into the space, including one in the wet bath. The queen bed is arranged east to west, so there is no room to walk around it. Windows on either side of the bed are sliders, which offer much better ventilation than some other options. Outside, 10-inch-wide Michelin tires are on standard 18-inch rims. Exterior color choices range from black, white and graphite metallic
to attention-getting red.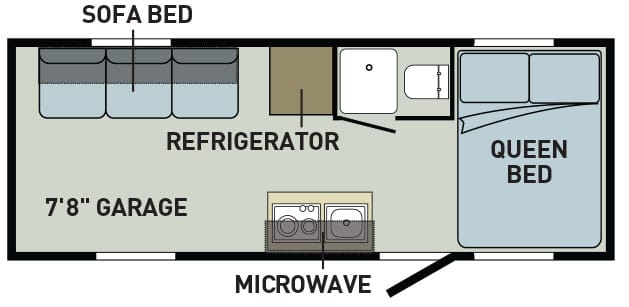 574-831-3000 | www.travellitecampers.com
---
Escape Trailer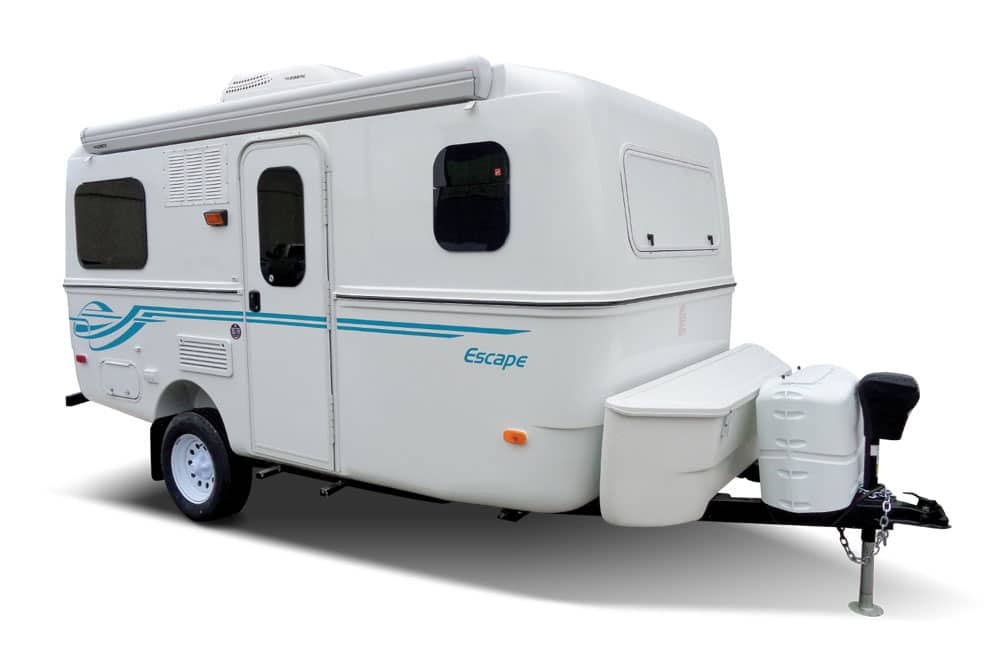 The 17A is a molded-fiberglass travel trailer, a construction method that results in an extremely lightweight and stylish rig capable of being towed by many SUVs and minivans. These trailers are built to order at a manufacturing facility in British Columbia, Canada.
Buyers can travel there, adding to the romance of acquiring such a unique rig, or have the finished trailer delivered for an additional fee. The 17A floorplan has a permanent bed up front, a kitchen, and a four-person dinette in the back that can be converted into an additional bed. There is no wet bath in this model; that luxury requires upgrading to the 17B. The 17A also does not come with black- or gray-water tanks, but they can be ordered as optional features. Many overhead cabinets are built in along the ceiling, giving owners a lot of storage for such a small space. Outside, a 10-foot power awning, bubble levels and a 2-inch bike receiver are standard features.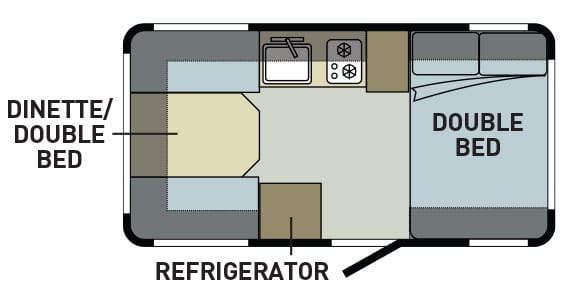 855-703-1650 | www.escapetrailer.com
---
Taxa Outdoors Cricket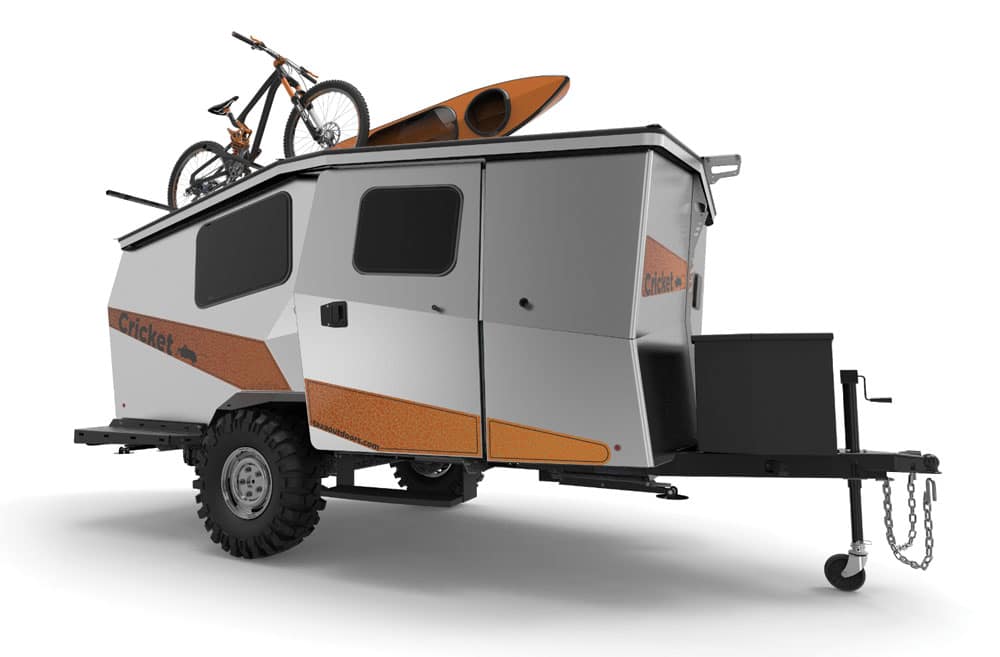 The Cricket Camp is perfect for those who are ready to stop sleeping on the ground in a tent but want to stay true to the spirit of rugged, outdoor adventure. Designed by a former NASA architect, the pop-up-roof trailer looks like nothing else in the RV industry, both inside and out. Aluminum-and-steel construction creates a strong yet lightweight body that can be towed by many four-cylinder vehicles. All-terrain tires on 15-inch aluminum wheels will easily venture far from civilization. Comforts not typically found in the middle of nowhere include 15-gallon gray- and freshwater tanks, plus an outdoor shower with hot and cold water. Inside are seats that convert to a queen-size bed. Hanging dual cots are available as an option and can sleep two kids. The kitchen offers a nice amount of counter space and storage, with a sink, two-burner stove and six storage cubbies.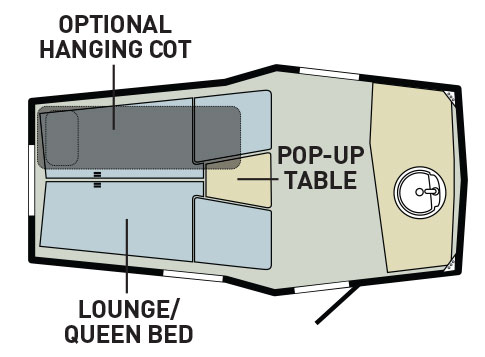 713-861-2540 | www.taxaoutdoors.com
---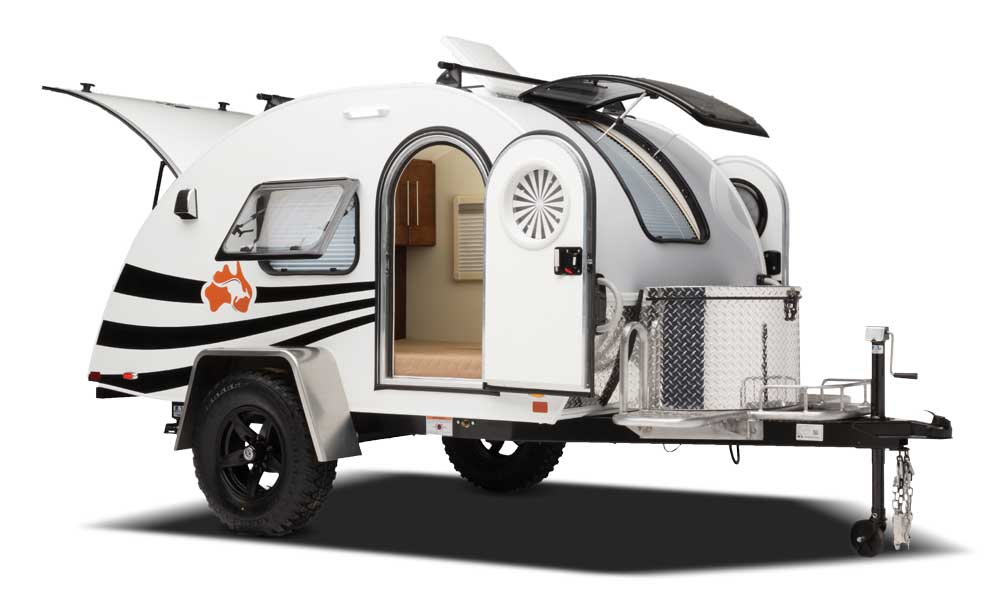 The lightest trailer in this roundup is the [email protected] Boondock, an aluminum-frame teardrop made for off-road adventures. The interior has just enough room for a queen-size bed, but nüCamp makes the most of the surrounding wall space. Overhead storage cabinets line the front and rear walls, along with shelving. The small trailer also packs in a television, an air-conditioning unit and a stereo system. A rear hatch opens up to a well-appointed outdoor kitchen with a sink, an electric cooler, two-burner cooktop, outlets and storage. The Boondock package includes knobby off-road tires, a Yakima roof rack and a diamond-plate A-frame box. Exterior graphics can be ordered in black, bright yellow or cherry red. For those whose camping taste favors glamping instead of rugged exploration, choosing the Sofitel package adds high-end interior and exterior finishes.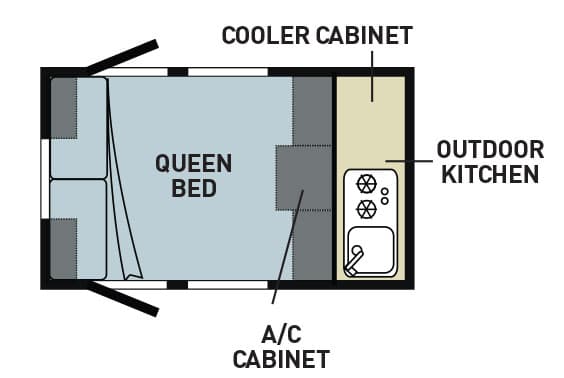 844-823-9112 | www.nucamprv.com
---
inTech Flyer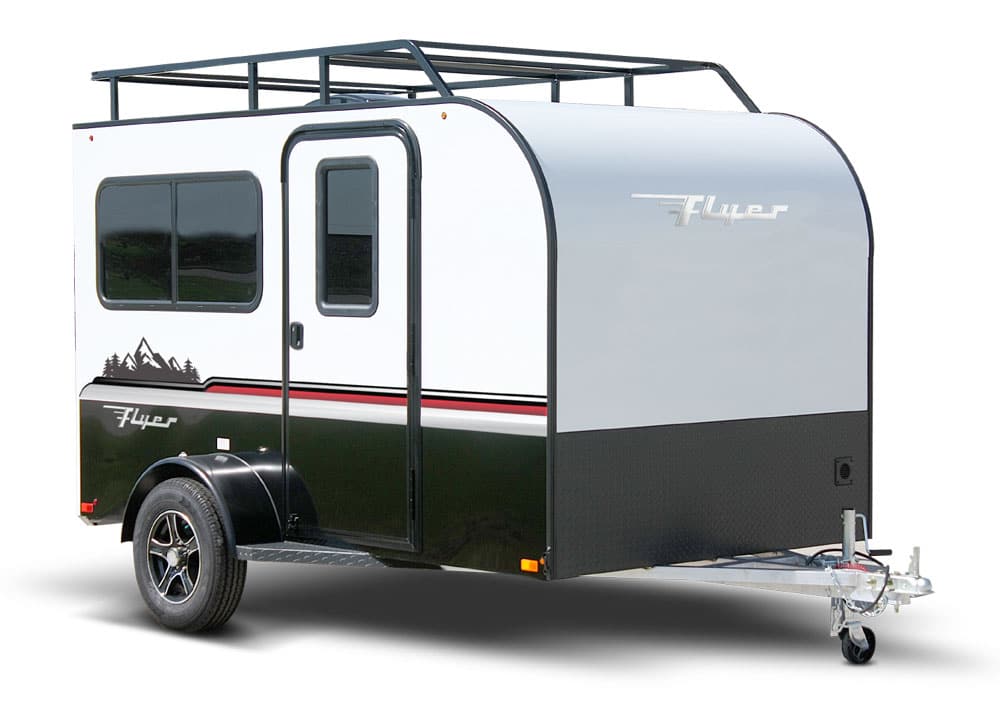 For those looking to cart their toys and still stay lightweight, the Explore Flyer may be just the ticket. One of the smallest toy haulers out there, the basic model is pretty much a box trailer with a counter and cabinets at the front. The good news is that buyers can choose from a ton of options, including a slide-out camp kitchen, and still remain at an affordable price point and ultralight weight. Add a tip-out bed to create a unique hybrid toy hauler, and throw in a removable dinette table for a nice place to eat or play a game of cards at the end of the day. The roof-rack system works for hauling a canoe or kayak, and a 2-inch receiver handles a rack for bikes. The trailer comes in three interior colors (cherry, maple and light gray) and six exterior colors (pewter, white, black, gray, red and silver).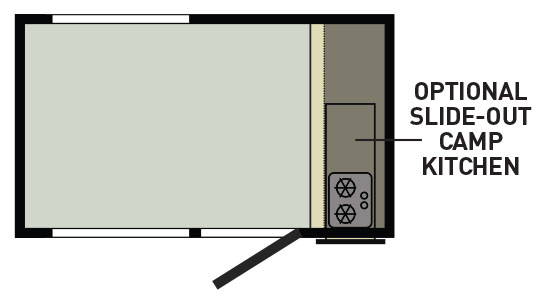 574-773-9536 | www.intechrv.com
---
KZ Escape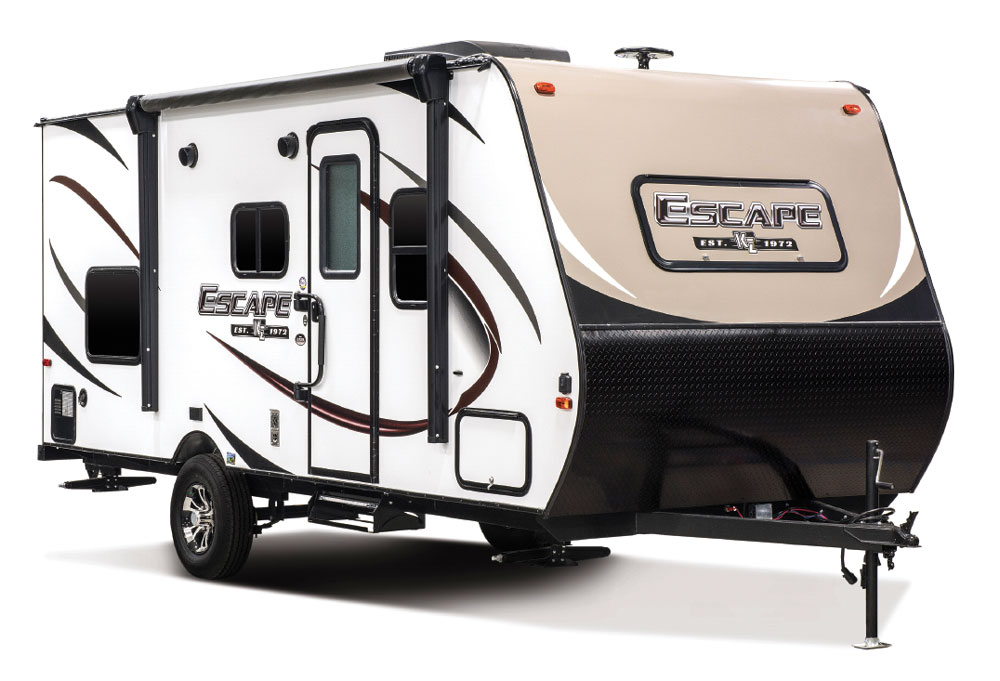 The E191BH manages to squeeze everything a family needs into a fairly compact space. The trailer also offers build features not always available in the ultra-lightweight market, such as maple cabinets and a 5 ⁄8-inch tongue-and-groove plywood floor. The master bed runs east to west at the front of the rig with a large picture window bringing in natural light and surrounding views. The booth dinette is on a slide, opening up floor space and eliminating traffic jams that often happen in small trailers. Across from the dinette is a kitchen with a two-burner cooktop, 4-cubic-foot refrigerator, a microwave, sink and a bit of counter space. Two bunks nestle into the back next to the bathroom, and the bottom bunk flips up for extra storage space. The Off-Road Package adds a holding-tank heater.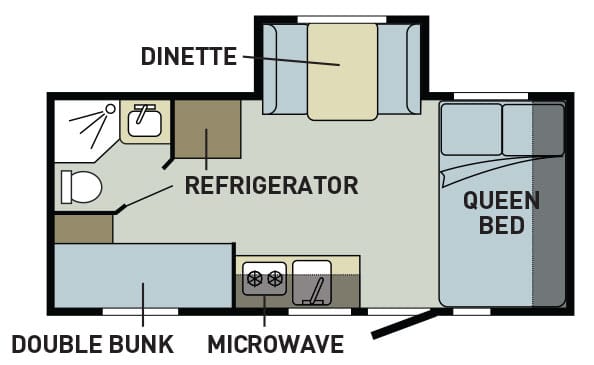 866-472-5460 | www.kz-rv.com
---
Venture RV Sonic Lite
It's almost hard to believe how much functionality is packed into this 21-foot-plus travel trailer. The SL169VBH has a Murphy queen bed up front with wardrobe closets on both sides. When the bed is folded up, folks can enjoy the nicely sized sofa and set up the freestanding table with two folding chairs, transforming the space into a dinette. Having the front of the trailer function as a bedroom, living area and dining room frees up space for a bathroom with a 36-inch tub. Parents of small children will especially appreciate this feature. Parents will also like the double bunks at the rear of the rig, along with the large door behind them that allows for easy loading of gear. The trailer comes prewired for solar and a backup camera, and a black-tank flush and LED-lit power awning are standard.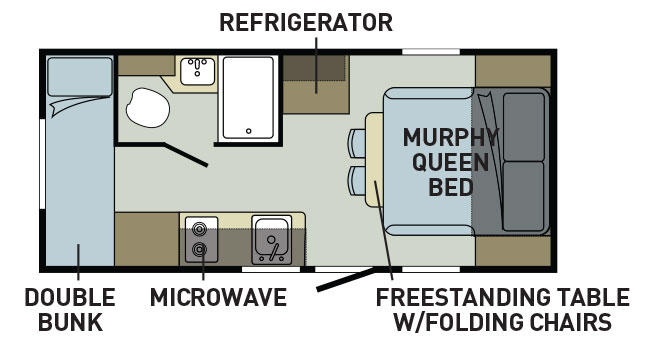 866-472-5460 | www.venture-rv.com
---
Winnebago Minnie Drop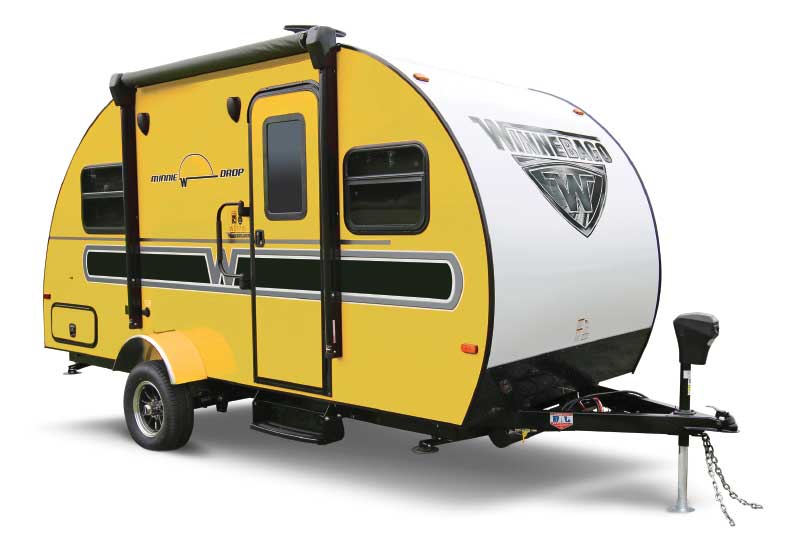 If you are one of those RV shoppers who complain about brown textiles and dated graphics, the Minnie Drop has you covered with eight boldly colored exteriors (including yellow, orange, cherry and blue, and optional wood-grain graphics) and a lovely, bright interior palette. The 1710 has a dedicated queen bed in the rear with storage options above and below, plus a dinette up front that can be converted into extra sleeping space. The kitchen offers a fair amount of countertop for a coffeemaker and food prep, and comes with a convection microwave, a single-basin sink, a two-burner cooktop and a refrigerator. Take notice of the kitchen drawers and outlets, two things that are often absent in smaller trailers. The wet bath may be a squeeze for some folks, but it's no problem for others.
Exterior storage is at a premium in trailers of this size, so the front-mount sewer hose tube is a nice addition.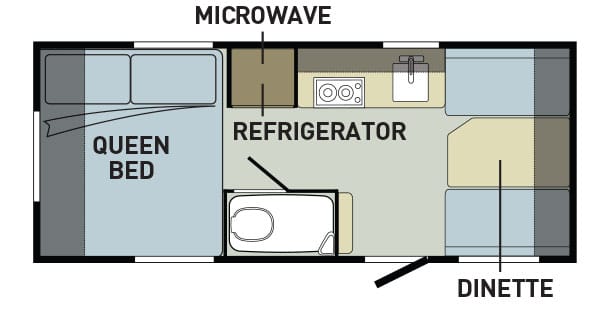 574-825-5250 | www.winnebagoind.com
---
In addition to contributing to Trailer Life, Jeremy and Stephanie Puglisi are writers for RVFTA.com and hosts of the RV Family Travel Atlas podcast. They are also the authors of Idiot's Guides: RV Vacations. The couple spends as much time as possible exploring the country in a toy-hauler travel trailer with their three very energetic sons and Maggie the Camping Dog.
---