Q: We have a 2010 18-foot Puma travel trailer that has developed quite a few loud "rusty hinge" sounding squeaks. I have contacted Forest River and the only information they could give me was to contact the manufacturer of the axle. Any suggestions on what I can check, or is there a lube maintenance schedule for the chassis? If so, what?
Mark Tyler, Spokane, Washington
A: Usually it's due to rust between the leaf springs, and dry pivots in the spring ends and shackles. The best way to find noises like this is to have someone inside jump up and down enough to make the trailer squeak, while an observer listens underneath to determine where it's coming from. If there are any grease fittings, grease them at least annually. Many trailers have non-greaseable shackles, so the best thing to do with these is upgrade to premium greaseable units, available through Camping World or other RV shops. About the only thing you can do for springs is spray lube between the leaves. A so-called "dry lube" that leaves a graphite-type coating behind when the solvent carrier evaporates would be a good choice here and the dry aspect means it will be less prone to catching dust and grit, as compared to a wet-type lubricant. 
For a truly robust squeak solution some spring companies sell inserts made from slippery engineering plastic that fit between the leaves. These have ridges on their edges to keep them between the leaves, and the spring packs must be disassembled to install them. Once in place, they prevent metal-to-metal contact and that quiets the springs. They also provide a slippery contact surface, which can moderately soften the ride by allowing the leaves to move more freely against each other.
— Ken Freund.
---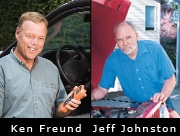 To send your questions to RV Clinic, write to 2575 Vista Del Mar, Ventura, Calif., 93001; or email [email protected]. Also, check out TrailerLife.TV for our expert RV how-to videos.