Grand Design's premium toy hauler offers a high level of luxury and all the amenities to enjoy outdoor adventures
When it comes to towable RVs for full-timing, it's not unusual to find large-scale trailers that range up to mammoth triple-axle, multi-slide fifth-wheels. From that bunch of fifth-wheels earmarked for full-timers, selection is fine-tuned to standard and toy-hauler configurations. Most of these fifth-wheels have prices north of $100,000 and little to wish for when it comes to livability and function. For those who want to bring outdoor vehicles along, making the choice between a fifth-wheel that emulates a stationary home and a toy hauler could be difficult — until the Momentum 376TH came along.
The granddaddy of Grand Design's toy-hauler line, the Momentum represents the best in a premium-grade toy hauler with refined amenities. The striking fifth-wheel features tall, glossy-black exterior walls that provoke awe-inspired stares. Sweeping but tasteful hues of gray, white and copper-orange accents are the foundation for the Burnt Orange graphics package. If you happen to be seeking the ultimate Harley hauler, this eye-catching paint package alone may put an end to your shopping experience.
Testing the Momentum required a tow vehicle suited to the task of moving a mini-Taj Mahal-like fifth-wheel. We chose a four-wheel-drive Ram 3500 dually with all the bells and whistles the factory can deliver. While the Ram was a 2017 model, it was fitted with Fiat Chrysler's latest fifth-wheel hitch, rated at 30,000 pounds. New for 2018 and mounted via a proprietary puck system built onto the frame, the hitch proved to work smoothly and free of glitches.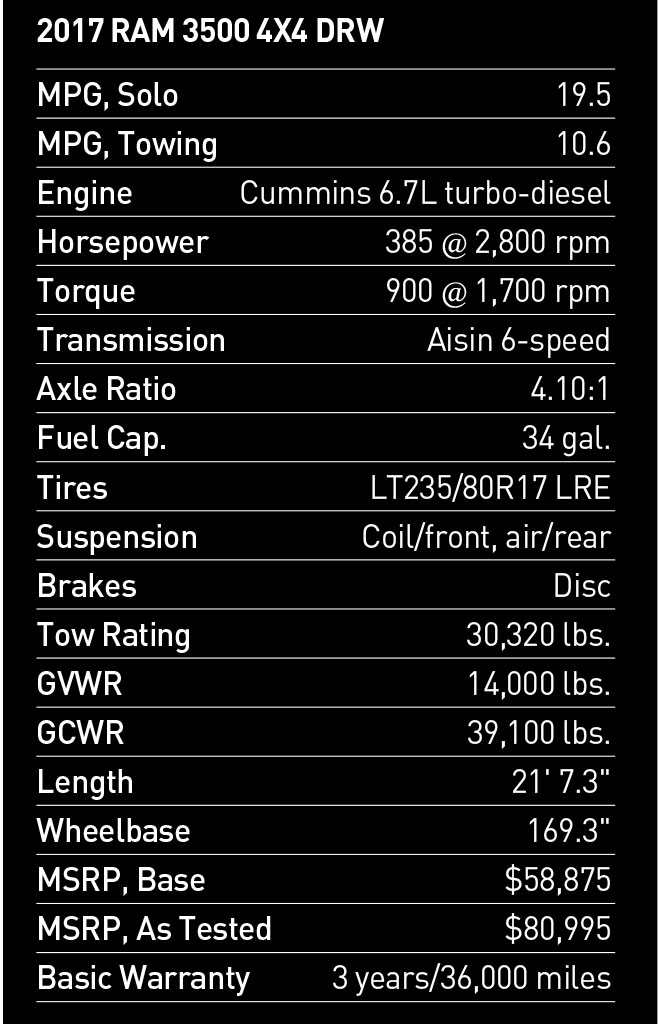 Since the Momentum tipped the scales at 16,780 pounds with water and LP-gas, the Ram turned out to be a valuable partner for the combo. The 2017 Ram is identical to the 2018 model year with the exception of an increase in torque to a class-leading 930 lb-ft for the venerable 6.7-liter Cummins diesel engine. Tied to the Aisin six-speed transmission, the truck easily lived up to its 30,320-pound tow rating and handled the Momentum with grace and style. The optional auto-leveling air-ride suspension civilized the ride, which was certainly welcome when tooling around solo on some of the ragtag roads we experienced.
The cab of this gorgeous dually was well stocked with techy info and entertainment equipment, and plenty of other options, both creature comfort and performance, as expected from the more than $80,000 sticker price. That's a lot of coin, but it's a sign of the times for a luxury heavy-duty pickup that also serves as a powerhouse tow vehicle.
On the back end of the combo, the Momentum, like most of the Grand Design family of towables, begins life on a solid platform. The foundation starts with a combination of 10- and 12-inch steel I-beams as a base for making up the 8-foot-5-inch-wide body stature.
Building in this manner also helps to eliminate the stress on things like slideout mechanisms, providing an overall firmer feel in the finished floor structure and allowing the fully automated six-point hydraulic leveling system to have a wider and more stable stance.
This fifth-wheel frame is supported by a trio of 7,000-pound-rated axles, utilizing self-adjusting brakes and riding on the popular Equa-Flex suspension system that features bronze bushings. A Trailair Rota-Flex pin box is employed for the connection point to the truck.
While the beautifully finished optional full-body paint and impressive selection of storage compartments and utilities wanted to take center stage, it's hard to ignore the special Weather-Tek-prepped subflooring and storage system, held together and up tight to the frame with an exclusive Rail-Tite rigid aluminum-rail method for securing the underbelly. In addition to the robust sealing down below, the 35,000-Btu heating system supplies ducted heat throughout the entire underbelly and storage bay. This, along with 12-volt DC heated pads on each holding tank, makes certain that year-round living is a true capability.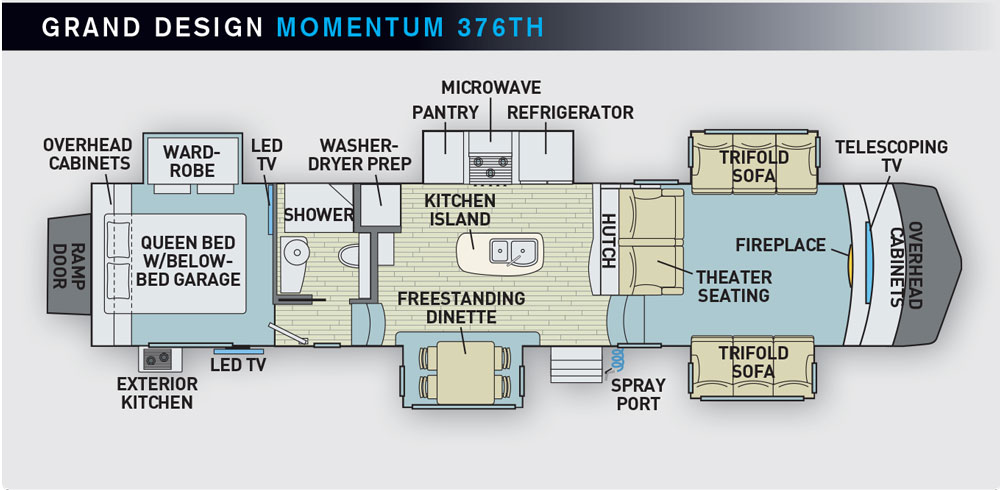 Insulation plays an important role and is made proof-positive by way of a triple-insulated main floor and its impressive R-45 rating, a thermal double-layer roof that runs the R factor up to 40, and the R-11 solid-foam protection in the fiberglass-clad walls. Even the garage floor maintains an R-25 rating. Overall, this rig is well protected from the elements.
While wandering the outer edges of the 41-foot, 3-inch 376TH, it doesn't take long to discover an abundance of finely finished storage — like the pass-through exterior compartment that (comically) has enough room for two people to take up residence — and the truly useful utilities. Some of these multi-component systems are supplied by a single manufacturer for service compatibility. For instance, every door that could or should lock, including the entry, uses one key.
In addition to the tremendous number of perfectly placed and well-lit storage areas behind the 1½-inch-thick insulated slam-latch-fitted doors, you'll notice convenience touches such as an integrated InterVac vacuum system and an ideally equipped exterior kitchen supported by a mini-fridge and stove. If the view isn't quite enough, feel free to watch the LED TV in the outlying entertainment center behind the next door. Of course, you can't overlook the fact that there's also an appropriately sized Cummins Onan 5.5-kilowatt gasoline generator up front, which shares its fuel supply with the onboard and enclosed fueling station, or that this fifth-wheel even has a coiled, quick-coupler water-hose attachment.
If you've spent some time perusing dealers' lots for toy haulers, you'll notice that this Momentum packs some serious ingenuity and wow factor into its floorplan and decor. Immediately upon entering, the extravagance is obvious, with an almost overwhelming amount of open space provided by a floorplan reminiscent of a roomy condo with luxury touches where they belong.
Heading up the small flight of stairs to the right takes you to a kingdom of cushy, comfortable couches encircling the inviting living room. On the way up, you'll see that Grand Design put some forethought into this rolling palace by utilizing the available space to place sweep and vacuum hose ports in the steps.
The living room is fitted with three leatherlike sofas from Lippert's Thomas Payne Collection that provide great lounging versatility. A highlight for many will be the two-person theater seating, which contains everything you could ever ask of a couch. Here, you'll find blue LED-lit cup holders, footpath-finder light strips from underneath, and extra-relaxing heat and massage features that go hand in hand with the fully reclining pair of plush seats. These central and rear seating positions provide perfect views of the massive 48-inch telescoping LED TV, which hides behind the functional fireplace.
The dark-stained cabinetry atop the entertainment center and color-coordinated wood trim complement a couple of matched trifold couches that offer soft seating or sleeping positions. Helping to brighten the room and offset the dark interior are off-white walls and carpeting, and recessed LED puck lighting. The entertainment center and opposing couches reside in two of the five slideouts found in this fifth-wheel.
Below the living area, moving toward the back, is a roomy and extremely functional kitchen/dining room/office/resource area — a Grand Central-esque focal point for much of life's daily duties. Right away, your peripherals are pointed toward the array of sleek, dark cabinetry surrounding a perfectly planted central island. To say the least, there's no shortage of storage inside the 376TH, and certainly not in the kitchen, which is bordered by two significant cabinet structures, one serving as a pantry and the other with a washer-and-dryer connection, nicely tucked in next to an assembly of stainless-steel-trimmed appliances.
A decent-size flush-top mounted stove and oven combo, utilizing the common RV three-burner configuration, offers additional counter space when covered and is backed by a full-height granite backsplash for both form and function. Immediately overhead hangs a residential-size and -style convection microwave with the range hood and light. Just to the right rests a mammoth 18-cubic-foot stainless four-door Norcold real RV refrigerator. This is a major bonus if you're a frequent boondocker, which is likely the case if you're enamored by a toy hauler.
Continuing on around the solid-surface-topped island that houses a large double-basin stainless-steel sink with a tall faucet, you'll find another useful piece of integrated cabinetry. A hutch offers yet more drawers and storage, and serves as a slightly narrow desk, but don't try sitting at it because there's nowhere for your legs to go. However, it doubles as a great kitchen-counter work area when needed.
The hutch is also home to a digital touch-screen command center that controls nearly everything in or on the fifth-wheel, including the leveling jacks, slideouts, awnings, several light switches and monitors. Relatively new to the industry, the all-inclusive touch screen may seem a little intimidating at first, but after viewing some of the on-screen programmed tutorial videos, the functions are quickly learned. In fact, the setup is so user-friendly, there's even the ability to get apps for a phone or favored device and run the show from a handheld.
Showcasing the attention to detail and fit and finish exhibited throughout the Momentum, the dining area is right across the walkway, housed in a slideout and encased in pleasantly appointed surroundings. While not splashy, the space is supported by a simple, effective and comfortable — maybe even a little unique-looking — freestanding table and chairs.
"Upward and onward" is a good way to describe the remaining half of this fifth-wheel. Another set of stairs leads directly to the super-sufficient and well-laid-out bathroom and master bedroom, each quite roomy, comfy and usable in its own respect.
The bathroom comes first, and once inside, the basic box shape is overcome by luxury items such as the solid-surface countertop and the clear vessel sink that's actually big enough to wash up in. The non-constricting shower/tub is enclosed by a glass door and fitted with a skylight for additional headroom and daylight. A residential-type and -size porcelain toilet is a welcome amenity. These water features, as well as all the others aboard, are supported by a healthy 117-gallon freshwater tank, a hefty 104-gallon gray-water tank and a relatively standard (maybe even a little small for this beast) 52-gallon black tank.
The bedroom, like the rest of the fifth-wheel, is equipped with everything you want and nothing you don't. The mirrored-door, full-height dresser is big enough to mandate his-and-her sides and is in its own slideout. Tucked behind the rear of the bed, making up the headboard, is the final portion of seemingly endless dark cabinetry. Aside from that, you'll find a centrally located 60-by-80-inch queen bed with a memory-foam mattress to supply slumber and sweet dreams. Although it is a bit on the slim side, there is enough room to walk around the bed without struggles. The other purpose of the bed's position is to allow for more headroom while loading the garage directly underneath.
The garage has clean and coordinated finishing touches, and includes the bed-lifting mechanism to provide a safer loading head height. The garage's slightly-larger-than-the-bed dimensions (63 inches wide by 111 inches deep and 66 inches tall) leave enough room for a couple of motorcycles, a small quad or a golf cart. Those who don't need space for bigger toys will appreciate the design and function, which really cater to inside livability.
About the only complaint I had with the 376TH was the fact that the bathroom is 100 percent blocked when the slides are closed for travel. There's also virtually no access to the kitchen and the refrigerator, so be prepared to open the slides for any hope of lunch or a bathroom break on the road.
Minor shortcomings aside, you'll have the Momentum to experience the Life of Riley while exploring outdoor-recreation spots without giving up an ounce of luxury.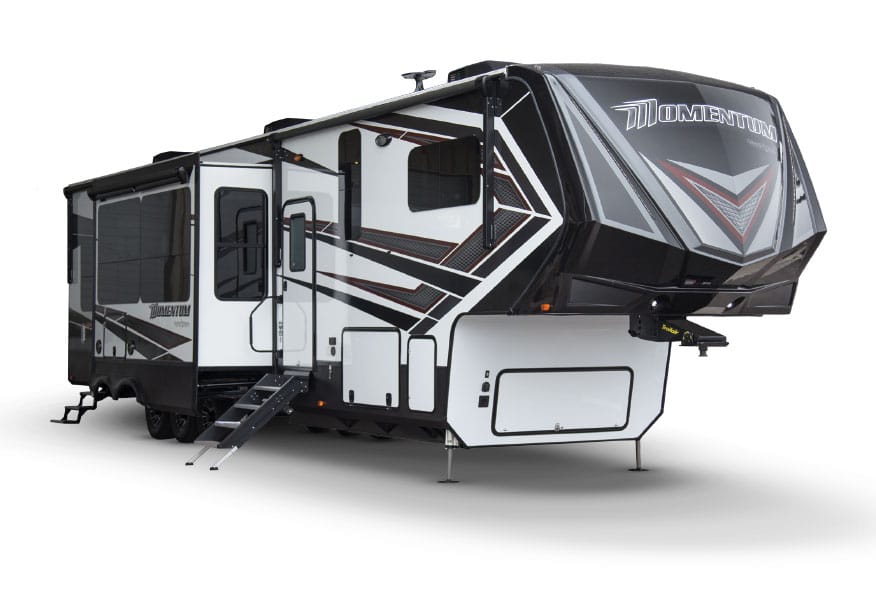 Grand Design RV | 574-825-8000 | www.granddesignrv.com
Ram Trucks| 866-726-4636 | www.ramtrucks.com
---