Q: I have a 2010 Surveyor Eco-Lite 26-foot travel trailer that I tow with a 2006 Dodge 2500 powered by the 5.7L Hemi. I would like to tow a motorcycle trailer behind my trailer. The bike and trailer weigh about 700 pounds. What would you recommend for this application?
Charles Spath, Loranger, La.
A: It seems the weight of your Surveyor and motorcycle trailers combined should be OK for your Dodge. You'll need to start by contacting your local DMV for specifics about triple towing in Louisiana. The overall length restriction for such towing is 70 feet, so you're within that range. Louisiana calls for brakes on trailers 3,000 pounds or heavier so you don't need brakes on the motorcycle trailer, but you'll need to be sure your RV's brakes and brake controller are adjusted for the extra load.
It's unlikely there's a rear hitch receiver for your trailer so that will need to be custom fabricated by a welding shop. As you may imagine, sway with a two-trailer setup can be a big problem. If it were me, I'd choose one of the sway-reduction hitches on the market such as the Hensley Arrow or PullRite to keep the Surveyor as stable as possible. In turn, that may help make the motorcycle trailer more stable. Good luck!
– Jeff Johnston
---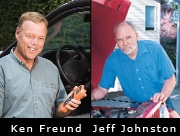 To send your questions to RV Clinic, write to 2575 Vista Del Mar, Ventura, Calif., 93001; or email [email protected]. Also, check out TrailerLife.TV for our expert RV how-to videos.