More than 50 percent of RVers travel with their pets, so finding a good park for Fido, Spot or Mittens is priority No. 1. The Good Sam RV Travel Guide has compiled a list of the very best parks for pets from all across the country. These parks offer lots of open space for running, and pet-friendly rules about where pets can play and "go."
Read on for three of the very best RV parks for pets.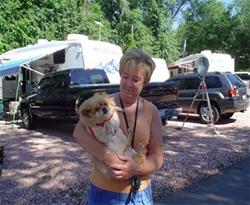 Garden of the Gods Campground
This park lies just outside Colorado Springs, Colo., and features a whopping 198 spaces and plenty of fun for humans and their animal companions.
Rafting, fishing nearby as well as covered picnic areas are sure to entertain visitors.  Rallies and large groups are always welcome. The park makes room for big-rig RVs and also offers body work and collision repair.
For pets, there is simply no place better to go for a walk than the breathtaking Garden of the Gods park.
Sunflower RV Resort/PMP
This Surprise, Ariz., park is a great spot for a shopping vacation or spending some time at baseball spring training.  The 55-plus park offers nearly 900 extended-stay sites and a tight-knit community.  Church services, mini golf, a game room and plenty of other attractions make for a fantastic long stay.
The park has plenty of open space for pets and is a short drive from fantastic Arizona parks.
Racing fans in town for NASCAR with a pet in tow should definitely check out this park.  It features 166 extended-stay sites and a total of 171 sites with everything an RVer needs.  The Ocala, Fla.,  park also makes plenty of room for big-rigs.
A fenced dog run area is ideal for letting Fido get some exercise.  The park is also a stone's throw away from the Ocala National Forest for a fantastic hike or dog walk. There are also numerous pet-friendly beaches in the area for swimmers and sunbathers.
Head over to our sister site MotorHome for three more pet-friendly RV Parks or visit Good Sam Blog for tips to RVing with your dog.