Priced between $19,000 and $47,000, a dozen 2018 floorplans bring fifth-wheel ownership
within reach
Fifth-wheel trailers are easy to tow and make great rigs for everything from weekend camping to full-time living, particularly if you already own a suitable pickup truck. If you are buying your first fifth-wheel, there are many things to consider. Above everything, be sure to match the towing and payload capacities of your truck to the gross vehicle weight rating (gvwr) and hitch weight of the trailer.
Selecting the best fifth-wheel for your needs depends on how you plan to use it. Are you a solo RVer, a couple, or a family with kids and dogs? Do you like the luxury of camping with full hookups or the more rustic experience of dry camping? Do you envision mostly weekend getaways and short vacations or cross-country adventures? Will you travel close to home to a few favorite spots, park for months in seasonal camp­- sites or venture to far-off destinations?
If you will be camping not far from home on weekends and vacations, then a lighter-duty and less rugged fifth-wheel will do just fine. If you plan to stay in campgrounds that provide full hookups, holding-tank size is not that important. However, if you will be dry camping, the size of the tanks and battery bank are essential, as are the capacity to carry a portable generator or portable solar-power suitcase, or install additional batteries or a permanent solar-power system.
For families that plan on using their fifth-wheel frequently, making up a convertible dinette or a sofa bed each night can become a chore. Bunkhouse models provide dedicated beds for the kids and sometimes a separate room for them. On the other hand, if you travel solo or are a couple with few overnight visitors, you can opt for comfortable recliners or theater seating instead of a sofa bed and store an inflatable air mattress for occasional guests. Most smaller fifth-wheels offer relaxed seating in the living area for two on either a sofa or twin recliners, but you may want both so you can seat four.
If you plan to watch a lot of television, the size of the TV and its orientation to the seating are important. If you have a lot of mobile devices, USB charging ports throughout the rig are convenient. If you love to cook outside or want easy access to cold drinks while sitting around the picnic table or campfire, an outdoor kitchen is a great bonus, and an exterior TV and speakers may be valuable additions to your alfresco living space.
If you need to transport a lot of gear or plan to travel for extended periods, look for a higher cargo carrying capacity (ccc). This is a measure of the gvwr minus the unloaded vehicle weight (uvw). The manufacturer-supplied ccc weights in this article may or may not include liquids, LP-gas and optional features. Always refer to the weight labels on the actual unit for the most accurate ccc.
Deluxe amenities for those on a bigger budget include things like an automatic-leveling system, a black-tank flush system, a walk-on roof for easy maintenance, a heated basement to extend the camping season and 50-amp capability for running multiple appliances simultaneously with electrical hookups.
Priced from just over $19,000 to $47,000, the following 12 floorplans are a sample of fully equipped entry-level fifth-wheels for the 2018 model year. Note that interior height for each model lists the maximum floor-to-ceiling measurement (typically the highest point in the living area), and exterior height generally extends to the top of a standard rooftop air-conditioning unit.
Allen Idle-Time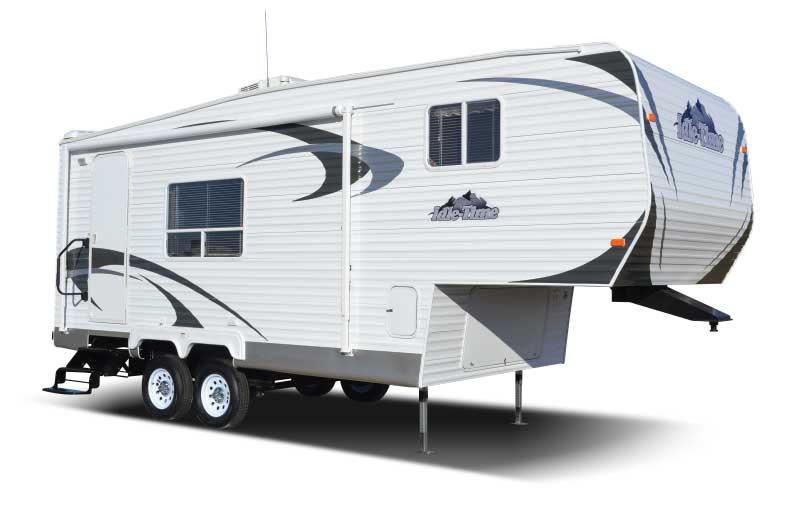 Although the 219 RKS was widened to 8½ feet for 2018, it is still shy of 25 feet in length and a maneuverable package that is easy to back into most campsites. At 11 feet, 4 inches tall, it is short enought to fit under almost any bridge or fuel-station overhang. With just one shallow-depth slideout, it is also a lightweight trailer, with a gvwr of 7,700 pounds, and can be towed by a variety of full-size gas and diesel pickups. And it is affordably priced, with a base MSRP just over $25,000. This nimble trailer has a generous cargo capacity of 2,700 pounds, allowing for storage of plenty of gear and provisions for longer-term travel. The kitchen is in the rear, the part of the trailer that experiences the roughest ride, but it is fully accessible with the slideout closed for stocking up in the supermarket parking lot or making a meal at a rest stop. Optional upgrades include a walk-on roof and a heated basement.
800-647-3720
www.allencampermfg.com
---
CrossRoads Volante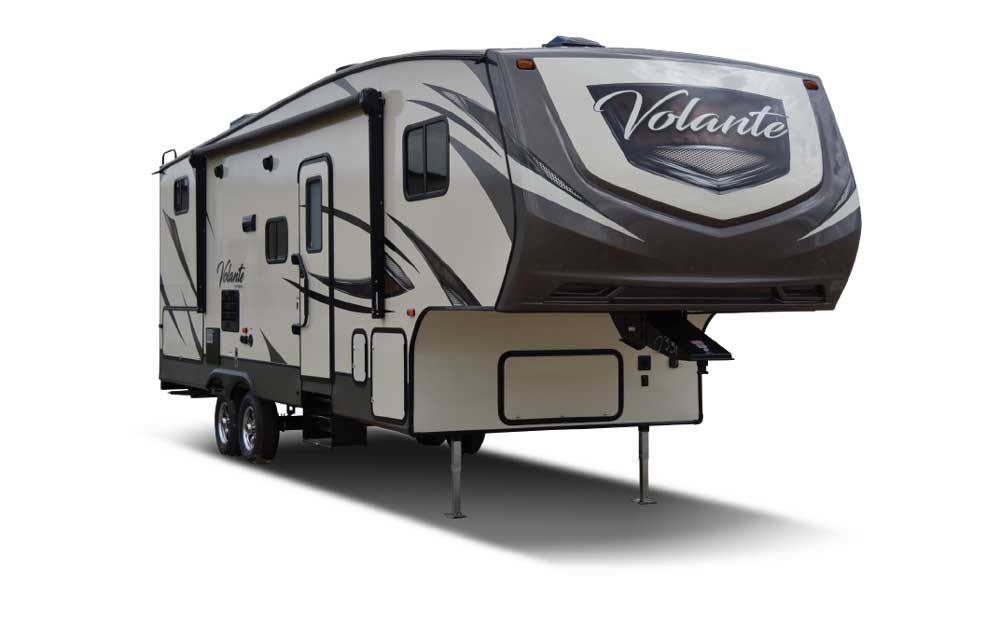 At 30½ feet long and just over 12 feet tall, the bunkhouse VL270BH is at the larger end of the spectrum for fifth-wheels in this price range. A plus for families is the separate room with two full-size bunks that gives the kids comfortable sleeping in their own space. A single, big slideout houses a U-shaped dinette and loveseat. The outdoor kitchen, complete with a fridge, stovetop and sink, not only keeps cooking smells out of the trailer but will be welcome by those who love to be outside rather than always preparing meals indoors. The 60-gallon freshwater tank is great for dry camping, although the 44-gallon waste tanks may fill before the freshwater runs out. With a wide-open floorplan, even around the queen-size bed in the parents' bedroom, this fifth-wheel is ideal for family getaways.
866-425-4369
www.crossroadsrv.com/brands/volante
---
Dutchmen Aerolite Astoria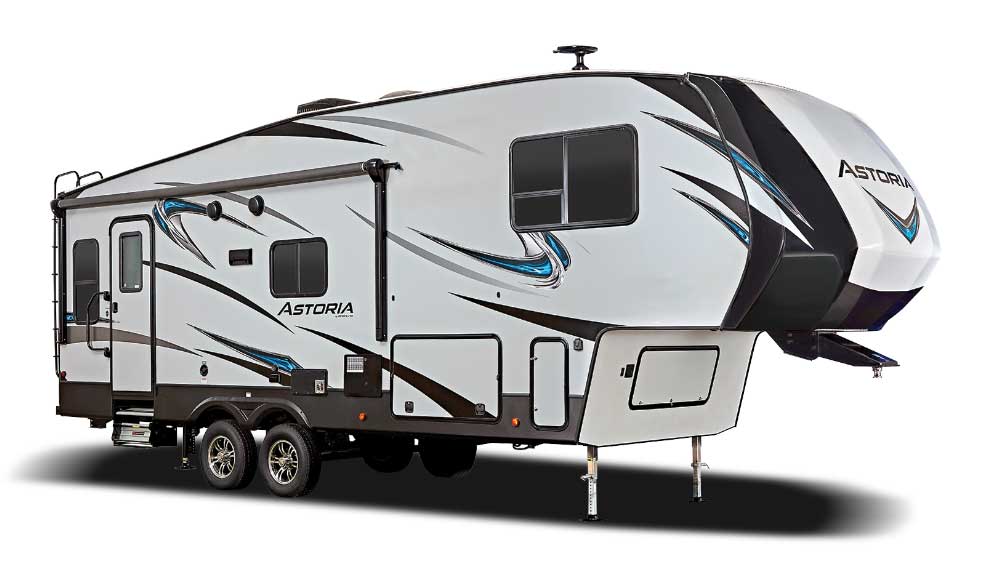 Rising to nearly 13 feet, the 30-foot-long 2513RLF is the tallest model in this roundup, warranting careful attention at fuel stations and underpasses. And with a base price of $47,000, it is also the highest priced. The 2,298 pounds of cargo capacity gives it sufficient strength for a few factory options, in addition to supporting seasonal travel where extra food, clothing and gear are needed. Outside speakers, auto-leveling, easy-maintenance gelcoat walls and a black-tank flush system are among many higher-end features. The living area slideout houses a U-shaped dinette and an 8-cubic-foot refrigerator, and the small bedroom slide adds closet space. If no children or overnight guests are expected, optional theater seating can replace the queen sofa bed. For those traveling long distances, there is just enough room to maneuver in the kitchen at a rest area or other pit stop without deploying the main slide.
866-425-4369
www.dutchmen.com/aerolite
---
Escape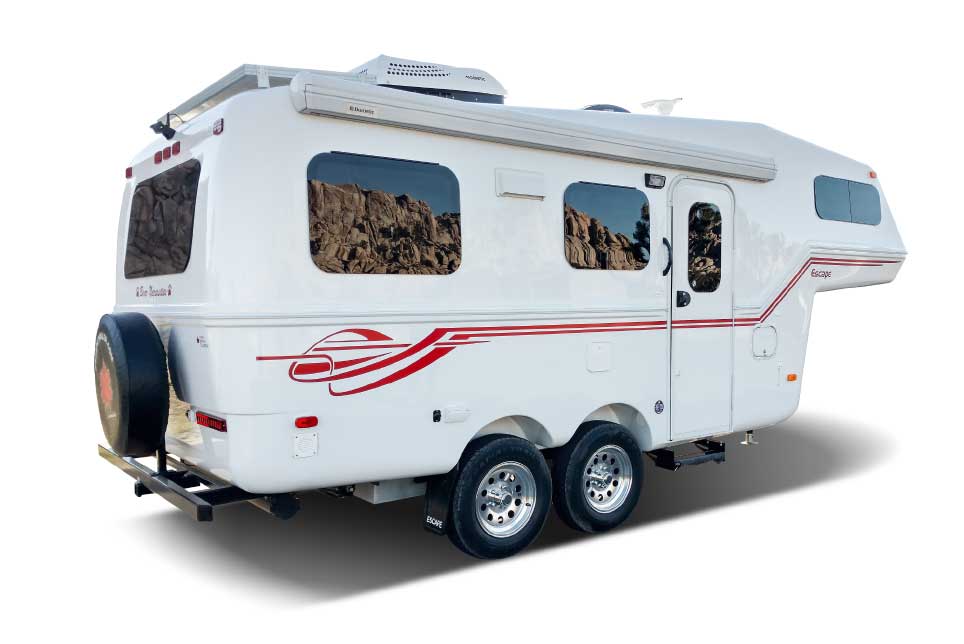 With a length just over 21 feet and a gvwr of 5,500 pounds, the Canadian-built 5.0TA is one of the smallest, lightest and most maneuverable fifth-wheels in this group. Easily towed by any suitably equipped half-ton pickup, it can be tucked into small sites yet still offers features typical of larger trailers, including a full-length queen bed and a 6.7-cubic-foot refrigerator. The molded-fiberglass exterior avoids the more typical rubber roof. The trade-off for the trailer's nimble size and weight is a wet bath without a dedicated shower stall, but those who take advantage of campground shower facilities won't find that a disadvantage. The 28-gallon freshwater tank and combined 68 gallons of waste capacity are adequate for short-duration dry camping. Cargo capacity of 1,615 pounds rivals some fifth-wheels that are 10 feet longer. For those traveling with kids or guests, the dinette folds into a bed.
855-703-1650
www.escapetrailer.com/trailers/the-5-0-escape
---
Forest River Arctic Wolf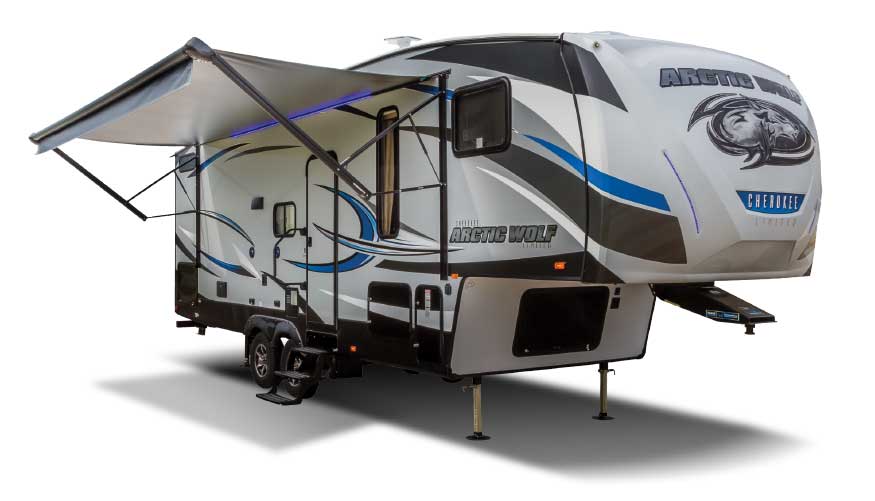 With an open floorplan, big windows, and high ceilings in the central body and main slideout, the 255DRL4 feels much bigger than its 30-foot, 4-inch length. The living-room slide houses a sofa bed and a dinette, and the upstairs slide contains the bedroom wardrobe and bathroom linen closet. Cargo capacity of nearly 2,000 pounds is sufficient for vacation travel, and the gvwr is a relatively modest 9,900 pounds. The big 84-gallon gray tank supports dry camping, especially if the smaller 49-gallon freshwater tank is refilled at the campsite. Much of the storage space is in lower cabinets that can support heavier items, and a black-tank flush system is standard. An outdoor fridge, icemaker and sink take the party to the patio. Deluxe optional amenities include auto-leveling, tire-pressure monitoring, an 11.9-cubic-foot residential refrigerator, multiple USB charging stations and a Trailair shortbed-pickup-capable pin box.
260-499-2025
www.forestriverinc.com/fifth-wheels/arctic-wolf
---
Grand Design Reflection 150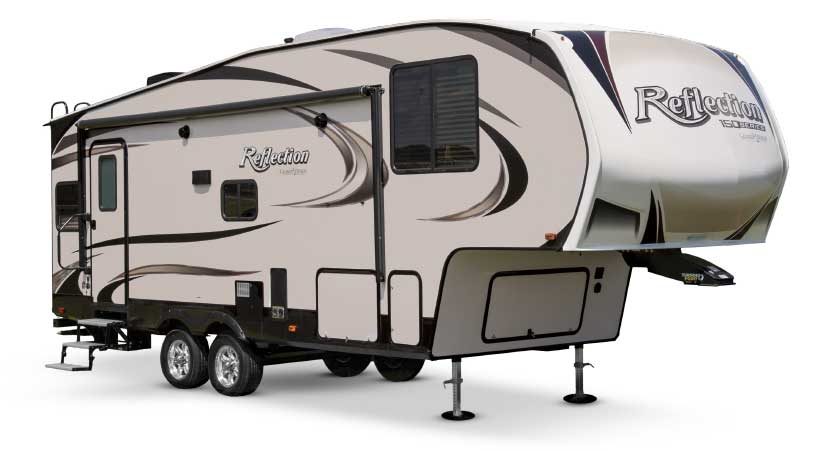 At just over 28 feet long and 11 feet, 9 inches tall, the 230RL (tested in April 2018 issue) is a fairly modest-size fifth-wheel, but with its generous cargo capacity of 2,510 pounds and full access to the kitchen when the slideout is closed, it is well suited to more extensive and long-distance travels, as well as vacations and weekends. The single slide contains a U-shaped dinette and RV refrigerator, and theater seating in the rear is standard (a sofa bed is optional). The exterior is gelcoat, and an outdoor shower provides a way to hose down gear or even wash the dog. Outdoor speakers liven up the campsite, although exercising noise-etiquette consideration is important with this type of setup. A Trailair Turning Point swivel pin box makes the fifth-wheel towable by many shortbed pickup trucks. A black-tank flush system, porcelain toilet, heated basement and heated dump valves are all available as upgrades.
574-825-9679
www.granddesignrv.com
---
Jayco Eagle HT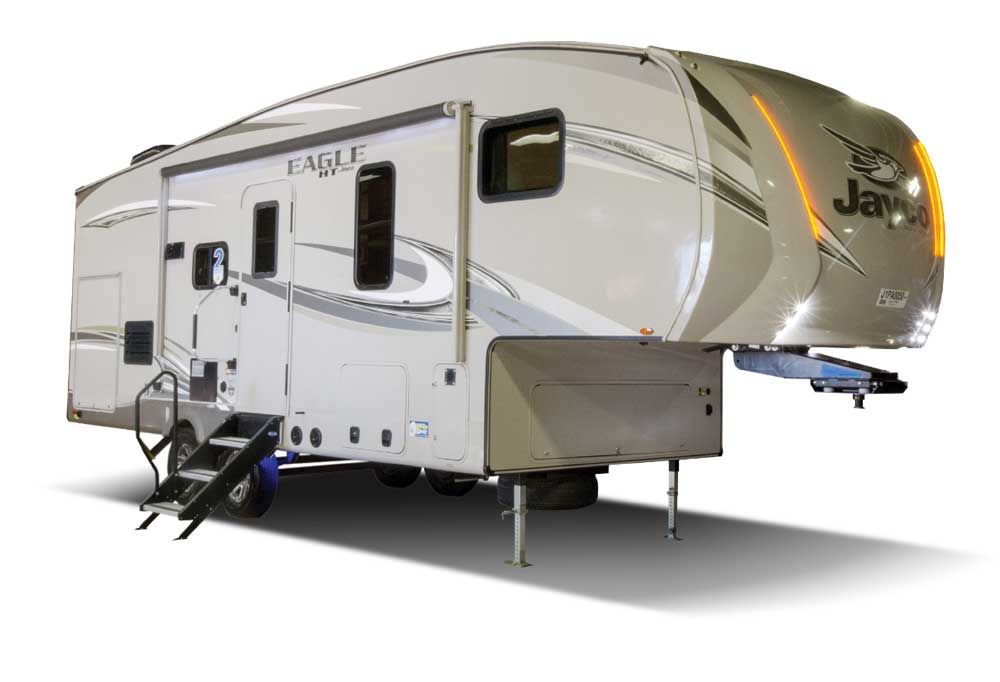 The 29-foot, 3-inch-long 25.5 REOK has two slideouts, one containing a sofa bed and dinette, and the other housing the bedroom wardrobe and bathroom linen closet. With a gelcoat exterior, Goodyear tires, enclosed and heated underbelly, black-tank flush system, porcelain toilet, USB charging stations and a cargo capacity of 2,345 pounds, this fifth-wheel can go the distance or make a comfortable rolling second home for weekend getaways. The clever outdoor kitchen has dual pull-out burners and a small refrigerator, and a spray port provides outside water access while dry camping. Exterior speakers add to the campsite ambience. Prepped for a solar-panel with a run of 8-gauge wire between the basement and the roof, the fifth-wheel also has an optional third LP-gas cylinder and prewiring for a generator.
800-283-8267
www.jayco.com
---
Keystone Sprinter Campfire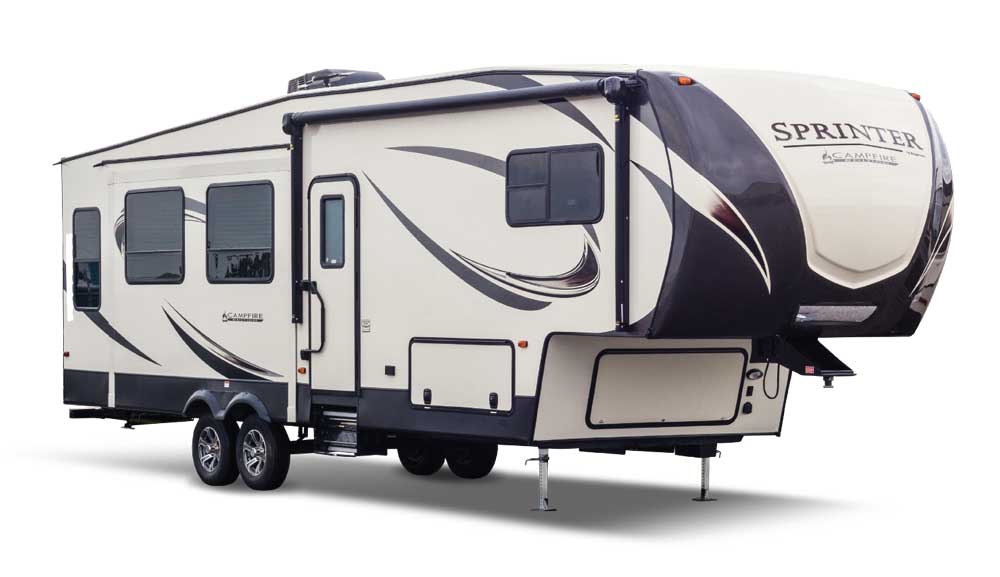 RVers can live large in the open floorplan of the 30½-foot-long, wide-body 26FWRL, with a deep slideout housing the sofa and dinette. The living area has cushy seating for four on twin recliners and a convertible sofa, and a fifth person sitting sideways in the dinette will also enjoy a good view of the TV. Upstairs, a second slide spanning the bedroom and bathroom contributes to the heavier gvwr of 11,500 pounds, but the cargo capacity of 3,435 pounds is excellent for extended travels. With the slide closed, the kitchen is accessible for pit-stop meals or loading groceries in the cabinets and refrigerator. The big freshwater tank invites dry camping, though the waste tanks will fill before the water runs out. Auto-leveling and a heated underbelly are higher-end touches that could contribute to a higher base price.
866-425-4369
www.keystonerv.com/sprinter-campfire
---
K-Z Sportsmen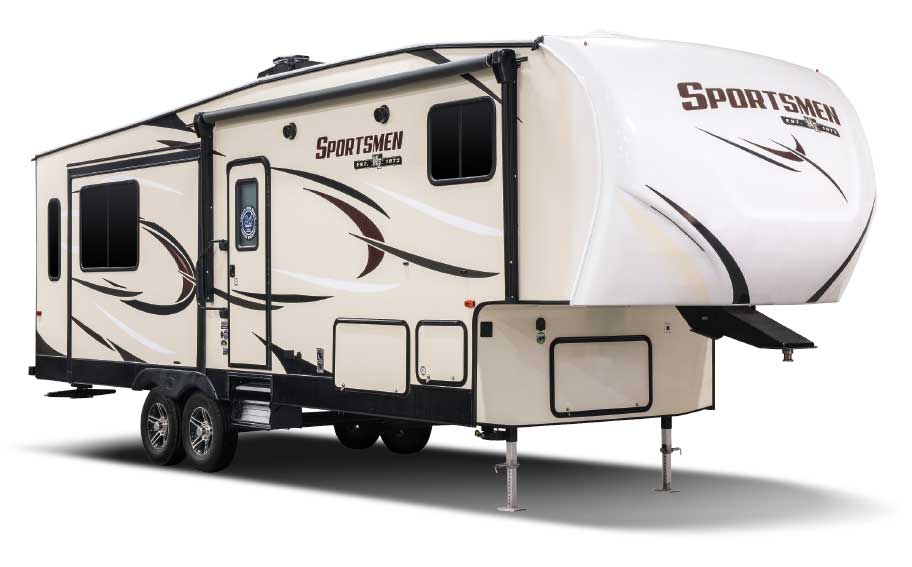 Stretching 32 feet, 9 inches, the 293RL is this roundup's longest trailer. It is also one of the tallest models at 12 feet, 5 inches, and is the only one with three slideouts. The longest slide houses a 64-inch-wide sofa bed, kitchen appliances and a pantry. The U-shaped galley has generous meal-prep countertops with the sink in the center of the rig. A second living-area slide houses the dinette and an entertainment system in a layout similar to much larger full-timer layouts with a center island. Comfortable seating for four and two additional seats at the dinette have a good view of the TV. The bedroom slide contains dresser drawers and a closet. In the case of the 293RL, the weight of the three slides reduces the carrying capacity, limiting the number of options that can be installed and still allow for provisions and gear.
866-472-5460
www.kz-rv.com
---
Northwood Fox Mountain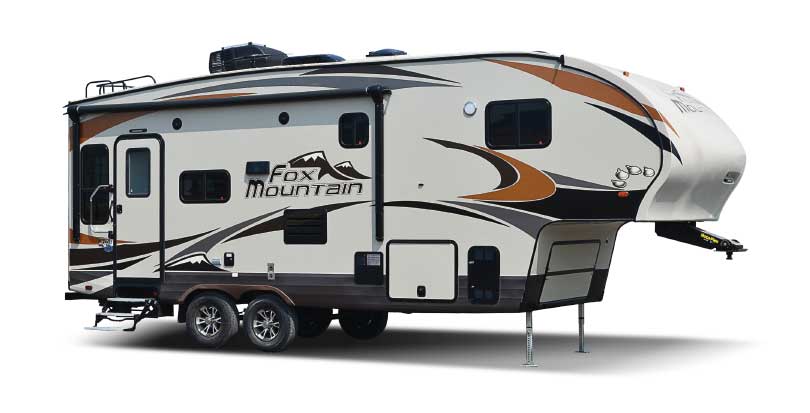 Just under 28 feet, the 235RLS (tested in November 2017 issue) is fairly modest in length but quite tall at 12 feet, 7 inches, and its 11,500-pound gvwr is heavier than most models in this group. However, the advantage is the beefy 4,205-pound carrying capacity, ideal for extended stays, and this model even has extra outdoor storage on a built-in roof rack. The single slideout houses the dinette and pantry, and the L-shaped kitchen, with its big 9.5-cubic-foot RV refrigerator, offers loads of counter space. The jackknife sofa bed can be upgraded to twin recliners. A split bath in the bedroom makes it possible for one person to use the porcelain toilet in private while another uses the sink or shower. Nightstands on each side of the queen bed have 12-volt DC and USB charging stations, and a black-tank flush system is standard.
800-766-6274
www.northwoodmfg.com/5th-wheels/fox-mountain
---
Scamp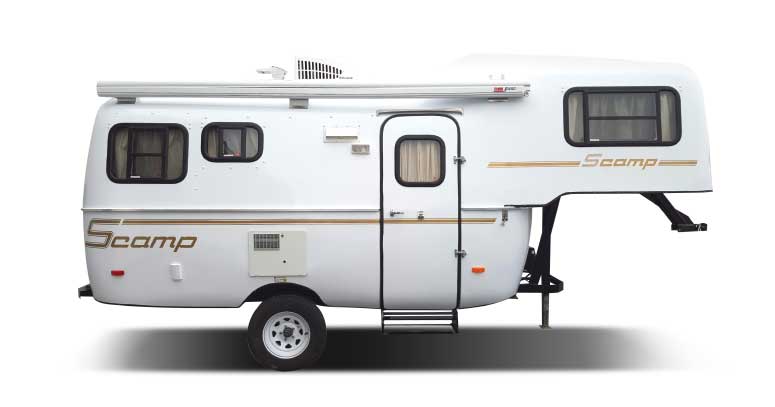 With a base price under $20,000, the 19-Foot Standard is the smallest and least expensive fifth-wheel of the bunch. With no slideouts and an exterior height under 9 feet, which will clear virtually all bridges and overhangs, the lightweight fiberglass trailer has a gvwr of 3,500 pounds, towable by any truck, and will tuck into most campsites. Its 1,000 pounds of cargo capacity is big for its diminutive size. The trade-off for this affordable package is a miniature interior with a queen-size loft bed and a two-burner stove. Holding tanks are small, making dry camping a rustic experience, but many campgrounds offer excellent toilet and shower facilities. Available in two floorplans, the pricier Deluxe model offers a 4.6-cubic-foot refrigerator, a microwave, a shower and toilet, plus stairs to the loft bed, but gives up 300 pounds of carrying capacity.
800-346-3962
www.scamptrailers.com
---
Winnebago Minnie Plus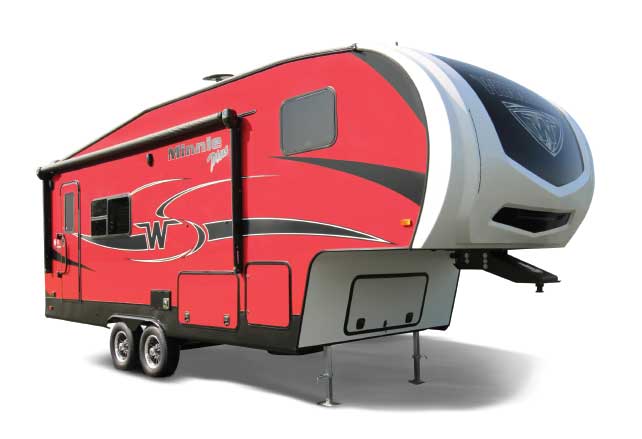 Great for weekends and short vacations, the 29½-foot 27REOK has a modest exterior height of less than 12 feet and a cargo capacity of 1,433 pounds. The big slideout houses a sofa sleeper (theater seating or a trifold sofa are options) and a booth dinette (or an optional freestanding table and chairs). A long window-seat bench in the rear lifts to provide storage underneath. The second slide contains a bed­- room wardrobe and a bathroom linen closet. A full outdoor kitchen with a dual-burner pull-out cooktop, a sink and a refrigerator, along with exterior speakers and a connection for an external TV expands the living quarters to the patio. Modest waste tanks make this trailer more suited to the luxury of hookups at campsites where the 10-gallon water heater will provide long, hot showers and USB ports will keep devices charged. A black-tank flush system is standard.
574-825-5250
www.winnebagoind.com
---
---
Trailer Life columnist and frequent contributor Emily Fagan has traveled full time by RV and sailboat with her husband, Mark, since 2007. The couple's photos have appeared on more than 25 magazine covers and wall calendars, and Emily's lifestyle, travel and how-to articles have been featured in more than a dozen RV and sailing publications. Follow their adventures on their blog, Roads Less Traveled.