Why are these nostalgic mini camping trailers making such a strong comeback? Variety, style, convenience, price and ease of towing behind smaller cars, pickups and SUVs
If you were interested in trailer camping in the late-1930s, you'd likely be driving a Ford and towing a teardrop. That's because Ford sedans and pickups were the most popular vehicles, and small, lightweight teardrops were about the only camping trailers the 75- to 90-horsepower vehicles could easily tow. Do-it-yourselfers could even build the little wooden trailers in their garage with some 4×8-foot sheets of plywood.
As cars and trucks grew in size and muscle, interest in teardrops waned, but as with many things of the past, a love for nostalgia combined with modern technology is breathing new life into what was once all but forgotten.
---

Related Stories:

---
Today there are dozens of manufacturers of teardrop trailers, from classic wooden models to those made from aluminum and composites, designed to be towed behind compact cars, midsize pickups, small SUVs and sometimes even motorcycles. Some are rolling examples of artisan craftsmanship, and others show a flair for rugged creativeness utilizing modern technology and materials.
While some of today's teardrops can go off road and others are designed for paved travel, what most have in common is that they comfortably sleep two adults inside a small footprint and have a rear hatch that opens to reveal a galley. Their tires sit outside the body, covered by fenders, and the teardrop shape helps maximize the tow vehicle's fuel economy. Many have the provision for a roof rack, and a growing number incorporate a rooftop tent that significantly expands the sleeping accommodations.
Here are just a few of the diminutive trailers that bring a teardrop of joy to our eye: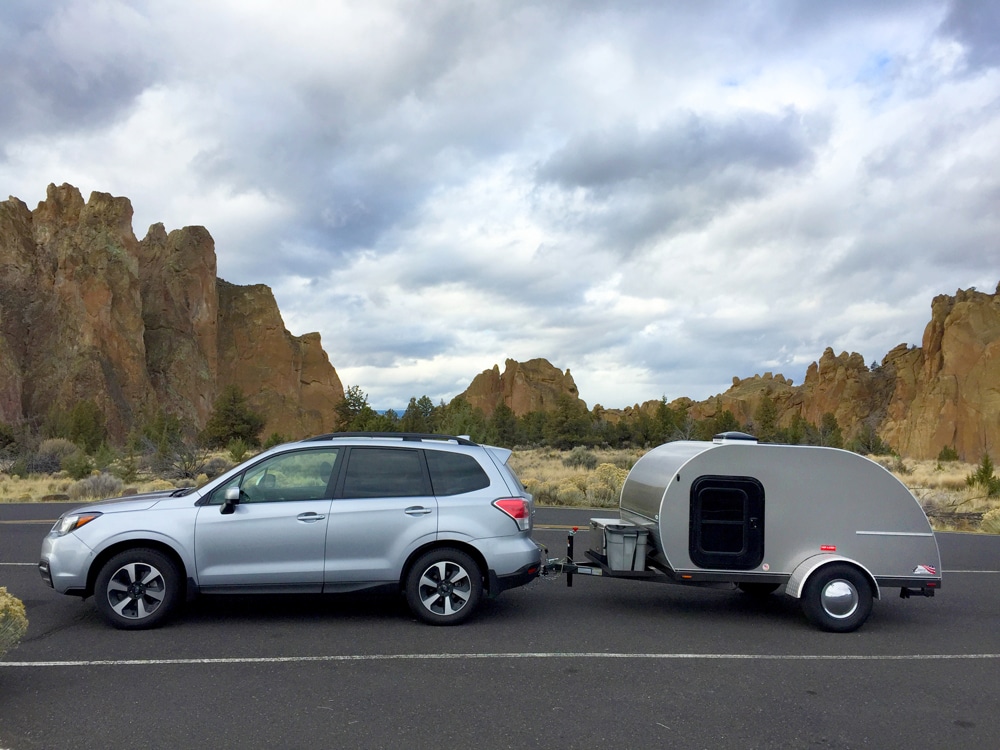 American Teardrop Trailers owner Bud Hausman calls his products "a lifestyle, not an RV." The Northern California manufacturer offers a variety of small trailers that can be towed by almost any car, including the new Classic Queen. The Classic is built on a tubular-steel frame with solid wood, aluminum and hardwood-plywood body construction. The Classic, which also comes in full- and king-bed models, includes a power package, maple cabinetry, carpeted walls and linoleum flooring. Options are seemingly endless and include a built-in oven and stove, custom roof rack, 12-volt DC solar charger and even an air conditioner.
530-710-2838
www.americanteardrop.com
---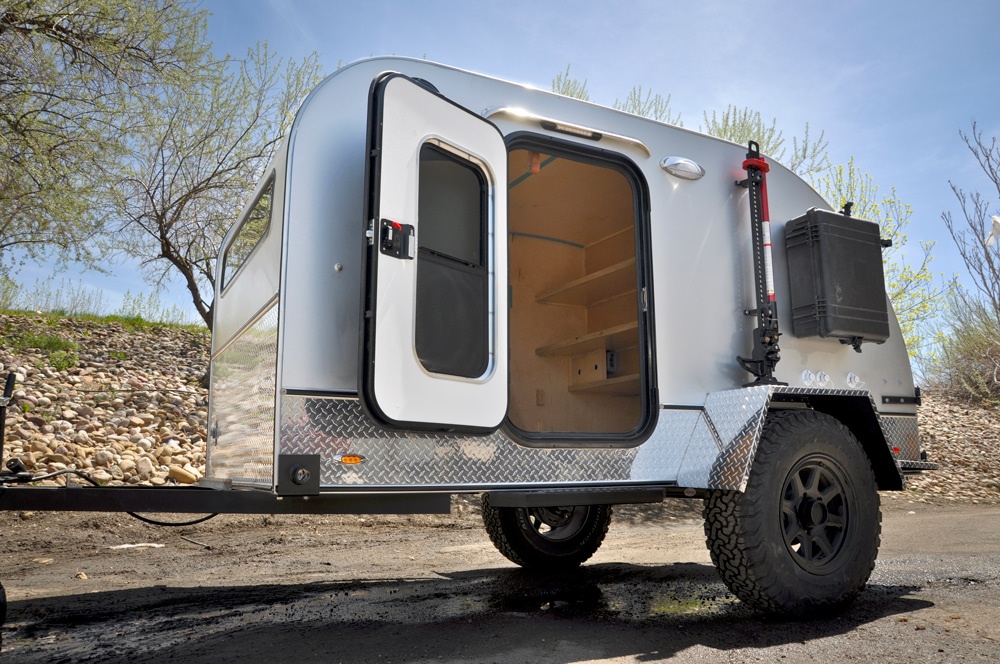 In 2017 Colorado Teardrops switched to all-aluminum-framed side walls and ceiling with the objective of becoming "the Airstream of teardrop trailers," built to last for generations. The company offers four models, of which the Basedrop is the entry level. Maple plywood adorns the interior of the sleeping area and the rear galley that has a 15×60-inch countertop. Below the counter are dividers with room for an ice cooler, water tank and sliding or rotating shelves for a camp stove, and room for charcoal and firewood. Both cabin and galley are sealed with low-VOC polyurethane for durability and easy cleanup. A power package adds $1,500 to the base price, and a trailer-tongue toolbox adds $400.
720-432-6817
www.coloradoteardropcamper.com
---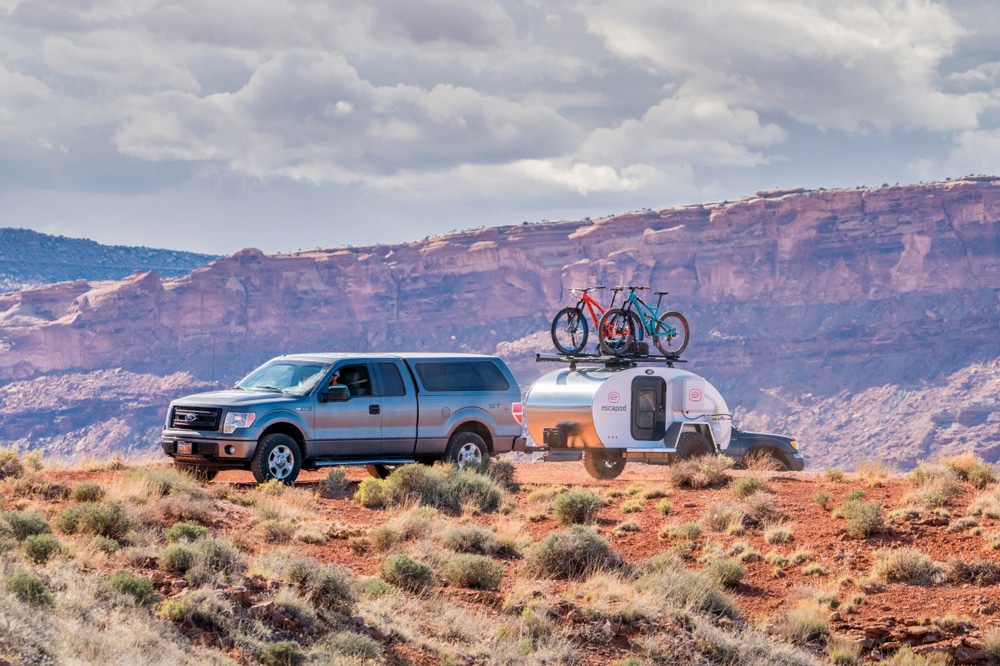 As with all teardrops from Escapod-Trailers, the Dreamscape Off-Road comes fully insulated and ready for year-round adventure. Built on a 2×2-inch steel frame, the base model comes with LED lighting in the cabin/galley, USB charging ports and a three-speed Fan-Tastic Vent powered by a deep-cycle battery. To ensure the comforts of home while on the road, the Utah company builds all models with dual entry doors, stainless-steel counters in the galley and storage throughout. Options include a freshwater tank, a water heater with a shower, a sink, solar power, an LP-gas stove and rack options for gear.
801-573-3139
www.escapod-trailers.com
---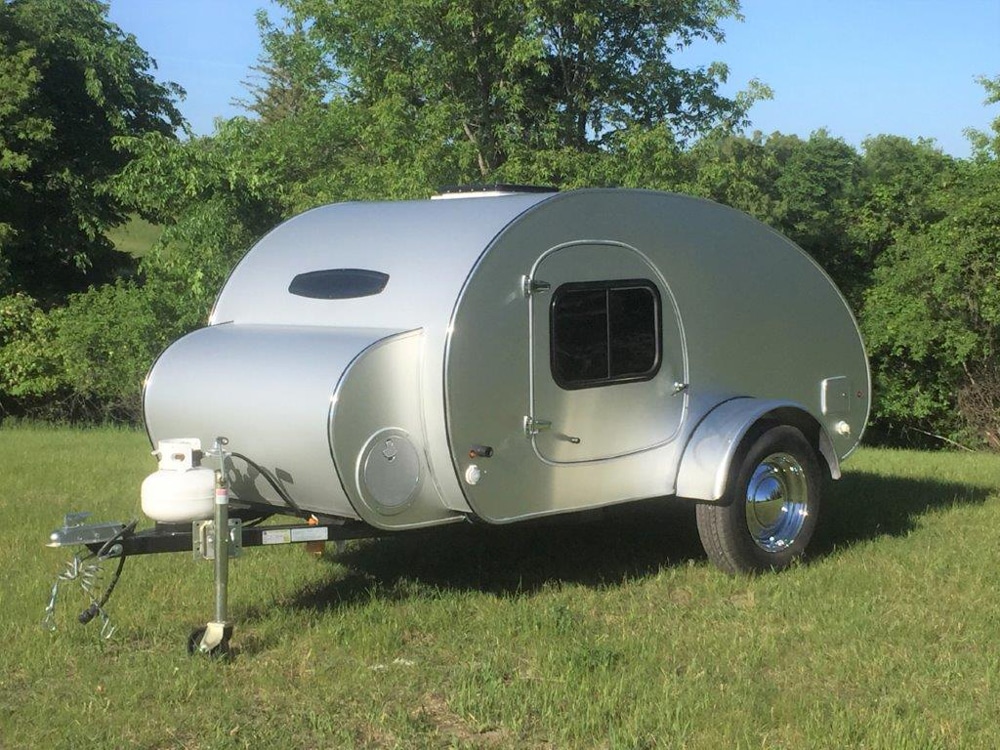 Minnesota-based GeistWerks EscapePods Trailers can be built bare bones or loaded with a queen-size memory-foam mattress, flat-screen television, full stainless kitchen, air conditioning and more, if that's your camping style. The EscapePod utilizes the latest in low-energy appliances and LED lighting for long-lasting comfort with no need to plug in to a power pedestal at the campsite. With the deep-cycle battery, a single charge will last for days, and the battery can be conveniently recharged on the drive to the next destination.
320-354-3840
www.escapepodtrailers.com
---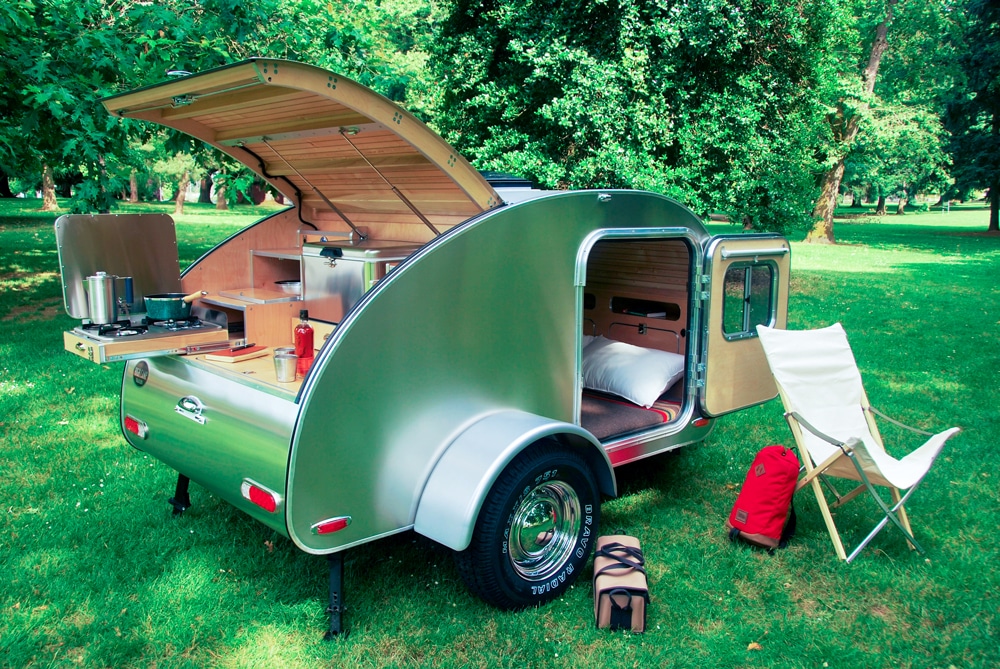 Wood craftsmanship is the calling card of Oregon-based High Camp Trailers' aluminum-bodied teardrop. All of the wood components are CNC-milled for precision from high-quality ¾-inch birch plywood. Each sheet has a formaldehyde-free core and is finished in a durable zero-VOC clearcoat. The Classic comes ready to use with LP-gas, 12-volt DC and 120-volt AC systems, LED lighting, and a three-burner slide-out cooktop with a Coleman stainless cooler in the spacious rear galley. Entrance doors are among the largest in this class.
503-869-9825
www.highcamptrailers.com
---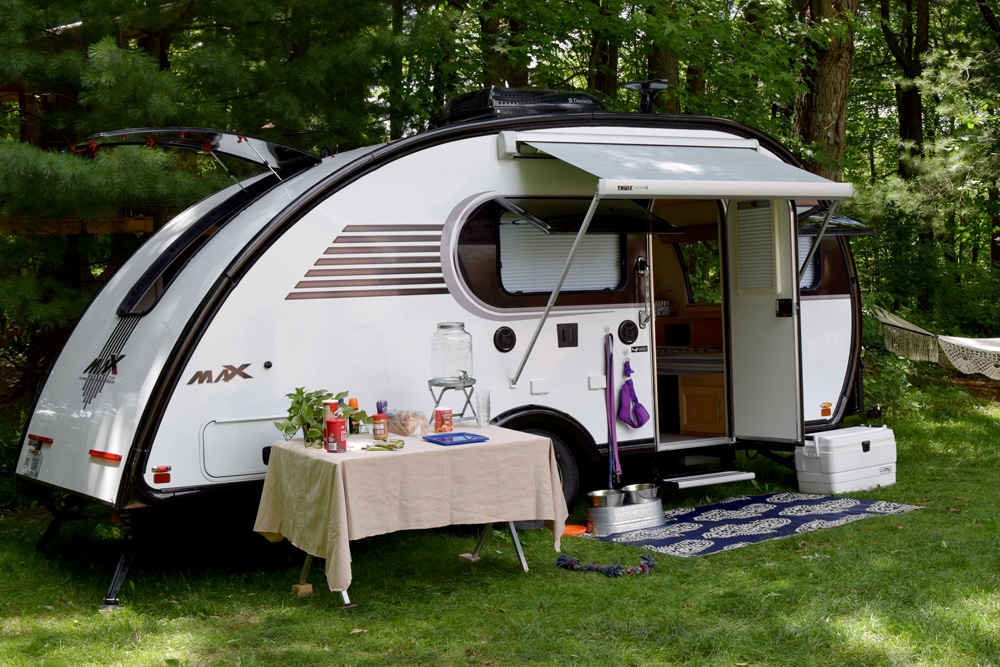 Little Guy Trailers is one of several brands under the Liberty Outdoors umbrella. The new Little Guy Max, with a 3,500-pound GVWR, comes with a refined exterior style and an abundance of deluxe standard features. With versatile cabin space that you can stand up in, lush materials to live and sleep in comfortably, and thoughtful details — from ample storage to charging outlets — the interior of the Max is an adventure all by itself. The trailer combines high-quality lightweight construction materials with details like maple hardwood cabinetry with dovetail joints, taking comfort, convenience and longevity to the max.
877-545-4897
www.golittleguy.com/little-guy-max
---
When it comes to uniting fine wood craftsmanship with state-of-the-art technology in a teardrop-trailer package, the T@B 400 from Ohio-based nüCamp RV leads the way. It's the largest of the company's teardrops and the most expensive. Unlike traditional teardrops that have an outside galley in the rear, the T@B 400 is totally self-contained like a conventional travel trailer. Everything from the Froli Systems queen-size bed to the integrated central-heat and water systems to the 30-gallon freshwater tank is designed to enhance comfort and convenience. It even has a dinette/second sleeping area in the rear portion, a bath with a shower opposite the cooktop, and a sink in the center section.
844-823-9112
www.nucamprv.com
---
Mike LaCroix, owner and builder of O-rama Teardrop Trailers, is a licensed manufacturer who takes pride in every trailer that rolls out of his Washington state shop. "I believe what sets me apart from the rest is my attention to detail," says LaCroix. "From my cabinetry to my meticulous running of electrical cable, I don't cut corners on any portion of my trailers for any reason. I build each one like fine furniture." Orama trailers incorporate solid pine and mahogany, Baltic birch, maple and marine-grade plywood throughout. The Cascade 5×8 includes LED lighting, aluminum exterior skin and 14-inch alloy wheels, and options abound.
360-584-9797 www.oramateardroptrailers.com
---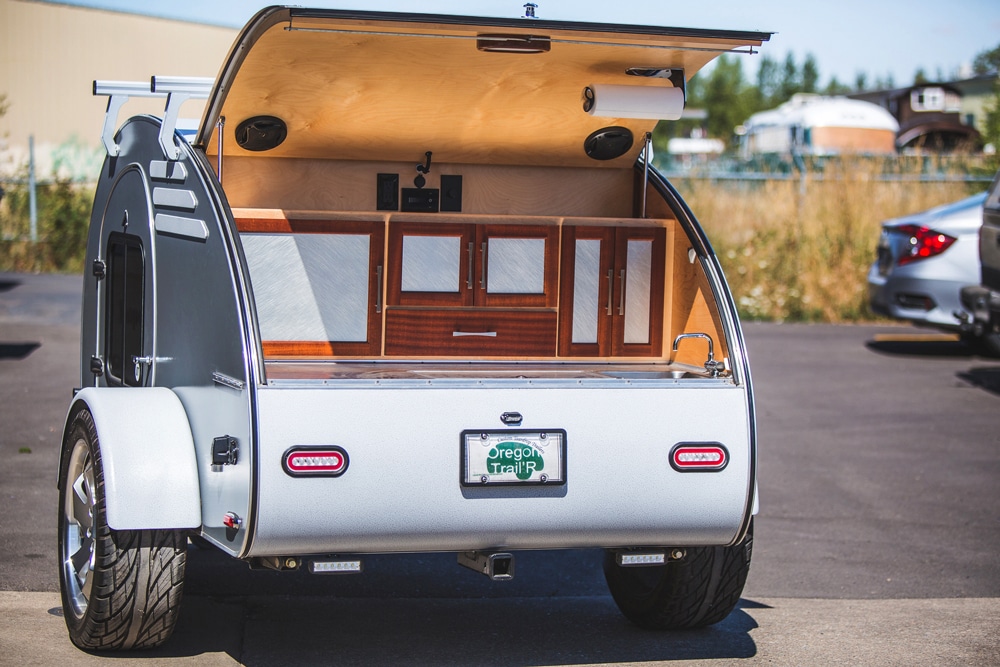 Oregon Trail'R is a small family-run company that offers three teardrops: DoDrop, FronTear and TerraDrop. All are built of marine-grade Baltic birch using cabinet-making and boat-building techniques. The trailers are configurable to client specifications, with options offered à la carte. The FronTear is the flagship and takes its design cues from the teardrop campers of the 1940s but with modern amenities and construction techniques. It comes with a queen-size bed and plentiful storage from the rear galley forward.
541-357-8895
www.oregontrailer.net
---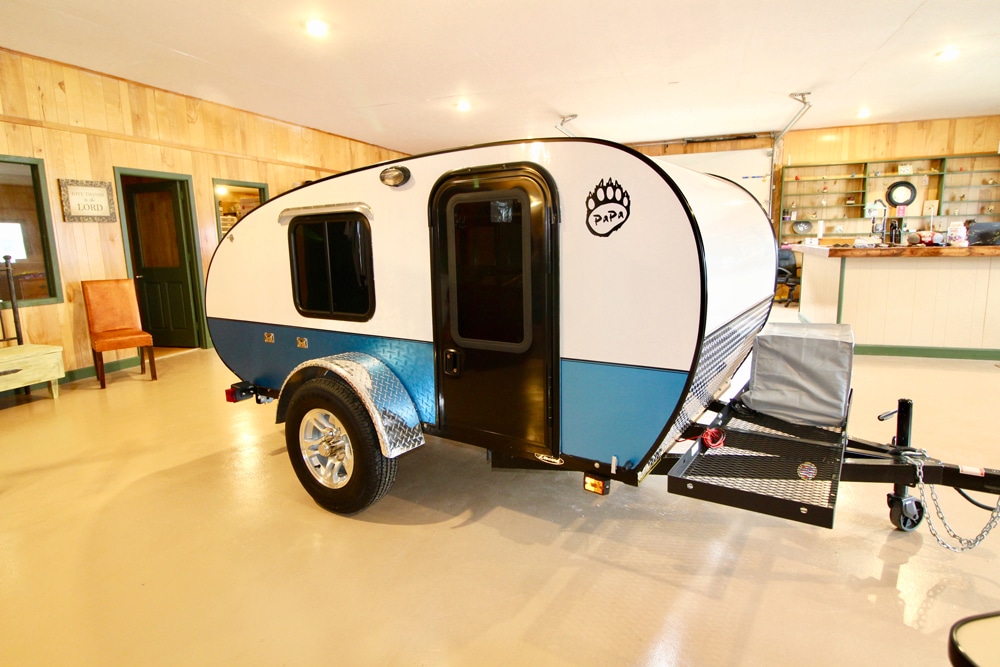 Rustic Trail Teardrop Campers are some of the least expensive teardrops on the market, yet even the base Papa Bear Standard comes with a two-person settee, a trifold mattress, LED lighting in the storage compartments, and an exterior electrical strip and stabilizer jacks. The side walls are made from ¾-inch marine-grade plywood, the roof is insulated with 1½-inch polystyrene, and everything is skinned with aluminum. Options are aplenty from this North Carolina builder to help buyers find a model that's "just right."
336-391-1075
www.rustictrailteardrops.com
---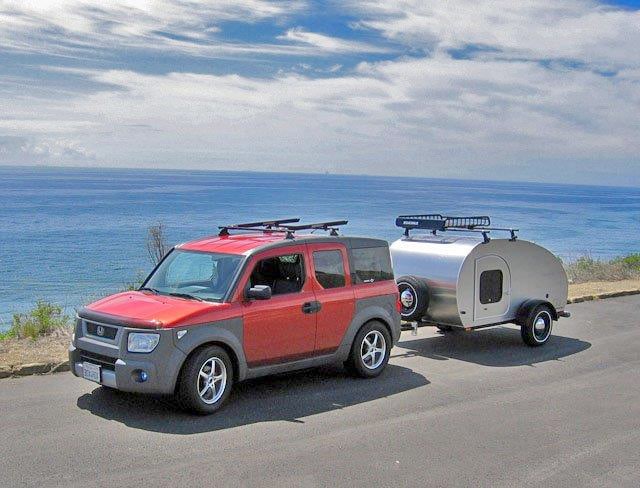 "We have to cater to the needs of our audience, so we build trailers for on-road, crossover and off-road use," says Mike Pari, owner of So-Cal Teardrops. A major teardrop builder, So-Cal has seven manufacturing facilities across the country. The most popular of the four on-road teardrops is the Sierra, an aerodynamic trailer designed to provide comfortable and convenient cooking and sleeping quarters for two people in a variety of camping environments. The Sierra's 6-foot 8-inch width makes for spacious sleeping quarters and sizable storage and food-preparation areas in the galley.
909-982-1199
www.socalteardrops.com
---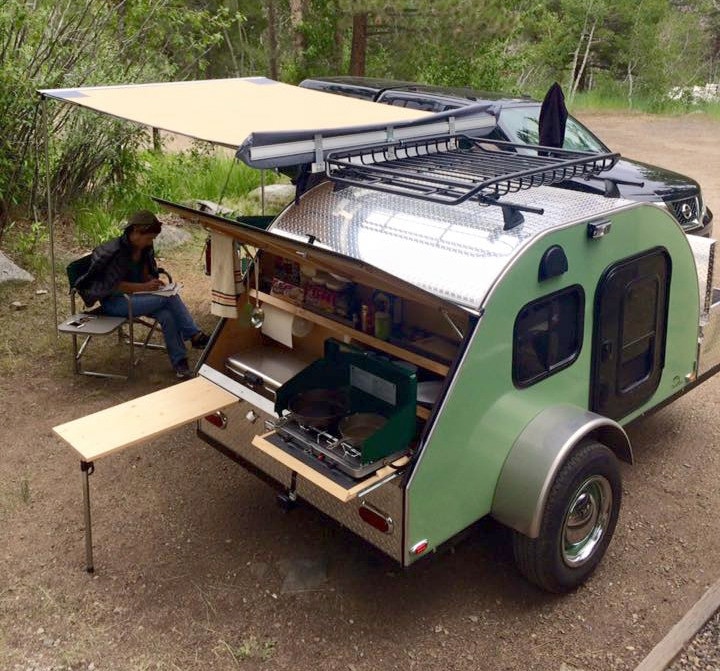 Building custom teardrops is TC Teardrops' specialty. "No two are exactly alike," says co-owner and builder Alex Mowrer. The Wisconsin-based, family-owned company builds on four frame sizes (4×8, 5×8, 5×9 and 5×10 feet) with base prices ranging from $5,200 to $7,400. An off-road package adds $2,500. TC offers an extensive list of options and accessories, including Rhino Rack systems and awnings, Dometic and Grizzly coolers, Verlo mattresses, RotopaX water- and fuel-storage tanks, Road Shower systems, on-demand hot water, air conditioners and 188 powder-coat color options for the sides.
715-573-7247
www.tcteardrops.com
---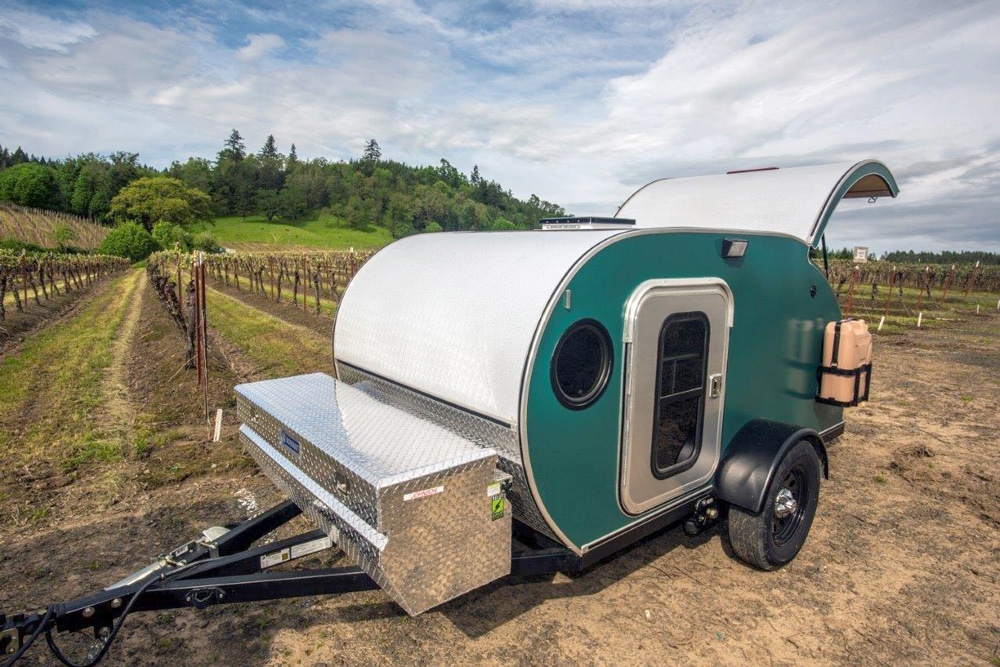 Of the six models produced by Teardrops Northwest, the Sojourn is the most popular and nicely blends the traditional teardrop shape with modern technology. It has a whopping 15 cubic feet of galley cabinet space under the countertop, which easily engulfs a 50-quart cooler slide, a two-drawer stack and a one-piece stove drawer with a high-end camp stove and LP-gas cylinder enclosed. Inside is a full-length queen-size mattress tucked among a choice of four cabinet arrangements made from Baltic birch.
503-385-1227
www.teardropsnw.com
---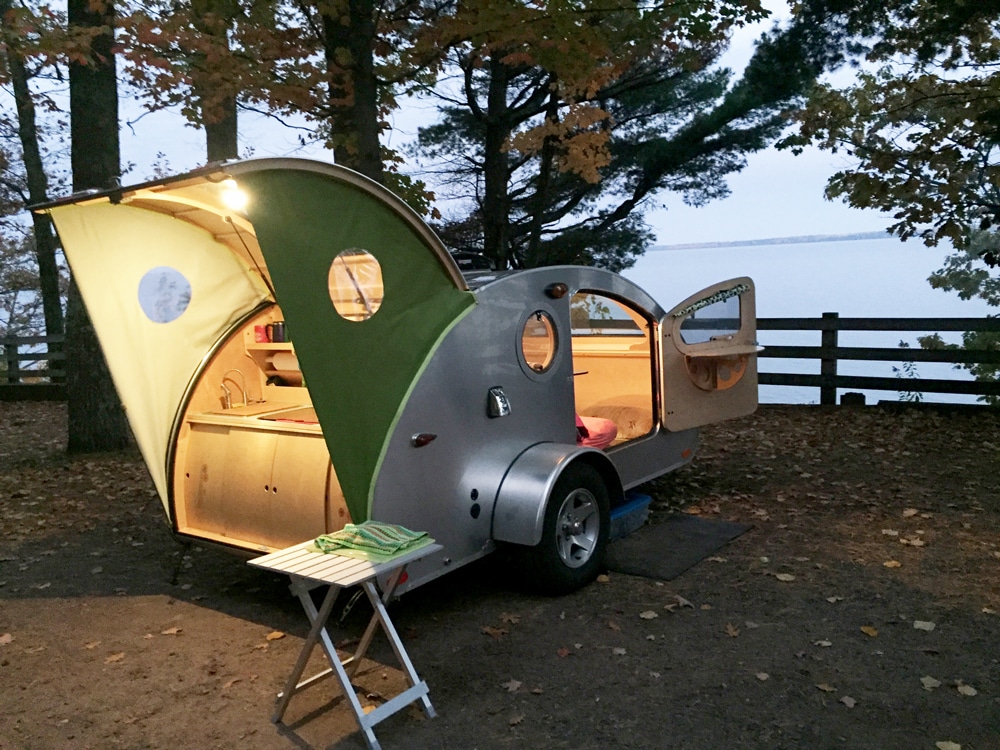 Vistabule Teardrop Trailers' simple yet sophisticated teardrop has a large front-facing picture window, a comfy queen-size cabin trimmed in birch and maple, a galley with a two-burner stove, sink and fridge, and a floor-to-ceiling headboard to maximize storage space. The aluminum exterior is available in eight colors, so it's easy to coordinate with tow vehicles. The Vistabule comes with 9-gallon fresh- and gray-water tanks, and there's a pass-through between the cabin and galley so conversations can carry on while the cook is at work.
612-808-5974
www.vistabule.com
---
MORE TEARDROP TRAILERS
Aero Teardrops | 503-706-6044 | www.aeroteardrops.com
Big Woody Campers | 715-271-0465 | www.bigwoodycampers.com
Camp-Inn | 608-565-7443 | www.tinycamper.com
Car-Go Trailers | 514-961-4755 | www.car-gotrailers.com
Cozy Cruiser | 541-743-7002 | www.cozycruiser.com
Ecodesigns | 401-556-5001 | www.ecodesignsnh.com
Great Lakes Teardrops | 616-920-1639 | www.greatlakesteardrops.com
Inka Outdoor | 828-539-0842 | www.inkaoutdoor.com
Jackal Teardrops | 860-319-1824 | www.jackalteardrops.com
Lil' Hut | 920-378-2994 | www.lilhut.com
Little Fox Campers | 231-571-9280 | www.littlefoxcampers.com
Moby1 | 801-872-4054 | www.moby1trailers.com
NestEgg Trailers | 208-627-7470 
New Wave Teardrop | 229-220-5602 | www.newwaveteardrop.com
Purdy Adventure Teardrop Trailers | 503-509-1531 | www.purdyteardrops.com
RetroRide Teardrops | 715-498-3448 | www.retrorideteardrops.com
Runaway Campers | 352-342-3454 | www.runawaycampers.com
Safari Condo (Alto) | 866-836-6664 | www.safaricondo.com/en/caravanes
Sierra Madre Teardrop Trailers
626-824-6360 | www.sierramadreteardroptrailers.com
The Teardrop Trailer | 905-830-1293 | www.theteardroptrailer.com
Terrys Teardrop Campers | 717-873-0263 | www.terrysteardropcampers.com
Three Feathers Manufacturing | 541-805-8289 | www.3feathersmfg.com
Timberleaf Camping Trailers | 720-353-4317 | www.timberleaftrailers.com
Treeline Teardrop Trailers | 707-776-7986 | www.treelineteardrops.com
Trekker Trailers | 352-409-4005 | www.trekkertrailers.com
Vintage Trailer Works | 334-798-3462 | www.vintagetrailerworksinc.com
Voyager Adventure Teardrops | 970-442-0018 
---